The most successful strategic workforce planning processes today are agile and ongoing.
Executives, human resources leaders, and talent acquisition teams use this approach often but must continually adjust their planning as business goals and needs change.
Executive coach and organizational development expert Roxi Bahar wrote for SHRM about how the ideal workforce planning strategy is a relational initiative, not a transactional one.
That means those charged with implementing such a plan can't treat it as a one-off task.
These stakeholders must instead realize it's a continuous undertaking that requires close collaboration to achieve qualitative goals (e.g., building a diverse and highly productive workforce) and quantitative goals (e.g., scaling headcount across teams to grow revenue).
What is workforce planning?
Workforce planning is the procedure through which C-suite members — usually the CEO, CRO (or CFO), CHRO, and TA leader — work together to analyze the existing makeup of their staff and determine how they can future-proof their recruiting and hiring to ensure they continually attract and retain top talent and realize business growth.
The C-suite — the CEO, CRO, CHRO as well as the Talent leader — uses workforce planning to analyze the existing makeup of their staff and determine how they can future-proof their recruiting and hiring goals to ensure they continually attract and retain top talent and realize their desired level of business growth.
The main goal of workforce planning is to assess the human capital within an organization by conducting a skills gap analysis and gauging individual and team performance.
This evaluation then informs which teams and roles the workforce planners prioritize.
Say you determine you have an aging workforce. The average age of key employees on certain teams (perhaps even in your C-suite) is around the typical retirement age.
Data indicates a likely need to focus on succession planning for the employees in question. (This is where a dedicated internal mobility plan comes in handy.)
Scenario planning can also help with your talent management. For example, running through a scenario where 20% of the marketing team quit within a 30-day period can help you craft a workforce plan that includes guidance on what to do under these circumstances.
At the end of the day, workforce planning is just that: planning. Not all plans come to fruition.
"I think the expectation-setting is really important, whether you're reporting up to just your manager or the board is letting you know that this stuff may may change and that the [workforce] plan … is not the guaranteed execution path," CloserIQ VP Operations & Strategy Jason Lalk noted in our recent talent planning webinar.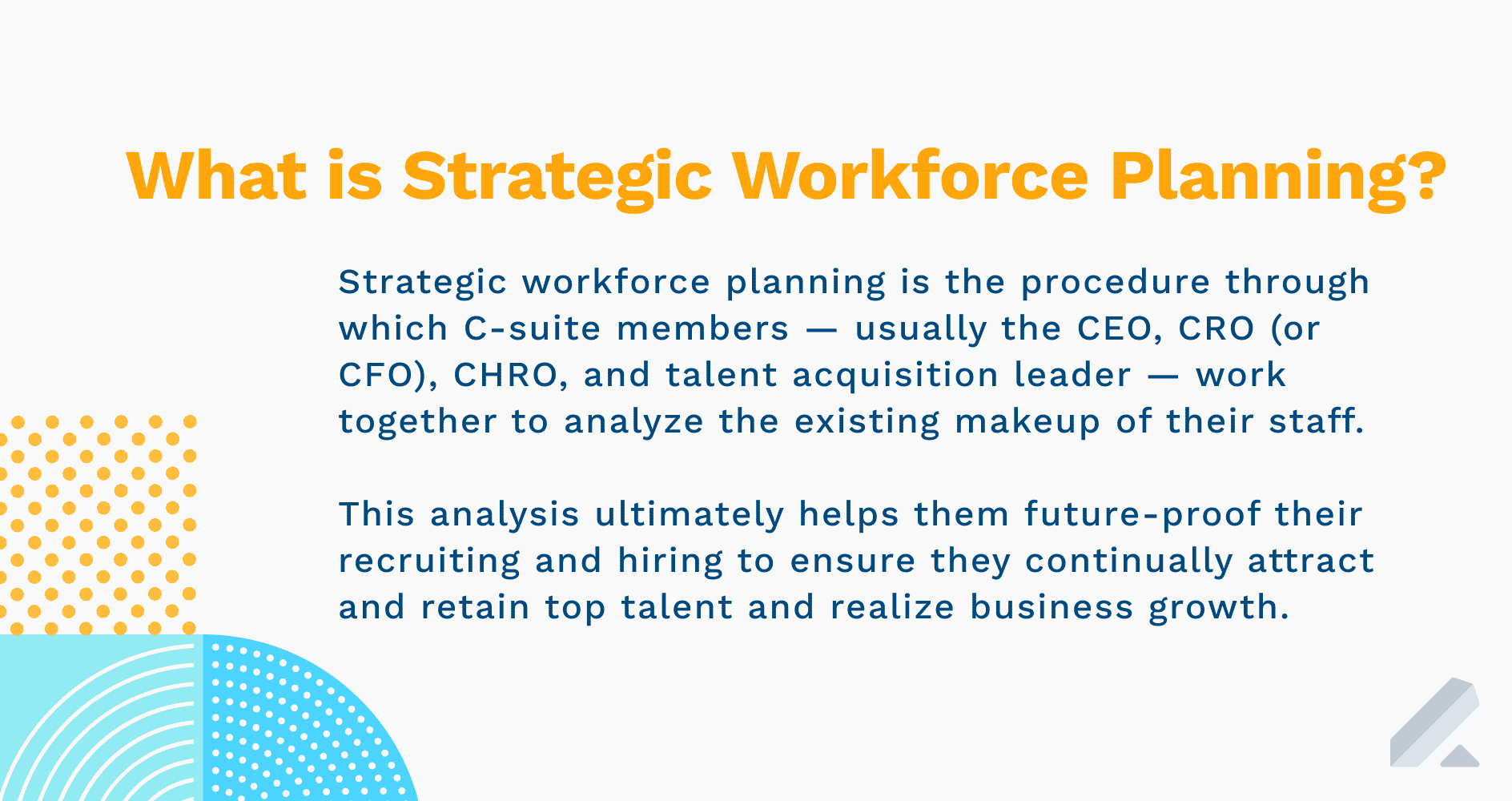 3 pros of a strategic workforce planning strategy
Your strategic workforce planning may not always lead to the intended results. But the approach is necessary to employ to realize your executive team's desired level of growth.
Here are three of the biggest benefits of operational workforce planning.
1) Alignment with strategic business objectives
Your business has strategic goals that impact every team. That includes talent acquisition.
Addressing workforce gaps, focusing on succession planning, filling critical roles in each department: These are just some of the recruiting- and hiring-centric considerations your executive team must account for when developing their annual business strategy.
You and your TA team can use these goals as your North Star when setting your recruiting goals and implementing your talent strategy to ensure you contribute to business growth.
2) Concerted focus on future workforce needs
This insight into your C-suite's business goals can help all of your recruiters understand the type of talent they must source and present to hiring managers to future-proof the workforce.
Let's say you work for a software firm that plans to roll out a new product in six months. Your e-staff agrees this requires investment in more programmers, developers, and engineers.
But you need much more info than just job titles.
You also need those who will ultimately manage these individuals to share the distinct skill sets, experience levels, and backgrounds they desire in new employees.
Only when you've met with these hiring stakeholders in a strategic workforce planning session can your talent acquisition team identify and engage relevant passive candidates.
3) More efficient and predicate hiring efforts
The top workforce planning strategies enable business leaders to improve in two key areas: efficiency and forecasting.
Efficiency
Knowledge of growth goals and headcount needs simplifies recruiters' jobs. They can set up the appropriate workflows to streamline their sourcing, nurturing, and interviewing processes.
For instance, with an ATS + CRM that offers automated workflows, like LeverTRM, recruiters can set up rules to filter out certain applications that don't meet the criteria for a given role (e.g., certain number of years in the field, attainment of a specific certification).
Forecasting
Unified workforce planning also helps business leaders better predict future hiring results. Historical candidate and employee data — data that can ideally integrate with your org's primary TA tech — can give you the forecasting abilities of a sales leader.
This leads to a more proactive recruiting approach than a reactive one, since you can make decisions based on accurate, timely data associated with existing employees and prospects in your candidate pool.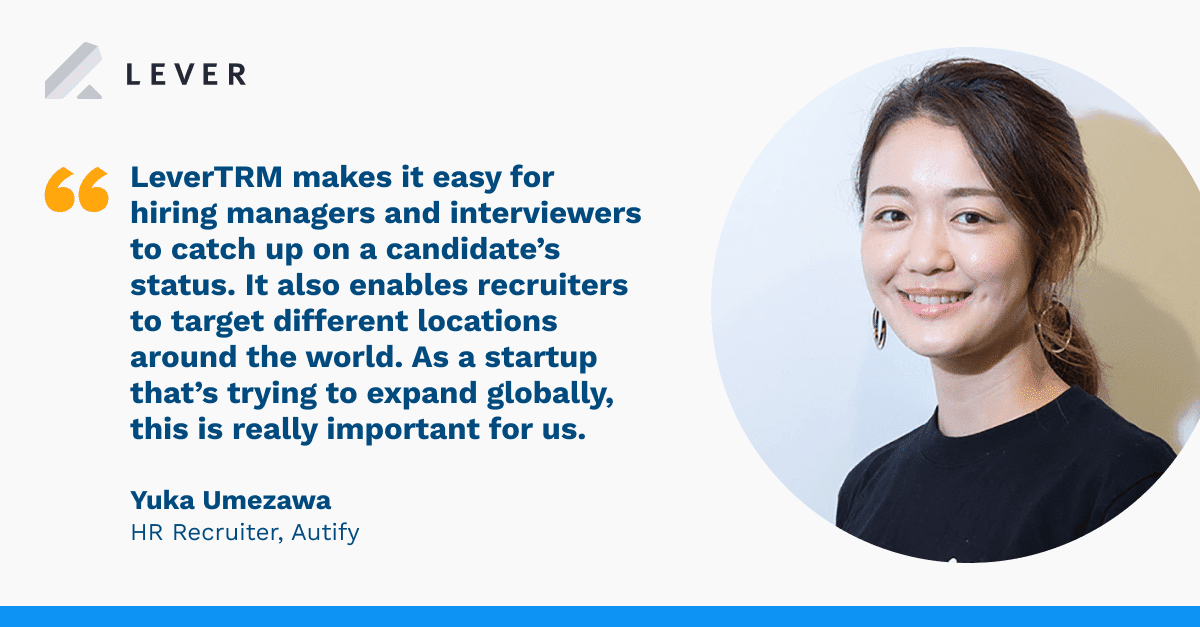 Tips for effective strategic workforce planning
Want to nail your strategic workforce planning approach (and make sure you hit the pipeline and headcount goals laid out by leadership)? Here are a few expert tips to help you succeed.
Coordinate closely with HR and hiring managers.
Silos are the enemy of progress. They deter effective collaboration among those who need to work together to achieve short- and long-term business goals.
One example? Talent acquisition, hiring managers, and the HR team must work together (and speak with each other frequently) to coordinate efforts around attracting and retaining the right talent.
BambooHR Sr. Talent Acquisition Partner Sarah Bradshaw said it's critical for these three facets of the hiring team to communicate and collaborate cross-functionally throughout the recruiting process for open roles to ensure everyone is up to speed on the latest progress.
Sarah added it's also vital to work from the same source of recruiting truth — preferably, a TA suite that syncs with the company's HRIS — to make it easy for these stakeholders to share data, updates, requests, and other notifications as candidates' statuses change.
Analyze your recruiting and hiring KPIs regularly.
A key component of workforce planning analysis is really just evaluation of your core metrics.
For example, if you're a talent acquisition leader, you can review the types of candidates your sourcers add to your talent pool to ensure they match the impact- and background-related criteria laid out by your hiring managers and executives.
Suppose the prospects they source usually aren't high-quality/in alignment with the role-based needs. In that case, you can advise them accordingly (i.e., tell them to source from only the most fruitful job boards/communities where premier prospects are often found).
Talent directors and operations managers are the ideal TA personnel to routinely track these KPIs. But it's just as crucial for hiring managers to check in on data and insights for roles they're trying to fill so they're abreast of recruiters' performance and progress.
Visual Insights in LeverTRM offers out-of-the-box dashboards, including one for hiring managers.
This dynamically refreshed recruiting dashboard shows hiring managers where target prospects of interest are in the recruitment funnel (e.g., specific interview or offer stage).
They can also use Lever Nurture to view the latest candidate engagement. For instance, Lever Nurture provides insights related to outreach (e.g., email opens, clicks, and replies).
Work with an RPO firm to help execute, if needed.
You may not have the recruiting bandwidth or resources to achieve the target hiring quotas agreed upon during your joint strategic workforce planning sessions.
If this is the case, you can turn to a recruitment process outsourcing (RPO) firm to aid your sourcing, nurturing, and screening efforts to lighten the load on your recruiters.
You may not need an RPO to take over your end-to-end recruitment process. But even contracting a small support staff (even a single, external recruiting specialist) can prove helpful with achieving the goals laid out in your workforce planning discussions.
The key is working with the right RPO agency to aid your team. For instance, you will want to work with a reputable firm that has a proven track record of finding and converting candidates in specific positions or on specific teams that align with your future workforce needs.
Watch our on-demand workforce planning webinar to learn how human resources and talent acquisition can work together to achieve their shared headcount goals.