Employ Quarterly Insights Report | Q3 2022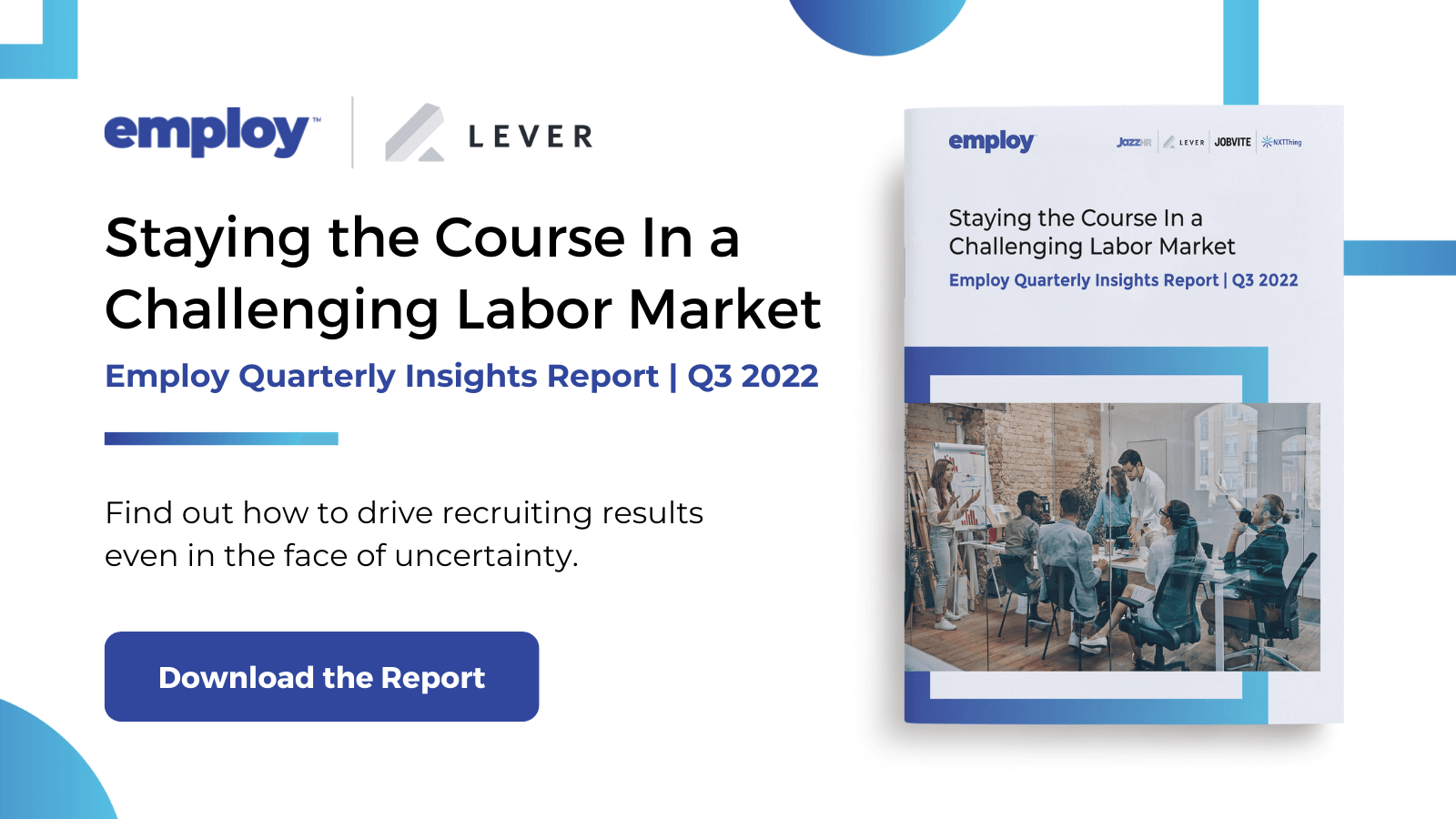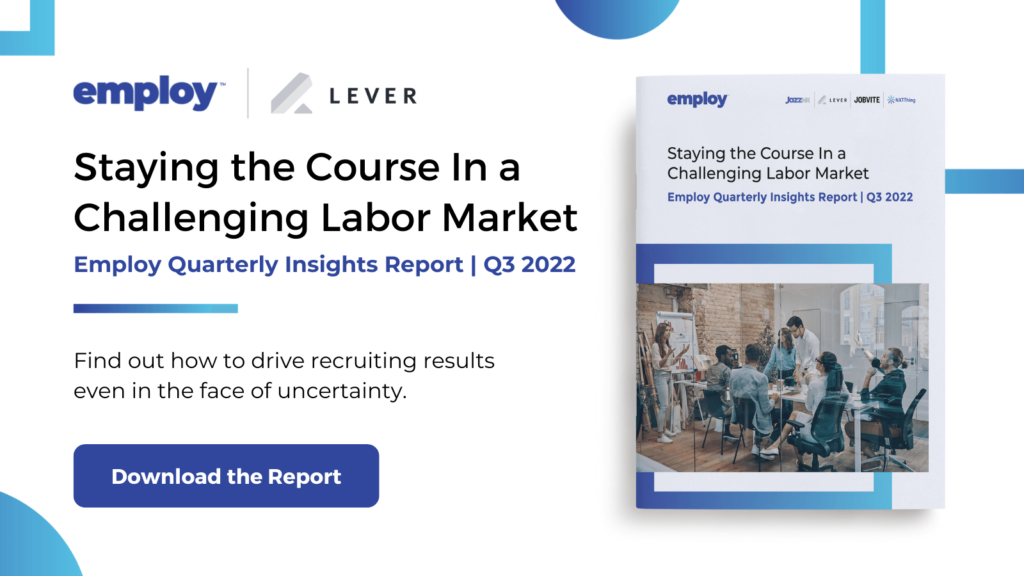 The stakes of recruiting are high as companies face significant hiring challenges within the tight labor market. Record-level turnover and job openings have led to increased competition for talent, high recruiting costs, and a considerable candidate gap for employers.
The difficult hiring landscape affirms more effective recruiting programs and talent acquisition investments are strategic imperatives for businesses of all sizes.
To help companies navigate this challenging hiring environment, Employ is pleased to offer Staying the Course In a Challenging Labor Market.
This new report features the latest proprietary and market data, key takeaways, and actionable insights to support organizations in improving their hiring efforts.
Download a copy of the report to learn more about:
New data and insights related to the current hiring market
The most common roadblocks recruiters face
Why leaders should prepare for turbulence
How recruiting serves as a driver of business strategy
Key strategies and tactics to improve recruiting initiatives
How to adopt a long-term perspective of recruiting success
The impact of recruiting technology and outsourcing on hiring effectiveness
About the Employ Quarterly Insights Report
The Employ Quarterly Report brings together the depth and breadth of Employ's proprietary recruiting data, recent market research, industry data and trends, and talent acquisition expertise, including our holistic dataset of nearly 500 million candidate records. This report also features the recent sentiments of 1,202 recruiting and HR decision makers based on an online survey of the current talent acquisition climate conducted in June 2022.
Here is just a small sampling of data presented in the report:
85% of organizations report their average time-to-hire is four weeks or less, with 32% of respondents indicating they are filling roles in under two weeks.
81% of talent acquisition professionals indicate that attracting top talent has become more challenging over the past year, with 33% stating that it has been very challenging.
65% of recruiters say their job is more stressful today than it was a year ago. Of those that say it's more stressful, 51% say the lack of talent to fill open positions and competition from other employers is to blame.
69% of practitioners believe that attracting and hiring talent will be challenging for the remainder of 2022, with not enough quality candidates as the top reason, according to 58% of respondents.
62% of respondents say their top recruiting priority right now is increasing the quality of hire.
Get a copy of the Employ Quarterly Insights Report and learn how you can make more informed decisions to deliver more predictable hiring results.
Download the Report