When it comes to your talent acquisition tech stack, the choices can seem overwhelming:
There is recruiting software, like talent acquisition suites, that offers powerful applicant tracking systems and candidate relationship management (CRM) capabilities for TA teams.
Then, there are recruiting tools that can sync with — and enhance the effectiveness of — ATS + CRM solutions recruiters and other hiring stakeholders use to help them make smarter sourcing, nurturing, interviewing, and hiring decisions.
The difference is subtle. But the point is your main recruiting software is (ideally) a single source of truth for all TA activities that enables everyone on your team to quickly and efficiently analyze various facets of your recruiting (e.g., status of potential candidates).
Your recruiting tools — like ones that help you conduct video interviews, secure employee referrals, and help human resources begin the onboarding process — are meant to augment your primary recruiting solution and ensure your team is as productive as possible.
Proven recruiting tools talent acquisition teams should consider adding to their tech stacks
Lever Partner Marketing Manager Rachel Phelps put it best:
"By integrating your ATS + CRM solution with critical recruiting tools, you streamline your processes, eliminate duplicated efforts, reduce human error, and — ultimately — allow your TA team to concentrate on what really matters: your candidates."
Need to better collaborate with hiring managers? Looking to write better, more inclusive job posts? Want to leverage a job aggregator to publish listings to multiple job boards?
There are recruitment tools that can help you in these areas, among many others.
Here are 15 of the best recruiting tools (in no particular order) Lever customers integrate with our native talent acquisition suite and use daily to enhance their output.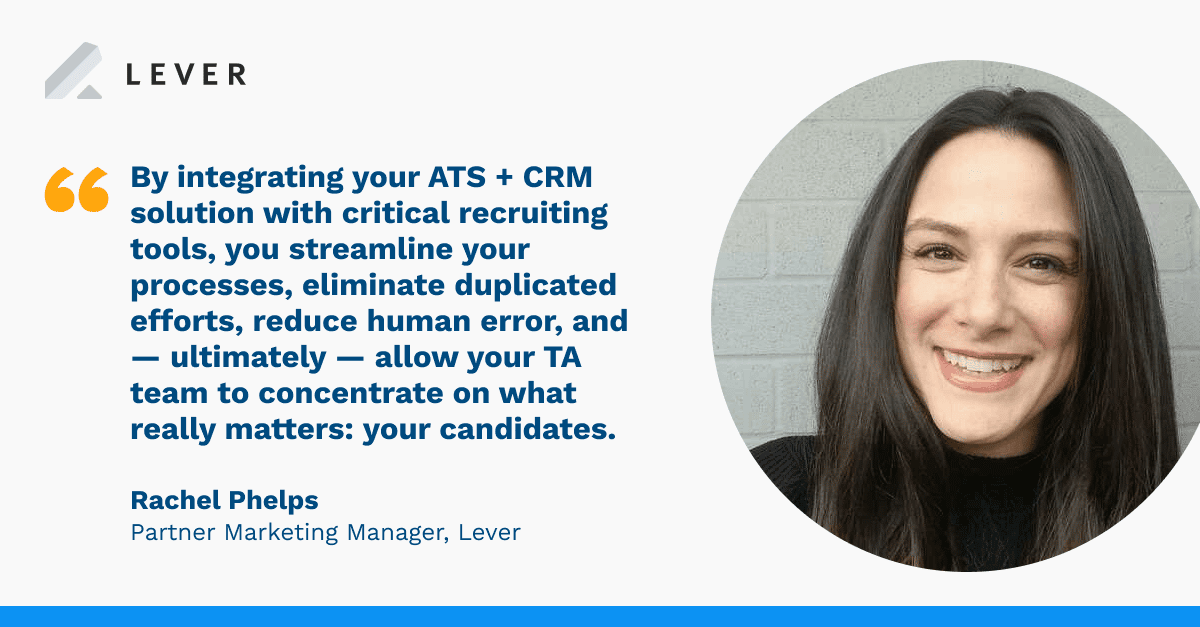 The first step to filling job openings? Writing compelling impact descriptions — something Datapeople helps Lever customers do. Multiple stakeholders can write, review, and revise descriptions in Datapeople, then use the one-click sync to send those descriptions to Lever.
Starred's candidate experience platform enables recruitment teams to send NPS surveys to rejected, withdrawn, and hired candidates at each stage of the recruitment process.
Feedback is translated into actionable insights and linked to each recruiter, hiring manager, and more. The no-code integration with Lever allows recruitment teams to effortlessly measure, analyze, and improve their candidate experience.
Role-based assessment tools help hiring teams determine if candidates have the requisite skills for a given position. With Codility, hiring managers can send structured engineering-centric assessments to prospects to equally gauge and compare their technical skills.
Hired offers a similar tool that also integrates seamlessly with Lever. It enables hiring teams to send programming "challenges" to prospects directly from our TA suite. These evaluations help employers discern candidates' suitability for tech roles and reduce hiring bias.
The two previous assessment-oriented recruitment tools are tech-specific. Criteria is a broader evaluation tool. It helps hiring teams use "objective, multidimensional data" to measure candidates' personalities, aptitude for certain kinds of work, and overall emotional intelligence. Assessments can be sent to prospects based on recruiting process stage triggers.
Cognitive-skill and calibration assessments can be sent via Bryq to candidates — but the tool offers much more than just tests. It also helps joint customers with Lever decrease recruiting bias, promote talent mobility within the organization, build strong company cultures and minimize hiring risk (i.e., extending offers to poor-fit prospects).
Live video interviewing exploded in popularity amid the pandemic. But talent teams employed other video interview approaches too. One approach is to have candidates answer interview questions provided by hiring teams through recorded videos hosted in Spark Hire.
Lever customers can trigger these "one-way" video interview requests during screening and/or when prospects progress to a particular recruitment funnel stage.
Conducting efficient video interviews is one thing. But hiring teams also need to record and revisit these interviews to ensure they fully understand candidates' answers and general comments. That's where BrightHire can help.
The recruitment tool's AI functionality auto-generates transcribed highlights from each interview to help recruiters and hiring managers make smarter hiring decisions.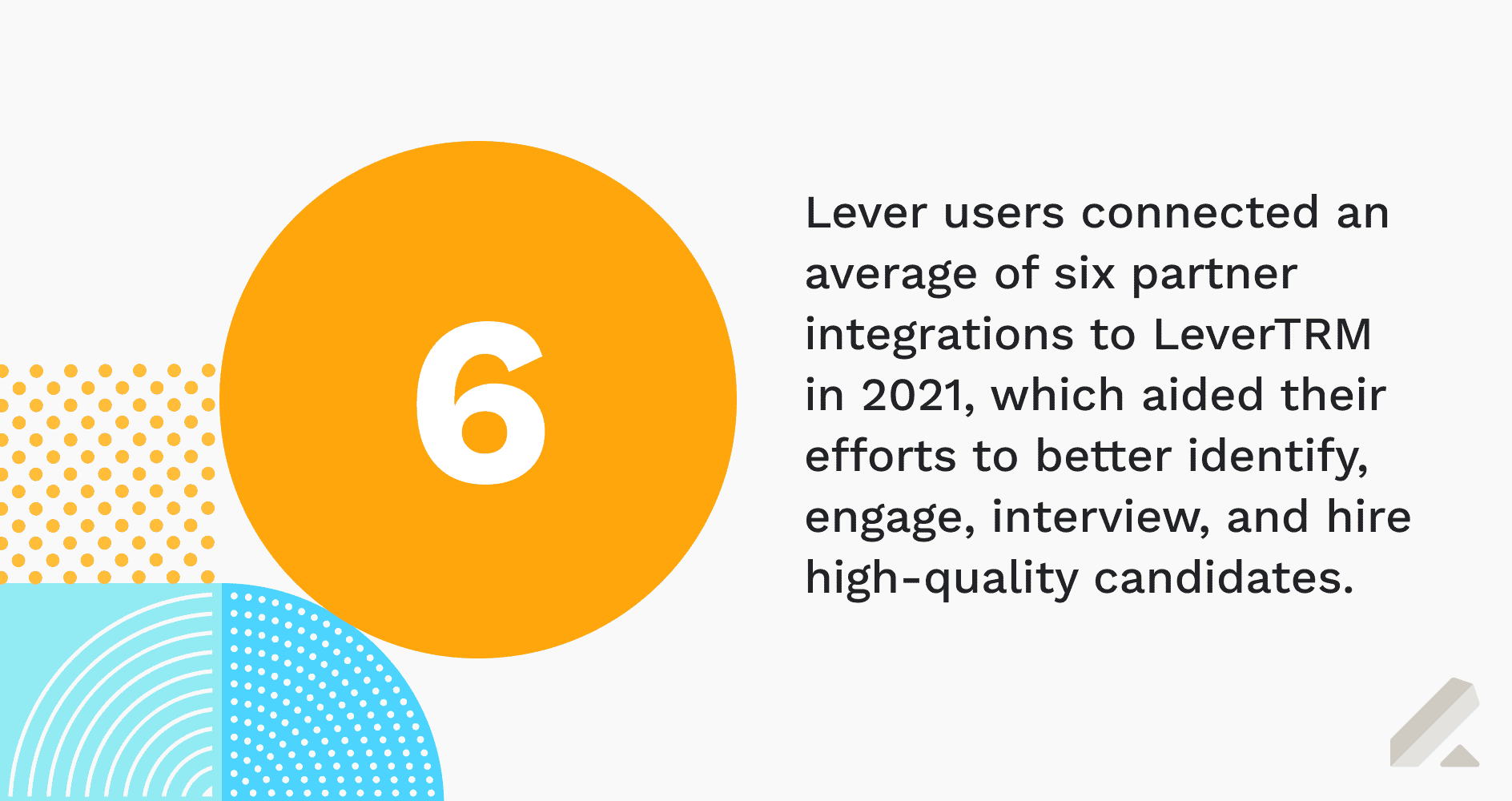 Our 2022 Talent Benchmarks Report found Lever customers continue to enhance their email-based candidate nurturing. But many LeverTRM users also use Grayscale in tandem with Lever's native nurture capabilities to build unified email-text nurture programs.
The data from this unified nurture approach can be shared between our solution and Grayscale's automated text communications app to track the overall engagement of qualified candidates throughout the recruitment funnel and convert them at a high rate.
Compensation analysis is a core HR task. However, recruiters and hiring managers need comp info at the ready to ensure they send enticing offers to prospects that fall within their pre-set salary bands in a timely and efficient manner.
Compa's predictive comp analysis features help hiring teams determine the ideal offers to send to high-quality candidates to get them to sign with their orgs — and quickly.
Inbound recruitment marketing helps talent teams attract top-tier active candidates to apply for roles. But outbound recruitment marketing is still necessary to help target premier passive prospects for open positions. That's where HireEZ can help.
The tool helps recruiters engage qualified talent and boost response rates to outbound ads and messaging (e.g., automated/branded drip email campaigns).
Hiring stakeholders will never be removed from the recruiting process. Nor will AI take over decision-making regarding which candidates to engage and move forward with.
But recruiting tools like Fetcher ensure only best-in-class prospects are contacted for active roles. How? By learning businesses' candidate preferences, which helps them sort through and select the ideal applicants to reach out to and advance in their recruitment process.
Scouring the web for candidates' contact info used to be an arduous task for recruiters. No longer. ContactOut has the phone numbers and email addresses for more than 1.2 billion individuals (i.e., 1.2-plus billion potential job candidates).
A Lever-ContactOut integration enables our customers to bolster their candidate profiles by syncing these contact details right into LeverTRM (in a data-compliant way, of course).
Direct connections with critical HR systems is paramount to recruiting and hiring success. The Phenom partner integration with Lever enables talent teams to get a 360-degree view of all candidate and employee data that helps both HR and TA with their respective work.
The recruitment tool provides robust insights into candidates' experiences and funnel journeys talent acquisition specialists can use to optimize their daily efforts.
Lever's JOIN integration helps recruiters post, update, and archive jobs ads with ease. What's more, all postings and ads created in JOIN can also be automatically published to upwards of 100 free job boards and other job search sites.
New candidates generated via these promos can be sent back to Lever, where our customers can work their magic with their respective CRM approaches and hire the optimal talent.
These recruiting tools won't do you any good without the right TA tech. Download our ATS Buyer's Guide to learn how to find the ideal talent acquisition suite for your team.