The use cases for workforce analytics for your business are practically endless. It can:
Help executive leaders ensure they offer fair pay across your entire organization
Inform new internal recruitment programs and learning and development offerings
Enable human resources practitioners to conduct in-depth skills gaps analyses
Aid with your org's collective efforts around diversity, equity, and inclusion (DEI)
Determine where too much spend is being allocated in terms of current headcount
Advise in terms of which exact people managers may need additional support
One use case you may not be aware of, though, relates to your talent acquisition efforts.
Integrating your human resources team's primary workforce analytics software — whether it's a standalone data tool or "baked" into their HCM/HRIS — with your ATS can better equip your recruiters with the knowledge they need to engage and convert top talent.
There are many "shiny new toys" in the talent acquisition tech space that provide some tangible benefit for your recruitment activities (think the AI-powered and machine learning tools you've heard so much about recently).
However, it's real-time data for active and archived candidates and insights for your existing employee base that are (and will remain) your top recruiting resource — one that actually moves the needle for your org and helps you contribute to growth in a meaningful way.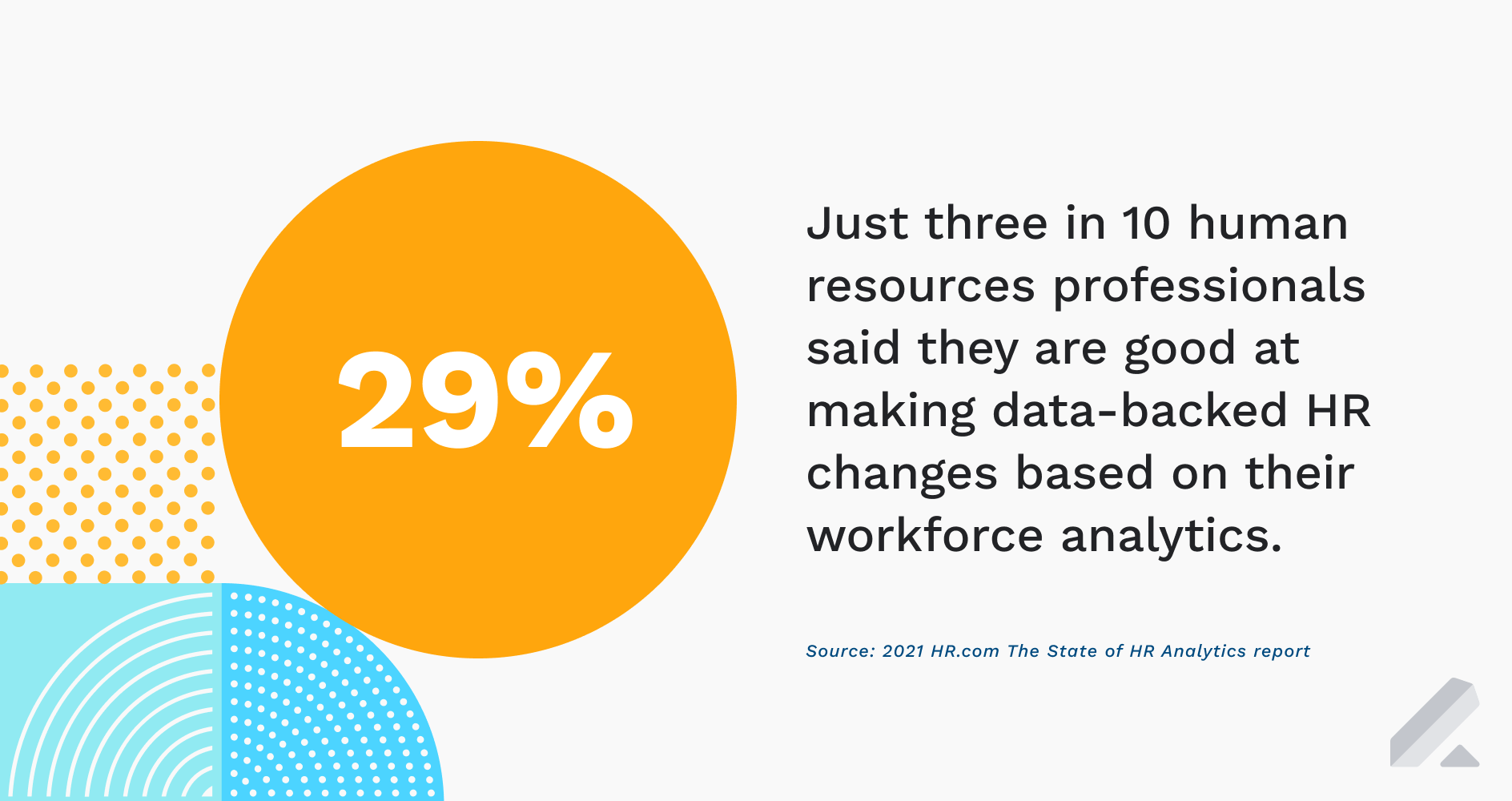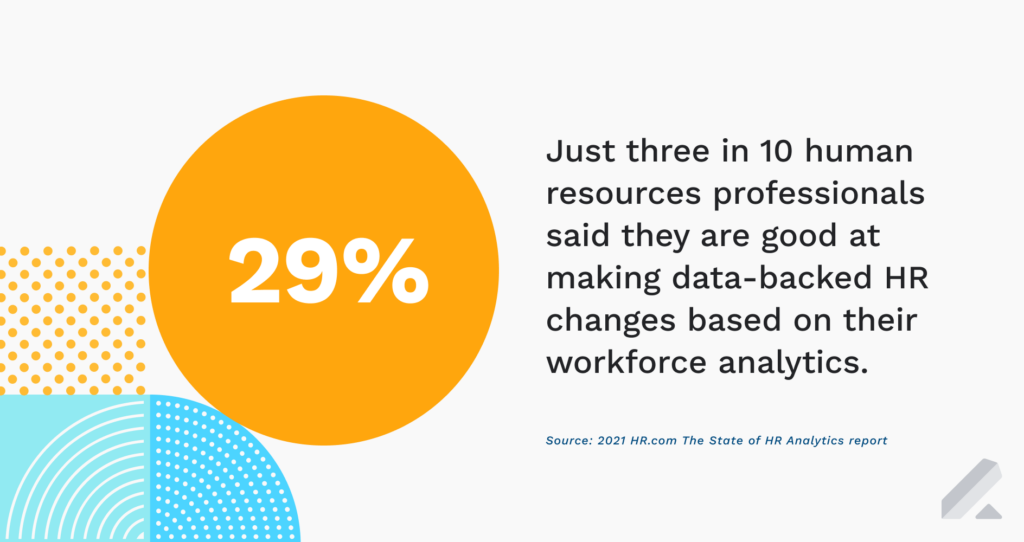 What is workforce analytics? A short explainer
You may be wondering how workforce analytics and HR analytics differ. Our in-depth guide on human resources analytics breaks this down, so we won't re-tread that info here.
Put plainly, though, workforce analytics is about identifying headcount needs across one's org and putting an action plan in place so recruiters know which roles to prioritize first and foremost (and which can wait to be filled).
Some HR teams use a mish-mash of workforce analytics tools that provide insights into different facets of their employee base (e.g., demographic data breakdown, employee performance insights, vacancies by business unit).
Many leading human resources departments, however, use a single workforce analytics software solution that makes data collection and analysis a cinch for HR professionals, since all employee info is centralized.
Regardless of the exact tech your HR team uses to better understand your workforce, one thing has become increasingly clear since the global pandemic and subsequent economic downturn, as former Human Resources Executive HR Tech Editor Phil Albinus recently wrote:
"Many organizations are increasingly recognizing that scouring data on their employees' motivations, engagement levels and aspirations is endlessly helpful, given the tight labor market and increased employee expectations. And the organizations that have not yet amped up their analytics are realizing that they had better start — and fast."
Translation? If you lack workforce analytics software that provides granular insights into your employees — not just their teams and salaries, but also their ambitions, contributions to the business, and motivators for sticking around — your CHRO needs to rectify this ASAP.
Not just to ensure employees are engaged and retained, but also so your TA team has a holistic understanding of where things stand with your workforce and, thereby, can adjust and adapt their recruiting efforts if/as needed.


3 benefits of workforce analytics for both your talent acquisition team and HR department
"This context is great, but how does this kind of data help us in talent acquisition?"
That's certainly a fair question — and it's one we have a few different answers for.
Here's how HR-owned analytics can empower your recruiters to improve their sourcing, nurturing, and interviewing activities — and help your TA team at large more effectively realize your leadership's long-term workforce planning vision for your business.
1) You can stay on the same page regarding your company's headcount needs
The uncertain nature of the current business climate means talent teams like yours are forced to pivot quickly to adjust to changing workforce planning objectives from execs.
On top of ensuring your talent team can thrive in periods of disruption (i.e., amid layoffs and hiring freezes) to the best of their ability is important. But, it's equally vital to stay in constant communication with HR too so you know when said headcount alterations have been made.
Your CHRO is often the first to hear about hiring plan adjustments made by your C-suite. Once they know the new approach execs want to take in terms of filling key roles, they then typically work alongside people/hiring managers and TA leaders to get on the same page.
During these catch-up sessions with HR to discuss the latest hiring needs, it's essential to access data for the roles your recruiters will be assigned to fill. Consider this:
Engineering roles were deemed the most pressing to fill following a hiring freeze.
Four engineers left voluntary prior to the freeze, but the hiring budget was paused.
Delving into the workforce analytics for these individuals could reveal potential reasons why those workers left (e.g., burnout, low pay, not advancing upward as desired).
As our blog explains, democratizing recruiting analytics with human resources and other hiring stakeholders can keep everyone aligned. The same goes for HR sharing their data sets.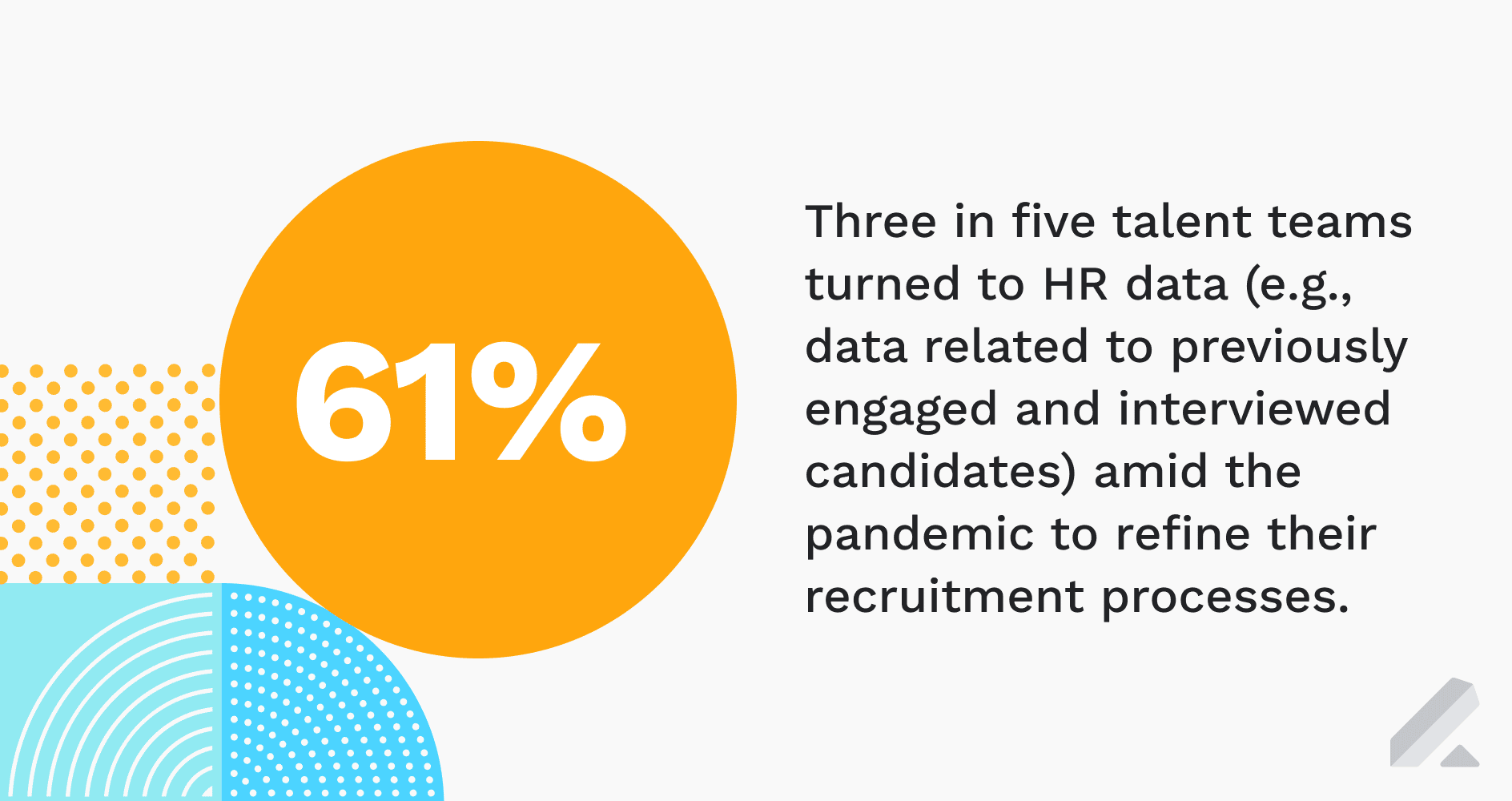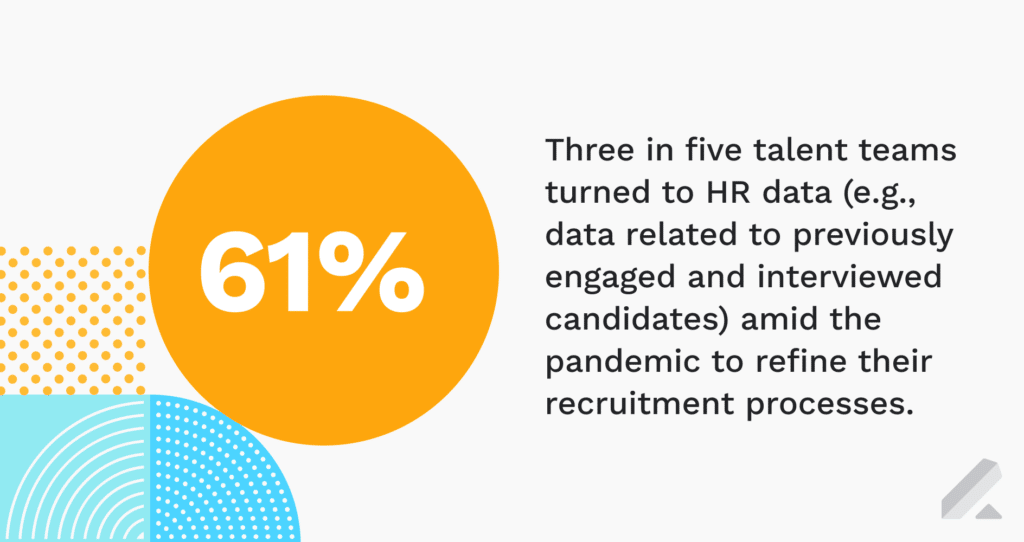 2) You can use people analytics to bolster both your recruiting and retention
Both your talent acquisition team and human resources department can use insights regarding your workforce to enhance your recruitment model and retention strategy:
Your TA org can use employee performance data (in tandem with people manager chats) to discern when and where an opening may occur on a given team. In other words, you can learn when a role may need to be filled due to impending promotions, voluntary attrition, and/or dismissals, based on both quantitative (workforce analytics) and qualitative (manager feedback) insights.
Meanwhile, HR can analyze data associated with employee engagement to understand where they should allocate more time and resources to ensure staff members are satisfied with their work and the org and want to partake in the company culture — both of which impact your company's efforts to improve employee retention and turnover.
Bottom line: Analytics for your employee base make TA and HR specialists' lives easier by supplying them with in-depth intel into your workforce — the good (e.g., insight into what will help retain top-performers) and the bad (e.g., workers with a low opinion of your company culture or outlook).
3) You can collectively improve the candidate and employee experience
Just because your talent team is charged with reaching out to and speaking with prospective hires doesn't mean you're the only ones who impact the candidate experience.
A big part of modern HR management involves onboarding specialists from human resources liaising closely with their TA colleagues to ensure a smooth and seamless transition from offer acceptance to the first day on the job for new employees.
Once onboarding has ended, HR will invariably collect a wealth of data tied to new hires over time, as they take part in regular review cycles, fill our employee satisfaction surveys, have routine check-ins with their people managers, and engage with your business in other ways.
All of this workforce analytics data paints an increasingly clearer picture for high-level executives and departmental leaders regarding the sentiment of specific workers and how those individuals contribute to business performance.
However, this data — data that ideally syncs with your main TA software — also enables your team and HR to steadily improve the quality of candidates' experiences in each stage of the recruiting and hiring life cycle you both touch.
Request a demo of our complete ATS + CRM solution today to learn how you can sync your TA and workforce analytics data and bolster your talent management approach.