The best talent acquisition leaders don't arbitrarily assign recruitment KPIs to specific TA specialists and their teams at large. Rather, they use data to drive their decision-making around what goals to set for their recruiters.
The number of applicants generated, candidate source quality, the average time to hire and fill, offer acceptance rate: There are myriad metrics talent directors use to inform the objectives they assign to their recruiting staff.
How each individual recruiter goes about delivering on the distinct, data-backed recruitment KPIs assigned to them will certainly vary from one talent specialist to the next.
That said, there are certain best practices the most successful TA pros follow to ensure they "reach" their designated targets as it relates to identifying, engaging, and converting qualified candidates and improving their orgs' candidate experience and diversity hiring efforts.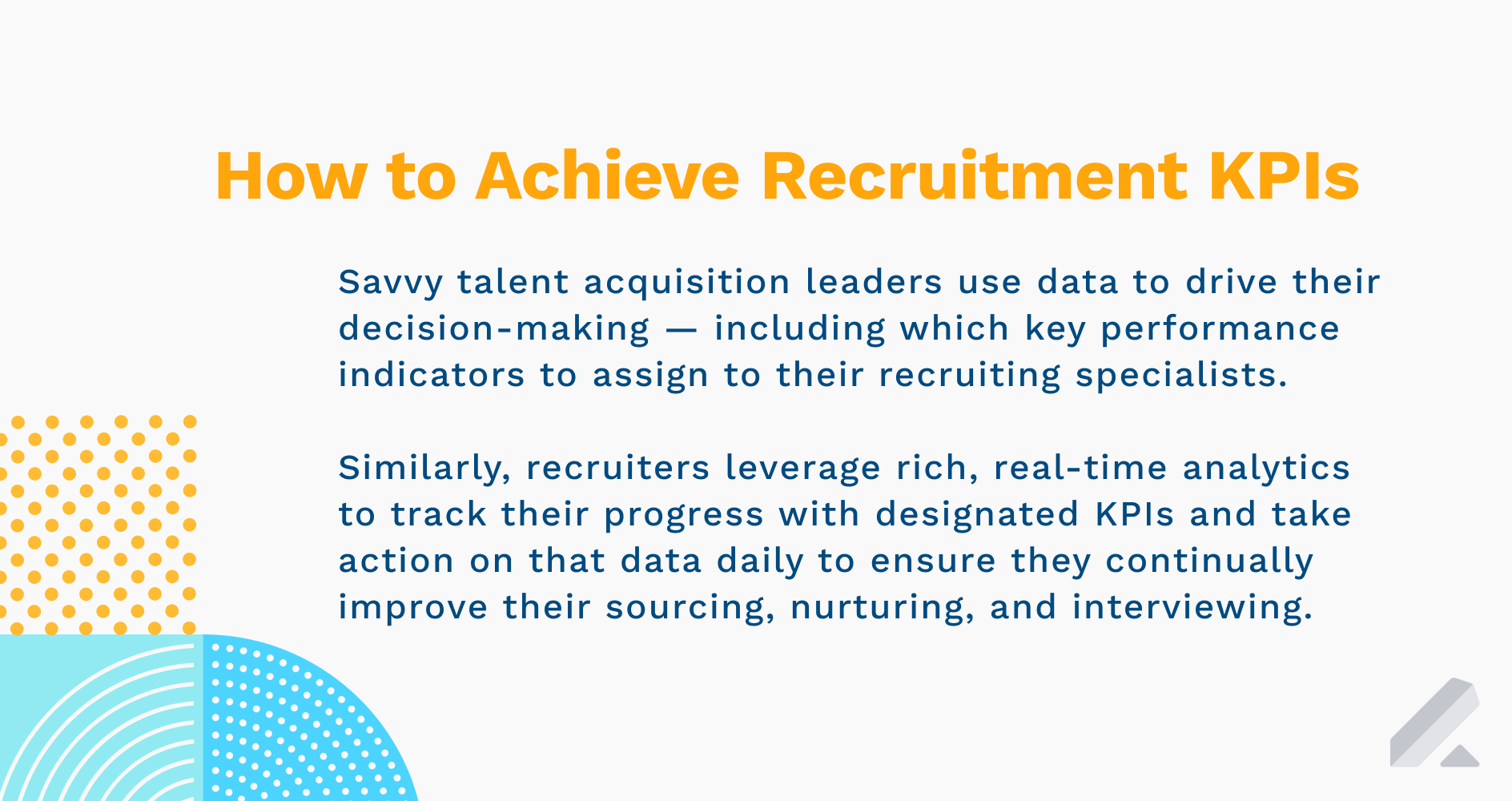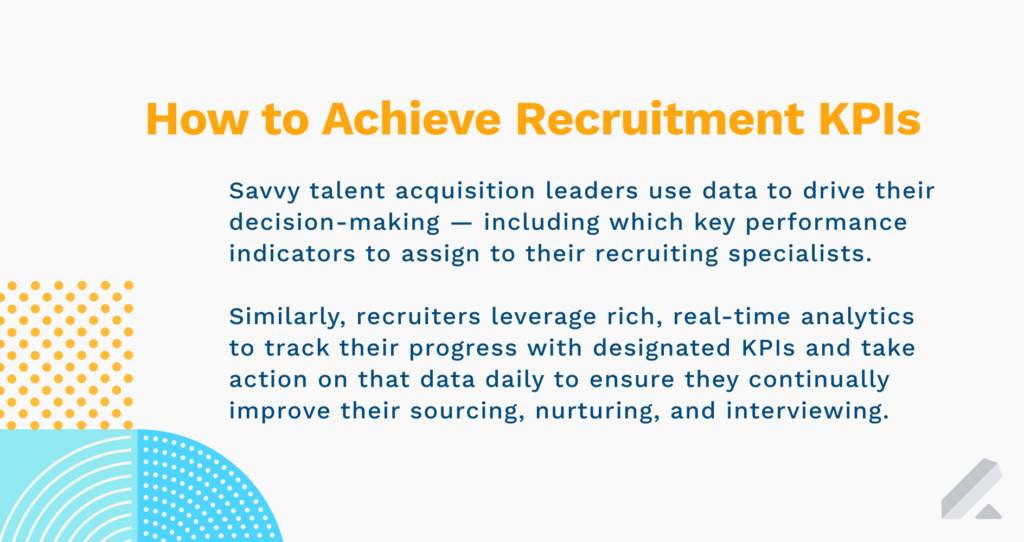 5 tips to help you achieve your individual and talent acquisition team recruitment KPIs
"If you aren't finding the best, brightest, and most aligned people to join your company, all the other management and business process work will fail," HR tech and talent management expert Josh Bersin recently wrote on his blog.
"So recruiters … are doing one of the most strategic jobs in the company."
Given the strategic nature of your job as a recruiter — whether you're a one-person team at a small startup or part of an expansive TA team at an established enterprise — making ongoing progress with your recruitment KPIs is a must.
Taking this pivotal role you and other talent specialists at your org play in your company's success into account, here's how you can steadily improve the recruiting key performance indicators assigned to you each month, quarter, and year.
1) Ensure you and your TA leader are aligned regarding your recruitment KPIs
Getting wires crossed with colleagues happens with every company today:
Marketing managers sometimes aren't in accord with their CMOs about which promotional activities and channels they should focus on to generate leads
Business development representatives sometimes fail to confirm with their sales managers which prospects they should connect with via cold email outreach
And recruiters sometimes aren't in sync with their talent acquisition leaders about which facets of their TA efforts require the most attention in a given period
Let's say your talent leader assigned you a recruitment KPI that mandates you increase engagement with applications submitted via job postings for your open roles.
It's vital to know why your TA director found your current applicant totals tied to requisitions you've been assigned are lacking. Similarly, you can ask your talent leader what advice they may have to get more active candidates to apply for positions through your job postings.
No recruiter needs to go it along, when it comes to achieving recruitment KPIs.
Don't hesitate to ask your talent leader (and, for analytics and tech assistance, your operations manager) to ensure you understand what's being asked of you and the best way to go about improving specific facets of your recruiting.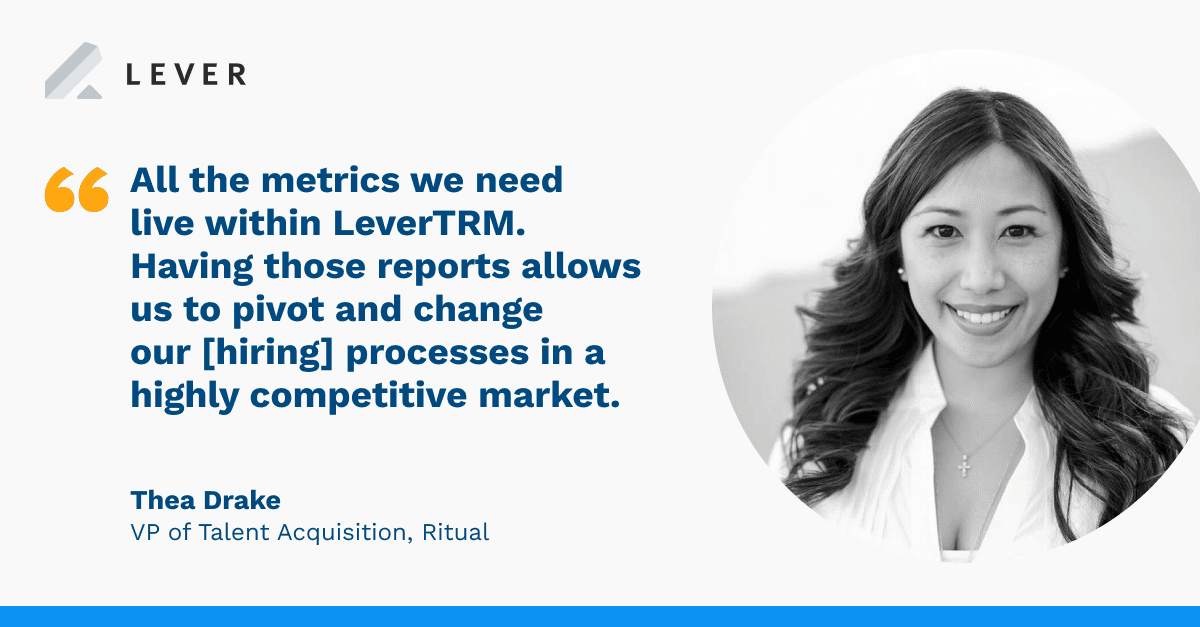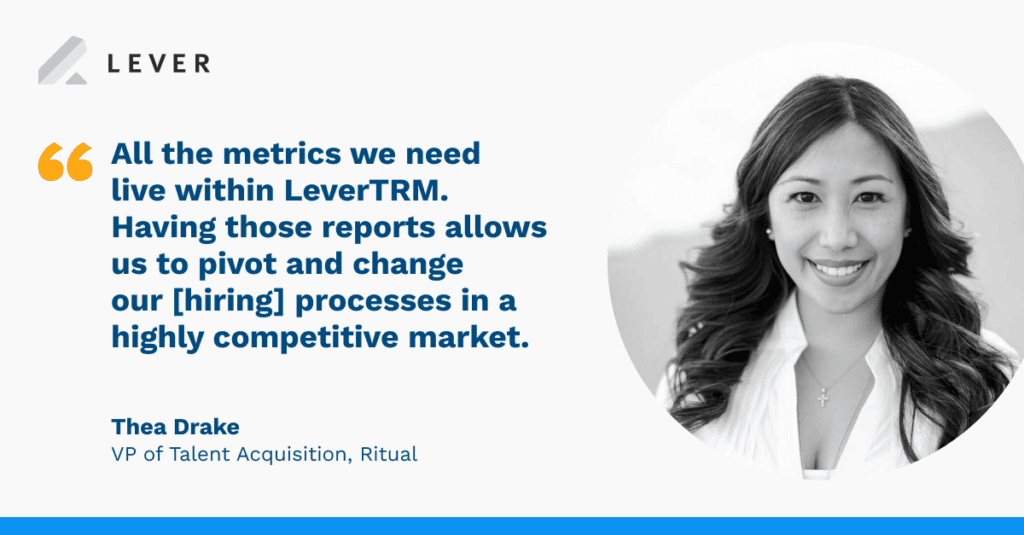 2) Get granular with your daily analysis of all your talent acquisition data
Speaking of analytics, you don't necessarily need an ops manager to get the data related to your recruitment KPIs (and, in turn, your daily TA efforts) that can help you make strides with your recruiting and hiring approaches.
Look no further for proof than the talent team at Lever customer Verafin:
The talent team at the financial crime management software provider previously had an ATS that deterred efficient data analysis and democratization across TA.
With LeverTRM as its main ATS + CRM, though, Verafin Team Lead Recruitment Heidi Murphy and her recruiting staff can easily find the talent insights they need to discern which metrics (e.g., cost per hire, hiring process speed) specific talent specialists and their entire team must improve.
Thanks to this team-wide analytics access — and the ability to find the data they need in just a few simple clicks — Verafin's TA team is now able to regularly deliver on their recruitment KPIS and continue to elevate productivity around and the performance of its recruiting strategy.
"Before Lever, [we] would have to manually create all of our reporting and put it into a slide deck" said Heidi. "But, with LeverTRM, it's effortless. I can even slice and dice the data by type of hire, area of business, or location."
3) Track your progress with pipeline management for top talent you engage
One particular aspect of your recruiting efforts to keep a close eye on is your candidate pipeline management (i.e., how quickly and efficiently you're able to advance and archive prospects assigned to active opportunities).
What your talent leader deems a "healthy" quantity of leads to have engaged in your pipeline at any given moment in time will surely differ than TA directors at other orgs.
Just be certain you know what this figure is so you can adjust your sourcing (e.g., channels on which you advertise open roles, career communities where you review job seekers' profiles) and fix any issues with the application process tied to posting for which you're the "owner" as needed.
In terms of sourcing, it's worth making continual progress with adding net-new prospects to your talent pool — regardless of recruitment KPIs designated to you.
"As sourcing is the first step in the hiring funnel, ineffective sourcing negatively impacts the success of all the stages that follow" McLean & Company's Jennifer Rozon wrote for Forbes. "If you can boost your top-of-funnel activity and quality, the rest of the hiring stages will benefit."


4) Closely monitor "non-recruiting" metrics tied to key performance indicators
Not all recruitment KPIs will be ones you that directly pertain to your actual recruitment efforts. Some may be associated with other hiring stakeholders. Consider hiring managers.
Just as you (hopefully) send out CX surveys to prospects you previously engaged (both passed-on individuals and new hires) to gauge their sentiment regarding your recruiting cycle, it's equally imperative to determine hiring managers' satisfaction level.
On the human resources side of the hiring equation, you also need to ensure the candidates who end up joining your company stay at your company (and contribute to business growth) for a long time.
As it relates to job candidates you helped convert, if you find out the total number of these employees leave your business within six months, that (partially) reflects on your own recruiting performance (even if hiring managers were ultimately the ones who agreed to send them offer letters and bring them onboard).
Enhancing every aspect of your full-cycle recruiting approach to ensure only the highest-quality candidates are moved into the interview stage and progressed accordingly (and quickly) and you'll invariably improve these so-called "non-recruitment" key performance indicators.
5) Know the specific actions you can take to improve each recruitment KPI
It won't always be apparent what alterations and optimizations you can and should make to your respective recruiting activities and approach at large to achieve your recruitment KPIs from one month and quarter to the next.
Having said that, there are two proven ways to improve your TA efforts at large:
Speak with other recruiters on your team to learn what tactics and techniques help them: You may have different recruiting responsibilities than other talent specialists on your team (e.g., types of roles you fill or activities you focus on). Even still, you can likely learn some new and helpful recruitment methods that can streamline and strengthen many day-to-day tasks. For instance, if one recruiter has set up rules-based, automated workflows to make resume review faster and more seamless, that may be worth implementing on your end as well.
Brush up on candidate relationship management (CRM) best practices every now and then: Taking a step back to evaluate the talent relationship management lifecycle — source, nurture, interview, hire, analyze, and rediscover — can help you get a holistic view of all your daily duties and, in turn, help you figure out which facets of this cycle merit the most attention. For instance, if your candidate pool is draining, so to speak, you could refocus your efforts on resurfacing existing talent in your database to assess their interest or fit for open roles.
Translation? Proactive communication and collaboration with your TA colleagues and a take-charge approach to examining and upgrading your recruiting efforts are two how you can gain ground with your recruitment KPIs.
Discover how to develop a data-driven recruitment process with LeverTRM that helps you achieve your respective recruitment KPIs. Take the tour of our TA suite today.