A well-built recruitment funnel — a framework that defines how top candidates move through the full life cycle recruiting process from start to finish — isn't just helpful for your talent acquisition team.
It also helps hiring stakeholders understand your TA team's typical recruitment "flow":
Reviewing applicants' resumes and cover letters and sourcing passive prospects
Screening leads to see if their background and skills align with job requirements
Introducing candidates to hiring team members in the rest of the interview process
Archiving individuals you pass on or who withdraw and hiring top talent of interest
Of course, your recruitment funnel stages and structure will invariably change in time, as you alter and augment your sourcing, nurturing, and interviewing approaches — something every talent team worth their salt does regularly.
The key to routinely refining your recruiting funnel framework — and ensuring a smooth and seamless experience for candidates and hiring team members alike — is to optimize intricate elements of each phase of the recruitment cycle.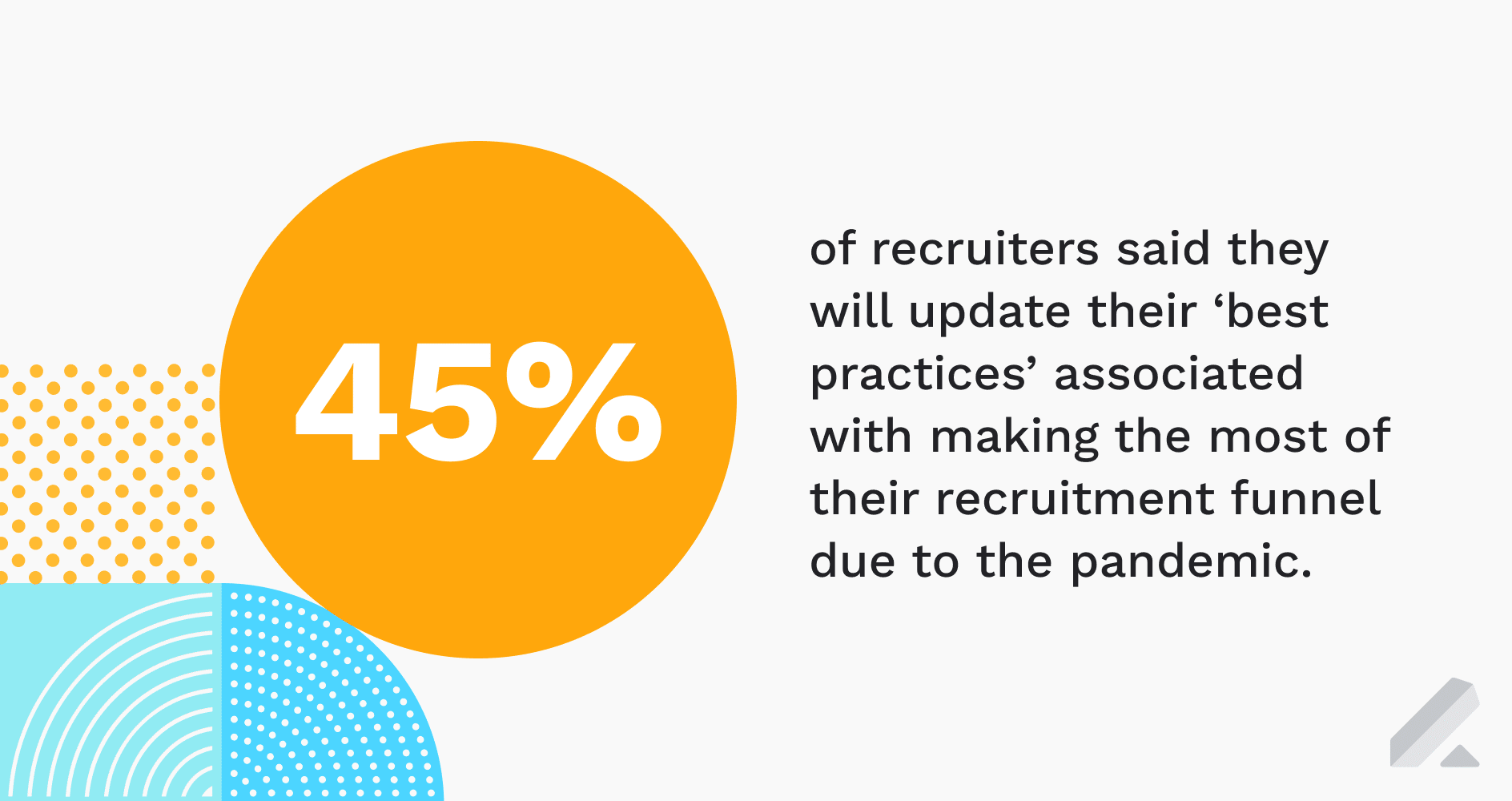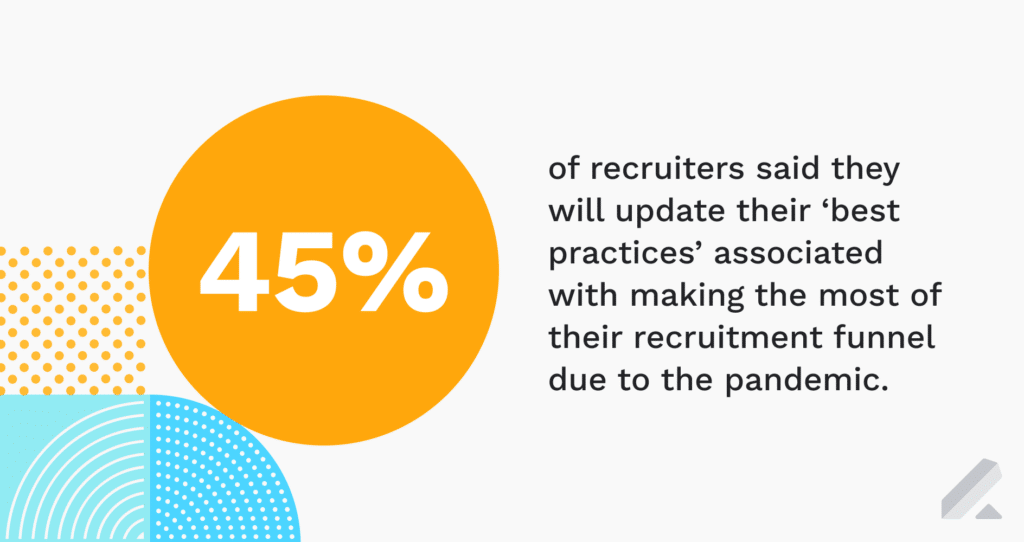 How to improve your team's recruitment funnel effectiveness (and core hiring metrics) in four steps
Here's how Lever customers — from mid-sized startups to enterprise orgs — enhance their recruitment funnel and, in turn, improve how they recruit and hire with LeverTRM.
Step #1: Evaluate your high-level recruitment funnel and full-cycle recruiting process
Improvement is an ongoing process. No talent strategy is perfect.
Continual evaluation in terms of how you get candidates and move them from one stage of the recruitment process to the next is the only way to boost performance.
Some questions LeverTRM users ask regularly to elevate their hiring efforts include:
Is our pipeline healthy? Do we have a group of strong job candidates with whom we can engage?
Are we meeting our target goals for core metrics (e.g., time to hire, cost per hire, conversion rate)?
Is our employer branding 'infused' in our recruitment marketing (e.g., career site, job descriptions)?
Do we make the application process easy/straightforward for candidates who apply/want to apply?
Are we moving qualified candidates of interest swiftly through the recruitment funnel? If not, why?
What bottlenecks exist in our recruitment process that have been and/or need to be addressed?
How many interviews/interview stages does it take to go from initial lead engagement to hiring?
What percent of new employees are deemed quality hires by hiring managers and HR specialists?
These are obviously just some high-level Qs to ask yourself. The point is the only way to strengthen your recruitment model is to revisit the state of your funnel often (e.g., biweekly, monthly) and take action on the insights gleaned from examining your TA efforts.
For instance, if you notice certain candidates (individual leads or groups of prospects vying for a particular role) are "stagnant" in your recruitment funnel (i.e., sitting in one stage for several days or even weeks), that's a problem in your hiring process worth resolving ASAP.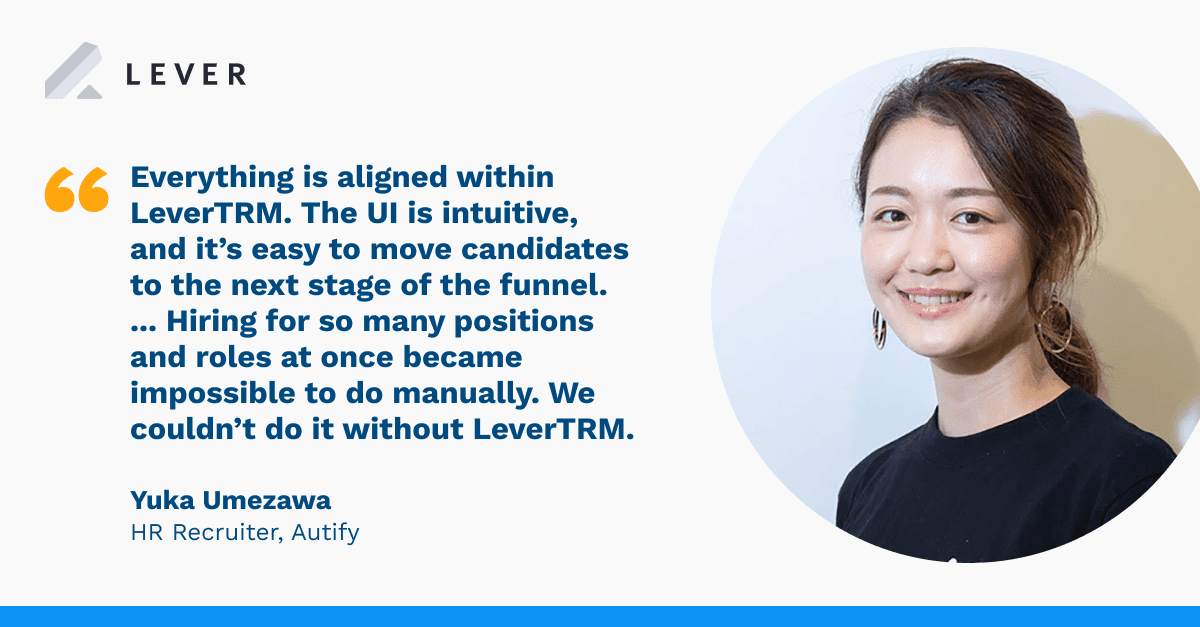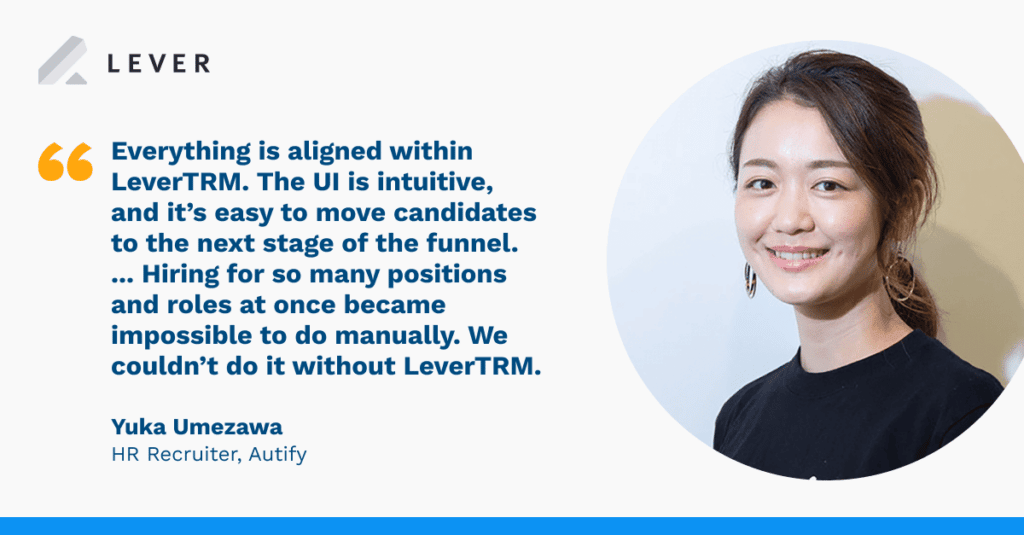 Step #2: Closely review your candidate experience and performance metrics as well
The above questions focus on high-level, qualitative components of your recruiting program. It's vital to remember there are also two types of quantitative metrics tied to your recruitment funnel you must also monitor to improve:
1) Candidate experience metrics: The time prospects remain in each funnel stage, how long it takes to go from the final interview to offer stage, the candidate NPS (based on a CX survey sent after the interview process), abandonment and completion rate (i.e., number/percentage of potential candidates who did and didn't finish the application process)
2) Recruiting performance metrics: Quality of candidates added to the talent pipeline (based on how well leads align with specs in job descriptions), quality of hire (based on hiring manager feedback in the weeks and months following onboarding), time to fill/hire (by role, team, department, and/or location), quality of origin/source of hire, job offer acceptance rate
Meeting specific KPIs related to sourcing and hiring quotas set by talent leaders (and possibly even the C-suite) is certainly priority number one for your team today.
That means constantly assessing how to improve tasks tied to your recruitment funnel (e.g., outreach through personalized nurtures) is your path to better TA performance and providing a stronger candidate experience.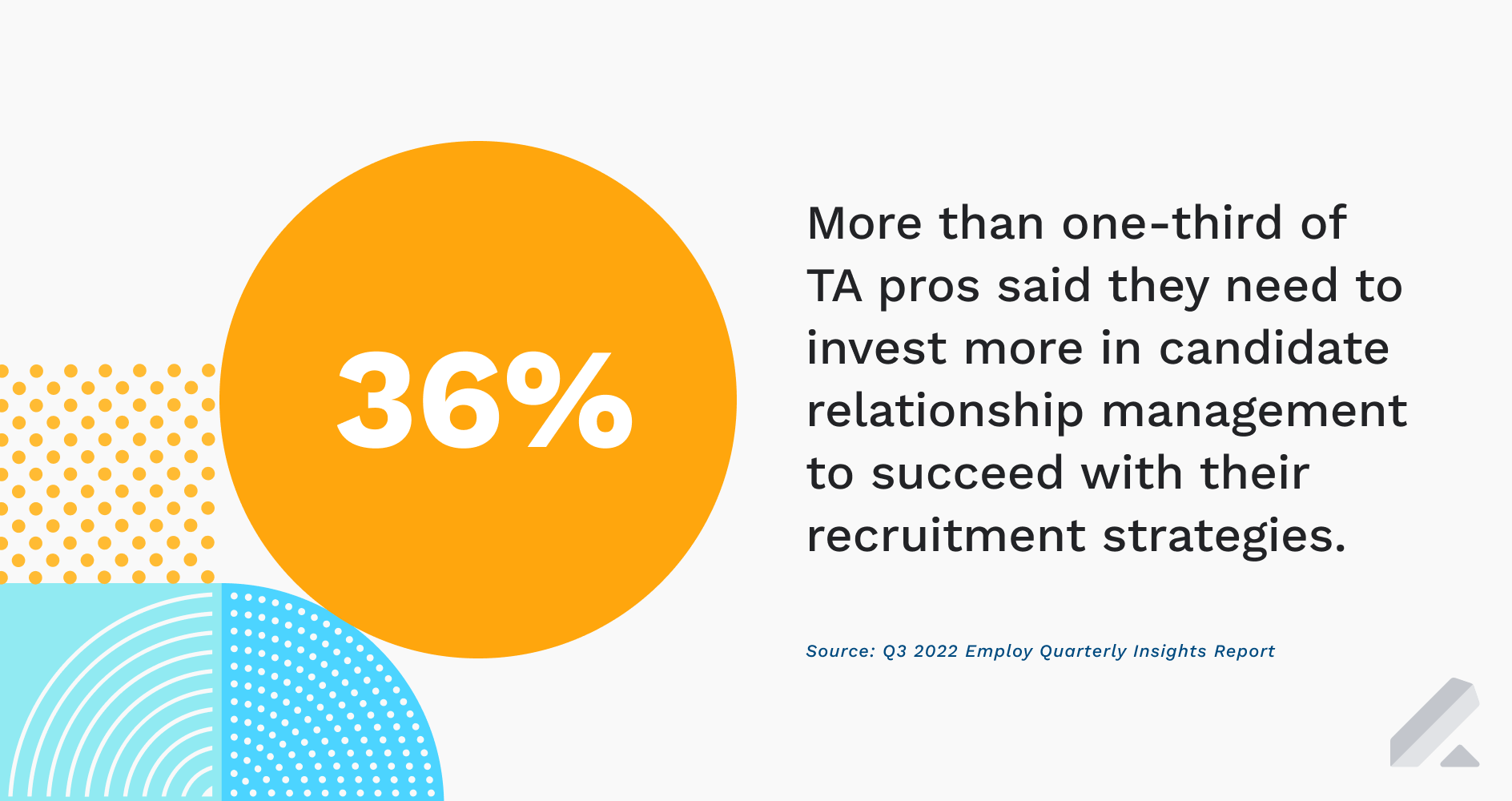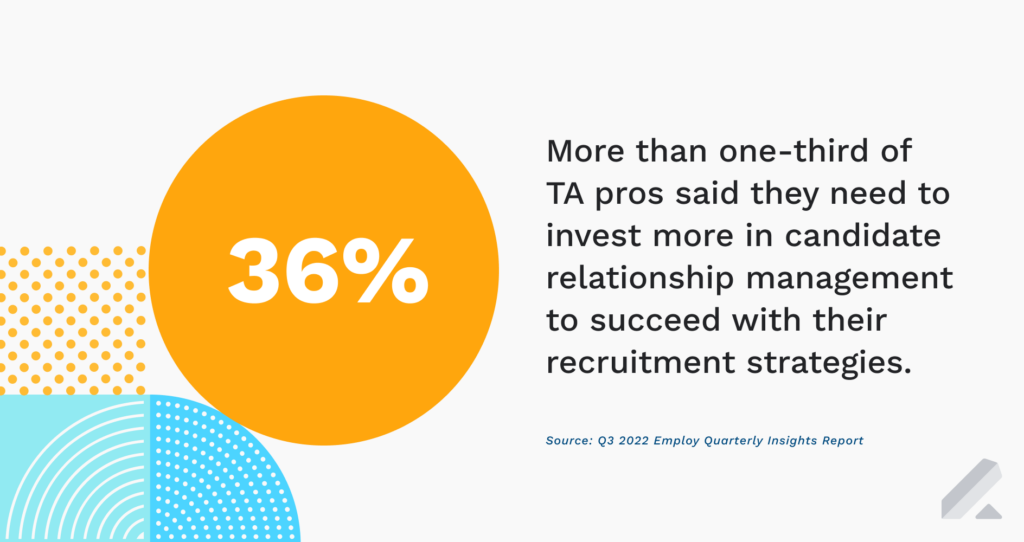 Step #3: Develop an action plan based on this data to make big and small changes
This analysis won't do you any good if you don't use the info and insights to rectify inadequacies in your recruitment process: both major alterations and minor upgrades.
Here are examples of large-scale changes you can make to your recruitment funnel:
Determine if your ideal candidate profile needs a refresh (e.g., if you want to solely engage leads with college degrees or are willing to speak with non-graduate prospects).
See if any changes need to be made to recruiters' "niches" (i.e., the specific roles they tend to fill and/or the teams to which they're assigned) to better set them up for success.
Build workflows that streamline and speed up certain elements of your recruiting efforts to more quickly advance job seekers through your interview and offer processes.
On the flip side, there are some instances of 'low-lift' alterations you can make too:
Assess each interview stage, and add, modify, and/or eliminate them as you see fit (e.g., if one stage takes too long to complete and/or leads to funnel abandonment).
Adjust the brand messaging on your career page, social media presence, and job boards to note the types of employees you want and improve the quality of applicants.
Test the copy, cadence, and schedule of nurtures to improve engagement. (Tip: Identify your best-performing nurture(s) and replicate its structure for others).
Of course, your talent acquisition efforts are unique to your org. That means there are certainly other areas of recruiting you should inspect regularly and amend as needed.
But, these facets of your TA strategy are worth revisiting often to bolster your funnel.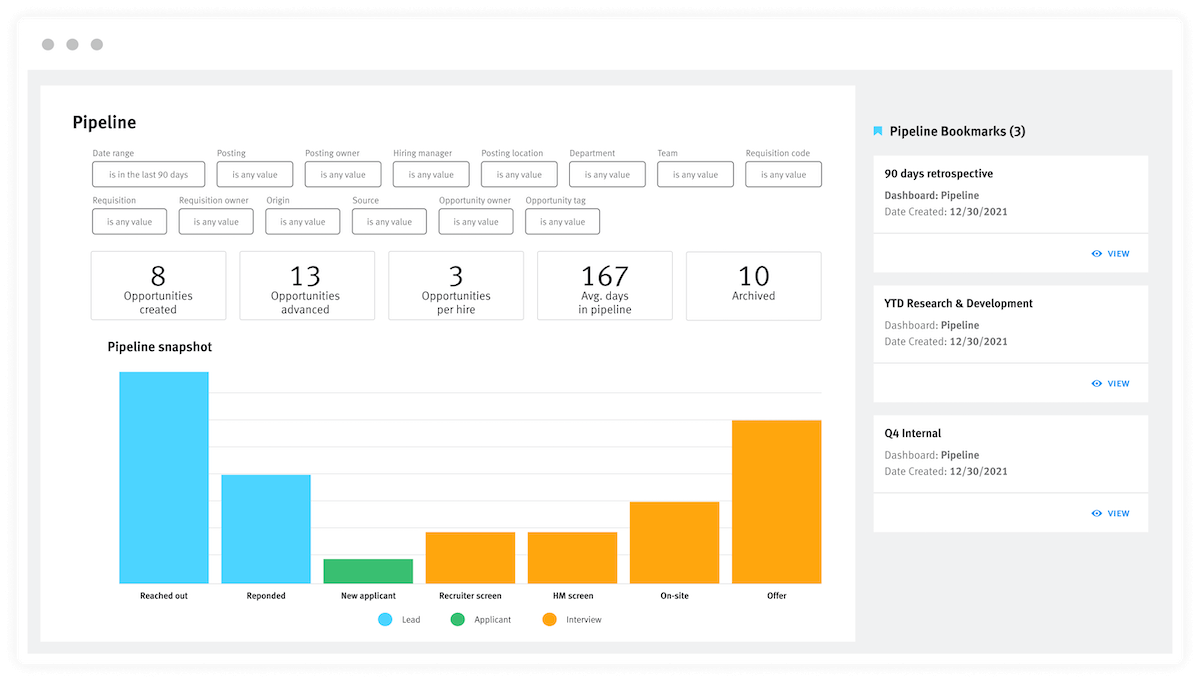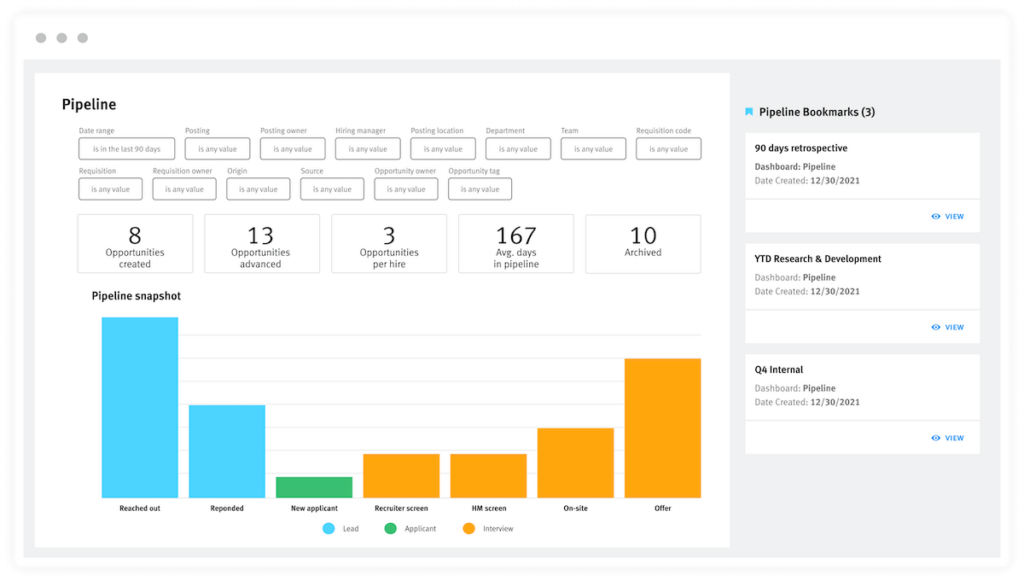 Step #4: Analyze your optimizations in the weeks and months after implementation
"Data clarifies the path to talent only if it drives decisions and actions," Gartner's Jackie Wiles recently wrote. And it's true: Data is only useful when it's — well — used appropriately.
Once you've repaired problem areas with your recruiting, it's critical to use your talent analytics to evaluate whether your TA metrics and overall performance progress or regress.
Some of the must-measure elements of your recruitment funnel include:
How and where you source talent: Ditch sources that lead to low-quality hires and double-down on the ones that lead to employees who contribute considerably to growth.
Each recruiter's nurture approach: The level of candidate engagement with nurtures will vary from one recruiter to another, but they can all learn from one another's campaigns.
Interview process effectiveness: Track interview panelists' parts in your interviews (e.g., how long it takes them to provide feedback) and time in stage for job seekers.
The velocity and efficiency of the offer process: Speed is the name of the game. You need to discern if you're moving prospects from screening to the offer stage as quickly as possible. (Without sacrificing the quality of the candidate experience, that is.)
Start with these "fixes," and you can start to realize better recruiting performance.
Speak with the Lever team today to learn about our ATS + CRM. Our reps can break down how LeverTRM can enable you to optimize your recruiting funnel with ease.