Data-driven recruiting may seem like an obvious concept to talent acquisition pros today:
Collect data and generate actionable insights that can be used to upgrade their recruitment models: from identifying and engaging more qualified candidates who are strong fits for open roles to converting those individuals into new hires more easily and efficiently.
That's what the approach entails. But establishing such a strategy doesn't happen overnight.
Rather, it takes a concerted team effort among recruiting leaders, talent specialists, and hiring managers to build a productive and predictable data-driven recruiting process that leads to smarter decisions based on rich, real-time insights tied to their recruitment and hiring funnel.
As Research Innovations Director of Talent and Community Erin Fristoe shared during Ascend:
"You have to build it, have that practice built into your team, and have conversations regularly, sharing metrics and being transparent. Those are all really important parts of building muscle memory."
Odds are you and your recruiting colleagues already have a lot of candidate and performance data in your TA tech stack. But ask yourself: Do you truly make the most of that data today?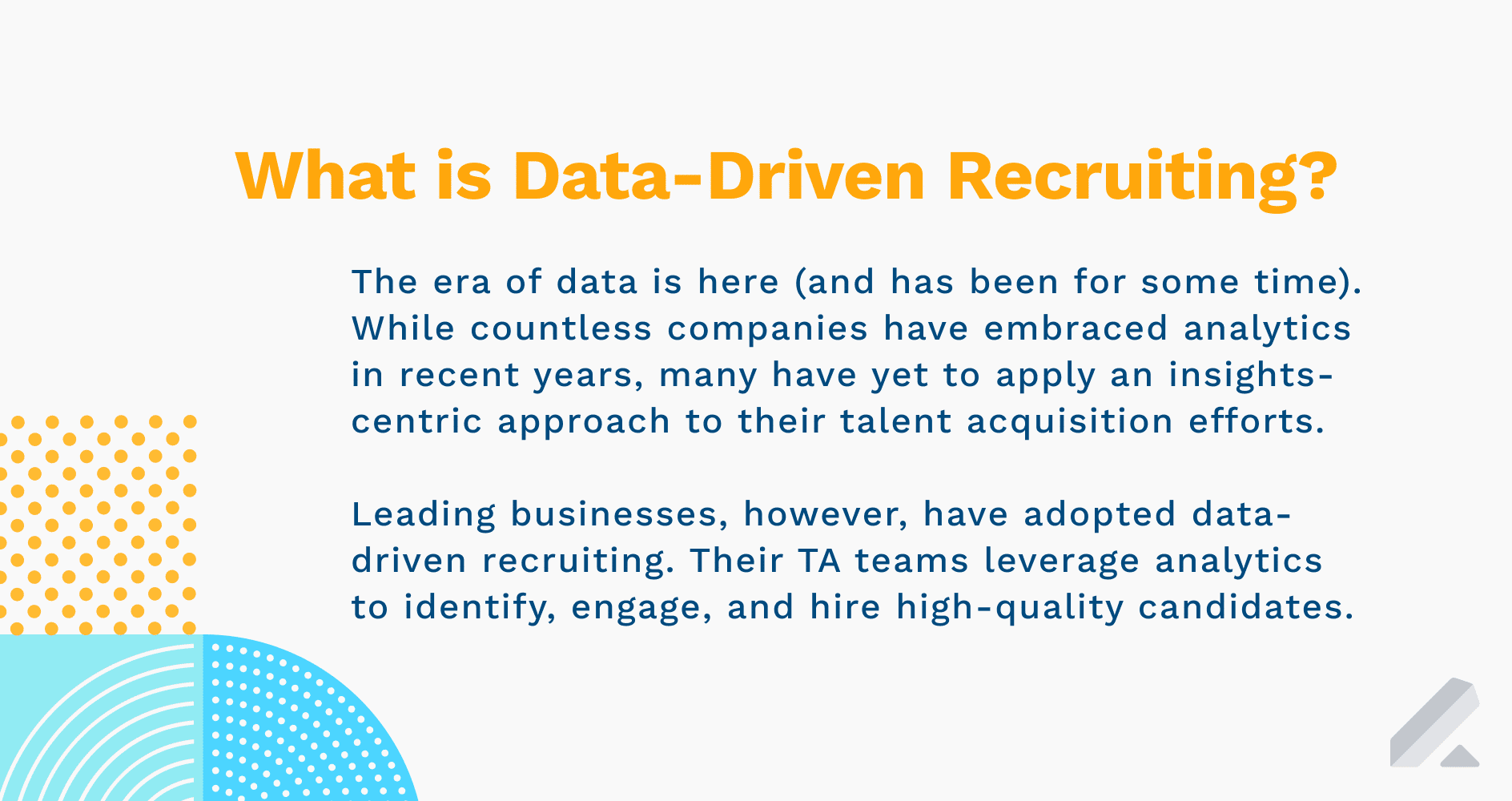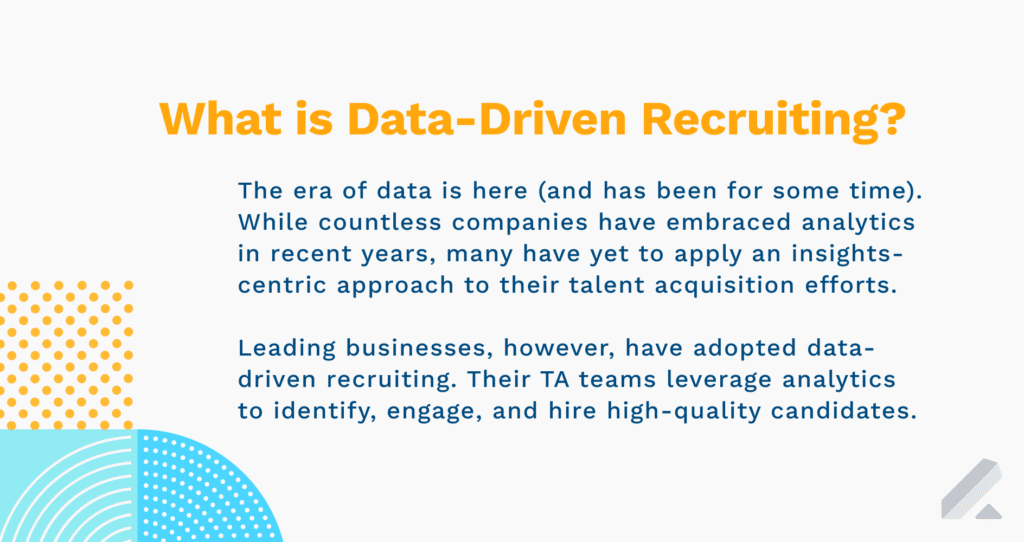 Why developing a data-driven recruiting process should be a high priority for your talent team
While HR uses its own distinct data set to bolster its core metrics (e.g., decreasing the turnover rate and number of 'bad' hires made, tackling issues with onboarding), it's vital for TA teams like yours to to improve metrics in each stage of their recruitment funnel:
Examine insights related to sourcing leads and the application process at large to determine where adjustments can be made to get more qualified candidates "in the door."
Inspect your candidate engagement data to learn what cadence and schedule of nurture emails (and perhaps texts) lead to the most conversions (e.g., opportunities created and advanced).
Review your team's interviewing technique to see if changes need to be made to get more prospective hires to accept offers (and even prevent them from withdrawing from consideration).
These are all clearly critical areas to focus on. But elevating your team and individual output in said areas is much more difficult when data isn't infused into your decision-making.
That's why it's worth knowing the benefits of a data-driven recruitment and hiring model — and why you need one for your talent team today.
The modern, data-driven approach for recruiting teams — accumulating and centralizing recruitment data and taking action on their TA and HR analytics — is a forward-looking, insights-centric approach to realizing greater ROI from core recruiting channels and improving hiring speed, efficiency, and quality.


Here's the simplistic version of data-oriented talent acquisition strategies we see Lever customers execute (and optimize) to achieve headcount goals and meet hiring quotas:
Step #1: Find candidates for open and future roles, based on historical data that denotes which sources of hiring lead to the highest-scored candidates and highest-quality hires. (That is, top performers who contribute in a big way to business growth.)
Step #2: Engage each prospect them with individualized, well-timed messaging, in the form of automated nurtures — also regularly enhanced based on campaign-performance insights.
Step #3: Interview individuals of interest who respond to nurture emails in a structured manner — one that, at the end of the process, factors in feedback data from interview panelists.
Step #4: Use the insights gleaned during this entire process to decide which job seekers should be extended offers and which should be tagged and archived to potentially revisit later on.
Step #5: Rinse and repeat. Regularly revisit hiring dashboards that show progress (or lack thereof) with pipeline growth, offers, postings, DEI, and other essential recruiting areas.
In short, data-driven recruiting is far and away the preferred choice for today's talent teams.
Why? Because they know relying on gut instinct and sourcing mass quantities of prospects, regardless of quality, isn't a viable or sustainable means to discover and hire top talent.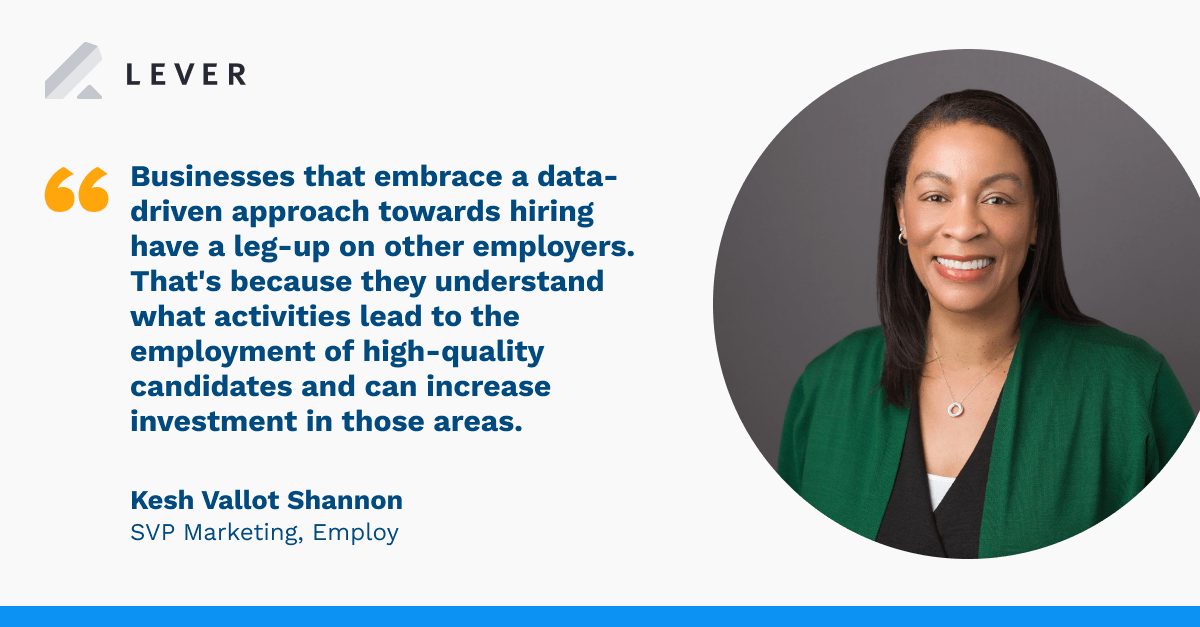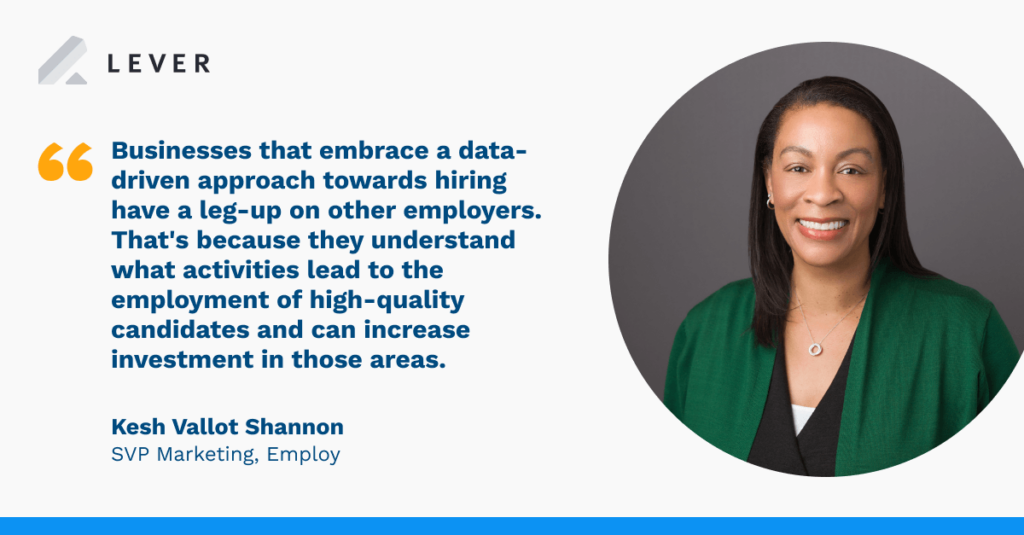 The starting point for your data-driven recruiting strategy: Upgrading your tech and processes
If you think every talent acquisition team with a data-driven recruiting strategy has perfected the approach (i.e., hires only the best talent all of the time), think again.
As Renewal by Andersen Director of Talent & Culture Christina Schmit shared during Ascend:
"It's not about perfection [when it comes to using TA insights]. It's about reviewing the data, adjusting accordingly, and keeping the train on the track."
Translation? Developing a data-driven recruiting and hiring process isn't a one-time task. It's an ongoing initiative. You'll never reach "peak" performance (however you define it) when it comes to taking advantage of your talent analytics to augment your acquisition efforts.
Consider how Lever customer Cogent Biosciences utilized its unified recruiting data to strengthen its short- and long-term talent acquisition efforts and improve their principal TA metrics — and how it continually adapts and evolves its approach as needed.
The company sped up its time to hire/fill by evaluating its full-cycle recruiting data in Visual Insights, our out-of-the-box, easy-to-use talent acquisition analytics offering.
This faster hiring — compared to when it relied on its legacy ATS — led to growth in other key metrics, such as job offer acceptance rate, and helped it meet its hiring quotas in record time.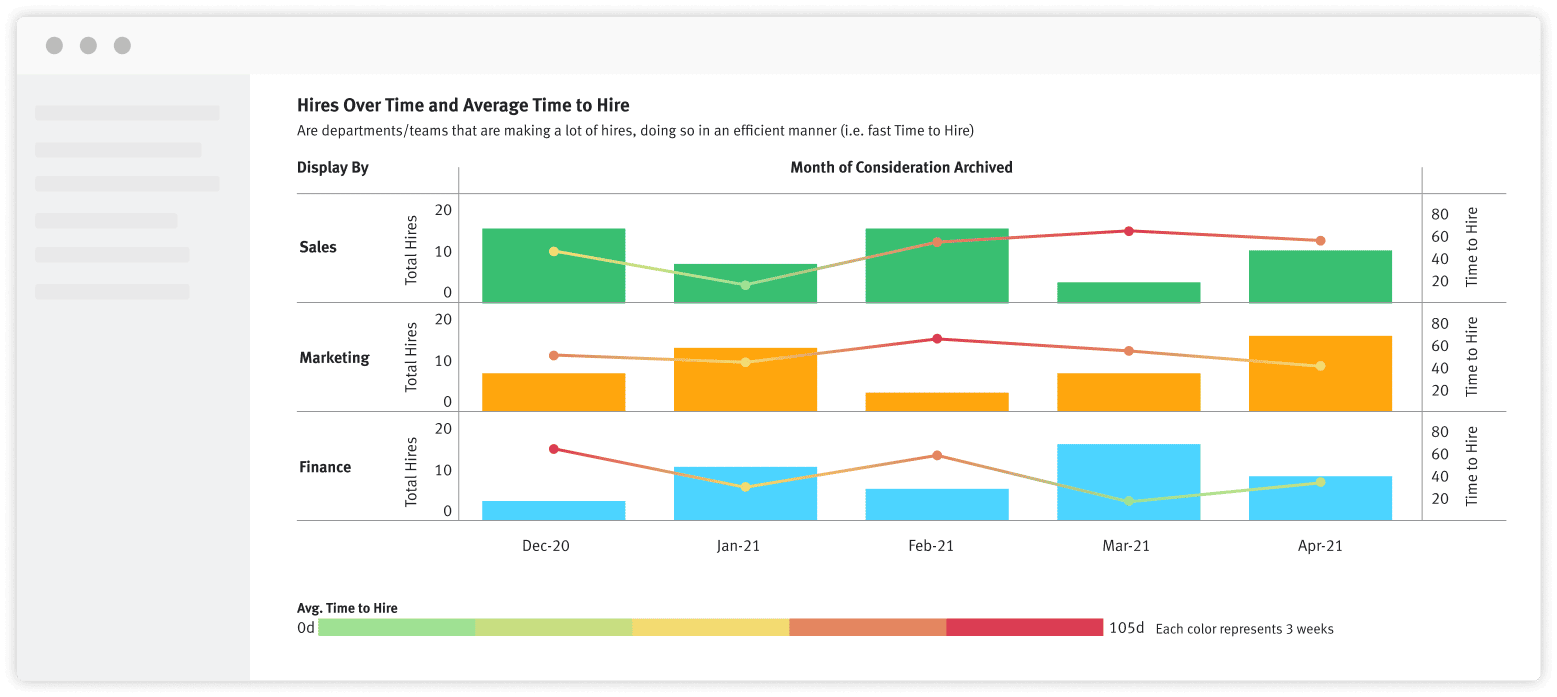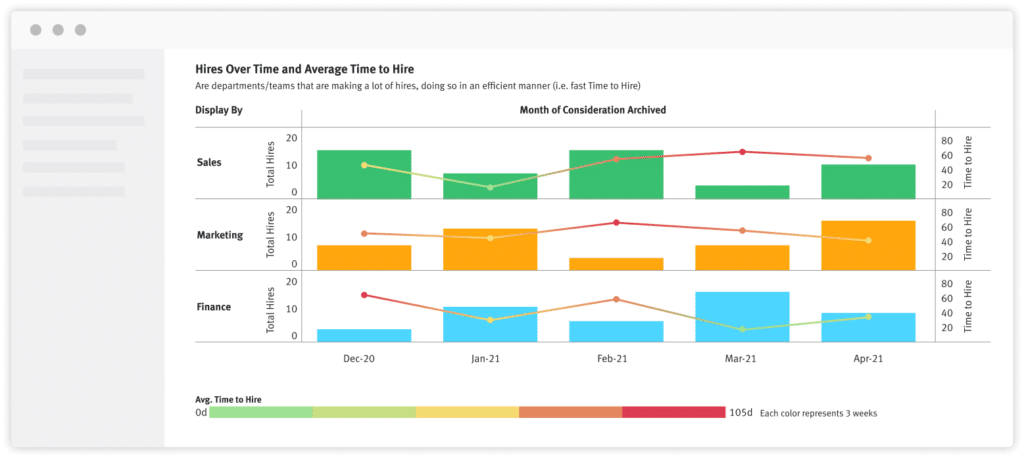 There are two notable facets of Cogent's data-driven recruiting program:
1) Their talent specialists all have access to their own candidate and performance data and know how to use those actionable insights to elevate their work (e.g., revisit where and how they source prospects, pinpoint problems with filling roles for certain teams or departments).
2) Their talent leader has a holistic view of each recruiters' activities. In turn, they can use that knowledge to address any issues with their recruiters and/or offer advice on how to optimize their efforts. For example, they can recommend a different nurture cadence (i.e., number of touchpoints featured in a campaign), if they notice clicks and applications from nurture emails are low.
Bottom line: Collect high-quality data (not necessarily a high quantity). Focus on data hygiene and integrity (i.e., keeping your recruiting database 'fresh' and eliminating dated and irrelevant data points). And implement clear-cut processes around taking action on that data.
That is how your talent team can set yourselves up for greater success with your daily recruiting activities and realizing your long-term hiring plans and growth goals.
Download our data-driven recruiting eBook today to learn how Lever customers make the most of Visual Insights to leverage our built-in analytics for their TA strategies.