Automating manual, repetitive tasks is always a good idea.
For talent acquisition teams, it's especially beneficial because it helps them deal with the workload and headcount fluctuations. They can count on it to speed up the hiring process or do more with fewer team members during the economic downturn.
There are some activities that you still have to do manually (think database cleanup). But, recruiting automation technology has come a long way recently and can aid with several important daily recruiting responsibilities.
Those automation tools that are built into a TA suite with powerful applicant tracking and candidate relationship management (CRM) capabilities can take a lot off your plate:
Post job openings for active roles universally to popular and niche job boards
Source and nurture passive job seekers from a dedicated, centralized solution
Find several qualified potential candidates based on a simplified resume review
Auto-generate reports that share near-real-time data tied to your hiring process
Streamline all parts of the recruiting process to hire top talent smarter and faster
In the macro view, embracing advance recruiting automation software means you can:
Eliminate many tedious manual tasks
Save your recruiters time in their day
Realize greater operational efficiency
All you need to achieve these goals is a native talent acquisition suite with robust, out-of-the-box recruiting automation capabilities that can augment your candidate engagement efforts and expedite approvals around requisitions, posting and offers.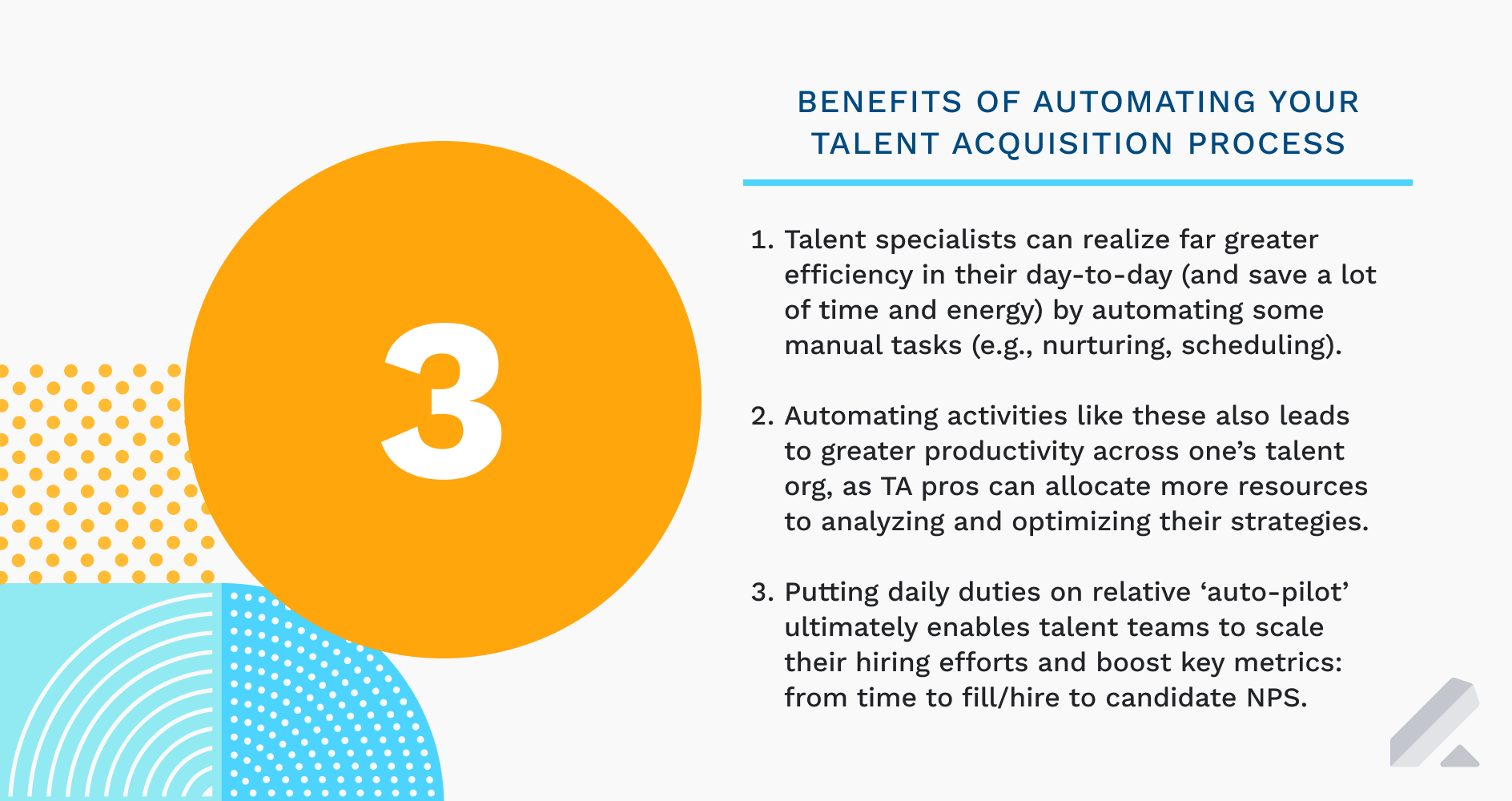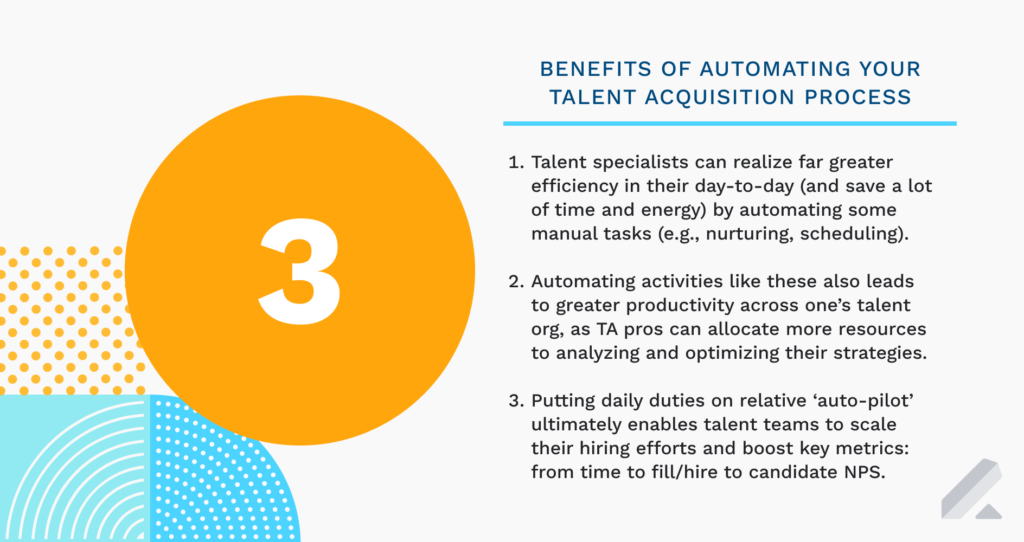 Recruiting automation: The key to faster, more efficient hiring for today's talent teams
Using automation platforms to support recruiters' work means your team can boost productivity and open up free time to tackle other essential responsibilities, like:
Eliminating and optimizing stages of your interview process, based on data analysis that shows where candidates tend to find your recruitment cycle slow and cumbersome and where prospects tend to exit your funnel while interviewing
Improving impact job description copy to ensure it's inclusive (i.e., doesn't feature any gender-coded language that may deter women, people of color and other candidates in underrepresented groups from applying for open roles at your business)
Enhancing your candidate nurture campaign structures (i.e., the schedule of and rules set up for targeted nurtures) to ensure your automated messaging resonates with prospects and advances them accordingly in your recruitment process
These benefits of recruiting automation and advanced talent acquisition technology are (thankfully) becoming increasingly clear to talent teams today.
Employ's Q3 2022 Quarterly Insights Report found 30% of recruiters "feel less stress when they have more recruiters or recruiting resources," including automation software.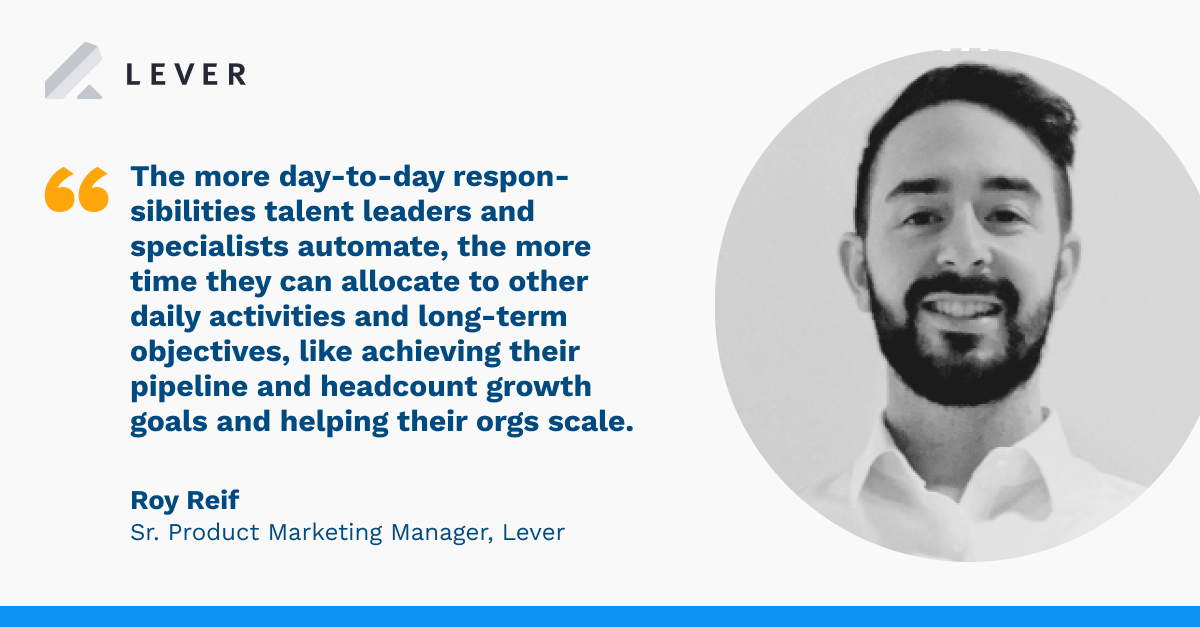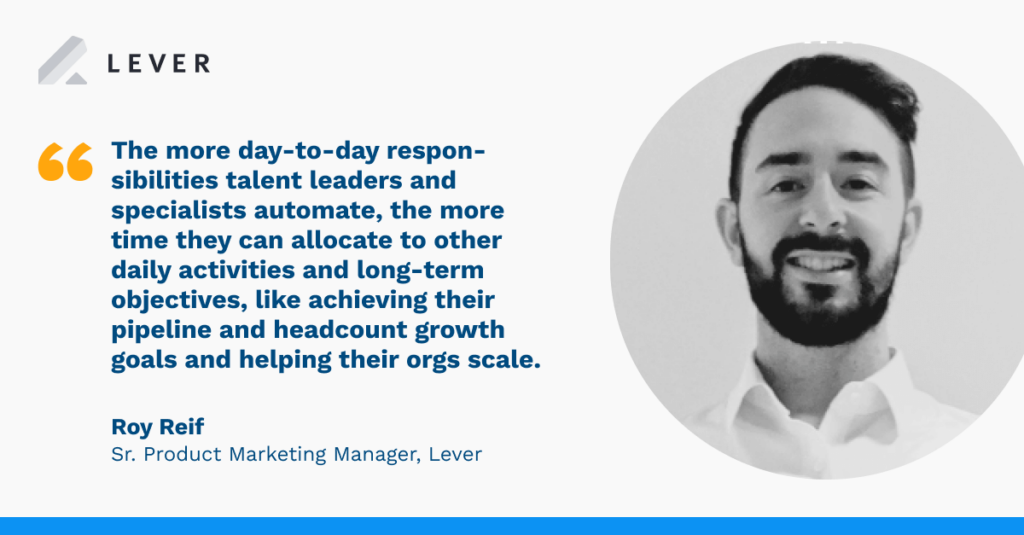 Sharing recruiting automation benefits and use cases to get buy-in from leadership
Not all recruiting automation software are created equal.
To gain the benefits we have mentioned, you need a native talent acquisition suite with robust, out-of-the-box recruiting automation capabilities that can augment your candidate engagement efforts and expedite approvals around requisitions, posting and offers.
The key to getting buy-in for new recruiting automation tech is to share specific use cases and the likely return on investment your talent team can realize with such a solution.
Consider common recruiting automation workflow capabilities set up by Lever customers. You can tell your C-suite how using a complete TA suite like LeverTRM would enable your team to:
Scale your promotion of active roles to candidates of interest. Structured, rules-based email nurture campaigns — and constant experimentation and optimization of these campaigns — are how today's top recruiting orgs move qualified talent through their funnel more seamlessly.
Apply 'if-this-then-that' logic to trigger essential workflows. Outside of nurturing, there are plenty of other activities your team can and should automate. For instance, you can auto-archive an applicant who, based on their application and resume, doesn't meet the qualifications threshold for a given role (e.g., they don't have the requisite certification to take on the role in question).
Connect with their HRIS and HCM to sync talent data. Many LeverTRM users integrate their Lever instances with Workday and similar HR systems. This helps them unify pre- and post-hire data. This connection also enables them to more easily and quickly analyze key insights around requisitions, referrals, retention, and many other metrics they need to monitor along with HR.
In addition to sharing these use cases, the pitch to business decision-makers who ultimately decide which recruitment tech to invest in should include an elevator pitch like this:
"A customizable automation hub for the TA team doesn't just benefit us. It also has a far-reaching, long-term impact on the rest of the business. We can use automation to eliminate inefficiencies and bolster our output and productivity. More streamlined work for all our recruiters means we have more time to work with other hiring stakeholders to make smarter, faster decisions that affects our ability to grow and scale as a company."
Customize this pitch as you see fit (i.e., based on what you think will help you entice executives to sign off on your request for more advanced TA tech).
The point is you can fairly easily make the business case to allocate budget for a recruiting automation solution with ATS + CRM capabilities by pointing to the above benefits.
How one talent team automates critical recruiting tasks — and scales growth — with LeverTRM
If that isn't enough to convince your C-suite, you can also share other talent acquisition teams who have invested in and realized strong ROI from recruiting automation tech.
Lever customer Coupa is a prime example of a business that was wise to move from its legacy ATS to our TA suite so it could leverage our native recruiting automation capabilities:
Coupa wanted to streamline its candidate experience efforts — including and especially the communications it delivered to passive prospects its recruiters engaged for open roles, of which there are many the business was looking to fill.
By investing in LeverTRM and our Advanced Automation solution add-on, the Coupa talent team has been able to set up more than 20 custom automated workflows that use custom filters, rules and triggers that have led to increasingly better pipeline efficiency, more streamlined interview processes and quicker time to approval for requisitions and job postings.
The cumulative effect of these recruiting automation workflows is more time saved for Coupa talent specialists — person-hours the company's recruiting staff now uses to optimize other facets of their talent strategy and analyze their funnel performance.
"Lever is evolving their tool to support the required automation and simplification of our internal processes," said Coupa Senior Director of Global Talent Operations Genil Washington. "We see it with their analytics, which have evolved to let us pull meaningful, performative data."
Coupa is one the many customers who useLeverTRM to streamline their day-to-day TA activities and enhance their recruiting and hiring speed, quality and efficiency.
Countless Lever customers (see: Kinsta, Voro, Ritual) use our automation functionality to set up bespoke workflows that ease recruiters' workloads and give them more time to strengthen their respective candidate relationship management approaches.
This up-leveled efficiency at these organizations means recruiters and hiring managers can spend more of their valuable time and energy to more effectively source, nurture, interview and better evaluate qualified candidates and hire top talent.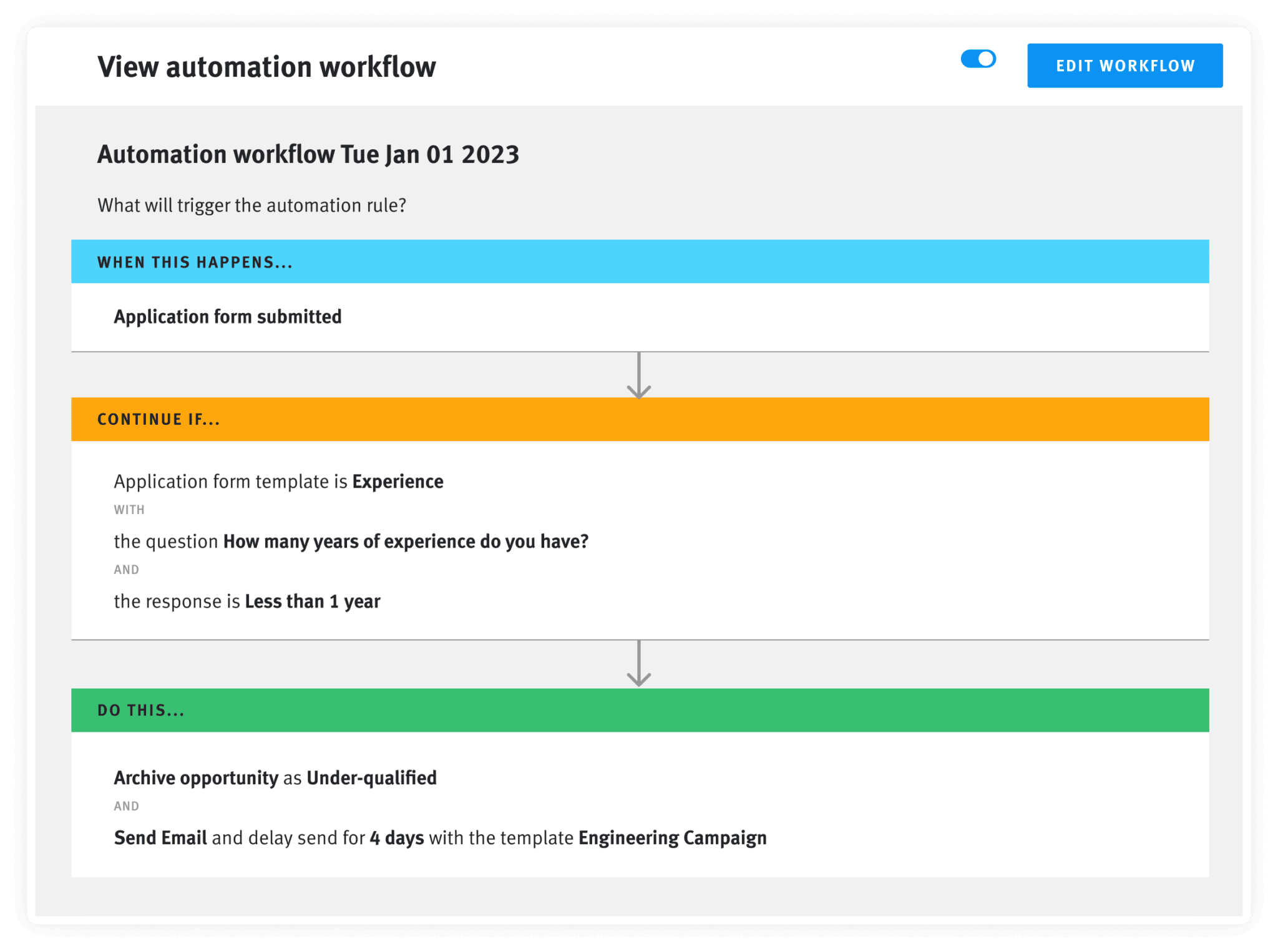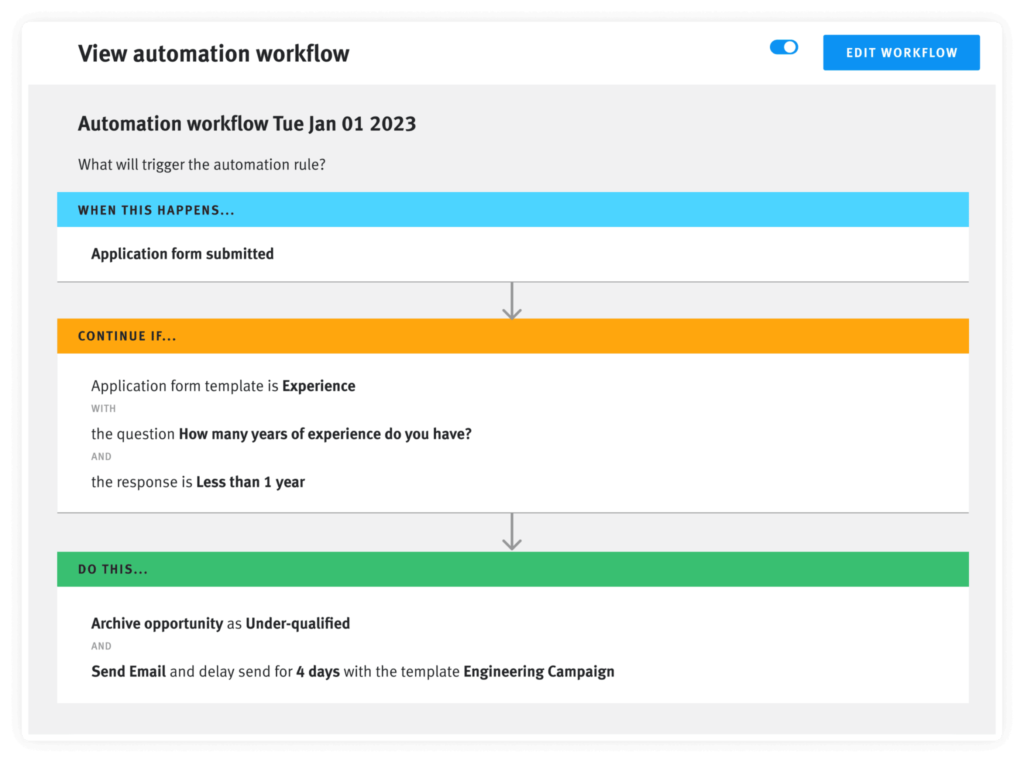 Modernizing your team's talent acquisition strategy with advanced recruiting automation
The recruiting automation success story of Coupa and other Lever customers can be yours too. All you need is talent acquisition tech that empowers your team to work smarter.
That means you can't rely on a dated ATS that lacks advanced automation capabilities.
To succeed in the long run, your team can't execute (most) workflows and tasks manually. It's simply not a scalable and sustainable way for recruiters to work.
With a complete talent acquisition suite that connects with all your most important tools (e.g., background check solutions, e-signature software, HR tech) and channels (e.g., internal comms platforms, career site) you can scale your business in a smart, efficient fashion.
"Business and talent acquisition leaders must support recruiters in reducing manual tasks through recruiting automation technology, so recruiters can do what they do best — focus on the human aspects of recruiting," Employ's Q3 2022 Quarterly Insights Report states.
Speak with the Lever team today to learn how the recruiting automation capabilities in LeverTRM can streamline your recruiters' work and strengthen your TA strategy.