In an era defined by high employee turnover and high competition for talent, developing a dedicated, full life cycle recruiting process that brings in plenty of premier prospects is more important than ever for your business.
But, it's not enough to just build a scalable recruitment approach.
Your talent acquisition team and human resources leaders, along with your C-suite, must also work in tandem to stay on the same page regarding hiring and growth goals, attract top-tier talent, get potential candidates of interest to accept job offer letters, and engage those employees and address their needs effectively to retain them.
Your TA org may not have as big a role to play when it comes to worker retention as hiring managers and HR. That said, it's on you to nail you talent attraction efforts.
That means ensuring you have the requisite processes and tech to realize success with — and periodically polish — your collective and individual full life cycle recruiting activities.


What is full life cycle recruiting?
Full life cycle recruiting is the end-to-end process of planning, executing, and routinely optimizing one's talent acquisition approach to better convert qualified candidates into new hires (and quickly and efficiently).
The core components of a modern recruitment life cycle strategy include:
Establishing overarching recruiting and hiring objectives with one's leadership team
Liaising with hiring managers to understand specific needs regarding open positions
Sourcing candidates with traits and skills that align with one's impact job descriptions
Nurturing prospects through one's pipeline with automated, personalized messaging
Interviewing top talent in a structured, streamlined manner to properly evaluate them
Extending offers to the most qualified candidates (as approved by hiring managers)
Hiring high-quality prospects and ensuring a smooth 'handoff' to HR for onboarding
Analyzing recruiters' output and every candidate's experience to continually improve
The structural specifics of your full life cycle recruiting strategy may differ from other companies. However, these are the foundational elements you'll need to implement — and steadily improve — to build both a robust recruitment model and scalable hiring strategy.
The modern full life cycle recruiting process: 3 best practices to routinely refine your approach
You know what full life cycle recruiting entails. Now, let's explore a few best practices leading talent teams abide by to thrive with the approach — and hire first-rate candidates.
1) Regularly meet with your leadership regarding recruiting and hiring needs.
Chatting with your C-suite, HR leaders, and hiring managers quarterly (or even monthly, for that matter) to discuss headcount planning isn't ideal for your talent team.
Rather, you need to stay in constant communication with all of these internal stakeholders to ensure you understand the latest and most pressing hiring needs.
That's the only way you and your recruiters can adjust on the fly/as needed and continue to make progress with filling key positions (and, in turn, decrease your time to fill).
As Lever Director of Recruiting Caitlyn Metteer relayed in a recent Lever webinar, liaising with these business leaders through a shared 'hiring roadmap' can keep everyone on the same page regarding which requisitions to prioritize first and foremost.
This enables recruiters to focus solely on their full life cycle recruiting tasks (e.g., posting to job boards they know lead to high-quality candidates for niche roles/teams, setting up custom nurtures with personalized messaging) and not have to worry about constantly shifting gears (i.e., engaging talent for other, newly prioritized roles).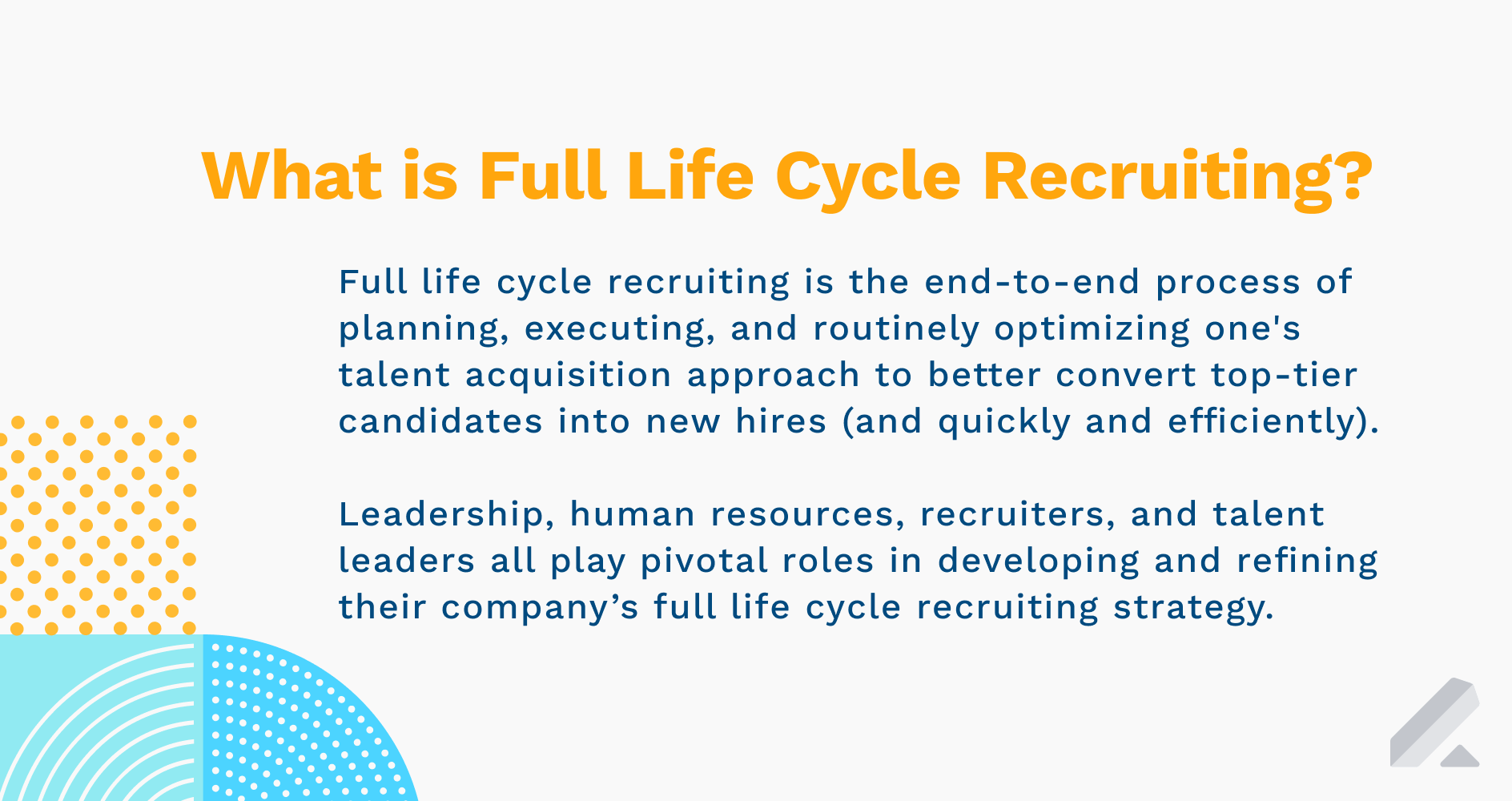 2) Identify and address issues that deter candidate progression and conversion.
There are numerous problems that can pop up in your full life cycle recruiting strategy.
Many (if not most) of these issues will pertain to your talent pipeline (e.g., bottlenecks that lead to sluggish interview cycles, having to advance candidates manually).
If you have the appropriate talent acquisition tech stack setup, though, you can easily (and swiftly) pinpoint and repair the specific pipeline problems.
For instance, Lever customers use the many dashboards in Visual Insights to evaluate their efforts related to offers, postings, requisitions, sources, and other facets of their full life cycle recruiting programs to ensure no issues arise (or exacerbate) in these respective areas.
So, if they see offers for highly scored candidates aren't being accepted at the desired rate, recruiters with our ATS + CRM solution can use Visual Insights to see what may be causing top-rated talent from declining offers (e.g., background checks and/or offer-detail confirmation with hiring managers and HR taking too long) and rectify those problems.
3) Ensure your recruiters have advanced, intuitive talent acquisition tech.
A recent Aptitude Research report found 50% of recruiters would leave their current companies for another organization with better talent acquisition technology to carry out their daily tasks.
"As companies build more-robust TA tech stacks to support their recruitment efforts, they are looking at technology without always considering the user — the recruiter," Aptitude Research Founder and Chief Analyst Madeline Laurano recently shared with SHRM.
It can't be overstated enough: Your TA team needs tech that enables — not deters — efficient and expedient recruiting work and empowers them to deliver bespoke experiences to each candidate.
In other words? They need advanced tech that offers powerful automation workflows and analytics capabilities so they can do away with most of their manual labor and assess their performance as it pertains to their core duties (e.g., sourcing, screening, interviewing) and metrics (e.g., time to fill, conversions from nurture campaigns).
Then and only then can they produce, and progressively perfect, their full life cycle recruiting.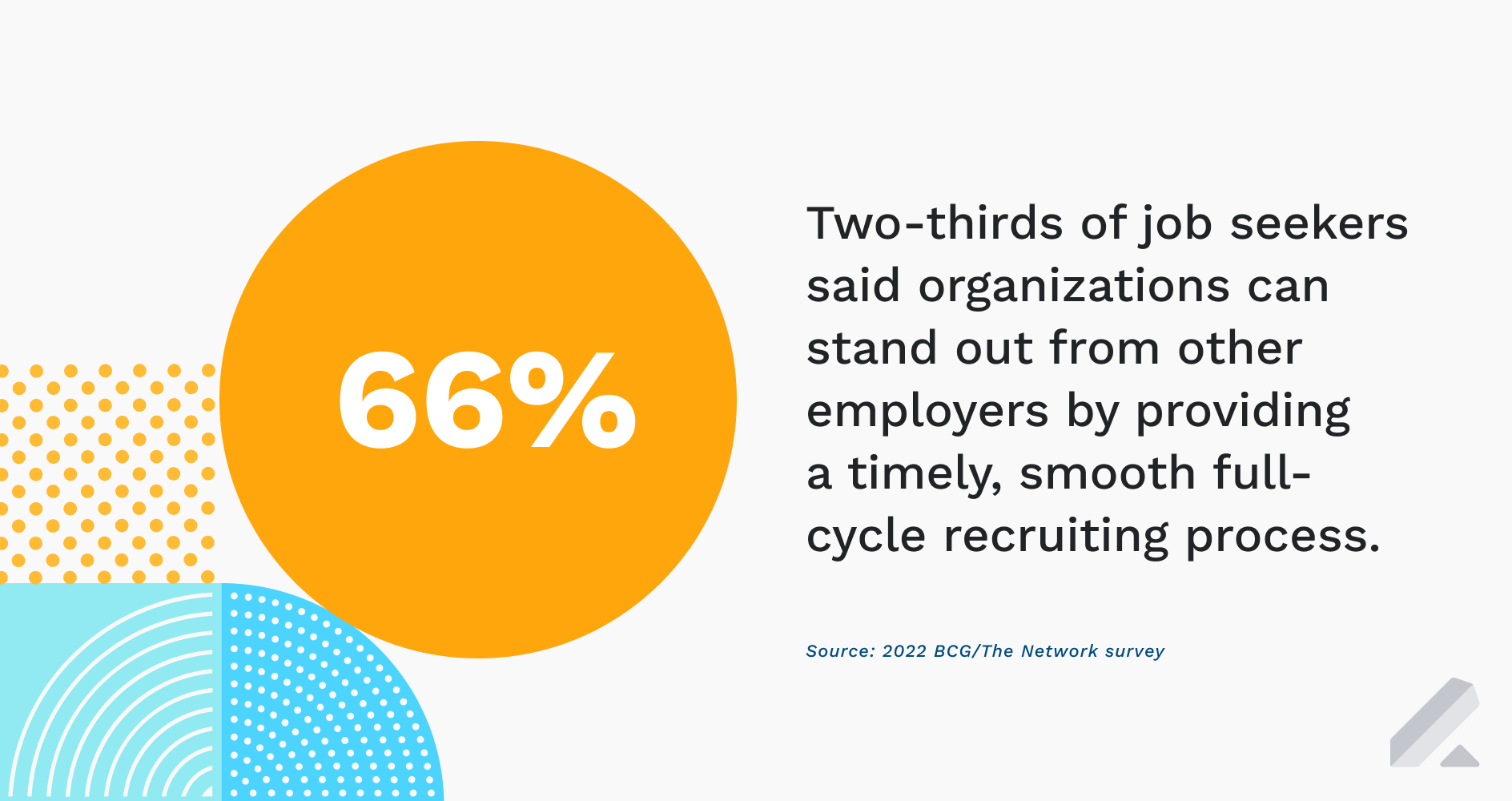 Building a full life cycle recruiting strategy with a "people-centric" approach — and advanced TA tech
As you can see, there are many tactics you and your talent acquisition team must implement to configure a full-fledged full life cycle recruiting program and regularly refine it.
However, it's important to not miss the forest for the trees when building your strategy.
Eric Termuende, a keynote speaker and business expert who is an authority on the 'future of work,' joined our webinar on how to future-proof your hiring process.
Per Eric, it's vital to remember the human side of recruiting to get candidates to not only accept offers, but also keep them in your workforce for years to come:
"Making a people-centric workforce is no more complicated than giving someone your full trust and your full attention. … If we can put a better full-cycle recruiting system in place, we can tell a better story so we can attract better talent, and we can create a workplace people want to be a part of."
Translation? Make gradual, data-driven improvements to your TA process to bolster key metrics.
Just don't forget you're engaging real people with real needs, so factor that into your full life cycle recruiting 'equation' so you can better compete for, win, and retain top candidates.
Watch our entire webinar with Eric to learn how to optimize your TA team's full life cycle recruiting strategy. and more efficiently and effectively recruit and hire top talent.