Arguably biggest benefit of implementing a candidate relationship management (CRM) strategy today is a more streamlined hiring process for your talent acquisition team.
More specifically, a process that:
At the heart of modern CRM strategies that lead to this streamlined hiring process is a talent acquisition suite with a unified pipeline that makes it easy for recruiters to analyze, manage, and improve their pipeline management.


How unified "parent" and "child" pipelines can enhance your talent team's hiring process
The top TA teams today are ones who collectively aim to achieve specific recruiting KPIs set by their talent leader. Moreover, they're recruiting orgs who work from the same centralized candidate data set in their ATS software.
It's this latter element of successful TA strategies that enables recruiters and other hiring team members to work in a more streamlined and organized manner, ensure they "speak the same language," and — at the end of the day — meet their respective hiring quotas and goals.
And a unified pipeline is the engine that powers their efforts. Notably, it gives them a clear line of sight into recruiters' sourcing, outreach, and interviewing.
This helps them talent directors see the "health" of their near- and long-term recruitment efforts, pinpoint strengths and weaknesses with their hiring process, and advise recruiters on how to improve in key areas of their work.
Lever customers use the unified pipeline in LeverTRM to streamline their work:
A "parent" pipeline provides a comprehensive view of all recruiting activities for talent acquisition leaders and operations managers — and in real-time.
Talent directors and ops specialists can also set up custom "child" pipelines for each recruiter on their team so they only see activity tied to their active opportunities.
Ultimately, these two distinct pipeline views helps TA orgs with LeverTRM move prospective hires seamlessly through the recruiting funnel and ensure they only extend job offers to the ideal candidates (i.e., enhance their employee selection efforts with hiring managers).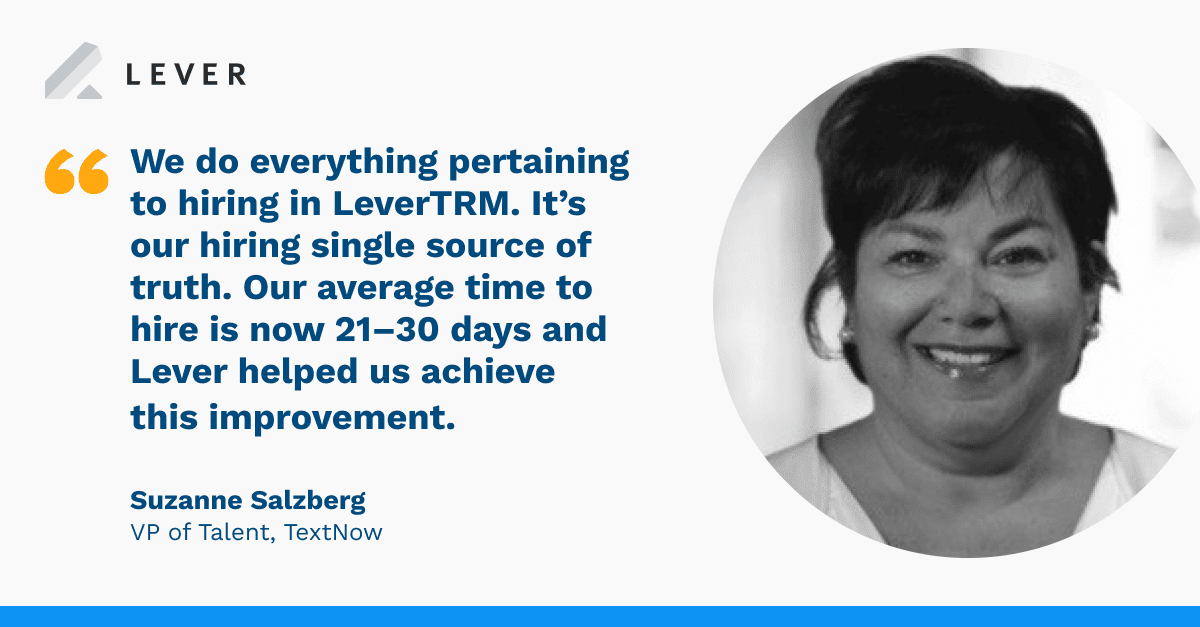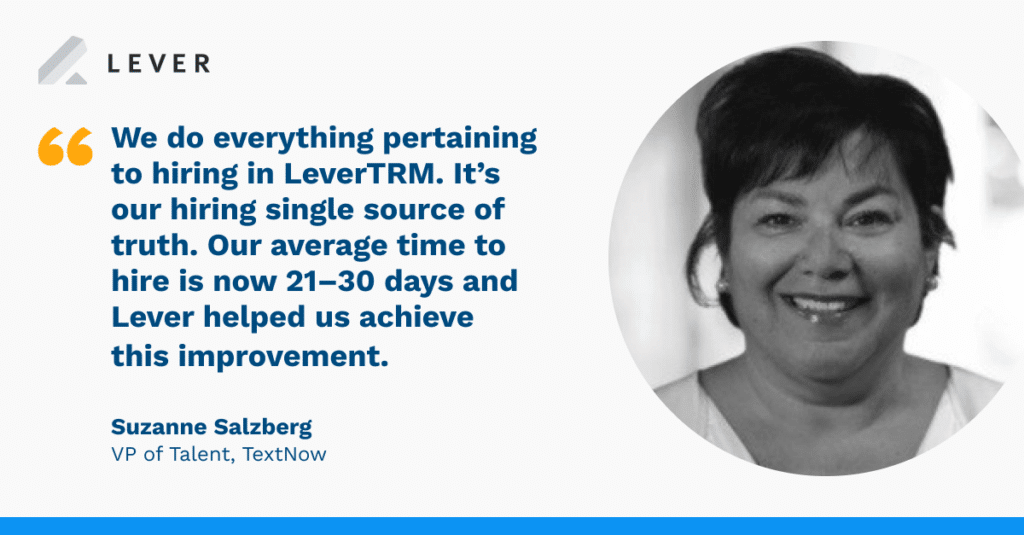 Why you need an ATS + CRM solution that helps you streamline your entire hiring process
A "one-size-fits-all" hiring process isn't a viable option for your talent acquisition team. Rather, your recruiting org needs a modern, complete ATS + CRM solution that:
Let's revisit Lever customers. In our Candidates screen, LeverTRM users can get an at-a-glance view of their talent pool an use that info to enhance their hiring process:
Talent leaders and ops managers with a parent pipeline view can see each recruiters' progress and set "milestones" (e.g., sourcing, screening, and interviewing a specific number of candidates weekly/monthly) to ensure recruiters stay on track with team and individual KPIs.
Recruiters can also track their own efforts in their respective child pipelines around these milestones and advance candidates forward based on the latest prospect activity (e.g., résumé and cover letter reviewed, phone screen conducted) and their own work (e.g., nurture email sent).
Measuring their daily activities is vital for recruiters with Lever to elevate their performance. But, implementing rules-based workflows in LeverTRM that automate repetitive work and help them hire smarter and quicker is equally essential to improve their recruiting process.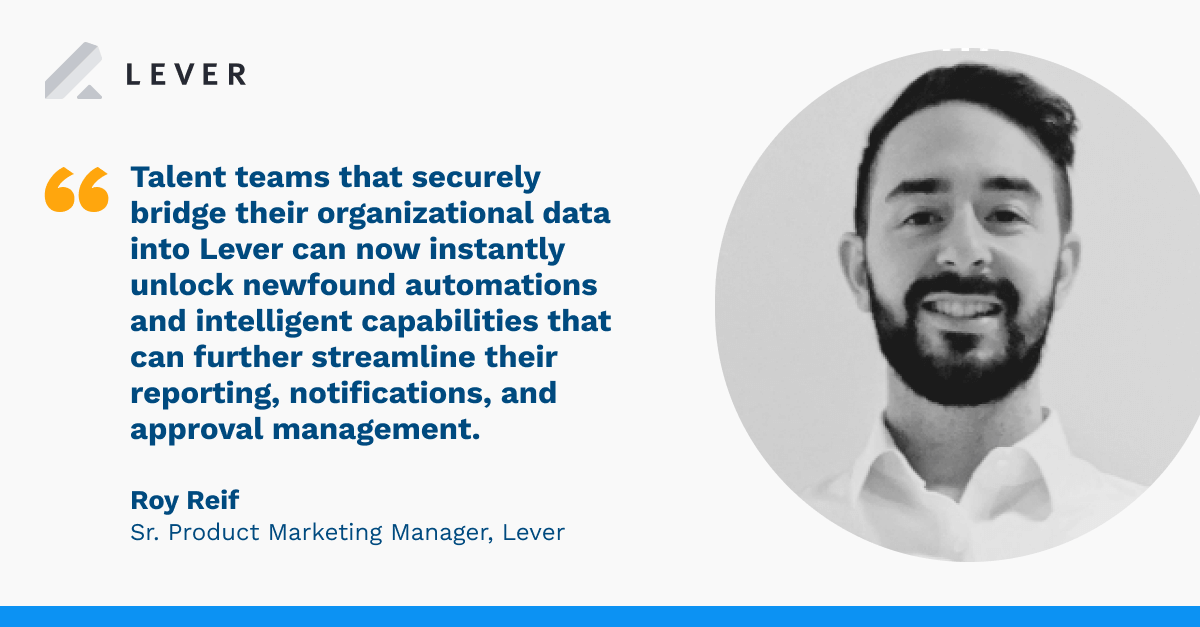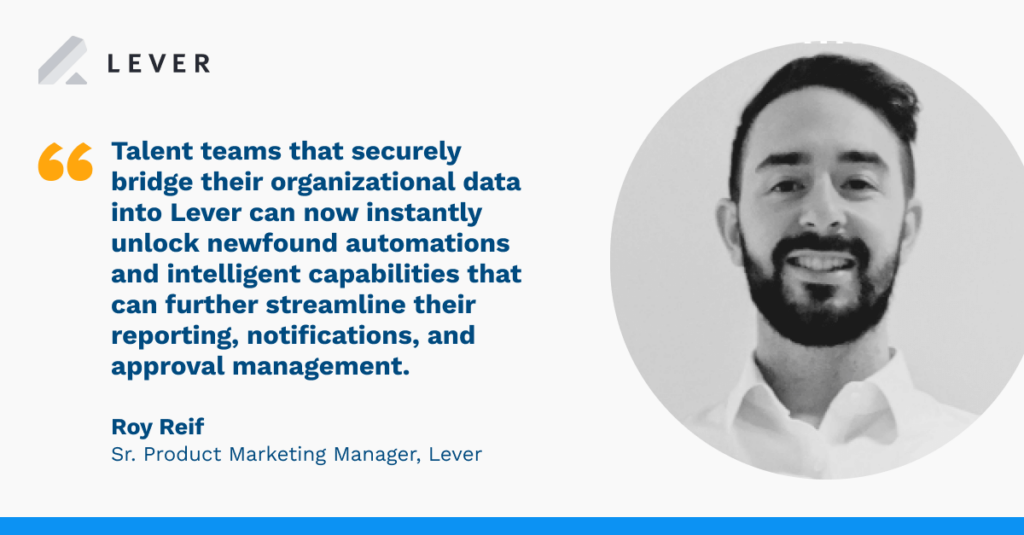 One specific unified pipeline workflow that can greatly enhance your hiring process
Consider the application-submission workflow many LeverTRM users implement:
Once a prospect submits reads a job description in a posting and applies for open position through a Lever customers' job site, a workflow that denotes which recruiter that candidate should be assigned commences.
Who the candidate ends up with is based on workflow conditions set (e.g., who the hiring manager and/or posting owner is, what location and/or role was applied for).
Based on these rules, the person in question is assigned to the most relevant recruiter, who can then evaluate the individual's résumé using Fast Resume Review.
During this review, the recruiter can take one of three manual actions: skip them for now, archive them to possibly revisit later, or advance them to the next stage.
If they deem a candidate a good fit, they can click "Advance" and move them to the next, most appropriate stage. This, in turn, will start an entirely new workflow (in this case, to kick off the interview process).
When both workflow triggers and conditions are satisfied, automated actions can be taken. In this instance, an email could be sent to the lead in question to let them know they're invited to interview for the role for which they applied.
From here, candidates can self-schedule the phone screen with Easy Book, which shows the up-to-date calendar availability of the recruiter and interview panelists.
No hiring process is perfect.
That said, taking advantage of automated workflows like these and a unified pipeline in a complete TA suite like LeverTRM is your clearest path to eliminating tedious manual labor, making more intelligent hiring decisions, and creating unforgettable hiring experiences.
Watch our webinar to learn how to realize a data-driven hiring process that helps you take your talent acquisition efforts to new heights in the months and years ahead.