No two talent acquisition strategies look the same. But there are commonalities among the top recruiting and hiring programs at high-growth companies. For example, their TA teams:
Attract top-tier talent via social media, employee referrals, and job boards
Engage prospects with personalized, timely, cross-channel nurture messaging
Tie their candidate-sourcing quotas and hiring targets to business goals
Prioritize a top-tier candidate experience (CX) for job seekers they interview
Look for ways to streamline and automate their core recruitment processes
Put diversity, equity, and inclusion (DEI) at the forefront of hiring processes
Leverage analytics to scale their hiring and identify strong and weak areas
These also happen to be areas in which the winners of Lever's inaugural Rise Awards excel.
The Rise Awards winners: Discover eight of the top talent acquisition strategies
Want to see examples of world-class TA programs from large-scale orgs? Here are the highly effective talent acquisition strategies executed by The Rise Awards winners.
[Check out our Ascend sessions on demand here, in case you missed the event. Also, read our our ultimate guide to talent acquisition for even more expert advice and insights.]
Candidate Experience Excellence: Spreetail
Spreetail, an ecommerce solution, knew it could improve its candidate experience by:
Sending CX surveys to potential candidates — good fits for open roles and passed-on prospects — so it could track and grow its Net Promoter Score (NPS)
Revamping its candidate comms approach through training and practice (e.g., providing custom-tailored feedback to each individual the Spreetail TA org interviewed)
The company had collected candidate feedback for years. But it wasn't until 2020 it used NPS to assess its CX performance. As for its comms strategy, the recruiters learned via its CX surveys rejected leads wanted more feedback about the hiring decision.
By offering personalized feedback, Spreetail gradually grew its NPS score. Moreover, it maintained long-term relationships with passed-on talent to consider them for future roles.
"Using Lever … to build pipelines of candidates has allowed us to stay in touch with candidates as we grow and evolve as a company," Spreetail Sr. Brand Talent Partner Dana Nielsen noted. "This has helped us to hire over 1,000 people."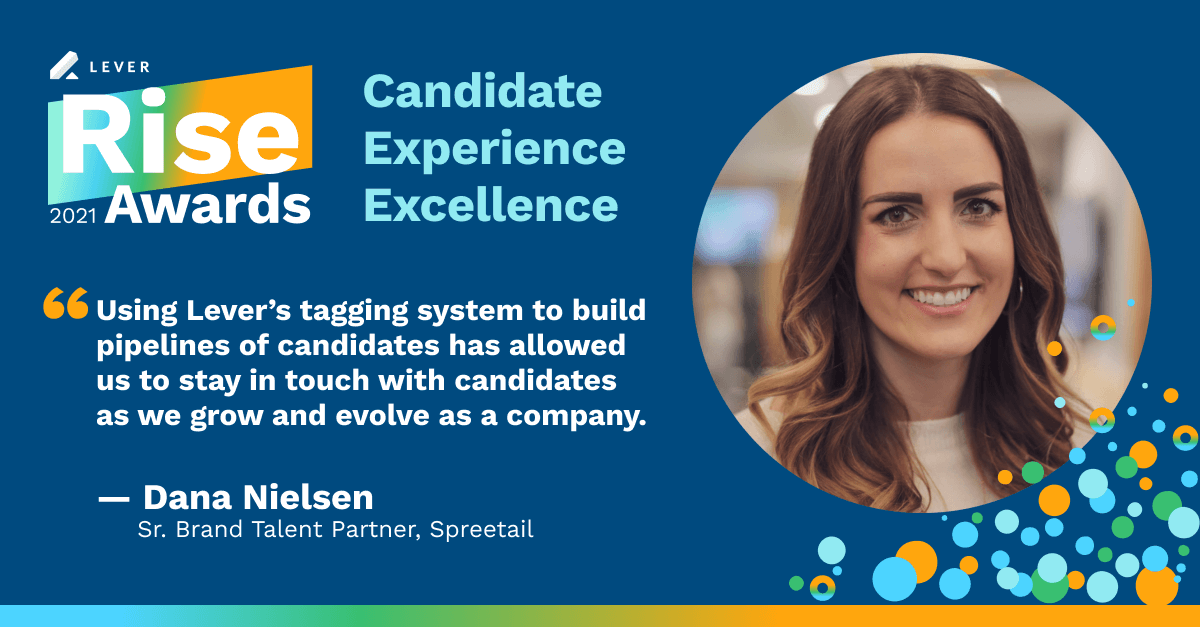 Diversity, Equity, and Inclusion Excellence: Talking Rain
Talking Rain, a Washington-based beverage company, knew it needed to hire for "diversity of thought." Why? To continue to scale globally and strengthen its company culture.
So, its talent org examined its DEI analytics in Lever. Its findings? Talking Rain's hiring historically skewed white and male, with many of those particular hires coming from referrals.
The company ultimately shifted from the traditional referral model to a more inclusive one. And the results were promising. The percentage of female applicants grew from 22% in 2020 to 50% in 2021. And the number of BIPOC candidates rose from 32% in 2020 to 41%.
"We pride ourselves on being progressive and sustainable," Talking Rain Sr. Manager of Talent Acquisition Anne Royse said. "This extends to ensuring we create a tapestry of talent that weaves a rich diversity of experiences and knowledge to optimize innovation."
Candidate Relationship Management Excellence and Best Talent Attraction Campaign: Atlassian
Atlassian, which produces tech solutions for software providers and developers, knows the value of staying in touch with its talent pool of qualified candidates. The rapidly scaling business's goal was clear:
Build a "Talent Community" that allowed its TA org to better engage with talent based on the specific role (or type of role) they want to pursue.
This info is used in Atlassian's nurturing efforts. Opted-in Talent Community members get a bi-monthly newsletter with content on topics like remote work and employee support.
As this group grows, the Atlassian TA team, along with hiring managers and its HR department, can assess ideal leads together and identify good fits for open roles.
The community grew 47.5% annually and had 13,000 active members. Atlassian sent 20,000-plus nurture messages to members, with an average open rate of 62%.
Best of all? Nearly 300 members have been hired.
Human Resources/HR Technology/Talent Operations Innovation Excellence: Rubius Therapeutics
Rubius Therapeutics had bold hiring quotas to meet in 2020-21. The six-person TA team was charged with growing headcount by nearly 50%. Thankfully, it has Lever — an applicant tracking system and candidate relationship management (CRM) solution.
Our platform has helped the TA org with crucial recruiting tasks like:
Automating job-posting to its career page, LinkedIn, and other job boards
Setting up personalized nurtures to engage and follow up with candidates
Scheduling interviews with prospects using our handy Easy Book links
Since March 2021, when its hiring goals were laid out by leadership, the Rubius has:
Received 2,200+ applications and sourced 1,500+candidates
Sent 400 nurtures (with a 60% open rate and 30% reply rate)
Conducted 800+ interviews (with a 77% positive score rating)
Hired 96 employees (with an offer acceptance rate above 90%)
"Within Lever, our TA team has developed smooth processes for sourcing, outreach, candidate interactions, and final hiring steps to keep up with building our incredible company," Rubius Therapeutics Talent Acquisition Partner Kelly Burke said.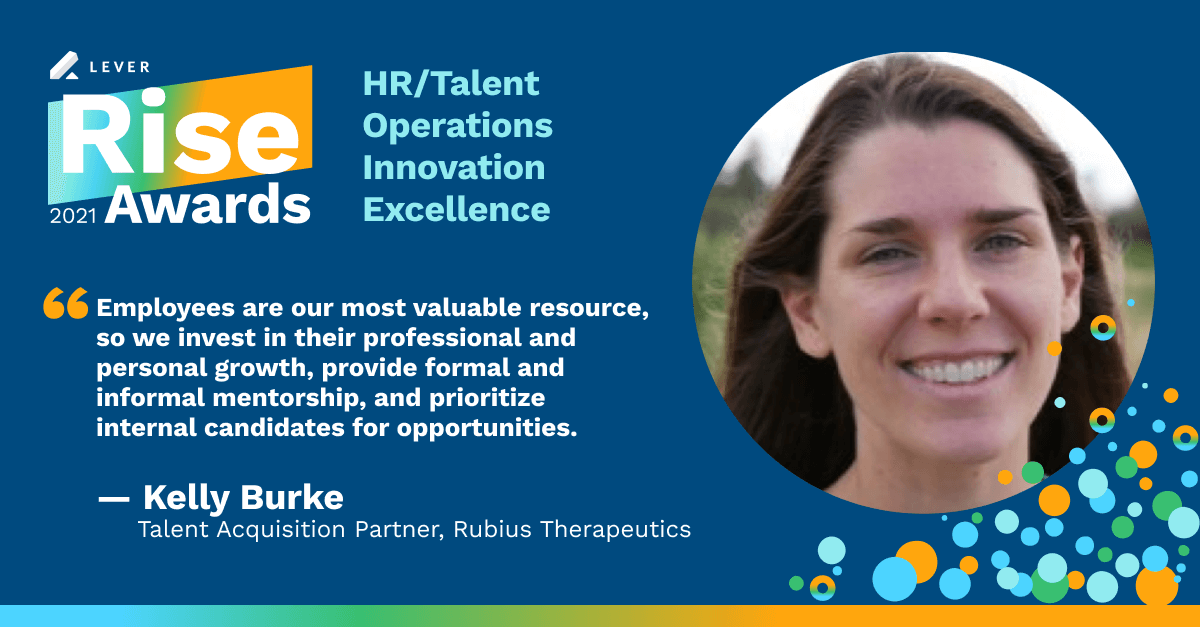 Onboarding Program Excellence: Omnidian
Omnidian not only routinely augments its talent acquisition processes to hire the best candidates. It also regularly works to improve its onboarding and talent management efforts.
Omnidian's TA leaders recognized its front-line customer/technical support agents — many of whom are remote and not fully up to speed about the solar industry upon joining — needed hands-on training to ensure they could capably speak to its offerings.
So, it rebuilt its onboarding program in 2018.
One key enhancement to its onboarding approach? New employees are assigned a "Sol Mate" when hired. This leader from another team guides new hires in the first weeks on the job.
Per Omnidian Director of Customer Support Rob Goehrke, this pairing "encourages cross-department collaboration while also giving employees who are in the early stages of their career someone to talk to about their plans and ambitions."
Talent Acquisition Team of the Year: Greenlight Financial Technology
As of 2019, Greenlight Financial Technology didn't have a coordinated TA strategy or team. Agencies and referrals accounted for the entirety of the org's modest candidate pool.
As Greenlight Sr. Manager of Recruiting Kaylee Estes said, "Hiring had no consistent interview process, team, or [tech] in place to support the growth [we projected] for 2020."
All that changed after investing in Lever and hiring recruiters to operate our ATS + CRM:
Structured interviews, with a focus on bias elimination, were put in place.
Custom feedback forms and interview feedback rubrics were created.
An employer-branding program was built to promote brand awareness.
The team made data-backed fixes to its candidate experience strategy.
At the end of 2021, Greenlight hired 257 people, grew the company by 85%, reduced time to fill to 33 days, and achieved an acceptance rate of 91%. (All while lowering agency spend.)
Rising Stars Award: Royal Ambulance
At the onset of the pandemic, Royal Ambulance, a healthcare transportation solution serving Northern California, was called to provide a "greater service to the community."
Royal's sole TA Manager, Justin Nool, had to hire 250 new EMTs to meet the surging demand.
In a time of limited supply, due to industry-wide burnout and high competition for talent, Justin signed on 361 new EMTs, smashing his goal, challenges aside.
"The 300-plus hires Justin made during the pandemic helped support not only our team, but also supported the critical healthcare infrastructure of Northern California, allowing safe and effective discharges of patients to keep hospitals from reaching their capacity threshold," said Royal Ambulance VP of Human Resources Eve Grau.
"The downstream impact of his work was immeasurable."
Learn how you can execute a highly successful talent acquisition strategy like these companies with our ATS + CRM solution. Schedule a LeverTRM demo today.