Marketing, sales, product, information technology: These are some of the departments commonly considered "strategic business pillars" of your average company.
Talk to talent acquisition leaders, though, and they'll tell you TA is also a foundational piece of organizations today — and one that deserves to get and keep a permanent seat at the table where big business decisions are made.
"Whether they're the global director of recruiting or a vice president of talent acquisition at a mid-sized company, TA leaders know the value their teams provide their orgs today," said Employ Talent Business Partner Paige Carder.
Despite knowing their own value and contributions to business success, some CEOs and other high-level decision-makers don't extend their talent leaders an offer to work with them on annual and quarterly workforce planning sessions.
Simply put, this is a mistake — and a missed opportunity for these executive leaders.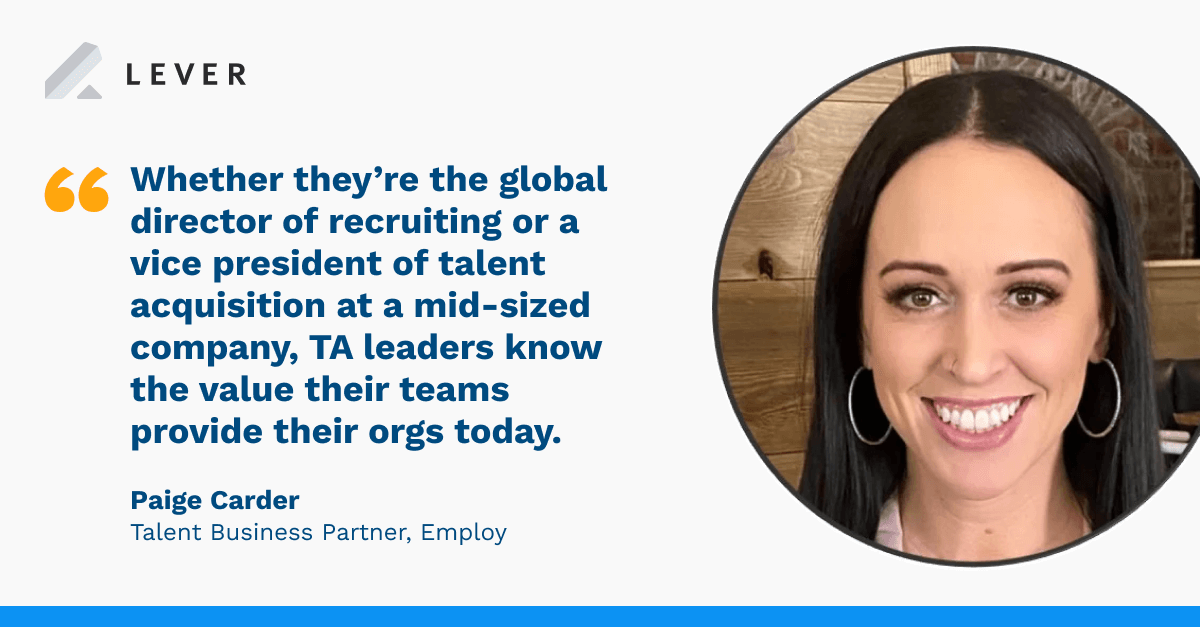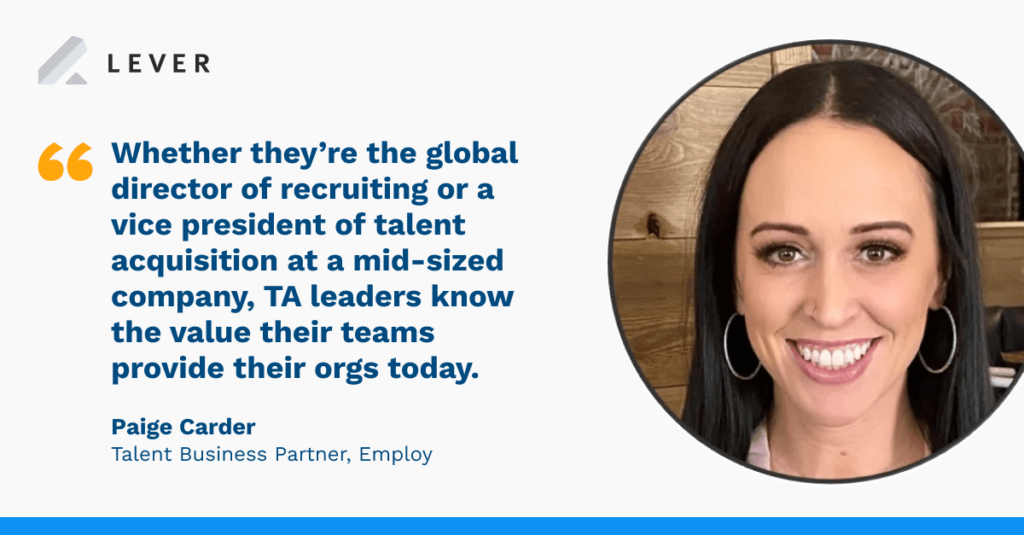 Why talent acquisition leaders deserve a bigger role in business decision-making
LinkedIn's Future of Recruiting 2023 report found 70% of talent acquisition leaders believe they and their recruitment staff "can claim a seat at the proverbial table" today.
Their teams agree. The research also found 87% of recruiters think their jobs have become a more critical component to their orgs' success since the start of 2022.
The question now is: Do these talent professionals' leadership teams agree?
The C-suites that do help their TA directors by assisting them behind the scenes.
That is, forward-thinking execs help their recruiting orgs prepare for the future of talent acquisition at their businesses, so to speak. That is, they help realize target headcount goals, outcompete other employers for world-class talent, and contribute to bottom-line growth.
And that starts with supplying talent teams with both best-in-class technology (i.e., a complete applicant tracking and candidate relationship management solution that syncs with other essential recruitment tools) and the right talent acquisition partners to aid their efforts.
"It is vital in today's candidate-driven market to ensure talent teams have the necessary resources and support from the C-suite to effectively recruit and retain top talent," said Employ Sr. Talent Business Partner Terri Teets.
"Talent leaders can drive business decisions by utilizing advanced yet intuitive TA tech to put metrics to their hiring practices and help them make data-driven cases for certain recruiting approaches by correlating successful practices and hires with strong ROI," Terri added.
Translation? High-level executives who hold the proverbial purse strings for their business must empower talent acquisition leaders and their teams to thrive.
More to the point, they must give talent teams a robust budget to onboard data-driven recruitment and hiring software with powerful ATS and CRM capabilities.
When given the ability to reshape their tech stacks with top solutions, TA leaders can "up" their org's talent maturity level and help convert high-quality candidates into high-performing employees who move the needle for the business.


How talent acquisition leaders can strengthen their case as a strategic business pillar
Getting all important business stakeholders to agree talent acquisition plays a pivotal role in organizational success is one thing. However, TA directors must still map out exactly how their team will achieve its designated KPIs and, thereby, contribute to crucial business objectives.
Employ Talent Acquisition Leader Josh Jones noted there are a few key things TA leaders must understand to appropriately make their case for a seat at the table and ensure they have a voice in executive decision-making.
"First thing's first: Know data," said Josh. "There is so much data that we are able to collect as talent leaders. Having the ability to grasp that data and utilize it to support business decisions and make recommendations is important to the organization and the bottom line."
Consider talent leaders with LeverTRM as their main recruiting software:
These TA directors work alongside their operations managers (and, when needed, Lever's Customer Success team) to take advantage of Visual Insights, our out-of-the-box recruitment analytics.
The Talent Leader Summary dashboard gives them a real-time snapshot of their team's pipeline activities and related metrics tied to their work (e.g., active opportunities, current candidates being interviewed, overall hiring speed for recently closed requisitions).
For a deeper dive into their recruiting and hiring data, they can peruse the other dozen hiring dashboards in Visual Insights — like those for postings, sources, offers, and nurture campaigns — to get a more granular view of recruiters' recent and historical performance.
Equally vital as analytics know-how is the ability to build relationships with fellow C-suite members. (That is, those with whom talent leaders need to work with often.)
"Talent leaders have a responsibility that spans their entire org," said Josh.
"That makes it vital for the head of talent acquisition to establish strong relationships with other leaders," per Josh. "Only then can they can truly know current business priorities and concerns and adjust their recruiting strategy accordingly to deliver increasingly better results."
By liaising with their CEO, CRO, and CHRO, in particular, Josh stated TA leaders can best align their talent management approaches with the long-term business strategy and workforce plan laid out by these former executives.
"This helps talent leaders gain credibility and demonstrate the impact their full-cycle recruiting processes have on their organization's growth goals," according to Josh.
A complete talent acquisition suite that's easy to use and helps your team excel. That's what you get with LeverTRM. Schedule a one-on-one demo of our ATS + CRM solution today.