Setting the "right" recruiting KPIs for your talent acquisition team — based on a variety of factors, including the state of the economy and your organization's fiscal health and business direction — is the foundation of successful data-driven recruiting today.
But, simply setting goals is not enough.
Talent leaders also need to track those recruiting KPIs consistently and make adjustments based on the data tied to those recruiting and hiring objectives as well as changes made by leadership to workforce planning (e.g., in times of uncertainty, like 2023).
Just ask Ritual VP of Talent Acquisition Thea Drake. Thea crafts recruitment KPIs for her talent team using Visual Insights, LeverTRM's powerful, built-in analytics.
"All the metrics we need live within LeverTRM," said Thea. "Having those reports allows us to pivot and change our [hiring] processes in a highly competitive market."
However, Thea doesn't stop there. She also monitors the progress of the KPIs regularly to ensure her recruiters stay on track to hit their assigned goals around sourcing quality, time to hire, candidate experience and other core recruiting metrics.
The specific key performance indicators you develop for your talent team will differ from those set by TA directors at other organizations, including the ones Thea produces.
That's because your org has distinct business goals and headcount needs.
But establishing a baseline for each data point tied to your recruitment efforts and tracking recruiters' progress against those baselines is now table stakes for every talent leader.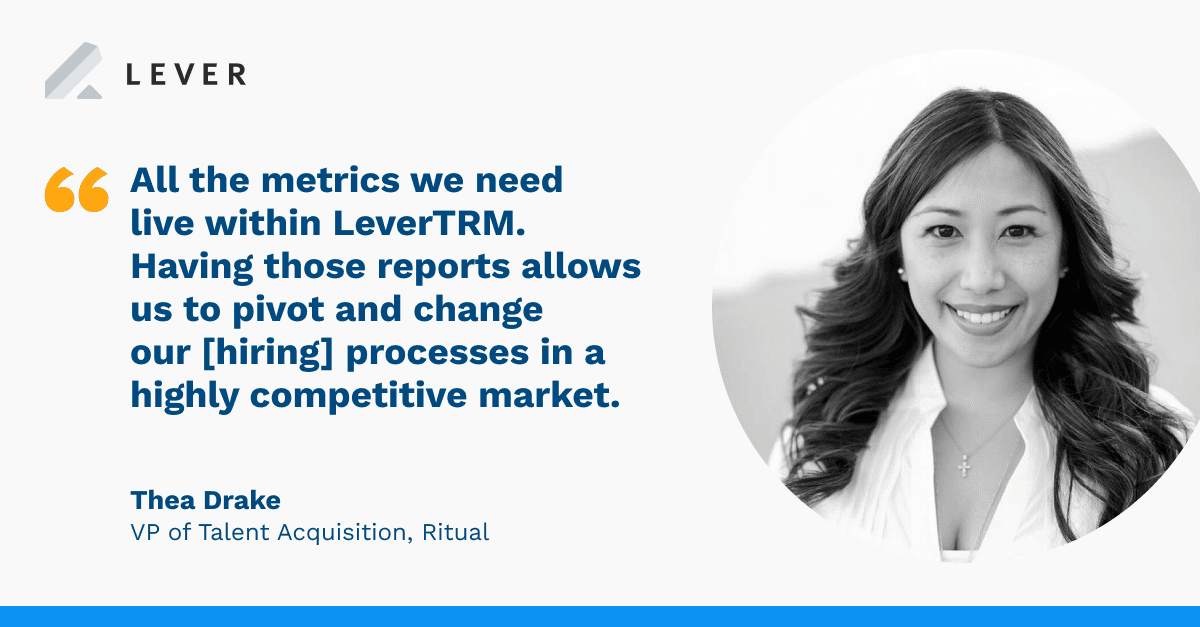 Why setting data-backed recruiting KPIs is vital
The case to create recruiting KPIs annually for your talent team and track and adjust them as needed (e.g., monthly or quarterly) is an easy one for us to make.
Establishing internal benchmarks based on historical recruiting funnel and hiring data and factoring those in your recruitment KPI assignment is your best path to:
Here is a real-world example of how factoring in internal benchmarks can help you establish clearly defined recruitment KPIs tied to your long-term talent strategy.
You decide to work with HR to reduce cost per hire (CPH). To achieve this, you must:
Determine your average CPH. The basic formula is to divide the average amount of money spent on all recruitment marketing activities for a given period (e.g., the last 12 months or last calendar year) by the total number of hires.
Create an action plan. Liaise with HR to identify recruitment activities that do and don't contribute to a high quality and quantity of qualified candidates and eventual hires.
Assign a team recruiting KPI. There may be one or more recruiters on your team who are mostly responsible for your high CPH. But a common approach for talent leaders is to make improving this metric a team-centric initiative.
Deciding your goal for improvement (e.g., 10% lower at the end of the next quarter or year) is both an art and science. The point is constructing recruitment KPIs is the cornerstone component of the best talent acquisition strategies today — and will remain so moving forward.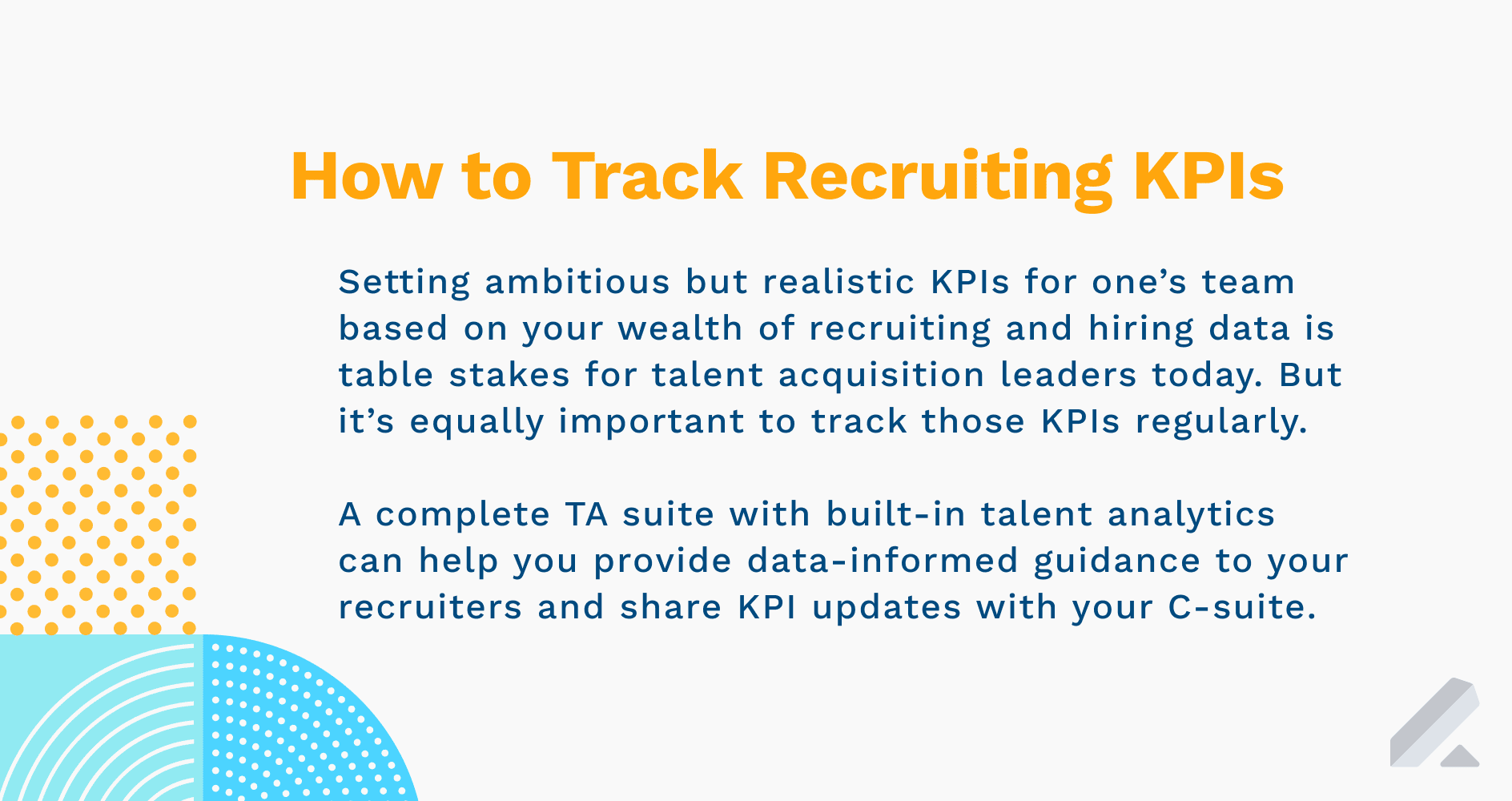 How to track recruiting KPIs for your talent team — and make the necessary strategic adjustments
"Understanding data trends supports so many aspects [of TA], whether that's your outreach, sourcing strategies, candidate experience, or uncovering key market insights," Austin International Head of Talent Hannah Gardiner told LinkedIn.
It's not just external data trends that can impact your strategy. Internal data trends can also play a pivotal role in your TA team's ability to connect with and convert top talent.
Your recruiters focus on finding high-quality candidates to turn into active opportunities. While they do this important work, you (and, if you have one, your operations manager) must review performance data and monitor the recruitment KPIs set for each recruiter and your team.
Only through this attention to detail regarding your team's data-driven hiring can you better manage your talent specialists and implement the necessary changes to improve key metrics and streamline recruiters' daily operations.
Here are a few ways you can capably stay on top of recruiters' KPIs and intervene with team members as needed to realize your desired ROI from their recruitment efforts.
Consolidate your talent analytics in a centralized recruitment database
A 2022 SHRM study found 49% of companies plan to invest in people analytics and data-driven recruiting solutions and capabilities through 2024. It's easy to see why.
A single source of truth recruiters can use to conduct core duties (e.g., archiving candidates, reviewing applicants' resumes, planning and executing prospect outreach) and track their progress with those activities isn't optional anymore.
A centralized database is now a must-have for recruiters who need to continually increase their sourcing, nurturing and interviewing effectiveness and achieve core KPIs.
Such a database helps recruiters — but it also helps talent leaders such as yourself evaluate high-level team metrics and ensure talent specialists stay on track to meet (or, best-case scenario, exceed) their recruiting KPIs.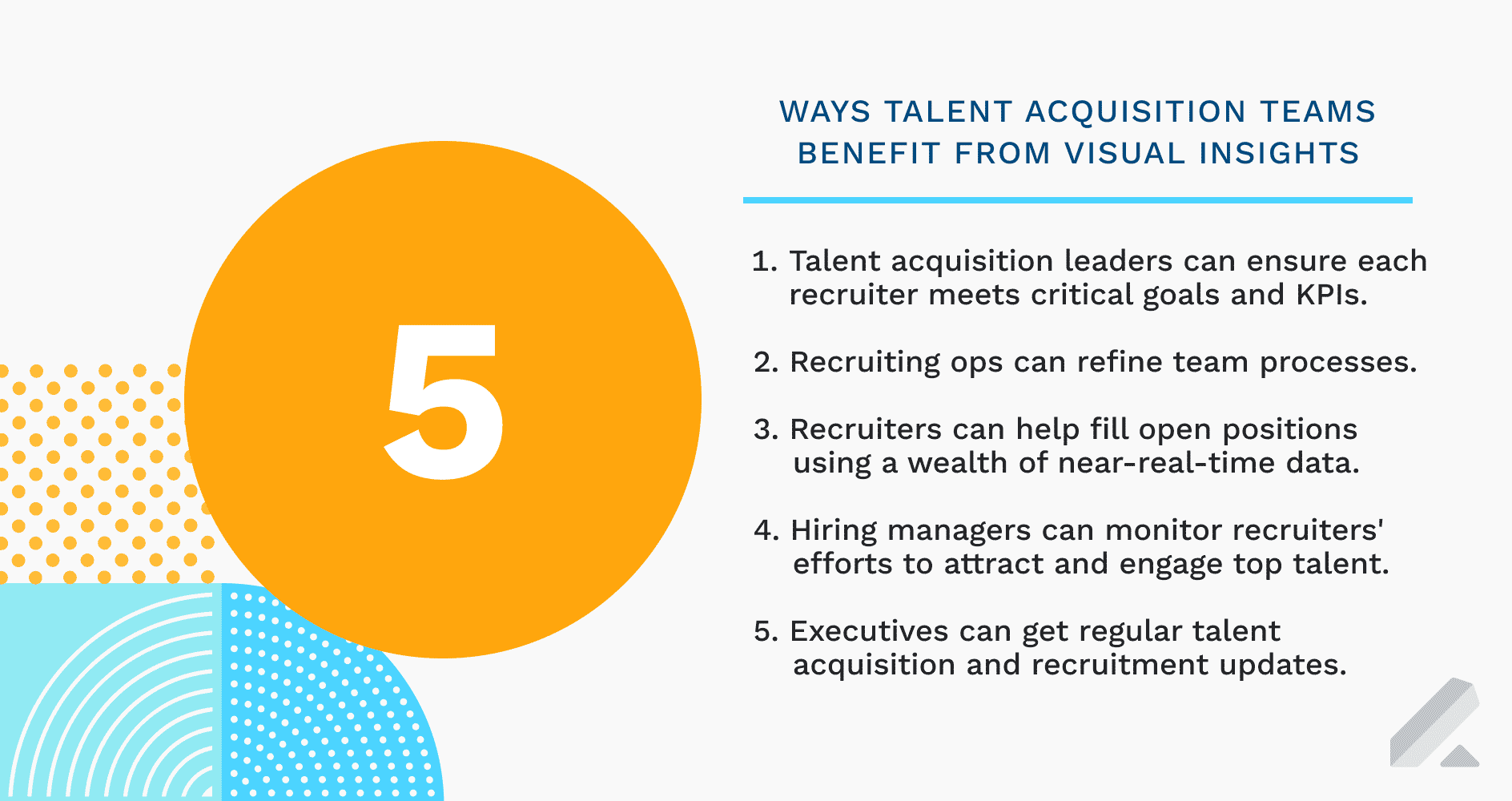 Discern which recruiting KPIs are likely to be achieved and missed
A 360-degree view of all pipeline, DEI and hiring data in an easily accessible and intuitive database allows you to assess key data in a matter of minutes, not hours or days.
This streamlined analysis can help you gauge which recruiters are thriving (e.g., adding a consistent stream of qualified and diverse candidates to consider advancing).
You can also determine which recruiters need guidance (e.g., those whose sourced candidates are often rejected by hiring managers or have low nurture reply rates):
Let's say you have a sourcing specialist who is struggling to find applicable candidates for a new role (e.g., ideal technical prospects for engineering jobs).
You discern they are having troubles based on their talent pool data, which shows few sourced prospects added to their pool since the requisition opened up.
Speaking with them about their recruiting approach (e.g., the specific sources they turn to, types of InMail and email nurture messages sent) can help you counsel them on how to adjust their approach to get more quality candidates in their pipeline they can present to hiring managers.
Even recruiters who are performing well and on target to achieve their recruiting KPIs need the occasional check-in to ensure they have the insights and resources required to continue with their progress and help fill headcount.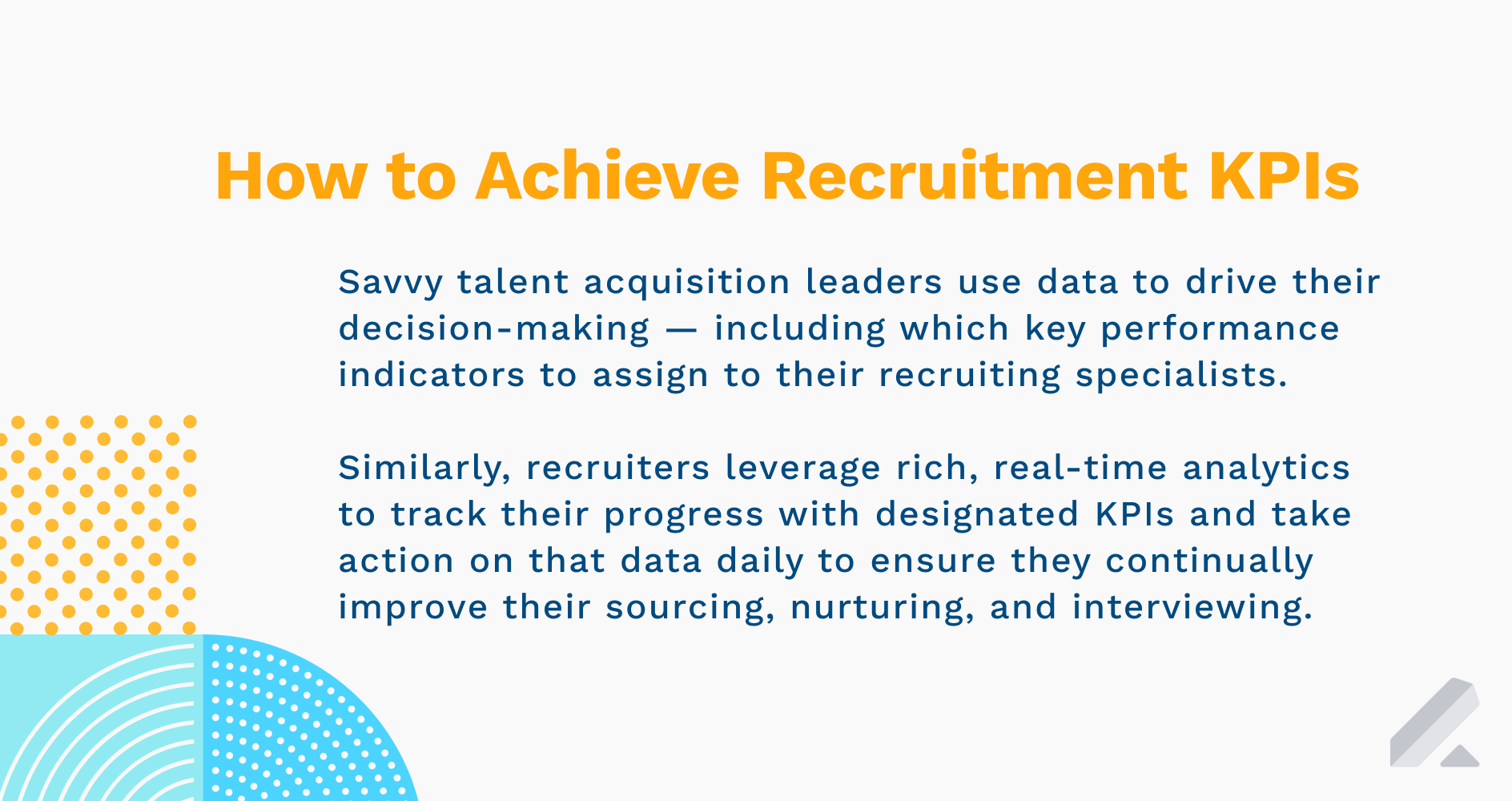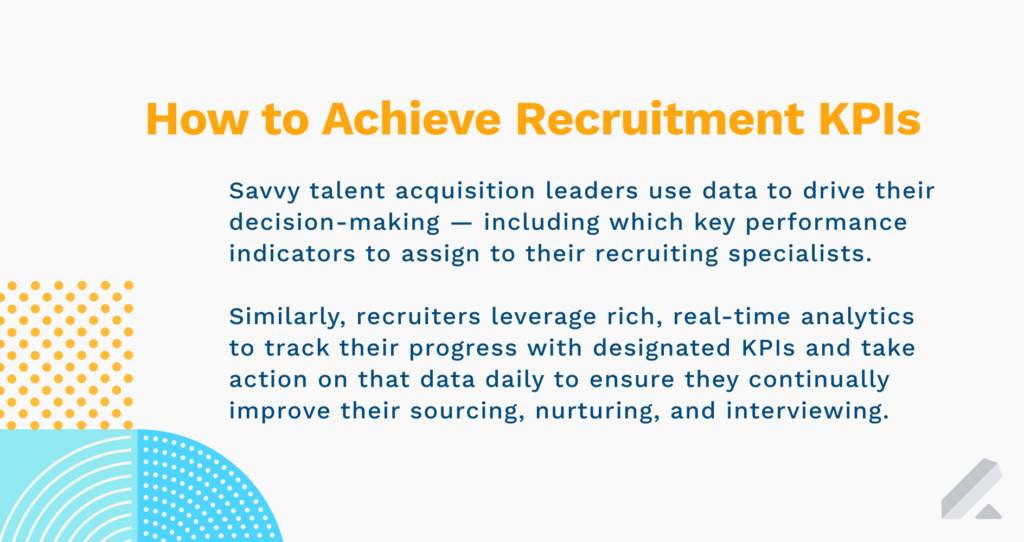 Update leadership on KPI progress and relay any resource needs
Your executives want to hear the good and bad news regarding your team's efforts.
Sending automated reports to your C-suite on their preferred cadence is one way to keep them abreast of your team's performance. But context around this data is needed to paint a clearer picture of your recruiters' progress.
Lever customers use Visual Insights to auto-deliver custom reports to their C-suite on a recurring basis (and with ease) using our schedule-and-send functionality.
However, many of our customers also understand they need to provide color around this data to their leadership team in joint workforce planning sessions.
Partaking in planning sessions helps the talent leaders at many LeverTRM users prove to their e-staff they need more recruiting resources (and even headcount).
For instance, when they share data that shows the adverse impact having too few recruiters has on pipeline management (e.g., little time to analyze a growing number of applicants) and candidate engagement (e.g., delayed replies to engaged opportunities), talent leaders can make a data-backed case for additional TA team members.
Chat with us today to find out how you can leverage Visual Insights, our built-in talent analytics in LeverTRM, to establish and track critical recruiting KPIs for your team.