Hiring the right talent, and doing it at scale, is a challenge in and of itself.
For many hiring teams, achieving success with high-volume hiring often comes at the expense of tedious, manual outreach activities, messy spreadsheets, disorganized data, and difficulty recruiting for returnship.
However, with the right strategies in place, recruiters and talent acquisition leaders can win at high-volume hiring in a way that is streamlined and perfectly automated. That means:
Automating manual processes and tasks

Leveraging data and analytics to optimize your hiring pipeline

Increasing efficiencies with talent rediscovery and returnship

Developing candidate-first application processes

Taking advantage of your networks to find the best talent
These five strategies will help you scale your high-volume hiring efforts so you can recruit and hire the right talent for your organization, quickly and efficiently. Let's dive deeper into each strategy so you can apply them to your hiring today.
What is high-volume hiring?
High-volume hiring refers to hiring numerous people for your org in a short period of time.
While it differs from traditional recruitment, analytics and automation have become key ingredients to effectively managing a high-volume hiring process for most recruiters today.
For many organizations, high-volume hiring (otherwise known as 'mass hiring' or 'high-volume recruiting') is not part of their everyday recruiting process. For example, you may not be hiring 20 people this month, and 45 next month.
High-volume hiring depends largely on your org, its business objectives, and its growth trajectory. You'll find, as many recruiters do, that high-volume hiring is typically used:
For seasonal businesses or demand (think: Amazon needing more headcount at distribution centers during the holidays)

As an organization grows and teams expand (think: after fundraising rounds, investments, expansions, etc)

When a company opens a new location (think: a franchise opening several new branches)

During hiring surges, after significant turnover, or when a company has undergone mass restructuring
As you practice high-volume hiring, you may notice that your job postings attract a significant number of applicants — especially during busier seasons or when your organization opens a new location. This is common, for example, among retail and hospitality.
This makes it doubly important that you have strategies in place that help you streamline your high-volume recruiting.
What are the most common challenges of high-volume hiring?
Hiring a vast number of employees in a short period of time isn't easy, and it makes sense that many recruiting team will run into some challenges when high-volume hiring.
Too many applications, and too little time to review them 
Having multiple roles open at once can often cause chaos among hiring teams when timelines are tight, but time as a resource is also limited. It's important to strategize how your team will proactively assess numerous candidates for a number of roles at one time.
Inconsistent employer branding 
Employer branding is just as important for recruiters as it is for your entire organization because it helps market your company to potential candidates.
However, poor employer branding does the exact opposite; it alienates talent and pushes away qualified candidates who may otherwise want to work for you.
When high-volume hiring, your employer branding and company reputation becomes even more crucial, as you'll be recruiting on numerous job boards and in different online communities where reputation will matter.
Poor candidate experiences
An inevitable struggle with high-volume recruiting is providing a top-notch candidate experience. It's no easy feat when you're assessing hundreds of candidates at one time, however, it's a necessary component of your recruiting process to focus on.
From automating tasks and personalizing outreach, to ensuring you're keeping candidates up-to-date on applications and more, you'll need to prioritize candidate experience when hiring in high volumes. 

5 high-volume hiring strategies to implement
Whether you're new to high-volume hiring, or you're embarking on your umpteenth round of hiring at scale, it's important to keep in mind that the most effective high-volume recruitment happens when you have strategies in place to support your hiring team's efforts.
Let's take a look at five key strategies you can leverage in your high-volume hiring that will enable you to hire the talent you need without compromising on candidate and role quality. 
1) Automate manual processes and tasks
Hiring in high volume is an arduous task that can quickly eat up time, resources, and energy. How do you work around the time-waste that comes with tedious or manual recruiting tasks?
You automate.
Automation is nothing new when it comes to streamlining a majority of recruiting tasks, and it's just as helpful for high-volume recruitment as it is for day-to-day hiring needs.
In fact, tools and solutions that allow you to automate these tasks can help you not only hire more quickly and efficiently but also reduce bias.
For example, TrustRadius has found that 55% of HR professionals are investing in more HR tech this year, while 49% believe this tech helps prevent biases in their recruiting processes. 
Complete talent acquisition suites with powerful ATS + CRM capabilities like LeverTRM do much of the heavy lifting for you when high-volume hiring, saving your team time by: 
Providing a holistic, real-time view of your candidate pipeline

Allowing you to track the status of open roles and requisitions

Giving you tools to quickly assess/review applications

Deep-diving into recruiting data so you can make the right hiring decisions

Automating outreach and messaging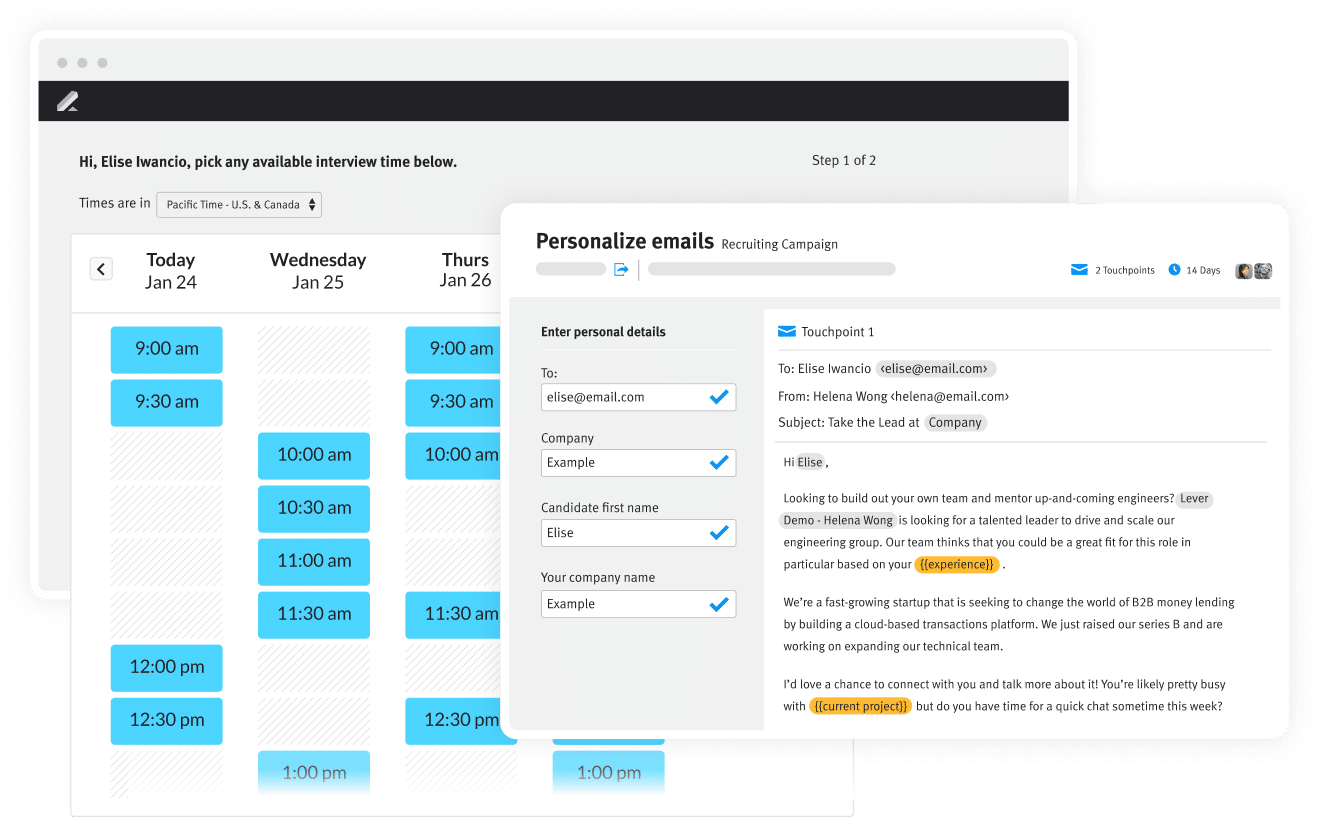 When your team hires at scale, having insight into your entire candidate pipeline and being able to automate a wealth of traditionally manual recruiting tasks can help you save time, optimize the resources you have.
Additionally, automation tools can help to reduce bias in your recruiting, which helps ensure that you're practicing diversity recruiting fairly even when hiring at scale. 
2) Leverage analytics to optimize your hiring pipeline
You don't know what you don't know, which is why recruiting metrics and hiring data are so crucial when high-volume hiring.
Not only can these data be leveraged to optimize your entire hiring pipeline, but they also help you understand where you're sticking points are and what you need to improve upon to successfully hire a high volume of talent at once. 
For example, if you noticed during your last mass-hiring period that it took you too long to review candidates or fill roles, your data can help you find ways to optimize and improve.
Here are a few data points you can consider monitoring using your recruiting data:
Source of hire: U

nderstand which paid and organic sourcing initiatives are driving the most ROI. You may find, for instance, that certain job boards drive more traffic and applications to your open roles, while paid job ads only work for certain positions.

Conversion rate: L

ooking closely at your conversion rates for each role can tell you where, and why, you may need to eliminate any unnecessary steps in your recruiting process. For example, you may have too many steps in your interview process that are taking up otherwise valuable time for both recruiters and candidates.

Diversity of candidates:

To ensure you're driving diversity in recruiting, look closely at the data around the diversity of your candidate pipeline. You can gather this data and measure this metric by leveraging things like EEO dashboards, candidate surveys, hiring feedback, and more. 

Sourcing effectiveness:

Similar to the source of hire, sourcing channel effectiveness can show you which channels are driving the most ROI for your recruiting efforts. With this metric, you measure conversions per channel.
The goal in to use recruiting data is to better understand how effective your high-volume hiring efforts are, and where you can make improvements along the way.
You'll also find that monitoring key recruiting metrics can help you deliver a more positive candidate experience to each prospect you engage and advance in your funnel.
3) Increase efficiencies with talent rediscovery
Talent rediscovery refers to using your candidate database to unearth past leads for new roles. Returnship works similarly, in that employees who left your org may be looking to return.
In both cases, your hiring team can use rediscovery and returnship to fill open positions. 
Now, you may be wondering, "Why would I hire candidates now that we didn't hire before?" There are a number of reasons you'll want to consider doing this when high-volume hiring:
In previous hiring rounds, you had more applicants than available roles, meaning you left some qualified candidates "on the table"

Some past candidates took on roles at different companies mid-way through your recruitment process (i.e. they received other offers)

Applicants were not always the right fit for some of your previous roles, but have the skills for open roles you have today
The same can be said for returnship. Before you proceed with recruiting only net-new, external candidates, consider looking to your past employees: 
Always consider existing employees before you even start your job search

Provide a clear path for internal mobility

Give internal candidates the white glove treatment they deserve

Keep an archive of all your candidates — both internal and external
It's especially vital to consider how your hiring team and org at large can leverage internal mobility to ensure you have a wealth of talent to choose from for new roles internally. 

4) Develop a candidate-first application process
Building a positive, streamlined, and candidate-centric application process is a large undertaking. As a recruiter, you have to take into consideration everything from how you'll conduct structured interviews to writing the most effective job descriptions and much more.
However, a candidate-first application process is critical if you hope to hire at scale while still capturing the interest of the right candidates.
Consider that most candidates are less likely to complete a job application that takes 20 minutes or longer, while 64% of applicants will share poor application experiences with friends. 
To ensure you and your talent team attract the right candidates for open roles and incentivizing them to pursue and complete an application, you'll need to:
Be clear about job titles, responsibilities, and compensation

Highlight your company's onboarding process

Make it easy for candidates to apply from multiple devices
When high-volume hiring, you'll also want to consider posting jobs and bringing awareness to open roles across all of your platforms—not just job boards, but your company website and other channels, to help amplify your efforts.
The easier you make it for candidates to apply, the more likely you'll receive a larger number of applications, especially if people can apply using their phones or even texts/SMS. 
5) Tap into your networks to find the best talent 
While you can use social media channels to distribute job postings, simply posting open roles to Facebook or LinkedIn and hoping for the best isn't the best strategy when mass hiring.
Instead, consider taking advantage of your and your team's personal networks to source talent. 
For example, you can reach out to connections you have on LinkedIn or through Twitter and send a quick direct message asking if they'd be willing to share job postings with their networks, or candidates they feel would be a good fit for the roles you're hiring for.
Similarly, if other colleagues are part of networking groups (like Slack groups or online communities), ask if they'd be open to sharing open roles. 
And don't forget employer branding. If you notice certain people consistently interact with your company's LinkedIn content, reach out to them to see if they're looking for a job.
You can also ask executives to create quick video clips to share on social media describing the open roles, your company culture, and why they feel candidates should apply. 
Implementing a high-volume hiring strategy effectively — and at scale — with a modern ATS 
Whether you're high-volume recruiting for the umpteenth time in your career, or you're just diving into hiring at mass, having the right strategies in place will help you hire the right talent, at scale, quickly, and efficiently.
Here are a few bonus tips to keep in mind:
Communication your hiring timeline with candidates so they know what to expect from your hiring team and have a positive candidate experience with your company

Track crucial recruiting metrics, especially time-to-hire, so you can consistently optimize your high-volume recruiting processes

Keep an eye out for any biases in your hiring, as diversity recruiting is still critical even when hiring at mass

Tidy up your candidate database regularly to ensure you're keeping up-to-date with people in your pipeline so you can leverage them down the road

Use a talent relationship management solution that helps you hire at scale and nurture relationships with top candidates 
If you're looking to leverage your recruiting processes to source, nurture, and hire diverse talent, check out our on-demand webinar that teaches you how to do just that.