Talent operations (a.k.a. recruiting operations) is an increasingly popular role on talent acquisition teams today. Their primary task is right in the name:
Ensure operational excellence within the entire recruiting organization and across their overall recruiting strategy.
With a talent operations pro in place, you have a dedicated resource who can help streamline your hiring process, track talent analytics (at the individual and team level), monitor candidate experience metrics, and empower talent leaders and specialists alike to make data-driven recruiting decisions that lead to better output in the short and long term.
You may be wondering though:
Does my organization really need such a person to aid our TA efforts?
To find out, we break down what talent operations managers do to elevate their companies talent acquisition strategies and enable their hiring teams to make smarter choices with candidates: from determining who to engage and nurture for open roles to figuring out which prospects deserve to have an offer extended.
Talent operations: A breakdown of the increasingly popular role, including day-to-day duties
Here are three tasks talent operations can tackle for your recruiting org and business at large.
Talent operations task #1: Provide guidance regarding TA processes.
Even the most experienced recruiters need structure and direction. Talent operations managers work at orgs of all kinds, including enterprises with dozens or hundreds of recruiters.
'RecOps' managers at these large-scale companies typically craft processes around tech utilization (i.e., making the most of an ATS and integrated tools, like those that help conduct background checks, provide assessments to candidates, and sync/share data with human resources systems) for their recruiting teams.
They also give suggestions on everything from candidate engagement (e.g., how to test nurture campaigns) to archiving talent (e.g., assigning the right tags to easily resurface talent).
Ultimately, recruiting operations serves as a trusted, accessible resource for recruiters.
They can answer recruiters' pressing questions. They can help them discover, rediscover, and connect with prospects. And they can ensure talent specialists leverage all the important tools in their TA tech stacks to gradually improve their work.
Talent operations task #2: Address outdated processes and systems.
Speaking of tech, a core responsibility designated to talent ops managers is to audit the recruitment solutions their talent teams use to ensure they help them with key tasks like:
Getting a holistic, at-a-glance view of where each candidate is in their recruitment funnel
Understanding which engaged prospects require immediate attention (and which can wait)
Setting up automated approval workflows for requisitions, job postings, and offer letters
If recruiting ops decides the ATS their talent specialists use prevents them from working quickly and efficiently, they're charged with researching other ATS options and liaising with other tech and financial decision-makers (along with the talent leader) to find a new, replacement platform. (Ideally, a native talent acquisition suite.)
As our ATS Buyer's Guide explains, once a new solution is chosen, it's on talent operations to 'stand up' the system of choice and ensure all recruiters are trained on how to take advantage of its (presumably/hopefully) more advanced features and functionality.
(Of course, as our guide also states, it's not entirely on talent operations to handle this training. Ideally, the ATS provider you work with offers frequent support and services to your entire talent team and even shares best practices on how to best use their solution to realize their respective pipeline, engagement, and hiring targets.)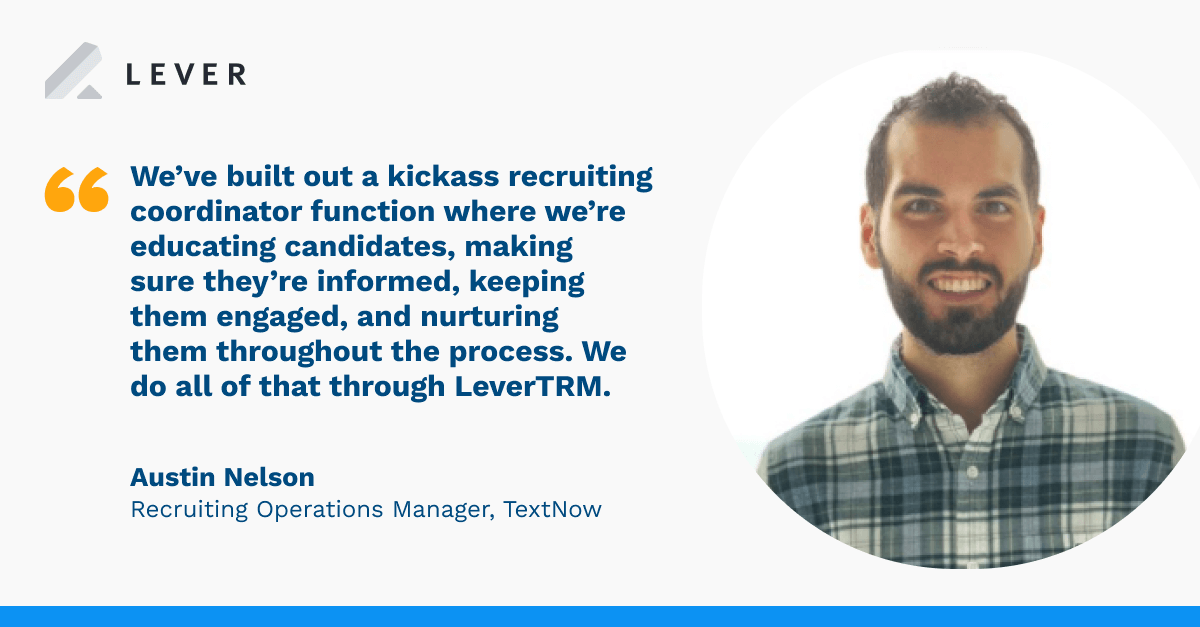 Talent operations task #3: Analyze the talent team's performance.
"Talent teams that find the right talent and fill roles on time are not lucky," Lever SVP Customer Success Jessica Green noted in our 2022 Talent Benchmarks Report. "They have a process, are persistent, and use a combination of data and feedback to tune their approach."
Translation? Analytics is vital to TA success today. Plain and simple. And it's on talent ops to ensure every recruiter and their talent team leader knows how to access and take action on data.
Often, talent operations is charged with 'stitching' data from multiple sources. In the case of some Lever customers, that means syncing with BI tools. By doing so, talent ops can sync Lever-generated and -hosted recruiting analytics with data from other solutions (e.g., HRIS).
Once merged, talent ops can glean insights that empower talent specialists to address problems with (or simply continue to enhance their work in) their full-cycle recruiting activities.
This can range from improving how and where they find diverse candidates, to doubling down on strong sourcing avenues that lead to high-quality hires, to speeding up screening.
Why your talent organization would be wise to hire a dedicated recruiting operations manager
"The future of work isn't just a destination," business expert and keynote speaker Eric Termuende said during his insightful 2021 Lever Ascend session. "It's a journey. There's no finish line in this conversation about this. We're never finished. It's an ongoing process."
A big part of preparing for the future of work — notably, realizing operational excellence with recruiting and hiring — is hiring a person (or multiple team members) who can evaluate these areas regularly and share advice with relevant stakeholders on how to improve in them.
Enter talent operations.
This person can examine your talent strategy at a granular level (e.g., sourcing and nurturing efficiency, employer-brand perception, interview-process bottlenecks).
Moreover, an ops manager can factor in the bigger picture (i.e., long-term growth goals) when making or recommending recruitment- and hiring-process changes.
Lever customer TextNow understands the value of this role.
Austin Nelson, the company's recruiting operations manager, helps the TextNow TA team automate critical tasks, personalize cold outreach to target candidates, and pinpoint strong-fit prospects in LeverTRM.
Austin also provides regular insights. For example, he shares data related to the company's DEI initiative. This helps TextNow's recruiters streamline their TA work and boost productivity.
"We try to find the best talent wherever it is and hire to fit the needs of tomorrow," Austin stated. "Success means building out scalable solutions. LeverTRM enables us to do that."
Download our Full-Cycle Recruiting Playbook for Talent Leaders to learn how your recruiting staff can work closely with you and your talent operations managers to improve team output.