Talent acquisition teams at companies small and large continually optimize their recruitment models to meet critical hiring objectives and better compete for top talent.
Our 2022 Talent Benchmarks Report found TA teams with our recruiting software made big strides with their sourcing, nurturing, and interviewing in 2021:
It took Lever customers just an average of 30 sourced candidates to hire a new employee in 2021, a decrease from 43 candidates in 2018.
Lever customers sped up their interview processes, driving down their average interview time to 2.4 hours in 2021 from 2.8 hours in 2018.
The average reply rate to Lever customers' nurture campaigns in which four emails were sent to prospects increased 134% in 2021 compared to four-email nurtures they sent in 2018.
The key driver behind our customers' progress? The built-in analytics offered in Visual Insights.
5 ways your talent acquisition team can benefit from Visual Insights in LeverTRM
Our TA suite offers powerful applicant tracking system and candidate relationship management (CRM) capabilities that help talent acquisition teams better attract potential candidates, enhance their recruitment marketing, and provide a better candidate experience.
Visual Insights is arguably the most impactful facet of our advanced recruiting software that aids the talent acquisition strategies of our 5,000-plus customers.
Here are five ways you can benefit from our out-of-the-box analytics too.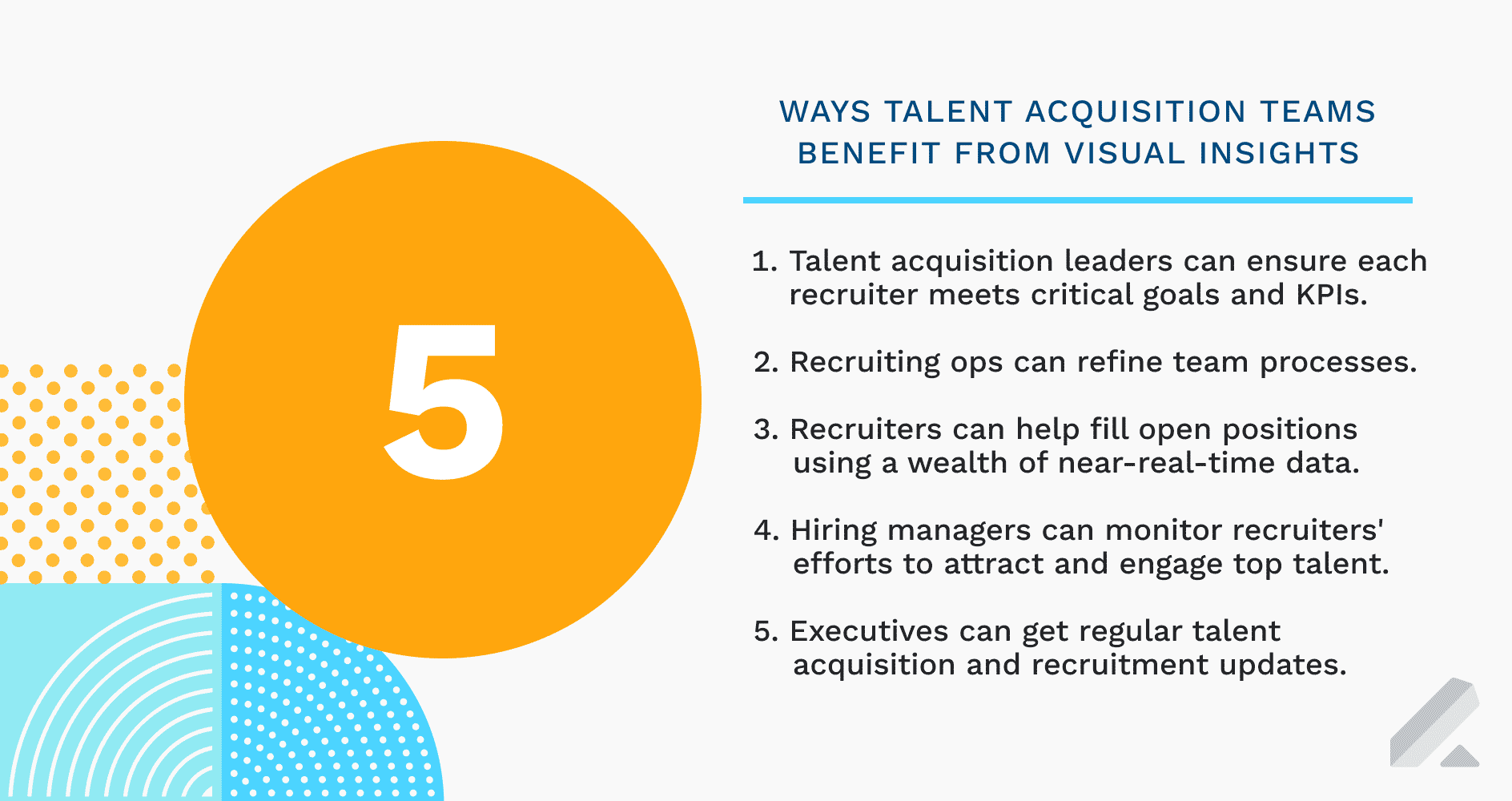 1) Talent leaders can ensure recruiters meet short- and long-term goals
Friction in their talent pipeline. Slow data refresh times. Rigid and un-customizable calculations for key recruiting metrics. Unclear areas for improvement.
These are just some of the key data-related challenges facing talent leaders today. They're also pain points Visual Insights can solve for.
Visual Insights provides several dashboards and customizations that enable talent leaders to better understand their teams' recruiting strengths and weaknesses and even compare their progress to that of other TA orgs that use Lever.
For instance, the Talent Acquisition Benchmarks dashboard shows talent leaders the average time to hire, days from interview to first hire, hours to complete candidate feedback, and opportunities per hire for other TA teams worldwide.
Talent leaders can also set up custom formulas for metrics like time to fill and hire in Visual Insights to ensure the data generated in Lever regarding their hiring speed matches their preferred calculations used prior to using Lever.
"Visual Insights updates frequently, so it gives talent leaders the data they need to move from a reactive to proactive TA strategy," said Lever Technical Product Manager Noa Monheimer.
"It also provides granular data tables that power the hundreds of metric visualizations talent leaders can access and helps them hold their team accountable," Noa added.

2) Recruiting operations can refine their talent acquisition team's processes
Many of the same Visual Insights dashboards TA leaders use to track recruiting and hiring progress can also be used by recruiting operations managers.
But there is one dashboard specifically tailored to talent ops to give them a near-real-time view of performance data for each recruiter on their team.
The Recruiter Operations dashboard shows the volume and velocity of opportunities in a talent pipeline. Key ways recruiting operations use this view in Visual Insights include:
Identifying issues with recruiters' funnel efficiency and interview speed
Tracking how many and what types of candidates are in each funnel stage
Ensuring recruiters' reach out to target candidates in a timely manner
Monitoring offers that have been extended and are awaiting replies
There are also other hyper-specific views in the Recruiter Operations dashboard that help talent ops get more granular insights into recruiters' activity.
For example, the Feedback screen shows which hiring team members have and haven't provided candidate feedback and how long it takes each to share their comments and scores for each prospect interviewed for each role.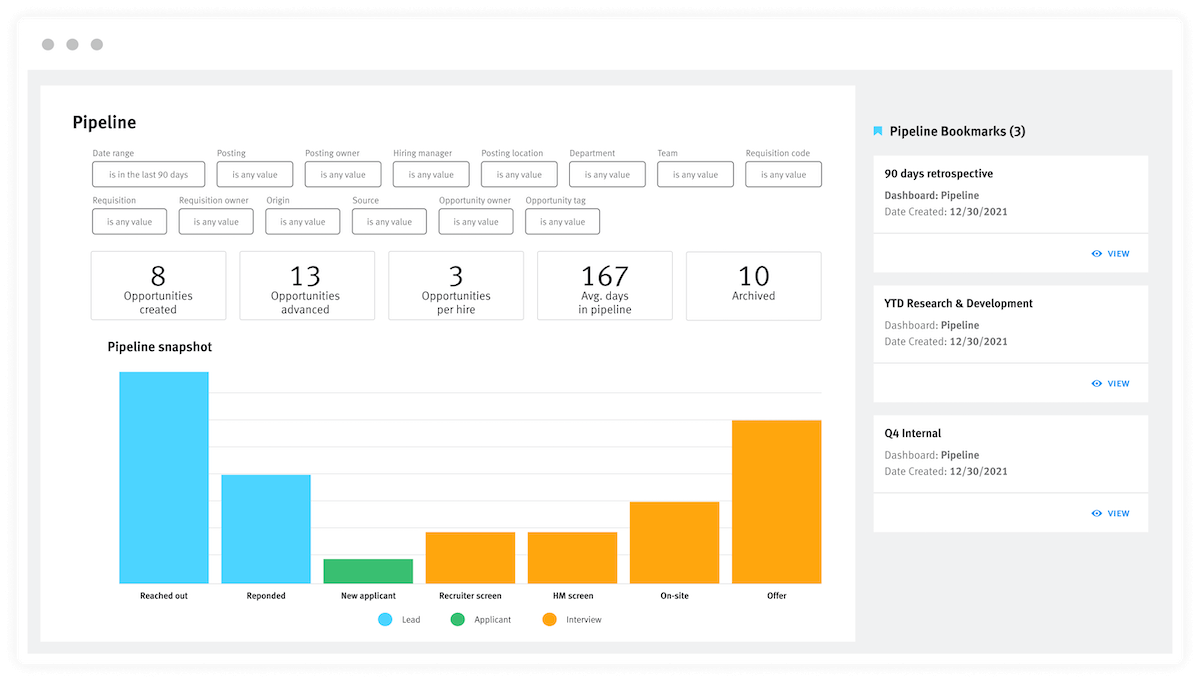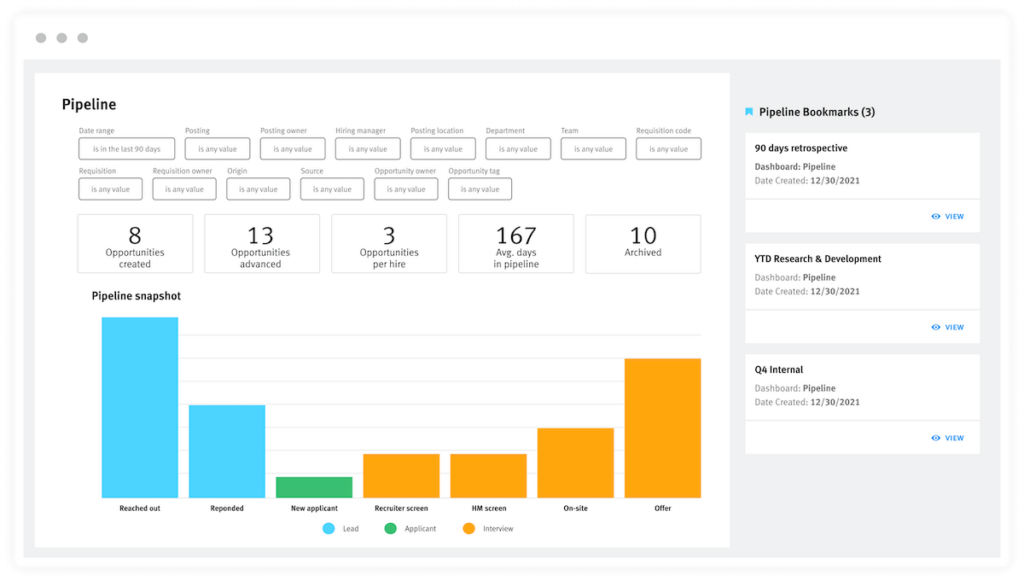 3) Recruiters can help fill open positions using near-real-time data
Talent acquisition specialists can also see data related to their pipeline management and candidate relationship management (CRM) in Visual Insights. For instance, they can:
No data expertise is needed to navigate these (and other) Visual Insights dashboards. All are intuitive and empower recruiters to find the data they need in just a few simple clicks.
4) Hiring managers can monitor recruiters' efforts to engage top talent
It's not just recruiters who need to closely track the status of reqs, postings, and talent pools.
Hiring managers with open reqs assigned to recruiters also require regular updates about posting to job boards, active opps, and general progress with filling positions.
The good news? Visual Insights can help hiring managers stay up to speed on every activity and task associated with reqs and ensure roles are filled quickly and efficiently with high-quality candidates.
"Visual Insights helps hiring managers stay apprised of all activities in the recruitment process," said Noa. "That means they don't have to constantly check in with recruiters regarding the status of their open requisitions.
"Rather, they can see active opps by posting, prospects' movement in the pipeline, and upcoming interviews, among other relevant data points."


5) Executives can get regular talent acquisition and recruitment updates
Last but certainly not least, CEOs, CHROSs, and other executives can get up-to-date info from their TA teams, thanks to Visual Insights's schedule-and-send functionality.
We know human resources leaders provide updates about their efforts around employer branding and company culture to other organizational leaders.
But TA leaders also need to share updates with their C-suite about their progress with:
That's why we made it simple for TA leaders (and ops managers) to compile fresh, relevant data in an easy-to-consume, visually appealing format with business leaders whenever they need (daily, weekly, or their own preferred cadence).
No longer do talent leaders have to send complex spreadsheets to their executive team.
With Visual Insights, they can put their C-suite updates on relative autopilot by auto-sending rich, real-time data to show progress with developing effective talent acquisition strategies.
Download our 2022 Talent Benchmarks Report to see how other talent acquisition teams have benefited from Visual Insights and other CRM capabilities in LeverTRM.