Your talent intelligence — that is, the in-depth insights associated with your recruiting and hiring strategies (e.g., DEI initiative, candidate experience efforts, pipeline optimization, interview speed) — is only as valuable as the tech you use to generate and access said data.
Some TA leaders think their recruiters can build strong talent strategies by using a traditional ATS and spreadsheets that act as their de facto means to assess team performance.
The truth, however, is this approach is (wildly) dated and (highly) inefficient.
Only with a complete talent acquisition suite that offers intuitive, interactive, and configurable dashboards can TA leaders, operations managers, and specialists alike get a holistic view of all recruitment activities — and use the actionable insights offered in those dashboards to enhance their sourcing, nurturing, and interviewing effectiveness.

How your TA team can make the most of the talent intelligence offered in Visual Insights
Built based on our customers' insights and industry best practices, Visual Insights in LeverTRM provides an easy-to-navigate UI and dozens of robust data visualizations.
More specifically, it features 20 dashboards and 150-plus reports) everyone in TA can use.
Here's how Lever customers drill down into the talent intelligence in Visual Insights to learn their recruiting strengths and areas for improvement and make gradual TA improvements.
Discover how many new opportunities have recently entered your pipeline
The Pipeline dashboard in Visual Insights is where our customers can unearth the number of net-new opportunities (not necessarily candidates, given one candidate can be considered for multiple opps) that were created within a given date range (e.g., past 90 days).
While an opp is automatically created for applicants, there are times when recruiters deem them good fits for other roles as well. In turn, they're designated as an opportunity for another active (or upcoming) position. This is why candidates and opps differ in LeverTRM.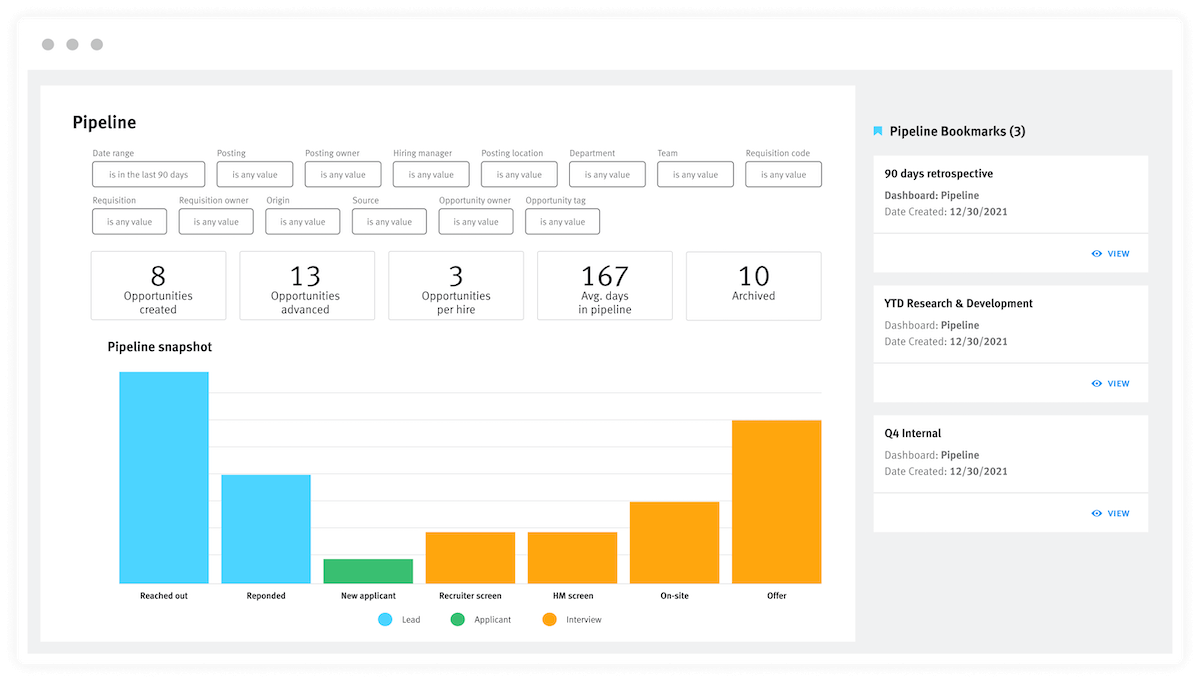 Learn how many candidates with pending offers you're waiting to hear from
Aside from being vigilant with tracking the status of pending offers, talent ops and recruiters must also take a step back at times to evaluate their historical job offer acceptance rates.
More to the point, they must determine if they're progressing or regressing with said rates.
Visual Insights helps these TA pros discover this data with ease (and a few simple clicks). Just select the Offers dashboard, click "Offers pending outcome," and you'll see each candidate you're waiting to accept or decline a recently sent job offer letter.
Find out the specific amount of time (in days) active roles have been open
Want to ensure your team is closing roles in a timely fashion? Go to the Postings dashboard in Visual Insights and filter all postings by "Days open" to see the exact number of days jobs have been live from the initial publish date of each job listing.
If most active roles are being filled quickly (compared to your historical time-to-fill figures), that's a clear sign your team is sourcing high-quality talent and moving those individuals through its collective recruitment cycle in a speedy and efficient manner.
If certain roles are open well past the desired fill date, these aging jobs are in need of attention by the recruiter charged with filling it and the requisition owner and hiring manager.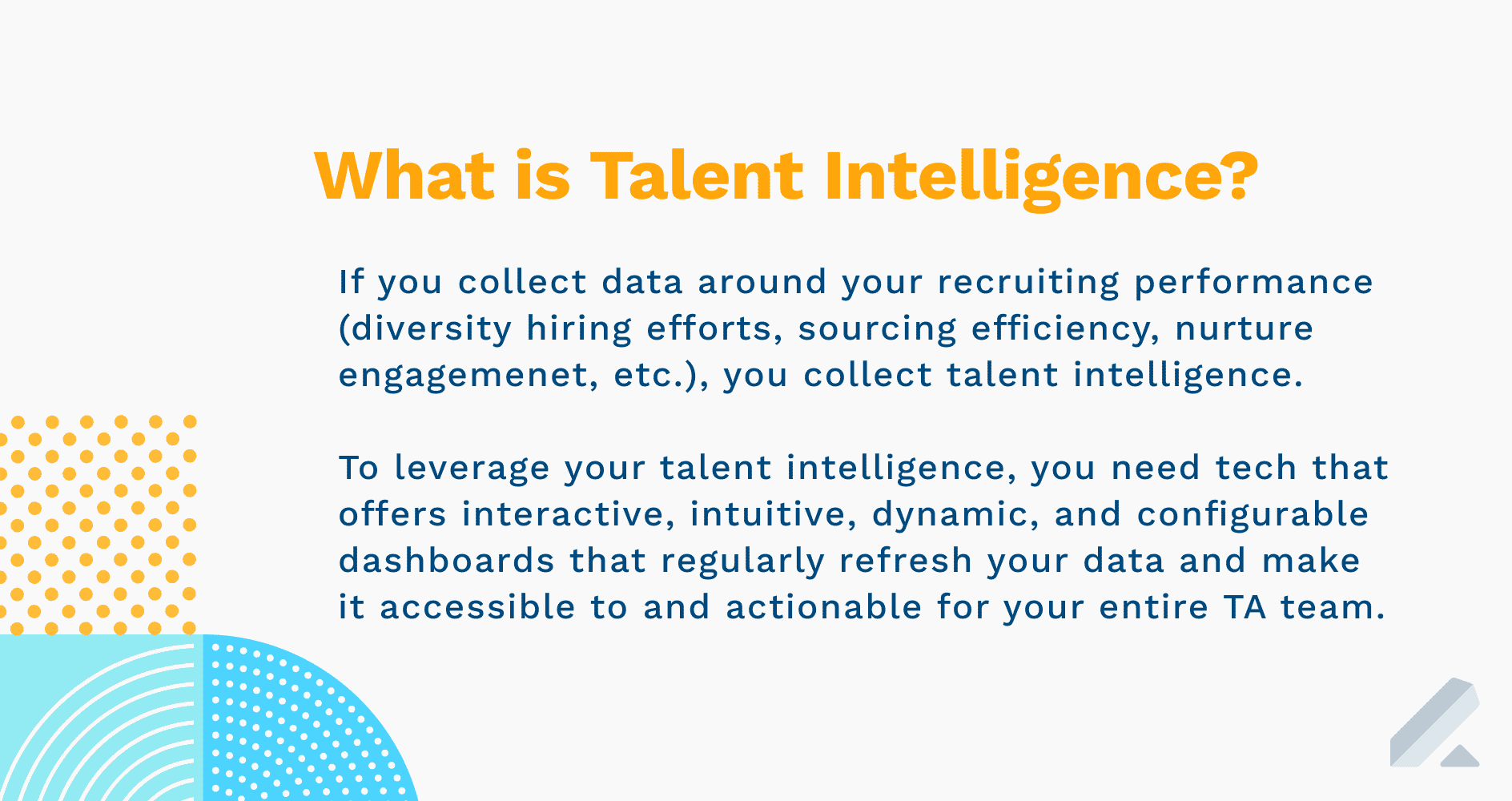 Determine how many prospective hires it takes to fill the average role
Our 2022 Talent Benchmarks Report found it took Lever customer 98 candidates to fill a single role, on average, in 2021. That marks a 31% rise in candidates per hire from 2018.
That's for Lever customers collectively. The number of prospects your business needs to hire for a single position will certainly differ.
The only way for LeverTRM users to learn their figure is to drill down in Visual Insights and explore "Opportunities per hire," which reveals how many leads it takes to make hires.
This metric is calculated by dividing the total number of opps form in a date range by the number of opps who were given the 'Hired' archive-reason designation in LeverTRM.
Assess the weekly, monthly, and/or quarterly performance of each recruiter
This is more of a task for talent operations coordinators who can then relay their findings (i.e., how each recruiter on the team is doing in terms of the speed, quality, and efficiency of their sourcing, nurturing, and interviewing efforts) to TA leadership.
That said, any LeverTRM admin or super admin can access our Recruiter Ops dashboard to discern how specific recruiters and the team at large have performed historically.
For instance, these users can view how recruiters have done (independently and jointly) in attracting top talent and tapping into the talent marketplace to bolster their pipelines.
This data can be used by talent directors (in tandem with other business leaders) to reward the best recruiters (e.g., raises, promotions) and retrain those whose work needs improvement.

Elevating your recruiting and hiring performance by leveraging your talent intelligence
As Coupa Sr. Director of Global Talent Operations Genil Washington shared with the Lever team regarding her talent org's use of the Visual Insights to scale hiring at Coupa:
"LeverTRM gives us granular reports on our candidate pools. … We can then pull analytics reports out of Visual Insights. This enables us to measure current activity against past performance and share data with leadership."
Whether you're a small business with a bare-bones TA function owned by your HR team or an enterprise with global talent acquisition needs and plenty of bandwidth to recruit and hire at scale, talent intelligence is a valuable asset that can help you grow.
To truly capitalize on your recruitment analytics, though, you need a platform that:
Provides accurate, regularly refreshed data around all things talent acquisition
Allows you to export your visual insights to leverage elsewhere (e.g., a BI tool)
Empowers recruiters and other hiring team members to make quick, intelligent, and confident decisions as it pertains to sourcing, nurturing, interviewing, and extending offers.
Translation? You need a complete TA solution with out-of-the-box analytics — and, ideally, a host of other candidate relationship management capabilities — you can use to transform your talent strategy for the better and enable your recruiters to find the info and context they need around engaged prospects instantly and effortlessly.
Watch our data-driven recruitment webinar to learn how talent acquisition and human resources can work with one another to attract premier talent and retain top performers.