The right recruiting technology makes all the difference for companies. Just ask Josh Bersin.
The human resources tech expert advises HR professionals and C-suites on how to refine their TA tech stacks. So, he knows the premier recruitment solutions businesses need.
"Those who leverage … digital hiring solutions, such as online assessments, virtual interview platforms, and pre-hire chatbots, are twice as likely to ‌attract and recruit the right talent," per Josh.
There are certainly benefits to using artificial intelligence to handle tasks like greeting career site visitors and video-conferencing tools like Zoom to digitally interview job seekers.
But the most important recruiting technology you need for your team is a TA suite that offers both powerful applicant tracking system functionality and capabilities that help you find, engage, and develop relationships with qualified candidates.
The trick to finding advanced, user-friendly software lies in knowing the current recruiting technology landscape — and how to distinguish "pretenders" from "contenders".
What the best recruiting technology solutions offer talent acquisition teams today
Here are six must-have capabilities any talent acquisition suite you invest in should offer.
1) Intuitive user interface recruiters can easily use
An Aptitude Research study found 82% of large-scale companies' high-volume hiring needs planned to invest in more advanced recruitment technology in 2021.
The main reason, according to report author Madeline Laurano?:
They needed "simple" and "intuitive" tech that enabled them to source, nurture, and interview a high quantity of qualified candidates quickly and efficiently. Tasks their dated ATS deterred.
Truly transformational TA tech isn't just a single source of truth for talent leaders, specialists, and operations. It's also an easy-to-use platform that helps the entire recruiting org find the info they need about candidates in just a few simple clicks.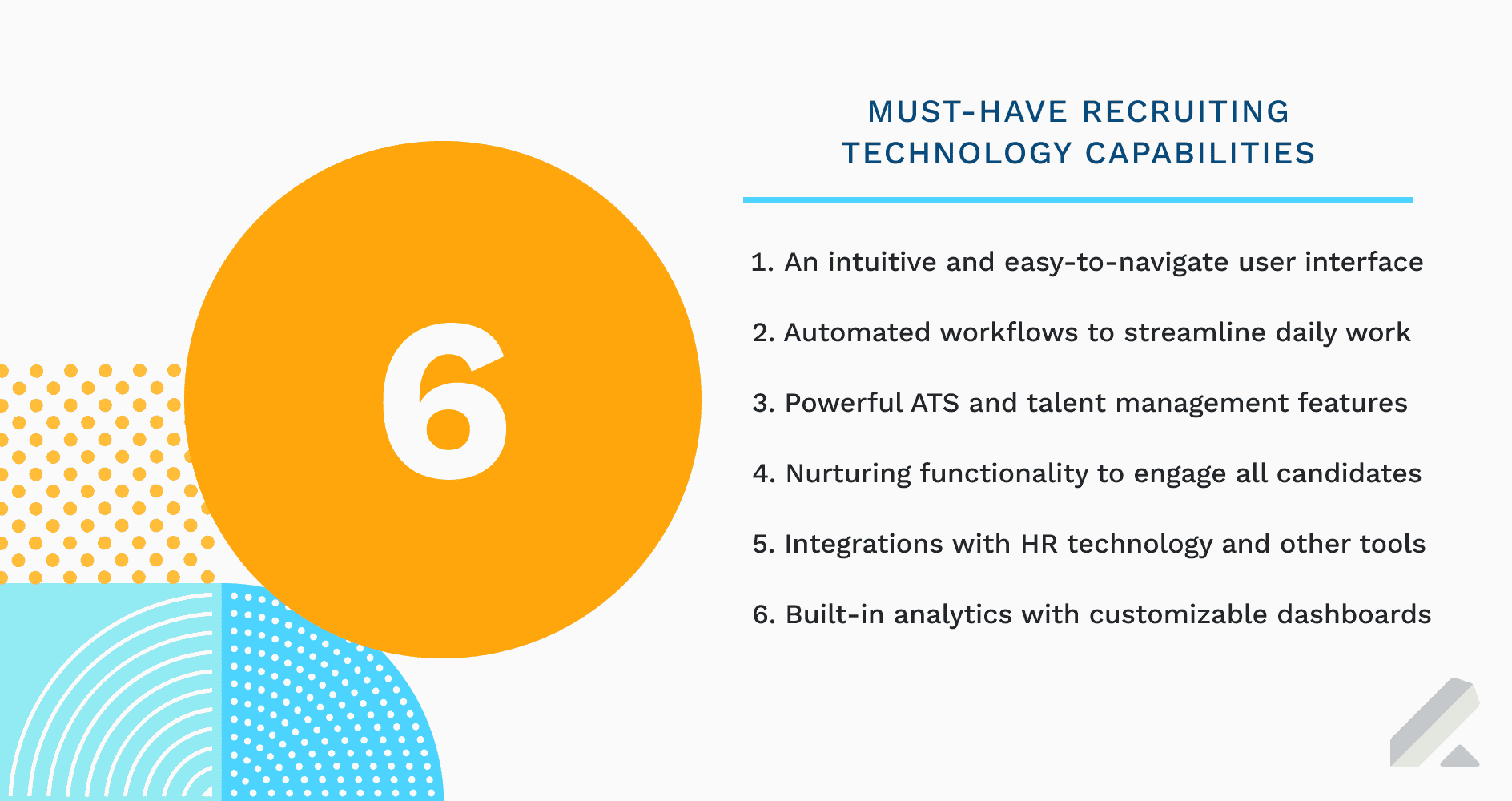 2) Automated workflows to streamline daily work
From offer, posting, and requisition approvals to application and resume review reminders, recruiters can automate several key duties — and set themselves, interview panelists, and hiring managers up for success each day — with best-in-class recruiting technology.
Securing candidate feedback was a pain point for 15Five — until it invested in LeverTRM.
With our complete, native ATS + CRM solution, 15Five now has custom workflows that automatically prompt interviewers to share their thoughts on prospects after each interview in a given cycle.
"It can be a challenge to get people to submit thorough and thoughtful feedback," said 15Five VP of People Operations Heidi Collins regarding her hiring stakeholders' use of LeverTRM.
"Lever is so intuitive and simplifies the feedback process for our team," Heidi added.
3) Powerful ATS and talent management functionality
Traditional, standalone applicant tracking systems don't empower talent teams to make substantial (and speedy) headway with recruiting and hiring goals.
However, implementing recruiting technology with both robust ATS features and candidate relationship management (CRM) capabilities is a game-changer for them.
LeverTRM, for instance, offers the best of both worlds for talent leaders and recruiters:
Core applicant-tracking functionality that enables recruiters to store and review prospects' info (e.g., LinkedIn profile, contact details, work background/skills) and post jobs to job boards.
Modern CRM functionality that provides a 360-degree view of job seekers as they move through the funnel (i.e., near-real-time view of their activity) and informs recruiters' next steps with each candidate (e.g., archive or advance them, schedule interviews with them, add to a nurture campaign)
"In general, LeverTRM makes candidate management easy," said Kinsta Talent Acquisition Team Lead Zsófia Hidas when speaking about our native ATS + CRM solution.
"When you have a recruiter or a talent acquisition specialist managing it, it really shortens the time and makes life easier and more intuitive to put people through the hiring process."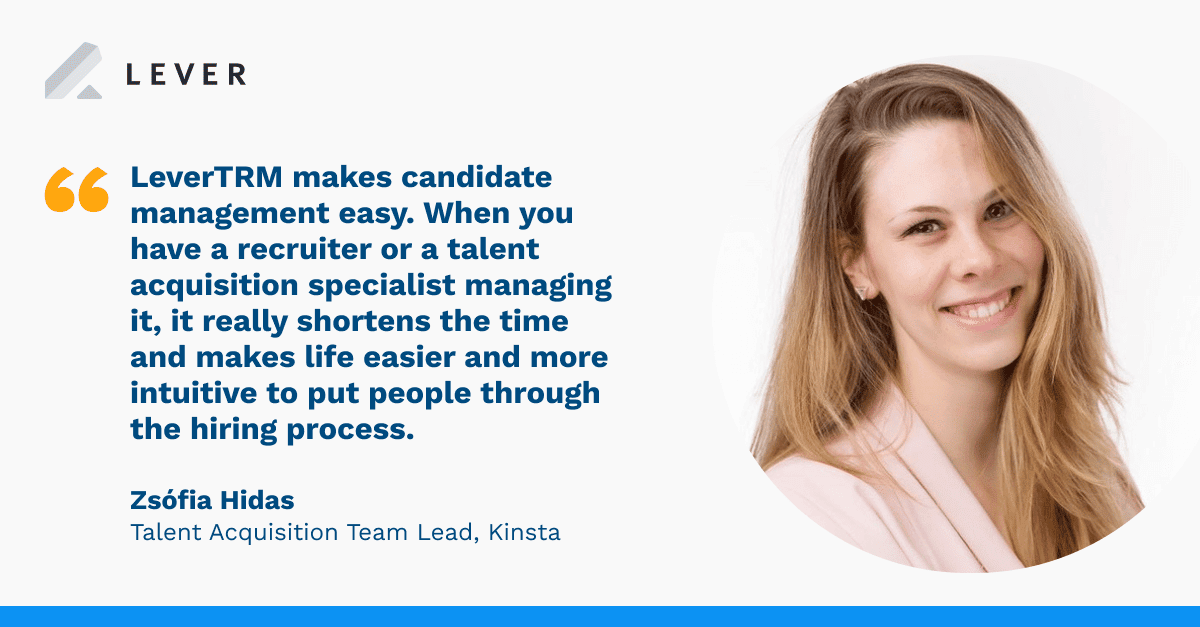 4) Nurture solution to proactively engage prospects
Talent teams who use disparate tools to nurture prospects often struggle with improving their conversion rates (e.g., screened-to-interview, interview-to-offer, offer acceptance).
Conversely, teams with centralized recruiting technology that offers out-of-the-box candidate nurturing capabilities and built-in talent texting tools helps TA teams:
Proactively interact with prospects with timely, individualized messaging via email and SMS
Analyze their nurture performance (e.g., open, click, and reply rates of their messaging
Optimize their engagement activities and campaigns to gradually improve nurture metrics
Consider user-generated content provider Bazaarvoice. Its recruiting team keeps warm prospects engaged throughout their respective candidate journeys using Lever Nurture.
Leveraging this solution in our TA suite helped its recruiters seamlessly move quality candidates through its funnel and reduce time to fill by 30% months after onboarding Lever.
5) Integrations with HR technology and other tools
ADP Workforce Now. BambooHR. Workday, SAP SuccessFactors. There are many HRIS and HCM software providers companies rely on to streamline their human resources teams' work, help them track and plan headcount, and better understand their employees.
Connecting these solutions to your TA org's primary recruiting technology benefits both teams. How? By integrating candidate and workforce data.
Using HR analytics to sync "post-recruiting" data (i.e., employee data) into the right recruiting technology can provide you with insights into each hire's performance over time.
This info can then inform where you source, questions you ask them in interviews, and even your job listing language, all of which can help improve the quality of candidates and hires.

6) Built-in analytics with customizable data visualizations
ICYMI: Recruiting and hiring data is the backbone of successful talent acquisition strategies.
Recruiters benefit from insights related to various facets of their work by using them to enhance their processes and ensure they identify and engage only high-quality candidates.
Take Visual Insights, our data-driven recruiting solution built into LeverTRM.
Our customers use our rich analytics with several types of dynamic dashboards — including ones tied to postings, requisitions, offers, diversity hiring, sourcing, and interviewing — to better discern where they perform well and poorly.
These insights help customers, like Career Karma, rectify issues with their TA and recruitment marketing approaches and elevate their daily performance and key metrics.
"LeverTRM does a great job of giving you a really intuitive, thoughtful, and meaningful breakdown of the state of your hiring pipeline," per Career Karma VP of People Jessica Lam.
"The most critical [talent acquisition] data is front and center."
Request a Lever demo today to learn how our advanced recruiting technology can help you streamline your recruitment process, improve operational efficiency, and scale your business.