Not all diversity recruiting strategies are the same.
The end goal is essentially the same for all companies with concerted diversity, equity, and inclusion (DEI) initiatives in place. They want to afford equal opportunity to all job seekers of different backgrounds and, at the end of the day, create a more diverse workforce.
How orgs attempt to achieve this goal, though, can vary widely.
Suppose your C-suite has charged you and your talent team with revamping your sourcing, nurturing, and interviewing processes to increase the diversity of your candidate pool and hire more diverse talent. In that case, you have multiple avenues you can take to carry out the ideal diversity recruiting strategy for your business.
3 diversity recruiting strategies your talent acquisition team should implement
Here are three diversity recruiting strategies developed by Lever customers that can inspire your DEI-centric recruitment model and lead to greater diversity in your workplace.
1) Ritual better competes for qualified diverse talent
Vitamin supplement business Ritual had big plans to scale its talent team and org at large.
Ritual wanted to accelerate headcount growth considerably while better competing with other orgs for scarce, high-quality talent actively looking on the market. However, there were several hurdles it had to clear to realize its goal.
A lack of advanced and intuitive tech that offered not just powerful ATS features, but also other advanced functionality leading talent teams need to thrive today.
Specifically, the org needed a platform that helped it automate workflows and offered direct connections to critical HR tech and candidate relationship management (CRM) capabilities. (All of which are crucial components needed to drive its hiring ambitions, candidate experience efforts, and DEI initiatives.)
This is what led Ritual VP of Talent Acquisition Thea Drake to LeverTRM for Enterprise — and on her way to transforming the company's TA program, including its diversity recruiting strategies.
Regarding the company's DEI efforts, in particular, the out-of-the-box EEO and diversity surveys in Lever immediately helped Ritual's recruiters collect diversity-related details for their candidate pool.
Meanwhile, other native LeverTRM features, like our anonymized resume review functionality, also enabled all hiring stakeholders at the company to refine their evaluation processes.
"LeverTRM for Enterprise gives us the capabilities to build out a more structured interview process with competencies that we include in our hiring process," Thea explained.
"It enables the recruiting team to identify a diverse hiring squad."
Forming diverse interview panels, ensuring all job postings feature inclusive language, and analyzing the diversity recruiting strategies put into play by each recruiter ensures Thea and her team continually improve where they source talent, how they nurture prospects, and their interviewing techniques.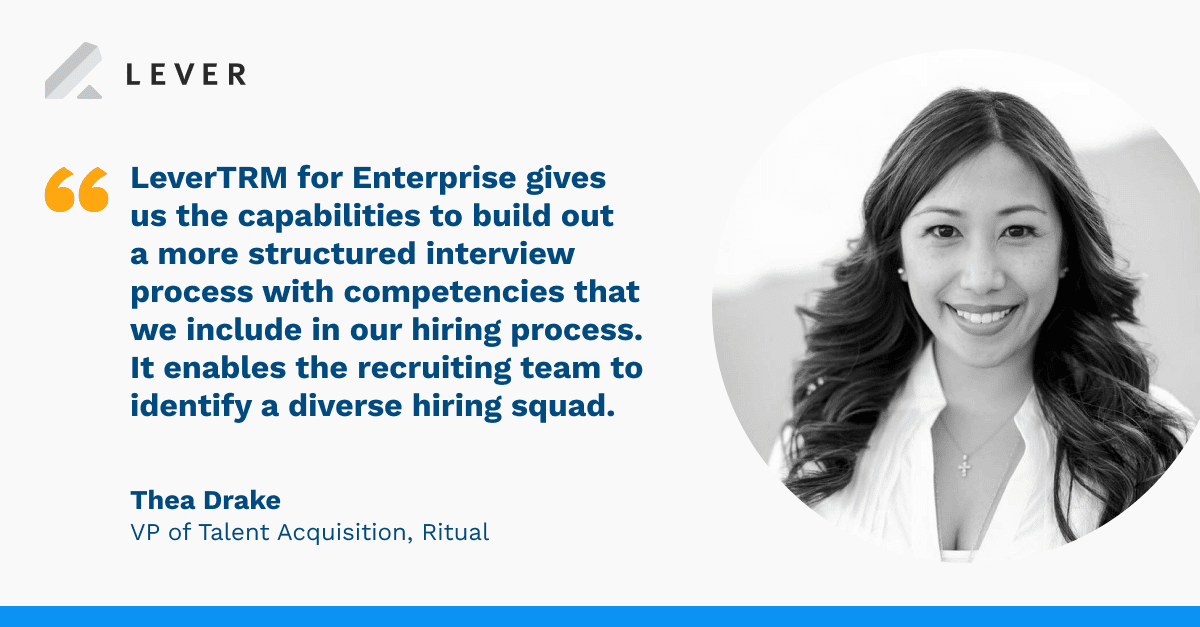 2) Voro reduces bias with recruiting and hiring efforts
"Ridiculously high standards." That's what Matt O'Laughlin, Partner and COO at Voro, a digital media agency, said his TA staff has, when it comes to achieving team and company hiring KPIs.
And that carries over to his team's diversity recruiting strategies:
Matt and his team use LeverTRM to blind-review prospects, which has helped decrease hiring-related biases significantly. Because of this, every candidate is considered solely for their merits.
The team also automates feedback surveys to candidates. Automation helps Voro better discern strong and weak areas of its recruitment funnel, thanks to direct comments from prospects on their experience applying to and/or engaging with the business.
Sharing DEI initiative data on its site and with job seekers also helps Voro differentiate itself from other businesses (i.e., ones that don't prioritize diversity, equity, and inclusion.)
"You can never completely eliminate bias, but we're working on reducing bias as much as possible at each stage in the hiring process," Matt said. "LeverTRM is structured in a way that supports our bias reduction goals and boosts confidence within our hiring teams."
With 'Make Work Better' as the Voro team's mantra, Matt and Co. continue to make strides with streamlining day-to-day work and realizing long-term goals — DEI being one of them.
"Lever gives you a map," Matt added. "They've been very thoughtful about building a tool around what good hiring practices should look like to naturally steer you in a positive direction."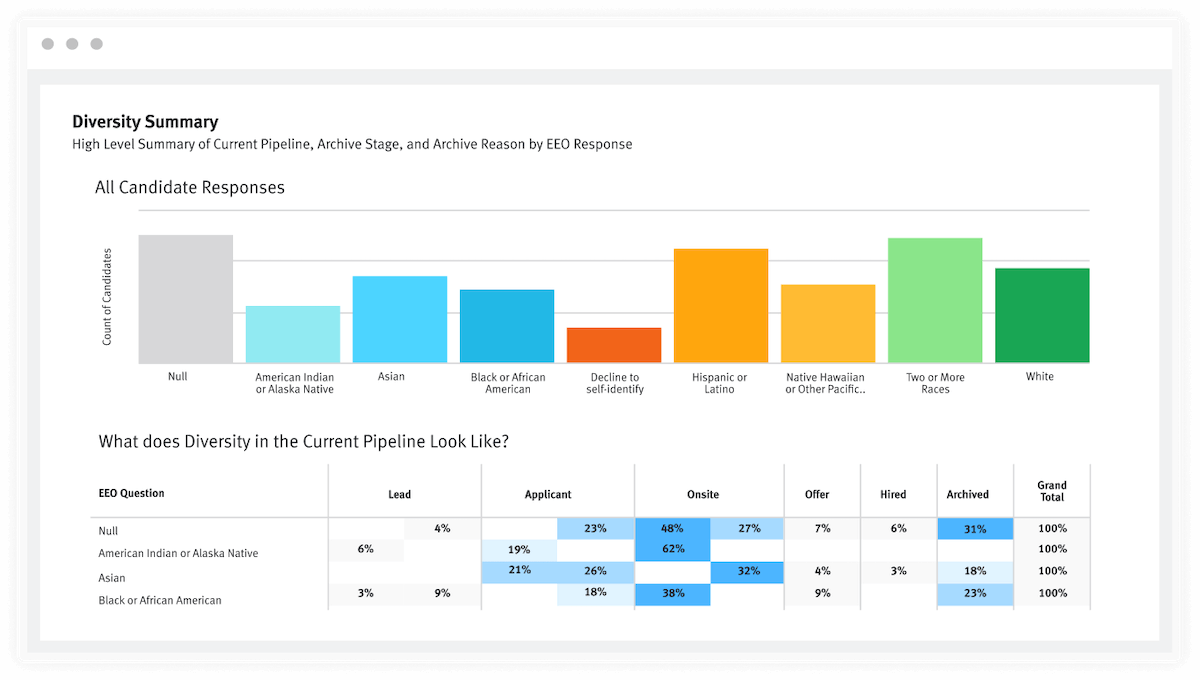 3) Loopio leverages diversity recruiting insights to evolve
Following two consecutive years of substantial revenue growth, Loopio — an RFP management software provider — knew it needed to scale its modest-sized talent team and invest in an entirely new TA suite to grow at the desired rate in the coming years.
One key barrier to evolving its team and strategy? Its legacy ATS. Notably, one Loopio Sr. Manager of Talent Experience Yeniffer Pang-Chung said prevented her team from:
Providing structure to its sourcing and referral processes by unifying candidate info
Protecting all sensitive data tied to candidates at each stage of the recruitment funnel
Facilitating cross-team communication to improve hiring speed, quality, and efficiency
Making meaningful progress with diversity recruiting strategies (e.g., pipeline diversity)
LeverTRM aids Loopio in each of these areas. For its DEI recruiting efforts, specifically, Yeniffer said the Diversity dashboard in Visual Insights — our built-in analytics solution — is an essential element of the company's diversity and inclusion initiative.
The dashboard enables Yeniffer and her team to easily unearth DEI data.
For instance, in just a few, simple clicks, they can discover active diverse opps in its talent pool and the best and worst job boards and social media sites to source diverse candidates.
In turn, each of her talent specialists is able to share actionable diversity insights they uncover with their TA colleagues, which helps the team improve its diversity recruiting strategy.
"When I'm looking at DEI and the type of experience we want to provide and the people we want to attract, having consistent hiring frameworks in place is key," according to Yeniffer. "LeverTRM provides us with that structure" to make smarter hiring decisions.
(A bonus tactic Loopio uses to attract talent? It publishes an annual DEI report that outlines its efforts and progress with diversity hiring. This shows its commitment to building a diverse workforce — something many candidates want to see from employers today.)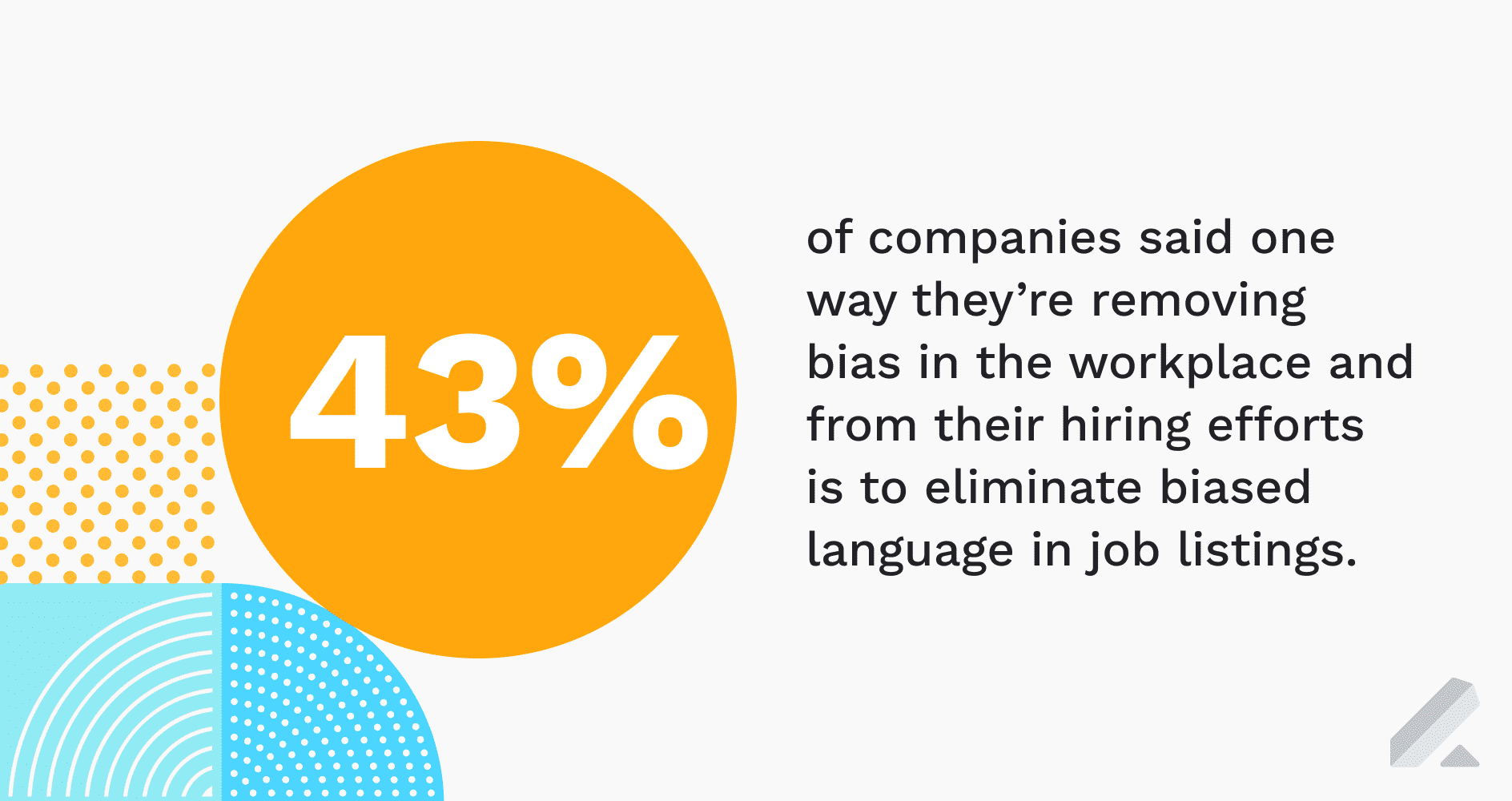 How to execute similar diversity recruiting strategies — and hire more diverse candidates
With the right recruiting personnel, program, and platform in place, you can execute similar (yet distinct) diversity recruiting strategies to the approaches above.
Notably, ones that bolster your employer brand, remove unconscious biases from candidate evaluation, source a diverse array of prospects, and help you improve diversity in the workforce.
Aside from building out your recruiting function and working with hiring managers on modifying your recruitment model, all that's left to increase representation in your business is to onboard a complete TA suite that helps you develop and maintain relationships with diverse candidates and analyze your DEI efforts at large with ease.
Watch our DEI audit webinar to learn how you can work with your C-suite and HR leaders to assess and improve your org's diversity hiring efforts in the months and years ahead.