In case it wasn't clear to your business leaders that a structured internal hiring process is critical to your org's long-term prospects, this eye-opening stat from our 2022 Talent Benchmarks Report can convince them:
Lever customers needed an average of just three internal candidates to fill open roles, compared to 30 sourced external candidates and 176 applicants.
If this data point doesn't give your C-suite a fresh perspective on the benefits of tapping into internal talent to fill open positions across your company, we doubt any will.
"When you recruit internally, you don't have to worry about fit because the employee is already familiar with your processes and culture," Forbes Human Resources Council member Lisa Shuster recently wrote.
Knowing internal hiring is helpful is one thing. Putting a plan in place to fill internal jobs with existing employees deemed good fits for the roles in question is another.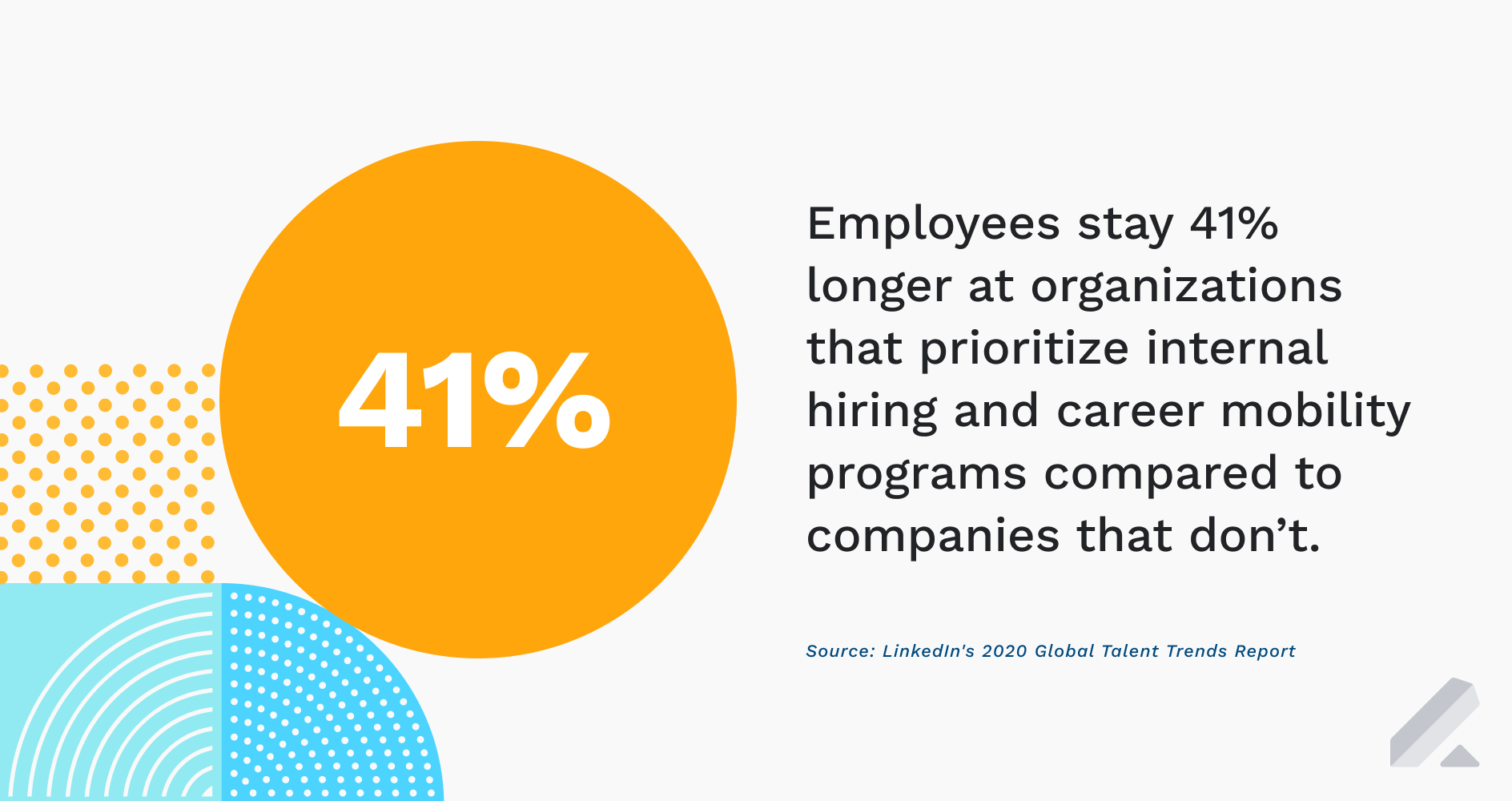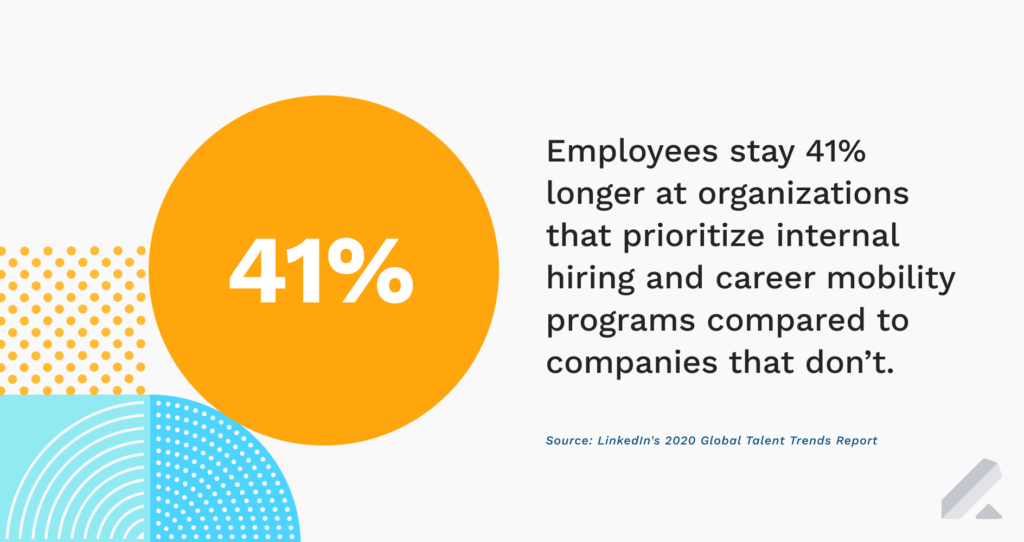 How a company-wide focus on internal hiring alleviates pressure on talent acquisition
Smoother onboarding compared to external hires and greater employee retention and satisfaction are two of the biggest benefits of internal hiring for your business.
But, there are also a few other advantages for your talent acquisition team:
Your recruiters can turn to people managers and HR to discover top talent already at their org before turning to job boards and career communities to source externally.
Speaking of external candidates, the talent shortage is real and affecting sourcing for companies across industries. The post-pandemic landscape is proving difficult to maneuver, in terms of finding top-tier talent actively looking for (or at least willing to hear about) new roles.
Just as you create dedicated profiles for each external candidate you source or who applies for a role, you can use internal candidate profiles owned by HR to analyze performance data, review insights, and other employee details to identify strong fits for internal positions.
If you prove to find high-quality candidates internally often and those individuals thrive in their new positions elsewhere at your business, that's a sign you can spend less time sourcing net-new prospects to add to your talent pool and focus more on internal mobility options.
Of course, it's not as simple as "snap your fingers and internal candidates will appear."
Instead, you need to liaise with HR to discover employees who partake in your learning and development program and have expressed an interest in moving upward or laterally.
Only with this type of internal hiring coordination can you lighten the load on your external recruiting efforts and appease employees' mobility desires.
"As recruiting leaders' portfolios expand to include things like internal mobility … they'll need to partner more closely with L&D to prepare internal talent for new roles, identify skill gaps and ensure their organization is a place people can grow their careers," LinkedIn VP Global Talent Acquisition Jennifer Shappley told HR Executive.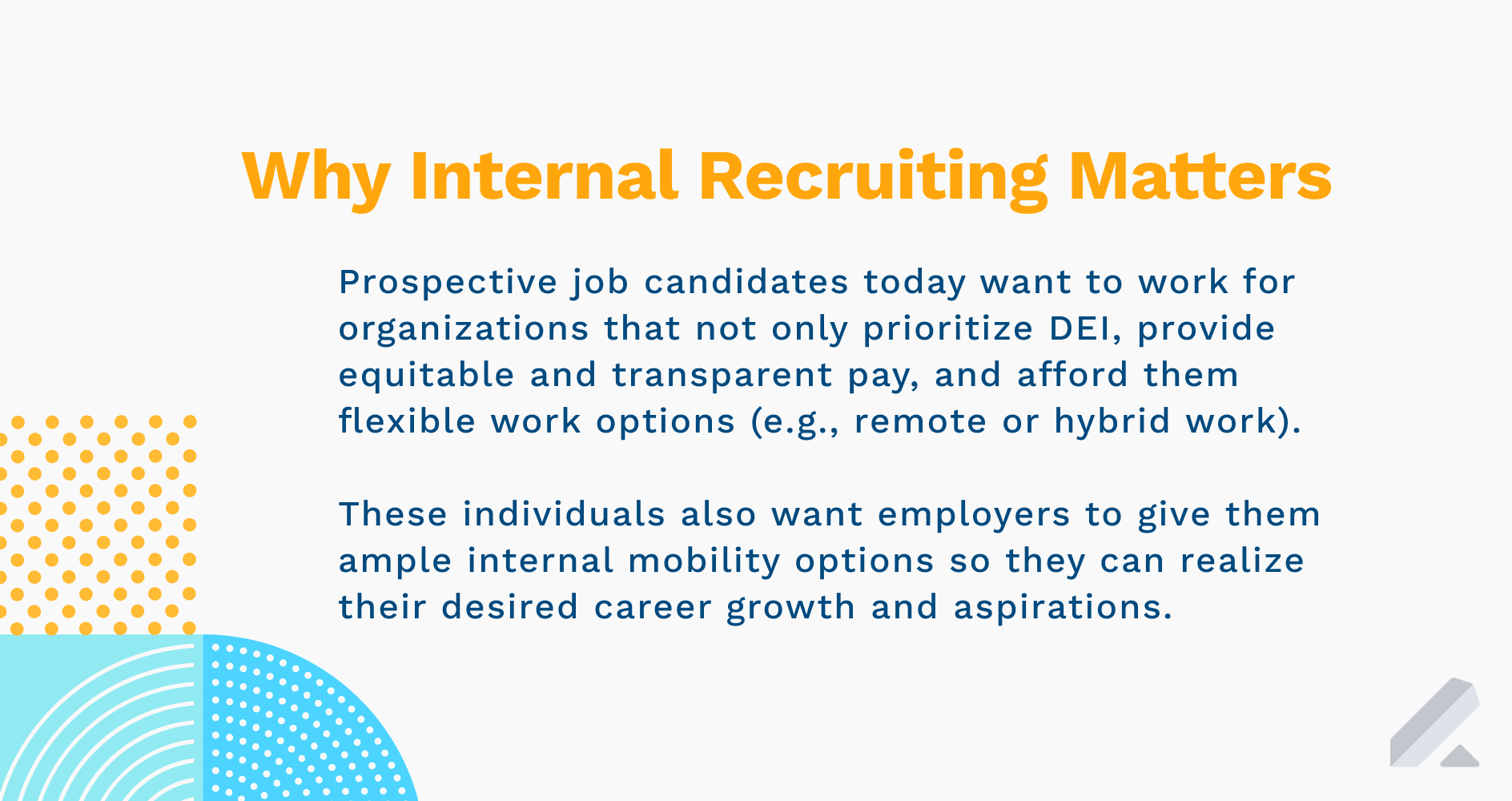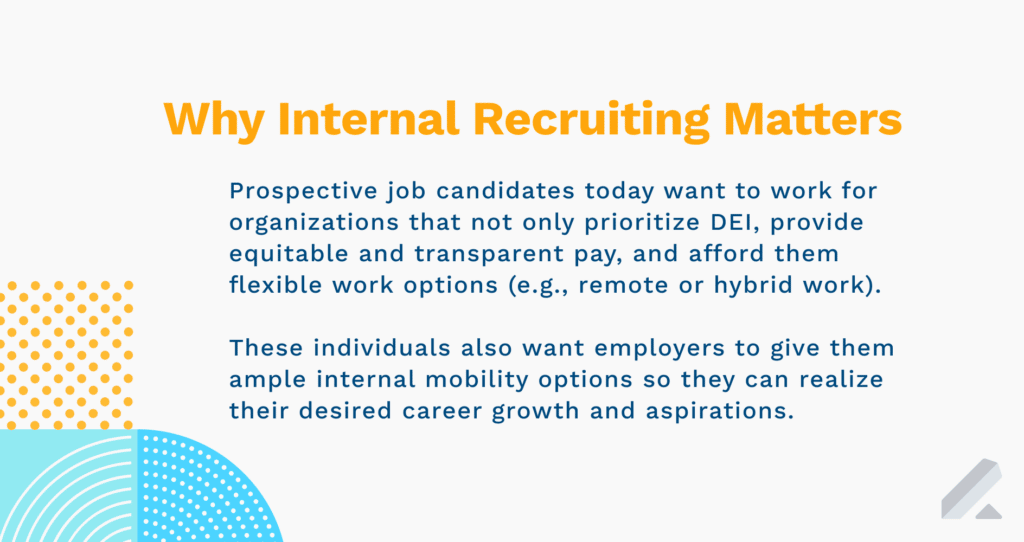 3 distinct pros an internal hiring process has over an external recruiting approach today
We've already shared high-level advantages of internal recruitment. Below are more specific ways in which a focus on internal hiring can benefit business leaders and workers.
1) It boosts employee morale since they're considered for open roles first
McKinsey research shows employers that "excel at building skills, create more options for internal mobility, and have better overall organizational health help their employees maximize the value of their own human capital."
This executive-led work can (and often does) ultimately lead to a happier, more productive workforce who wants to stick around for years.
That said, staff members must first be aware of mobility programs and who they can ask questions regarding opportunities for them to take advantage of said programs.
"Speak with and poll employees to gauge morale and learn what would make the most positive impact in their working lives," HR expert Debora Roland wrote for Forbes.
Doing so allows workers to provide constructive feedback that can only help enhance your career mobility programs and enable more employees to explore other work internally.


2) Hiring managers already know their employees' work-related strengths
The longer people managers — well — manage their people, the more they learn about their strengths and areas for improvement as it relates to their core work.
So, who better to help evaluate internal hiring options than the team leaders who spend the bulk of their time speaking with and listening to their staff?
Now, there are certainly some people managers at your company that won't want to give up high-performing employees. (At least not without assurances the requisition to backfill a potentially lost staff member will move to the top of talent acquisition's list of priorities.)
As long as there is clear communication around a team member possibly transitioning into a new role on another business unit and a hiring plan to help fill that soon-to-vacant position fairly quickly, everyone's needs can be satisfied — including and especially your TA team.
That's because your recruiters can get a head-start with sourcing before a position even becomes vacant due to an internal hiring move.
That means your TA team can proactively evaluate internal and external candidates and examine their talent database to see which previously engaged prospects may be optimal fits for an upcoming role without the pressure to find these leads immediately.
In other words? They can take their time.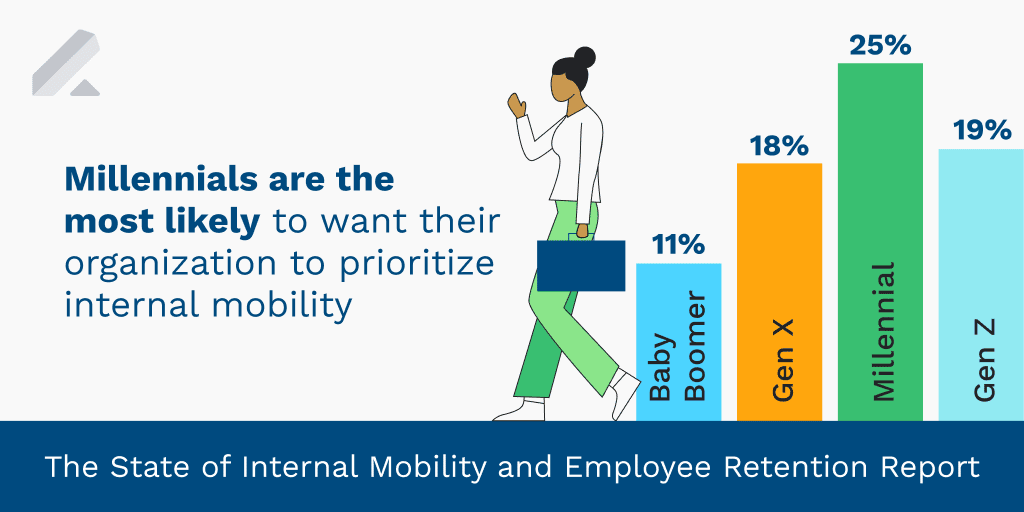 3) Internal recruitment leads to quicker hiring cycles for your TA team
LeverTRM users saw their average time to hire dip by 20% between 2018 and 2021, per our Talent Benchmarks Report. One candidate segment to see its average time to hire rise during the span was internal candidates, which took Lever customers an average of 20 days to hire.
That being said, that's still less than just three weeks to fill open positions.
Many, if not most, senior business leaders, TA directors, and hiring managers at mid-sized and enterprise orgs would be thrilled see their hiring speed reach this level.
Just ask Talend. The data management software provider invested in LeverTRM to speed up its hiring efforts, including those geared toward in-house team members.
Within months of onboarding LeverTRM, Talend saw its average time to fill decrease to 32 days. Not quite the three-week average above, but still 46% quicker than when it relied on its previous dated ATS which deterred it from easily identifying and engaging internal candidates.
Looking to enhance your internal hiring strategy in the years ahead? Learn how LeverTRM, our native ATS + CRM solution, can help you elevate your internal recruiting efforts.