A service level agreement (SLA) between recruiting and hiring managers ensures the former has a clear understanding of goals and timelines, as it relates to latter's headcount needs.
An SLA will look different from one org to the next. Regardless of their specific structure and agreed-upon objectives by all parties involved, though, SLAs all serve the same purpose:
Provide talent acquisition with accountability — as well a way to prove their strong performance.
"Ensuring talent acquisition leaders, recruiters, and hiring managers work closely as a unified team is critical to long-term success in terms of achieving their desired growth goals and to truly align," per Lever Director of Recruiting Caitlyn Metteer.
One key way to foster a sense of shared accountability, according to Caitlyn?
"Put clear SLAs in place," she aded. "This will allow your TA team and hiring managers to mutually understand what is expected of the other and how they can operate as a successful unit that, together, contributes to company goals around scaling."
Service level agreements recruiting and hiring managers can craft to set performance standards
Here are a couple types of SLAs your talent team and hiring managers can form to ensure everyone is on the same page when it comes to pipeline-growth and hiring expectations.
Candidate Feedback/Calibration SLA
An ideal SLA to start with revolves around interview feedback — more specifically, how long it takes hiring managers to share their opinions and recommendations regarding candidates.
Per our 2022 Talent Benchmarks Report, it took Lever customers 37 hours, on average, to provide feedback for prospects they interviewed. Look at other industry benchmarks, though, and you'll see it can take a week or two (or even longer) for hiring stakeholders at other businesses to write and share their thoughts on interviewees.
If interview panelists — including hiring managers — wait too long to return feedback, the interview process essentially comes to a standstill. Moreover, interviewers can forget crucial details of their conversations with candidates if they take a week-plus to jot down their views on prospective hires.
Simply put, your recruiting org (and company at large) can't afford to wait more than a couple days to compile feedback and scores for candidates.
Why? Because the potential to lose out on top talent rises markedly with each passing day you fail to get back to prospects regarding their status and your ultimate hiring decision.
By using integrations with communications and collaboration tools like Slack, Google Meet, and Microsoft Teams, LeverTRM users can 'nudge' hiring managers to share their candidate feedback in a timely manner and, in turn, speed up the decision-making process.
Example SLA proposal: Hiring managers agree to provide candidate feedback within two days of each interview to keep the recruitment process moving along at the optimal speed.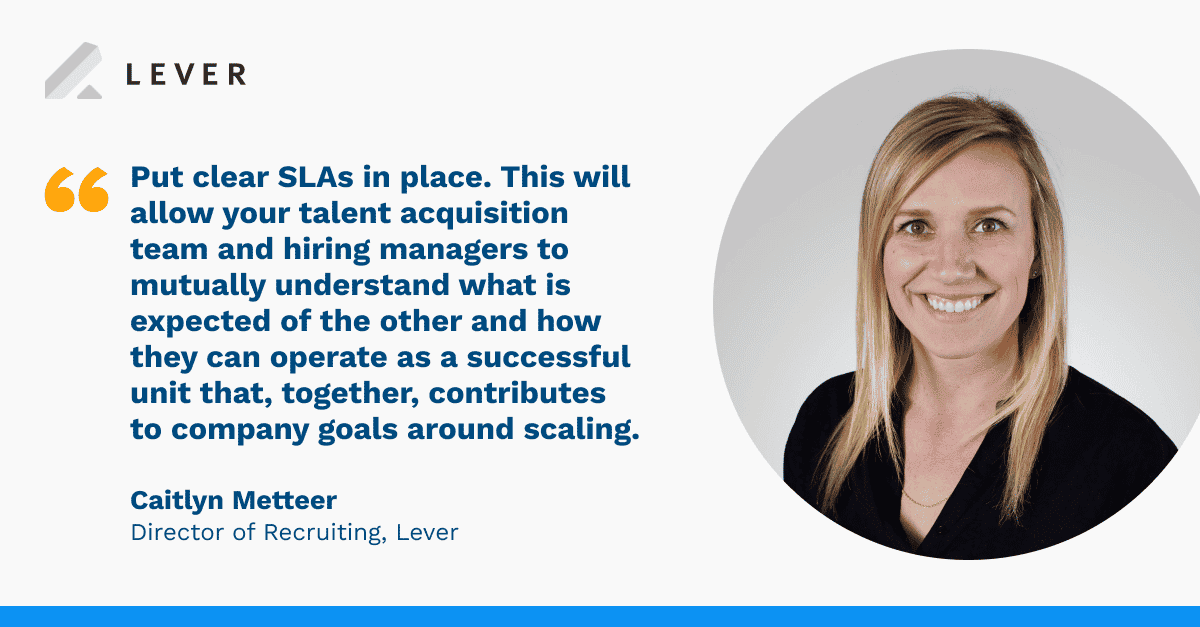 Pipeline Growth/Talent Sourcing SLA
The act of building a candidate pipeline is an ongoing process (and, for all intents and purposes, never-ending one) for sourcers and recruiting specialists today. That's because they need to ensure there is always plenty of talent for the whole TA team to engage for roles.
Failing to construct a robust pipeline — and keep it robust (i.e., sourcing a steady stream of high-quality candidates from several proven sourcing avenues and adding those individuals to your talent database) — can certainly lead to open roles remaining unfilled.
That means hiring managers who need reinforcements to bolster their teams and achieve their respective goals (team and organizational) are likely to become concerned — and rightfully so.
With a well-crafted SLA around sourcing and pipeline growth, though, hiring managers can rest easy knowing it's top priority for their recruiting colleagues to continually add premier prospects to their candidate database — as well as resurface top-tier talent in their database down the line who fit the bill for active roles.
The number of contacts you add to your recruitment database will certainly be unique to your business size, model, and needs (i.e., perhaps significantly more or less than 4,000 prospects).
What's important is you work with hiring managers to select the ideal target for pipeline growth so you can have a concrete figure to aim for with your team's sourcing efforts and, at the same time, appease hiring managers (and alleviate any concerns they have).
Example SLA proposal: Based historical sourcing analysis (e.g., from the last year), TA agrees to add a minimum number of prospects to its talent pool (perhaps even by team).
Co-creating service level agreements with hiring managers: Vital to long-term hiring success
Frank Hattula, Director of Human Resources at Jet Support Services — a Lever customer — set up SLAs with his hiring managers to ensure his team's recruitment process ran smoothly.
"Recruitment is a critical partnership between the hiring managers and the recruiting team," Frank noted. "It lets everyone know that we make recruitment a high priority. The faster we can engage, interview and select the best-qualified candidates, the faster we can drive a high-performing workforce and a positive impact on our bottom line."
Aside from regularly revamping your recruitment processes and tech to ensure operational excellence across your talent team, it's crucial to routinely work with hiring managers on crafting SLAs that ensure both parties are satisfied with one another and get what they need: first-rate hires for HMs and constantly improving metrics for TA.
Watch our data-driven recruitment strategy webinar to learn how you can work with HR to develop a well-coordinated TA strategy that helps you hire and retain top talent.