Candidate relationship management (CRM) isn't just about identifying, connecting with and staying top of mind with external candidates. It's also about internal recruiting:
Pinpointing current members of your workforce you and hiring managers think could be good fits for open roles and ensuring they know potential opportunities of interest exist.
However, many organizations haven't prioritized internal recruiting to date.
This failure to allocate their talent acquisition teams' time and resources to source internally (and often) has led to weaker prospect pools for these TA teams — and confusion and disappointment among their employees.
Our 2022 internal mobility and employee retention report found many professionals don't receive sufficient resources, proactive support or clear guidance from HR, executives and people managers regarding internal hiring opportunities at their businesses:
33% said their leadership team doesn't encourage them to explore other internal roles
21% said they don't think their managers are receptive to chats about internal mobility
13% said they don't know who at their orgs can share career mobility options with them
Empowering employees to move laterally and upward within your company is a no-brainer for your business. However, to do so — and retain employees for years to come — you need a dedicated internal recruiting strategy.
3 noteworthy advantages of internal recruiting
Phenom VP Global Strategy Cliff Jurkiewicz spoke at Accelerate 2022 about why companies should prioritize career mobility. However, Cliff explained how too many employees lack visibility into their companies' internal job opportunities.
Cliff noted this absence of awareness about other roles at their companies that they could potentially move into leads many employees to look for external opportunities.
"It says a lot about how you support this transparency — this career pathing, this upskilling — all the things that are necessary to help someone grow [at your company] — that they think it's easier just to do a Google search [for a new job] and leave the organization," said Cliff.
Employee retention — especially for high-performing members of one's workforce — is a big benefit of internal recruiting. But, there are also a few other key advantages.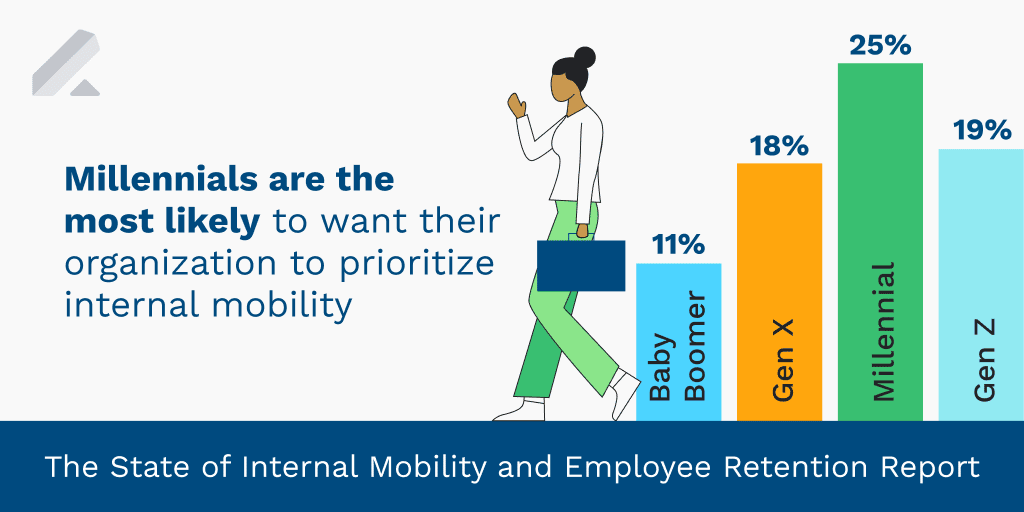 1) Onboarding employees is faster and cheaper
You'll save time, resources and — arguably CEOs' biggest priority — money by training existing employees to take on new roles compared to hiring external candidates.
Many business and HR leaders said the "total cost to hire a new employee can be three to four times the position's salary," per 2022 SHRM research.
Conversely, training current staff members for new positions on or outside their current business unit is considerably less expensive, per the report.
2) Hiring managers can recommend team talent
Hiring managers know the strengths, weaknesses and aspirations of their team members.
That means these people managers can share exhaustive insights with recruiters about which of their employees are ideal fits and have the skills required for roles that open up elsewhere on their team or across the business.
Securing employee suggestions from hiring managers also enables recruiters to spend less time writing, reviewing, getting approvals for, and publishing job postings to external career communities and job boards, since they can tap into their internal talent pool first.
3) Fewer internal candidates are needed to fill roles
Speeding up the process of filling critical job openings is an ongoing endeavor for talent acquisition teams. But recruiting orgs will never realize their desired time-to-fill targets if they solely focus on recruiting external candidates.
Our research shows Lever customers only needed three internal candidates per hire, on average, to fill roles in 2021. Conversely, our customers required an average of 30 sourced candidates and 176 applicants to fill other positions.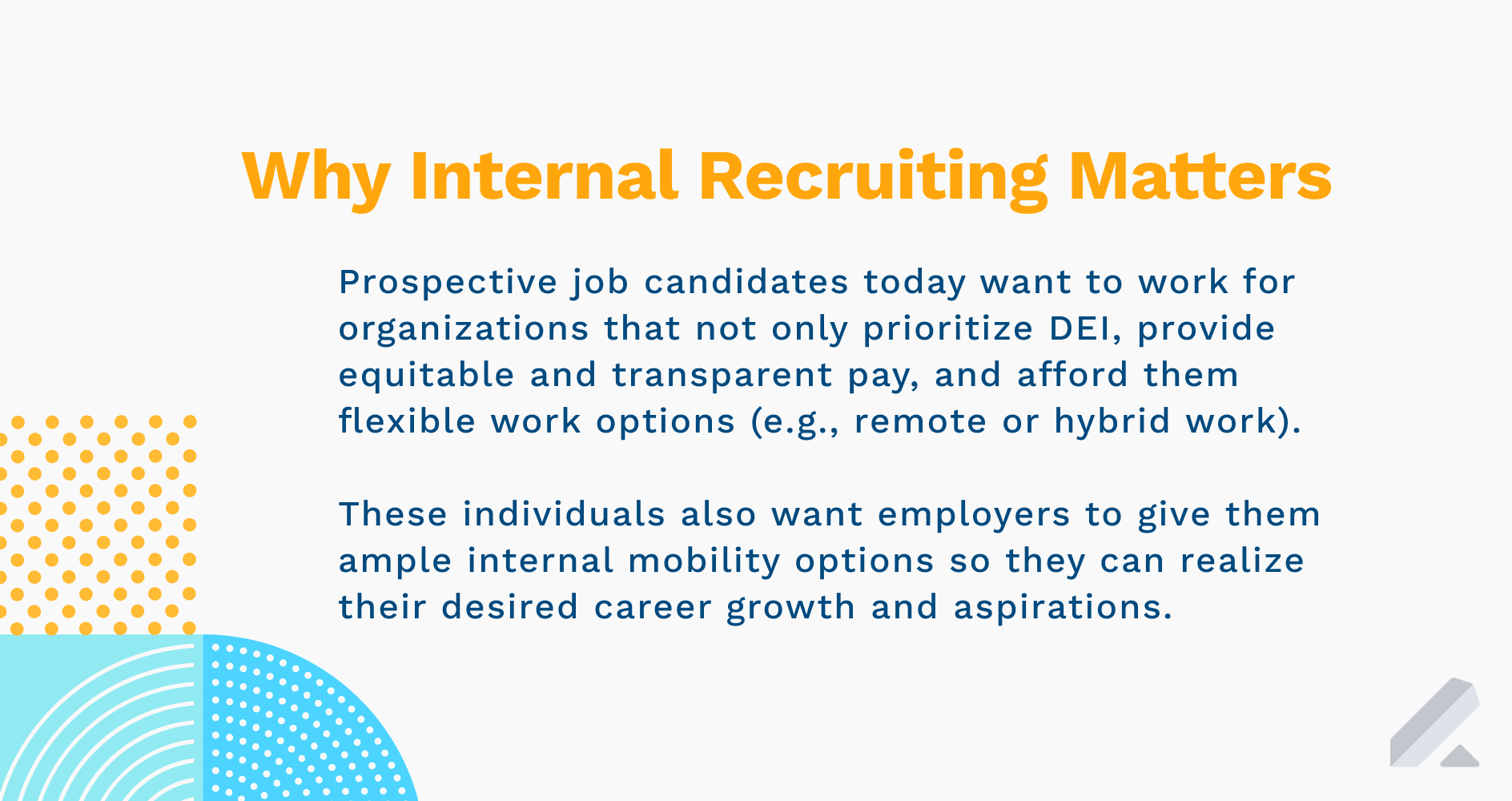 How to build your internal recruiting strategy
You know the pros of internal recruiting. Now, it's time to build your strategy. That requires involving the right people, developing clear processes and having the ideal TA tech.
Create internal candidate profiles in your ATS
You likely already use candidate profiles for applicants and sourced prospects to guide your external recruiting. It only makes sense to do the same for existing employees.
Dedicated profiles for each member of your workforce that features their resumes, historical notes from their interview process, performance review info, and other insights related to their work can help your talent team determine who to consider for open and future roles.
Lever customer Centro proactively identifies upcoming hiring needs so its recruiters can review profiles for external and internal candidates in LeverTRM, our native TA suite.
This review helps Centro recruiters discern who to engage for roles they need to fill soon, based on the impact job descriptions written in tandem with their hiring managers.
"We wanted a system that used technology to improve some of the strategic tasks we give our team — like … aggregating all hiring information to one candidate profile," said former Centro VP of Talent Management Elles Skony.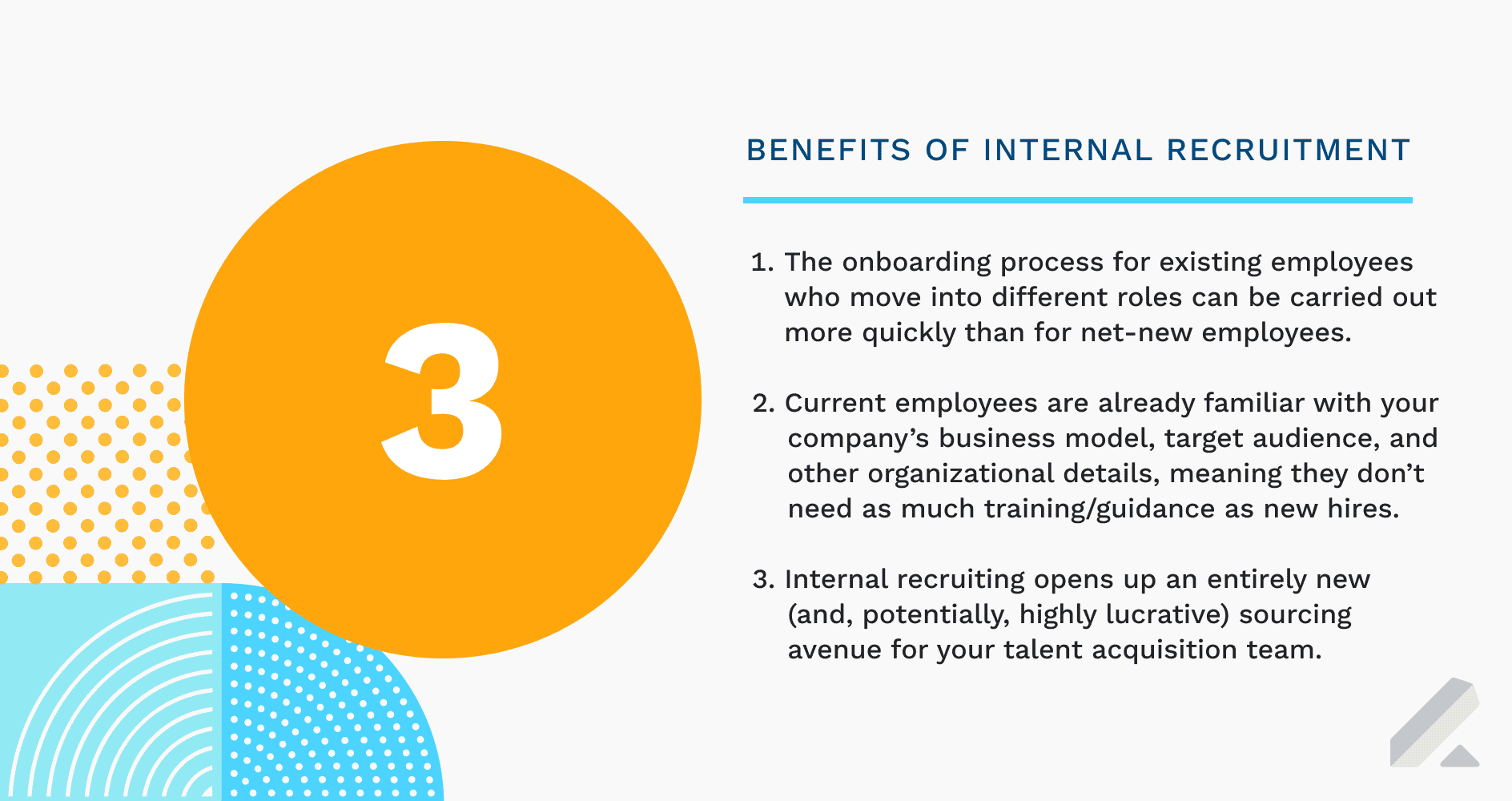 Establish a formal internal recruitment process
Onboarding a centralized recruitment database with advanced applicant tracking and CRM capabilities, like dynamic candidate profiles (i.e., ones that auto-update based as actions are taken by prospects and hiring team members) is an essential component of internal recruiting.
But establishing definitive processes around recruiting internally is equally important.
Work with hiring stakeholders to define career paths.
Candidates often factor in internal mobility options when evaluating potential employers. Prospects need to know they will have the chance to grow at the org in the long run.
That makes it crucial for all hiring stakeholders — notably, HR leadership and people managers — to flesh out concrete career paths for each role across their business.
Produce an internal candidate evaluation framework.
Employees expressing interest in another internal position is great. But your recruiters need an assessment framework to reference when evaluating those employees' fit for roles.
Experience in certain fields and roles, certifications earned, subject matter expertise and past work performance are all other important considerations to include in your framework.
Develop an internal job board solely for employees.
Giving members of your workforce the first shot at applying for open roles before publishing job listings externally can show your employees your leadership and talent teams are committed to giving workers every opportunity to advance within the business.
Streamline the internal hiring process with HR
Speed is the name of the game with final-stage candidates you and other hiring stakeholders ultimately agree are optimal fits for open positions and merit an offer.
The same thinking applies to internal candidates. You must extend offers to your favorite internal prospects whom you interview quickly to boost your odds of acceptance.
The irony of an accepted offer by a current member of your workforce for a new role opens up a new challenge: backfilling that person's role internally or externally.
Working with your human resources team and the hiring manager who loses a team member to another business unit to find a new employee for their department is vital.
Not all hiring managers will need to backfill their roles right away (or even at all). But those who do require replacements need assurance from TA and HR there is a plan to recruit individuals who meet their needs — and in a timely fashion — to avoid disrupting team operations.
Our internal mobility eBook can help you identify qualified candidates already at your business who are good fits for open roles. Download your free copy of the guide today.