Internal mobility is the movement of employees within an organization.
An internal mobility strategy takes this a few steps further by implementing a process or framework for moving existing employees between roles, vertically and laterally.
For some orgs, internal mobility is linked closely to career agility — otherwise known as an employee's ability to keep pace with the demands of the modern business landscape.
You may be wondering why internal mobility is growing in popularity, or why more employees are gravitating towards businesses that have an internal mobility program in place.
Before we can answer those curiosities, you must first know what internal mobility is, and why it matters for the success of companies both small and large. 
In this guide, we're going to deep-dive into internal mobility and show you how you can develop a strategy for it. We'll also share some internal mobility best practices so you can begin leveraging your talent and their skill sets. Let's get started!


What is internal mobility?
We mention a quick definition above for internal mobility, but there's more to it than the movement of talent from one role to another.
Internal mobility, career mobility, or talent mobility are interchangeable terms often used to describe the movement of talent between roles, and this can happen vertically and laterally.
For example, a vertical move could have an employee transition from Vice President to President, while a lateral move would see an employee move from one role to another with the same level of seniority. 
It's tempting to hire new employees or fill open roles with candidates from outside your organization, but internal mobility satisfies more than just the need to fill a role
It also encourages existing employees to improve their skills, develop new ones, and remain engaged with their work and your company. Not only that, but internal mobility challenges executive teams and managers to mentor, coach, and support those they manage.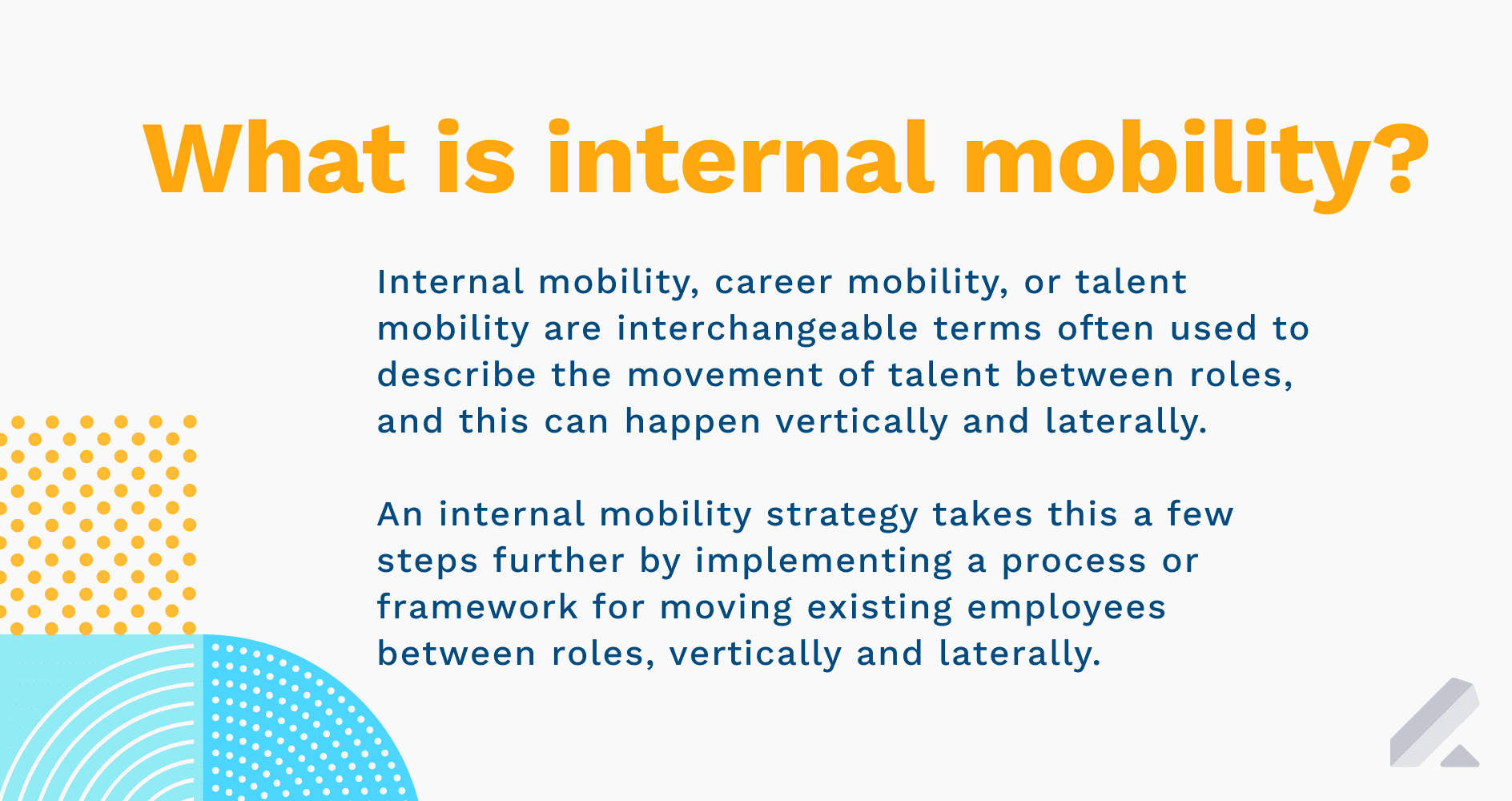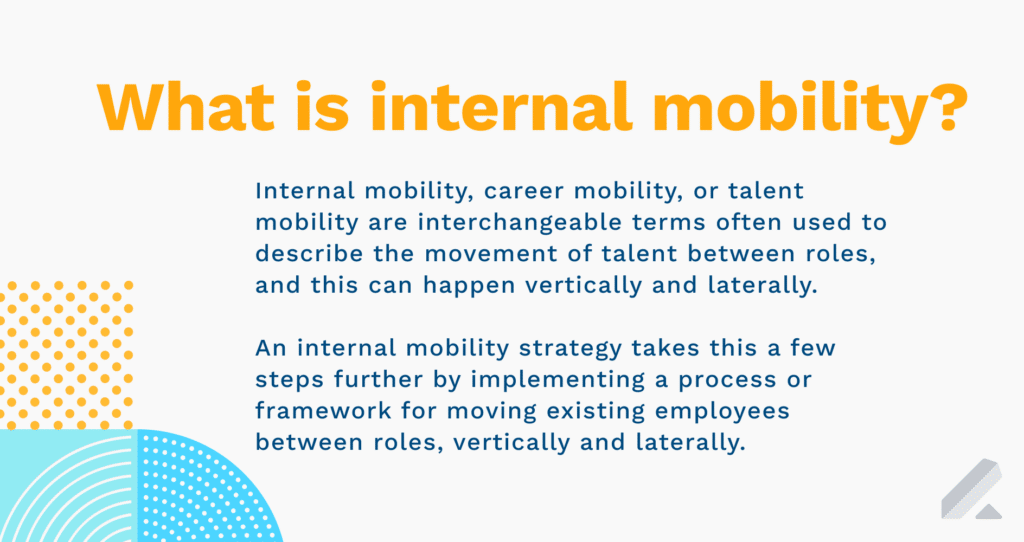 An example of internal mobility
Let's take a minute to unpack this definition of internal mobility.
When you recruit for a new or open role, you're likely hiring for a specific skill set or qualifications (like a marketing exec or finance manager).

But, you may have an existing employee that shares similar skill sets, qualifications, or experience for that role—and they may be interested in moving to a new position. 

Alternatively, a new hire may be a perfect fit for the role but

also

possess the skills needed for a different role. They could move internally to a different position or department and be just as valuable to the team.

So, while the new hire may have been recruited for the role of a marketing manager, that doesn't mean they don't want to upskill or transition to a different department as they spend more time within your organization. 
In instances like these, an internal mobility strategy is not only an asset but a must-have.
Why does internal mobility matter?
So, internal mobility is definitely a must-have for future-proofing any organization. But you may be wondering, why?
Research shows that, just in the USA alone, 40% of employees have changed jobs, roles, or managers since 2020.
With the Great Resignation and the global pandemic exasperating the intense talent market, companies need to have a thorough plan in place to ensure the growth and success of both their businesses and its employees. 
However, many organizations look outwards when trying to fill open roles or new positions before they consider looking inward at the existing talent they have.
The reality today is that roles change and skills shift, making it more difficult to plan career paths and tracks for employees. 
"We think looking at the workforce as people in boxes is holding people and organizations back in a big way. Companies that are serious about business agility need to start seeing their workforces at the skill level and leaning into new ways to bring skills fluidly to where they're needed to solve real business problems."

Brian Hershey, Gloat
Add to that the demand from employees to upskill, try new projects, work with different managers, and learn adjacent skills, and you're having to keep several balls up in the air at once when recruiting and retaining talent.
This is where internal mobility can play a large role in helping you secure, develop, and grow your existing talent.
Rising to the new reality of talent acquisition
We've said it before, and we stick by it: the future of recruiting is agile. In the words of Austen, it's a truth universally acknowledged that a recruiter in possession of top talent, must be in want for more talent.
Okay, so that's not exactly what Austen said, but close enough, right?
To be agile in moving your business forward, your recruiting teams (and all members who influence hiring decisions) can no longer expect to hire enough people to fill all of the gaps in skills, qualifications, and experiences net-new.
In order to thrive, you have to be open to the idea that agility is the name of the game.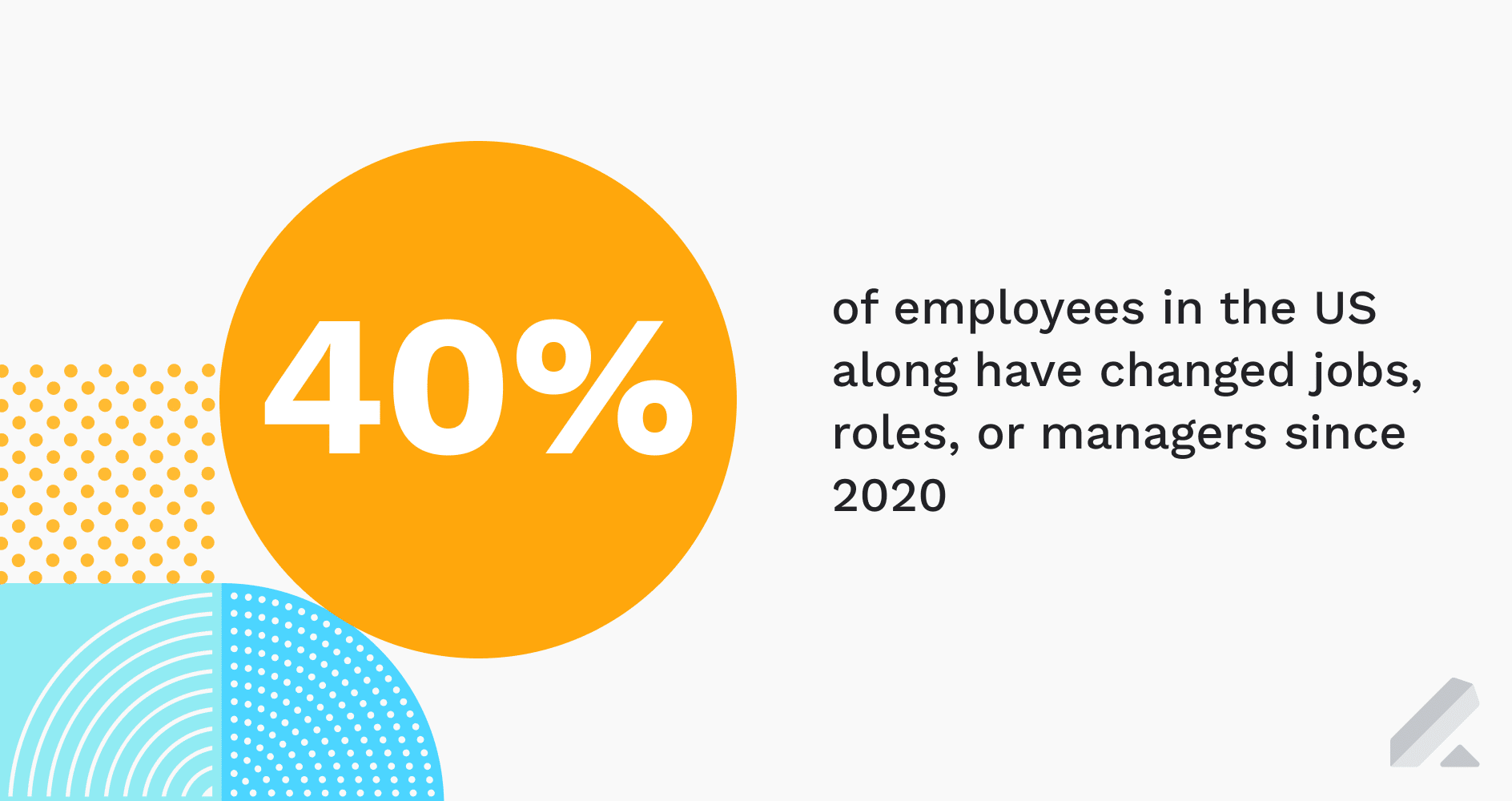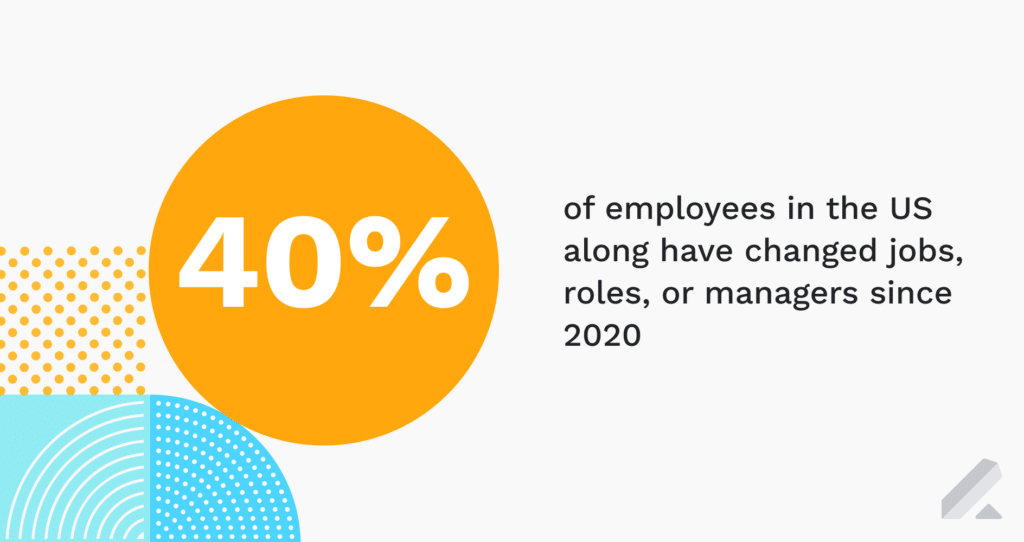 Internal mobility helps your teams and org at large become more agile and efficient in moving and developing existing employees so that you can grow your business's best asset: people.
While this approach is growing in popularity, companies still struggle to win at internal mobility:
To rise to the new reality of talent acquisition, hiring teams and employers alike have to be aligned on a more agile, internal process or plan for leveraging existing talent.
"Teams at Lever have defined levels and career paths, so that when new hires on brought on board they understand the potential next steps for their career. Whenever a new position is opened up, the first question asked of the hiring manager is, "Who do we have internally that is ready to move or grow into this role?"

Shweta Jacob, Recruiting Lead, Lever
Meeting the demands of top talent
It's no secret that the talent market is rising while more organizations scramble to fill open seats and new roles. What if you didn't need to struggle to fill those roles, though? Internal mobility may just be the answer to solving those recruiting pain points.
Employees want more than just a 401k and paid time off — today, they're demanding more opportunities to grow, upskill, and learn.
It's why more hiring managers and employers are focusing on things like engagement and retention, which are both quite telling for employee satisfaction and company culture.
This becomes doubly important if you consider that 74% of disengaged employees are open to new job opportunities while 48% of employees are actively job searching.
Ensuring you have a plan in place that supports existing talent is crucial—but more on that later!
Top 3 reasons internal mobility matters
A company is only as good as its people. However, it can be tempting to add more people to your teams before first considering how to move and level up the people you already have.
Often, the greatest source of talent you have is your own workforce. And yet, just 36% of employees feel their organizations are doing a good job at enabling internal mobility. 
Let's take a peek at the top-three reasons internal mobility matters. 
1) Careers no longer follow a straight line
Today, it's rare that our careers follow a linear path. Instead, they're more like squiggly lines, where vertical and lateral moves allow us to advance within the same org over time. 
Hiring from within not only accommodates these jungle gym-like careers that many of us have, but gives existing talent opportunities to advance their skills. On the flip side, employers don't have to compete in an open talent market with demand is fierce.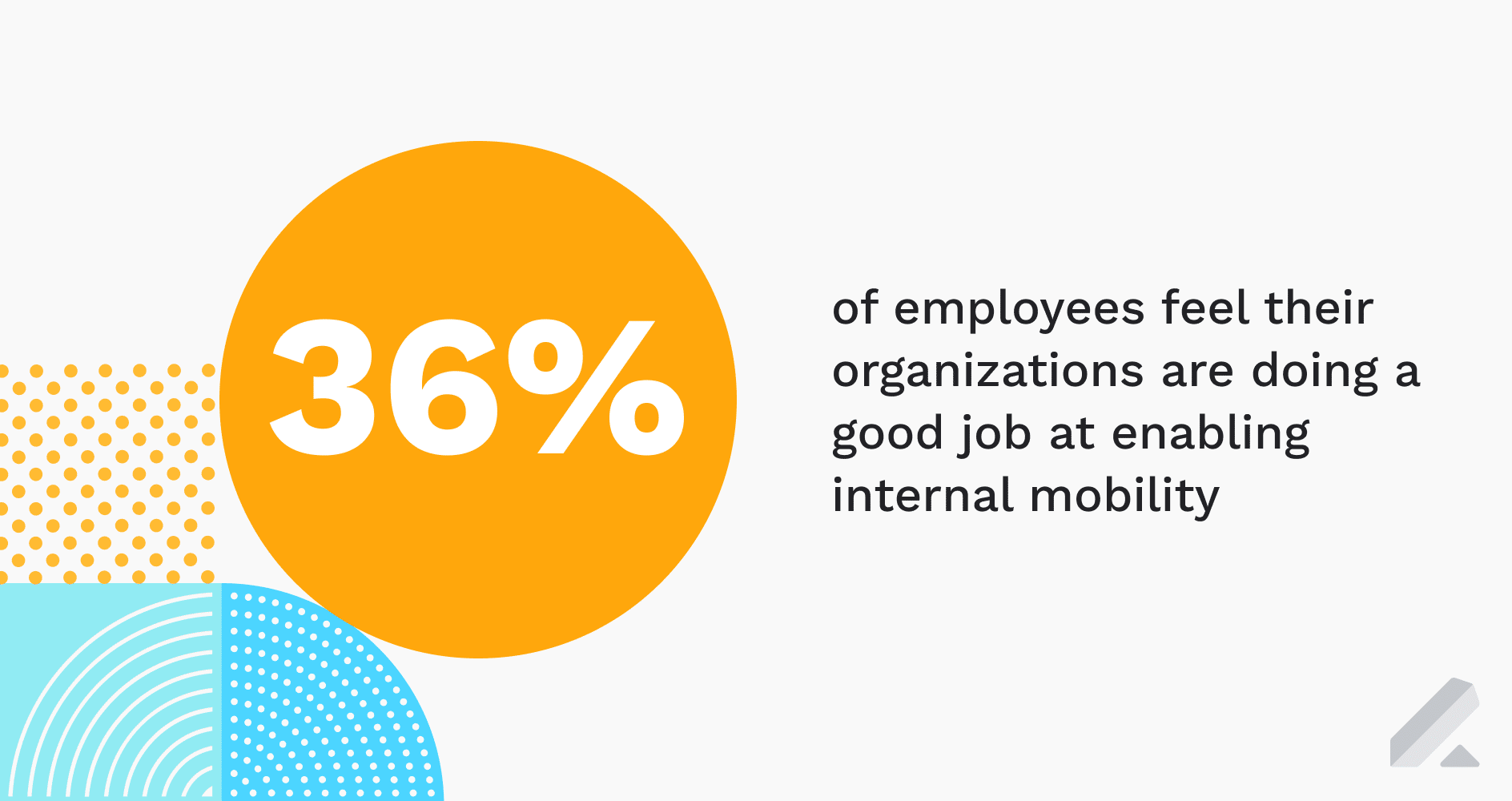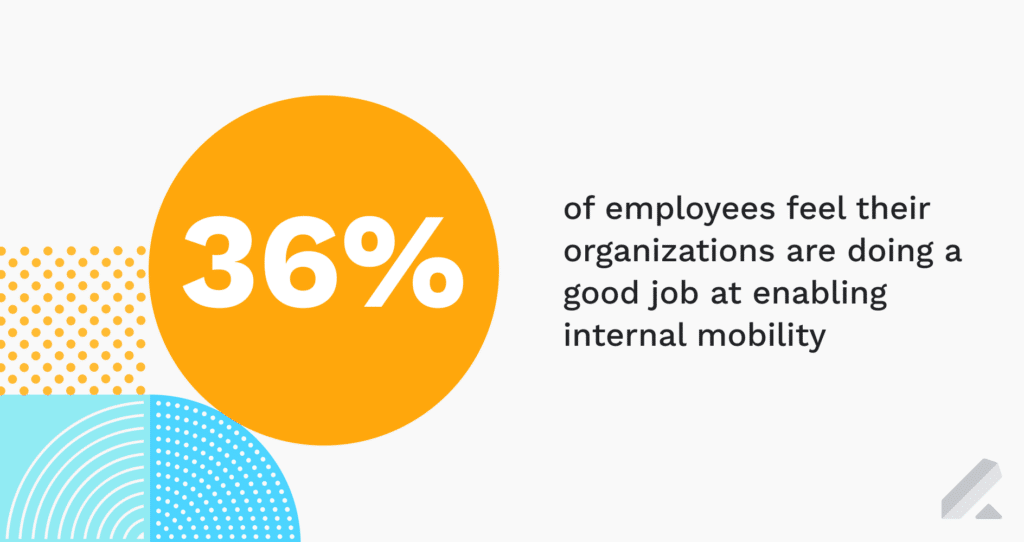 2) Retention has taken on a whole new meaning 
In what is now being called the 'Great Discontent,' more organizations recognize there's no one-size-fits-all strategy for retention. Studies show that, globally, the employee engagement rate is a mere 20%, signaling that more employees are less and less satisfied with their jobs. 
One of the greatest aggravators of this? A lack of career development and advancement opportunities. As Gallup's team famously said, at least 75% of the reasons for costly turnover boil down to things that managers can directly influence, which includes development. 
Employee retention is only proving to be more difficult, and giving existing talent the chance to grow and shine is key.
As Capelli said says, "Outsourcing and algorithms won't get you the people you need." In this sense, retention doesn't look the same for every organization, but internal mobility is a viable solution for many. 
3) There's room for potential (and a lot of it) 
Just like your company forecasts future performance and operations, so too can your teams forecast the future potential of talent — both existing and newly hired.
This isn't just an opportunity to leverage and grow current teams, but to approach recruiting with a future-proof strategy. 
Look at your business and workforce plans to help determine where your business is headed, and where you'll likely have skill gaps and new opportunities in the future.
In doing so, you can develop a richer picture of your talent, how their skills can be leveraged, and what you can do to help them upskill for their future and yours. 
When hiring, approach recruiting the same way. What potential do candidates have to help solve your current needs and your future ones? Which skills do applicants have that will benefit your teams now and in the future?
Remember: You're not just hiring for the short-term, but also the long haul.
Ready to recruit top talent to future-proof your organization?
In a world where the competition for talent is fierce, leveraging the star employees you already have, and focusing on the future potential of candidates, can help both your recruiting team and organization at large adapt to the demands and realities of hiring today.
Our complete guide to internal mobility empowers recruiters with everything they need to know to drive internal mobility. Get your free copy of our guide below.