Career mobility ranks behind only compensation (salary and bonuses) and a quality PTO and flexible-work plan as a main motivator for workers to stay at their current business, our report on internal mobility and employee retention amid The Great Resignation found.
As Lever Cofounder and CEO Nate Smith recently told Inc., talent development and upward mobility are two of the biggest desires among today's workers.
They also happen to be the primary focus areas for businesses who want to boost their employee retention rates and future-proof their workforces in the years ahead.
Looking to build out your talent mobility strategy and better retain talent? You've come to the right place. Learn how you can establish your own mobility program (or optimize your existing one) with help from your C-suite and HR professionals at your business.
How to build a talent mobility program
Gartner Director, Research Jamie Kohn said "many employees are looking outside their current organizations for their next move … because they see unfairness in the internal hiring process."
That means helping employees learn and inquire about other opps on their teams and across your business — which can be a competitive differentiator (and help you retain top talent).
All you need is a well-built talent mobility program that helps you effectively relay info about active and upcoming roles to your staff and engage the right employees for open positions.
Here's how you can craft yours.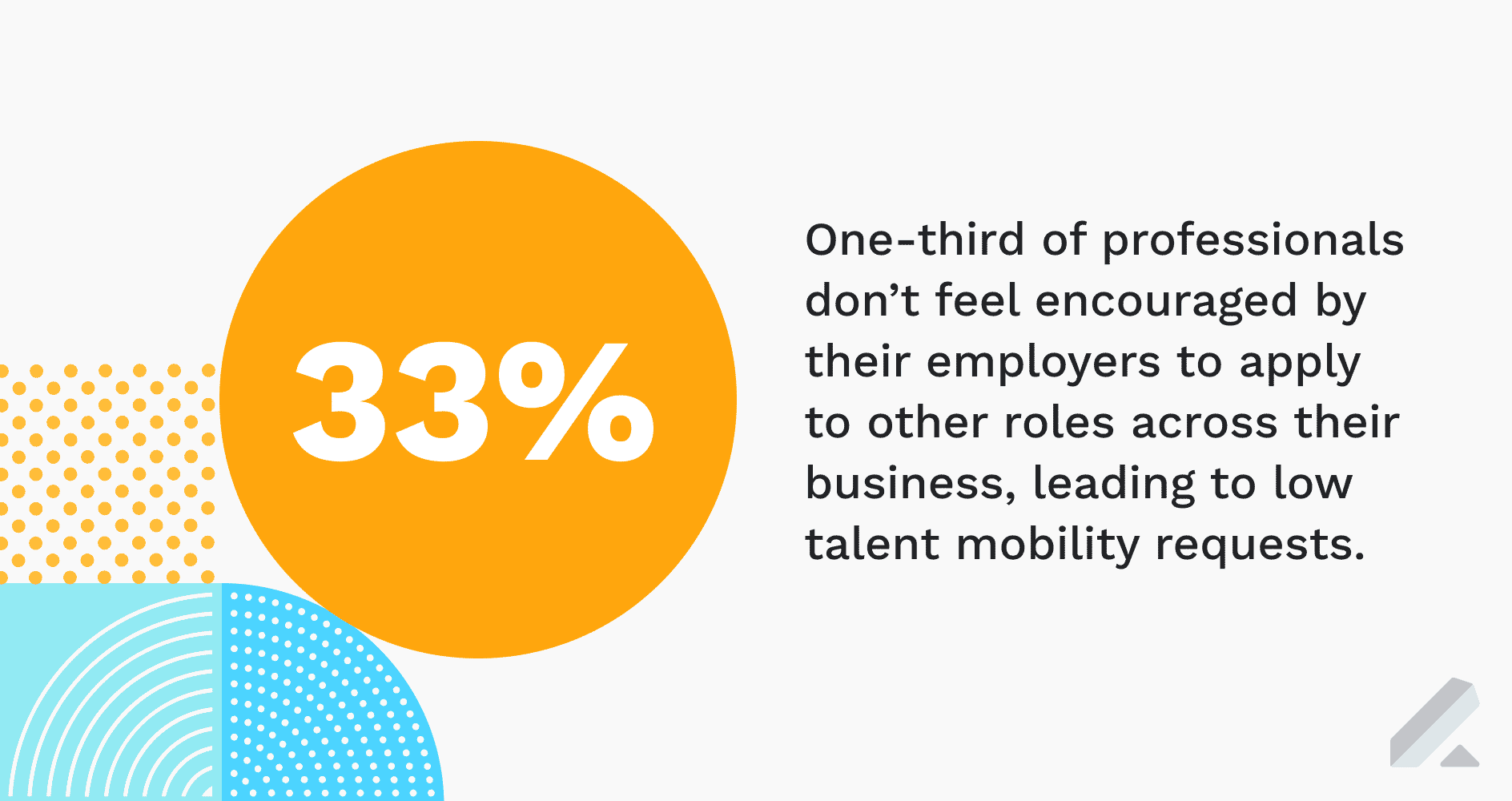 Develop your mobility strategy with leadership and your HR team
As with your strategic workforce planning, constructing a talent mobility program requires coordination and collaboration between your executive staff, HR director, and talent leader.
Some key tasks to tackle when building such a program from scratch include:
Establishing when to focus on internal mobility: Understand when it's best to consider internal hiring options before turning to external prospects. For instance, if your C-suite is intent on saving money in the coming months/year, an internal candidate may be better due to the typically high cost of onboarding new hires.
Developing career pathing plans for employees on each team: Some workers may want to solely move cross-functionally (i.e., to new business units). Others simply want the ability to move up within their current team. That makes it important to have clearly defined career pathing plans for different employee preferences/desires.
Factoring talent mobility into long-term talent planning: Speaking of workforce planning, take talent mobility into account when working with your leadership team and CHRO on headcount planning. This helps recruiters, in particular, know where to source (internally vs. externally) for certain roles/teams.
Focusing on employee engagement and awareness: Doing all of this legwork to build your talent mobility program won't do you much good if your staff is unaware your program exists. So, promote your mobility initiative to your workforce early and often. Share specifics about it (with an FAQ section) on your company's wiki.
Your program won't be built overnight. But taking on these tasks with execs and HR will lay the groundwork for a fruitful mobility strategy that helps you fill key roles quickly and efficiently with trusted, top-performing members of your current staff.
Assess existing employees' fit for job openings before sourcing
The entire premise of putting a talent mobility program in place is based on the idea there are existing employees who could be strong fits for other jobs throughout your organization.
That means it's vital for TA and HR leaders to meet with hiring managers who have open positions to learn which skills and traits they look for in a new team member.
This will help recruiters know what qualities, abilities, and backgrounds to look for when they review the profiles for internal and external candidates in their recruitment database.
Consider Lever customers. Many talent teams use the candidate archive in our complete ATS + CRM to review prospects daily to see who's worth engaging (or reengaging) for roles.
Using archive reasons for both internal and external candidates in LeverTRM along with workforce data hosted in the HR team's system of record enables recruiters who use our native TA suite to easily and quickly identify who's an optimal fit for positions.
Of course, there's no guarantee any existing employee is a great fit for certain roles.
Because of this, having many high-quality candidates in your talent pool — ones you have detailed and up-to-date profiles for and can reach out to with personalized, well-timed nurture messaging with ease — is essential. (More so "Plan 1A" than "Plan B".)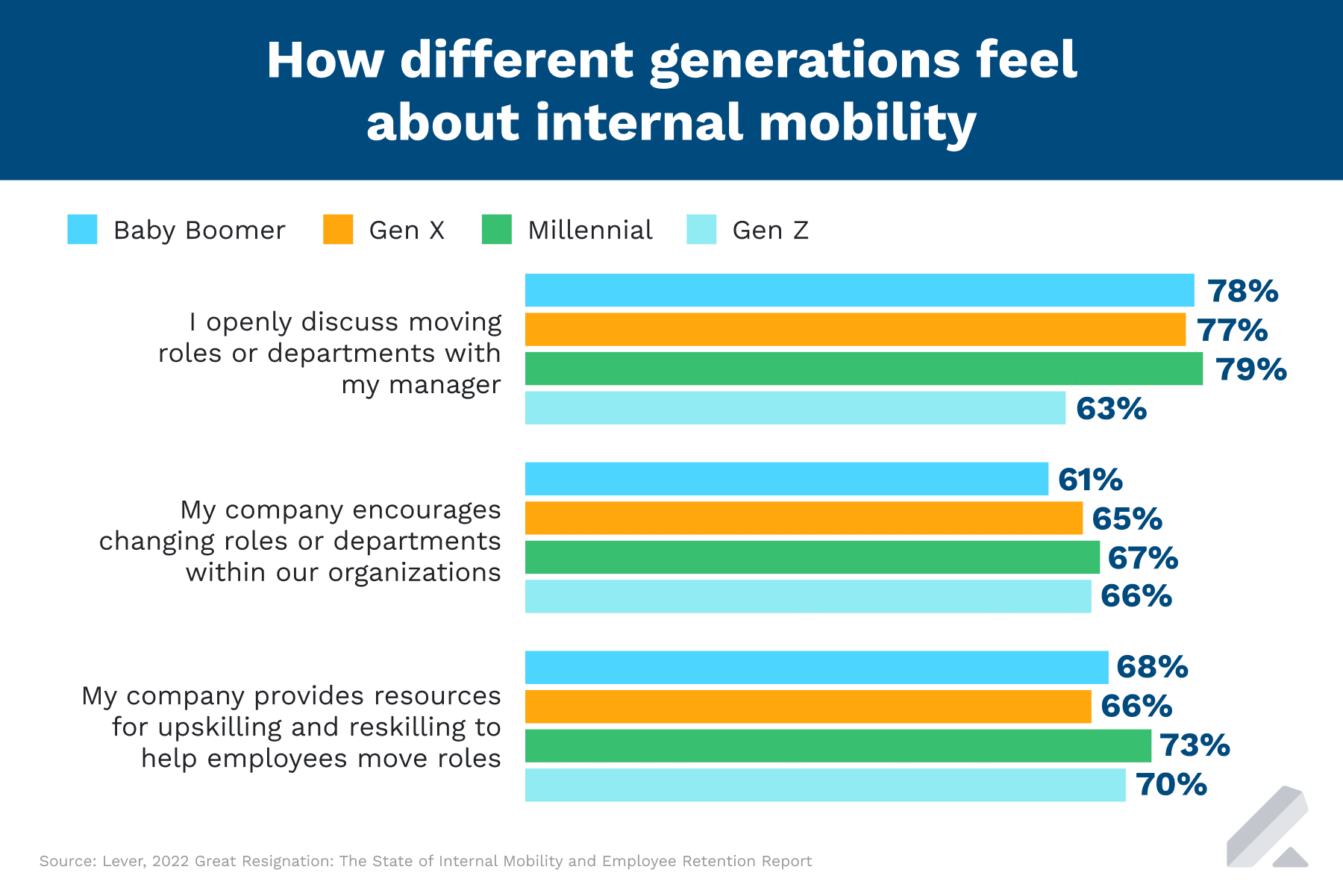 Regularly review satisfaction with your talent mobility program
Having a robust talent management tech stack both TA and HR can leverage to track employees and gauge their fit for job openings is critical to your mobility program's success.
But, you also need to garner feedback so you can gradually optimize your program. (Perhaps by including questions about talent mobility on your employee Net Promoter Score survey.)
If most employees who express interest in moving to new roles are turned down, speak with hiring managers and other team leaders to determine why they reject internal options.
Another common issue that can arise: communication breakdowns. For example, a request to move cross-functionally can get lost in hiring managers' inboxes fairly easily.
That makes it vital for HR and talent acquisition to ensure hiring managers review the resumes and performance data for employees who submit formal mobility requests.
Why? So those employees don't feel ignored and wonder what happened with their petition. (Something that can lead to a low opinion of the business and a possible business exit.)
Talent teams with Lever prevent this from happening by setting up automated candidate review reminders for hiring managers and other interviewers that alerts them in Lever (and, if they have them, comms tools like Slack) to evaluate a prospective internal hire.
Download our talent mobility guide to learn how you can address skills gaps and fill key positions across your business by engaging your existing workforce regarding open roles.