A dedicated career mobility program offers a bevy of benefits for businesses. Notably, it:
Tells employees they have options for moving into new, interesting, and higher-paying roles
Shows candidates their companies make a concerted effort to help employees grow internally
Ensures they retain highly talented and successful members of their workforce for years to come
Your C-suite and HR leaders must develop a long-term, career development game plan to not just keep top-performing talent, but also to keep them happy on the job.
The flip side of that employee mobility coin is talent attraction — a task primarily for you and your talent acquisition team.
Your recruiters must leverage your organization's career mobility strategy when reaching out to passive prospects to show them that, once hired, employees move up in the company frequently and have clearly defined career paths across the business.
By sharing this internal talent info with active candidates, you increase the odds of turning somewhat interested individuals into offer accepters and new hires.
Here's how you can do so in a highly effective, scalable way.
What is career mobility?
Career mobility entails coordinated efforts by a company's leadership and departmental managers to facilitate the transition of internal employees from one role to another.
This desire for change happens due to those workers' preferences or simply because they've earned a promotion due to their recent strong work performance.
A structured talent mobility framework must be constructed by an org to enable employees to begin the process of transferring to lateral roles on or outside their current team or to set up a performance review that could lead to advancement upward for a staff member.
Failing to create a concerted talent management strategy is how orgs of all kinds — from mid-sized software and services firms to Fortune 500 brands — lose top talent they invested a lot of time and energy to source, nurture, interview, hire, and onboard to other companies.
As Lever Director of Recruiting Caitlyn Metteer wrote for Recruiter.com, one key facet of this framework that often leads to lower worker churn rates for businesses is to make it known to employees they have multiple avenues for career progression and to tell them about benefits available to them (e.g., hybrid and work-from-home options).
"[P]erks such as flexible work arrangements, upskilling, and competitive compensation moves the needle on internal retention rates and offers a sense of purpose," Caitlyn noted.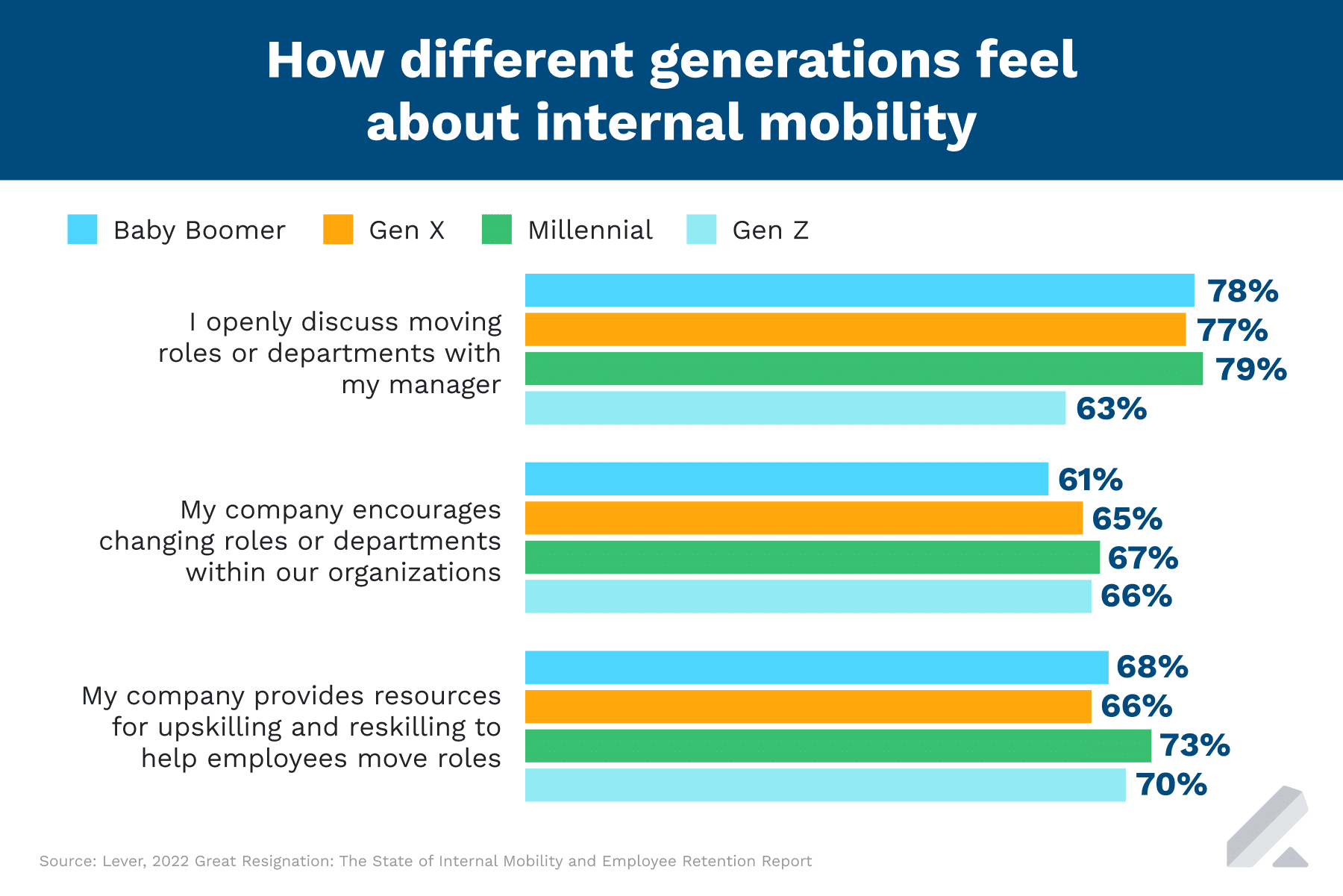 Why offering career development and upward mobility options is critical for your business
Studies show designing programs around internal talent development and developing distinct career paths for workers greatly affects employees' willingness to remain at their companies.
Lever's own recent internal mobility research found workers were highly invested in moving into a new role in 2022. So much so that 31% of pros polled said they'd take a pay cut to switch jobs.
Meanwhile, 61% of respondents noted they'd begin searching for new jobs at new companies if their managers (and businesses at large) didn't put a plan in place to help them eventually switch roles.
Other motivators, like greater salaries and more expansive PTO policies, certainly impacted these workers' decision-making about where to work. But it's clear career mobility plays a big role as well.
The good news, per our report? Many employees (roughly two-thirds) stated leaders at their companies proactively encourage them to transition into new roles.
About 70% of these respondents' C-suites and team managers even provide upskilling and reskilling to their staff to help move people into new roles effectively.
The pros of such career mobility and training options for internal employees is evident:
Given real-world, labor market conditions (i.e., few, top-tier candidates to source and engage), giving existing workforce members the go-ahead and resources to take on new types of work at your org is vital to retaining those staff members.
In terms of your TA team, you benefit by working with HR to access their workforce analytics and understand which employees are optimal fits for active and future opportunities.
In the long run, this prevents your talent acquisition team from having to focus solely on identifying external talent to fit crucial roles for each business unit.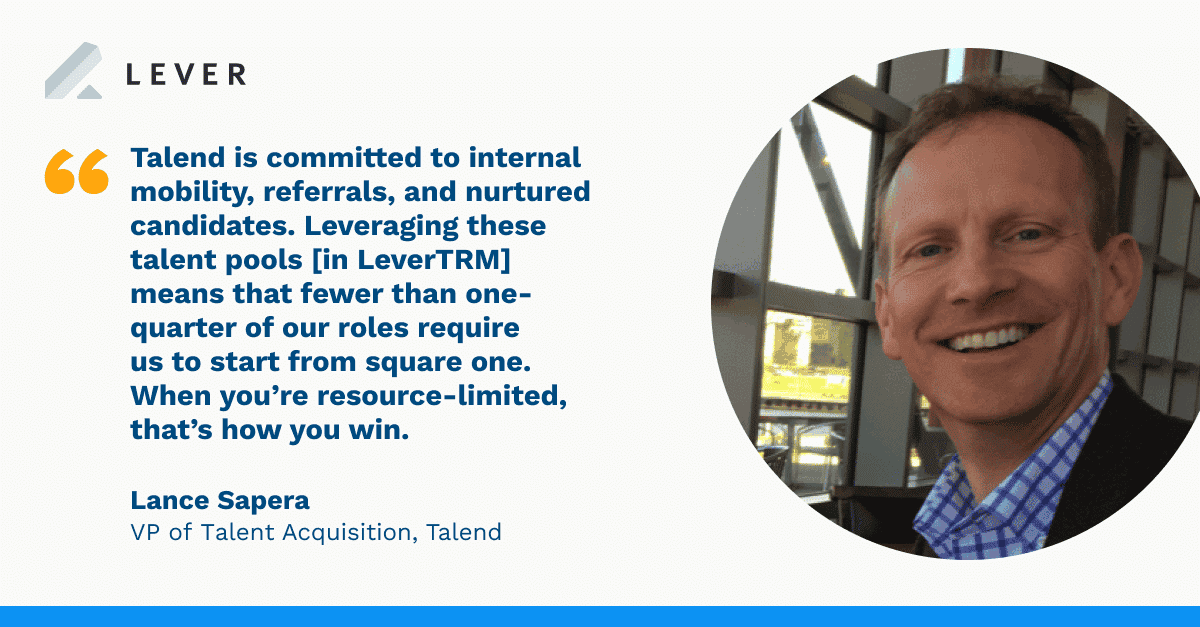 How to create an effective career mobility program that helps you attract and retain top talent
As with any large-scale initiatives that affect your company, your org's career mobility strategy starts with your leadership team. They must liaise with HR on your mobility program with the end goal ultimately being greater employee retention and less worker churn.
Where you and your talent team come into play is months later.
Once said mobility initiative is well underway — and, presumably, has helped you keep top performers by aiding their transfer to new positions or simply promoting them to desired roles — you can use that info to attract passive and active talent in the marketplace.
For instance, you can add a data point or two in impact job descriptions and use the similar career mobility insights during the screening process with prospects (e.g., "We've empowered [X number of] employees to move laterally and upward role-wise in the past [Y] months") to ultimately better connect with and convert those candidates.
Our recruiter's guide to internal mobility offers talent leaders and their teams a roadmap to help contribute to their company's career mobility program. Download your copy today.