Onboarding a complete talent acquisition suite is certainly optimal for recruiting orgs today.
But it's not enough to simply invest in such a solution. Talent specialists and recruiters also need to make the most of their tech to improve in key areas and streamline the hiring process.
TextNow, a free texting and calling app, already had LeverTRM at the heart of its tech stack when VP of Talent Suzanne Salzberg and Recruiting Operations Manager Austin Nelson joined.
Upon joining, though, it became clear their TA org wasn't tapping into the full potential of our native, unified ATS + CRM. So, the talent leaders made sure their team revamped its recruitment process — and lessened its reliance on outside agencies to source top talent — to achieve its hiring quotas and enhance critical metrics like time to fill and hire.
TextNow's goal: Make better use of LeverTRM to enhance its hiring process — including time to fill
Having chosen to implement Lever at previous companies over competing ATS solutions — mainly due to our platform's ease of use, user-friendly interface, and robust analytics capabilities — Suzanne and Austin both knew the value it could provide TextNow.
Their initial challenge when coming onboard, though, was getting getting the most out of Lever to fill job openings quicker and more efficiently and realize the desired hiring growth.
Suzanne identified how the team did not integrate Lever with other crucial TA and human resources technologies to ensure strong data integrity and data 'flow' between systems.
Specifically, the TextNow talent team was not syncing with LinkedIn Recruiter System Connect — which provides up-to-date candidate information (i.e., sourced-prospect and applicant data) from their LinkedIn profiles and helps streamline the TA org's hiring process — with LeverTRM.
What's more, the TextNow team was also still heavily reliant on agencies to find quality candidates and did not leverage LeverTRM's advanced sourcing functionality (e.g., list job postings to multiple job boards with ease) to find qualified candidates on its own.
This led to a sizable (and constantly growing) spend with its agency partners.
Fragmented talent data and not taking advantage of all Lever has to offer (e.g., automated workflows, nurture campaigns) led to an average time to hire of 80 days — a figure Suzanne and Austin realized they needed to address ASAP. It also led to a stagnant and not-so-diverse candidate pool and a lack of long-term relationships with candidates.
"The team was ignoring leads in the Lever pipeline," Suzanne stated. "They weren't using reminders or nurture campaigns or any of Lever's built-in tools. Candidates were just sitting there for a long time."
The first step to speeding up its hiring process? Take ownership of all core recruiting and acquisition activities — including some HR handled due to lack of bandwidth and/or coordination prior to Suzanne and Austin's arrival (e.g., sending offers) — to streamline the team's day-to-day operations and build a more scalable and sustainable hiring strategy.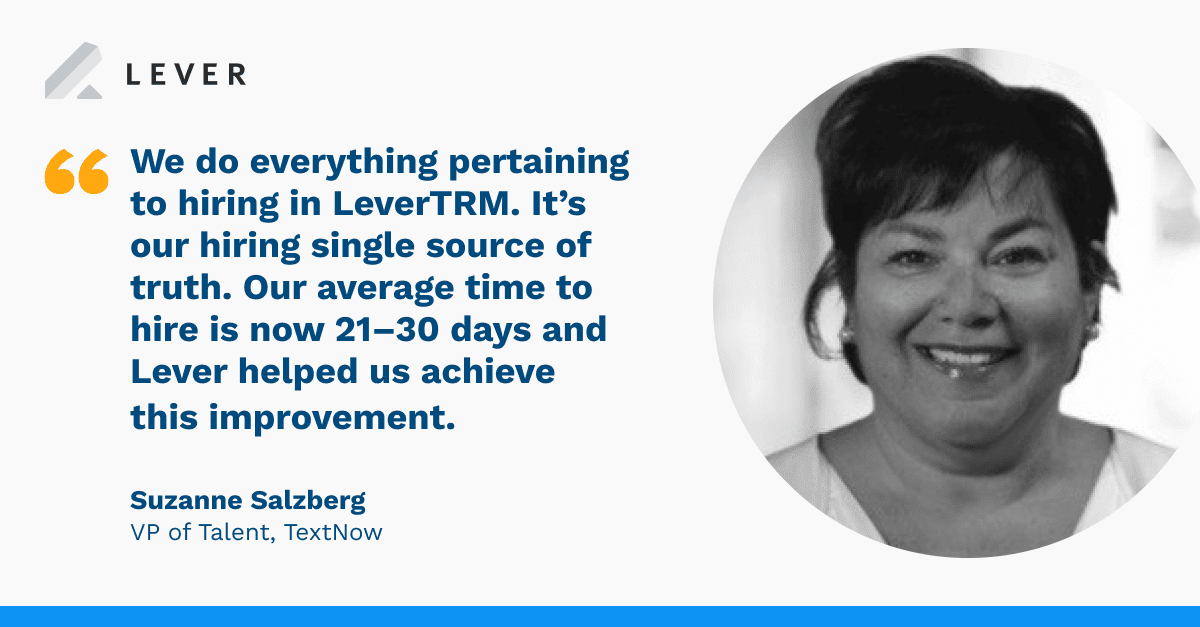 The path to a better hiring process: Getting the TA team and hiring managers on the same page
Changing one's TA and general hiring process to ensure a diverse array of qualified candidates are hired and in a streamlined, structured manner certainly requires efforts.
Thankfully, the experience Suzanne and Austin had with Lever before joining TextNow made it easy to identify low-hanging-fruit opportunities to strengthen their recruiting.
The pair spent time with both their team and hiring managers to get on the same page regarding how they can develop a more seamless talent acquisition approach:
Suzanne ensured hiring managers provided timely, in-depth feedback regarding candidates. If any outlier patterns with feedback were discovered (e.g., providing consistently negative candidate scores) she would address the issue with the hiring manager(s) in question.
A reporting framework was put in place for the talent org. As Austin noted, they still want to go a bit deeper with its analytics efforts, knowing its growing leadership team will want TA-related data updates). That said, he noted the current structure enables efficient performance-tracking and accountability for each team member.
Three recruiting coordinators on the TextNow team were trained to better engage candidates through Lever and keep them 'warm' (i.e., through targeted, personalized nurture campaigns) and educated through the recruitment process so they don't fall off the radar.
On top of this internal coordination, Suzanne eliminated outside agency help for finding first-class talent. Instead, sourcing was moved 100% in house so the team could 'own' the process entirely, which led to money saved and greater transparency on candidate quality.
Lower spend, greater team efficiency, quicker hiring: The results of TextNow's TA transformation
The results of these efforts — and a modified approach to using LeverTRM — led to:
Reduced agency spend: As noted, dependence on in-house recruiters as opposed to costly agencies meant TextNow could take control of its sourcing, learn what the best (and worst) sourcing avenues are, and make the requisite adjustments to their outreach. ("It's a better candidate experience because you're not having to pass the candidate off from sourcer to recruiter," per Suzanne.)
(Much) speedier time to fill and hire: Twice as many hires in half the time it used to take. That's what TextNow achieved with LeverTRM guiding its TA team's sourcing, nurturing, and interviewing efforts. Specifically, the concerted focus around creating offer and nurture templates in LeverTRM and constructing an intelligent nurture strategy for candidates of interest led to a quicker path through the hiring process. Ultimately, TextNow reduced its hiring-process time by 65%. What's more, its hiring rate sped up 130% in just 10 months.
Renewed focus on DEI hiring efforts: As Suzanne indicated, determining the level of diversity of the TextNow talent pool and eventual hires wasn't a task that was tackled prior to her and Austin's arrival. However, the team does secure DEI-related data now through Lever and uses those insights to evolve its strategy as needed. (Suzanne: "Where are [diverse candidates] falling out in the process? Is it something we're doing? What could we be doing better?")
The work to properly utilize LeverTRM and the rich talent data it provides to augment its hiring process and TA strategy at large (e.g., adjusting its interview processes and stages, better liaising with hiring managers, posting open positions in the right places) is ongoing.
But the renewed focus Suzanne, Austin, and Co. focus have placed on capitalizing on LeverTRM to source, nurture, interview, and hire new employees has led to significant ROI.
"If you use [TA tech] the way it was designed, you're just going to get better results all the way," Suzanne noted. "And then the company thinks you're magic, and you're like, 'Well, actually, we're just doing it the right way, right?' That's been my experience with Lever."
Check out our entire TextNow case study to learn how the company was able to streamline and speed up its hiring process using LeverTRM as its go-to talent acquisition technology.