You know all the qualified candidates in your recruitment database inside and out.
You know their backgrounds, the schools they attended, and their previous employers.
You can see their past and current hiring funnel stages in your main recruiting software.
And you can view all the activities tied to your engagement with top talent over time.
But, that's just your side of the recruiting story. These details don't reveal anything about the candidate experience (CX) job seekers (hired and rejected candidates) have with your hiring team's interview process. Nor does it reveal their perception of your employer brand.
Without access to rich, real-time insights tied to CX, you don't know if these folks had a great candidate experience (e.g., enjoyed meeting with the hiring team) or a poor candidate experience (e.g., found the job application process or job descriptions confusing).
"That's why CX deserves a closer look," per Starred CS Manager Sophie Kraanen.
Sophie said securing feedback and ratings from candidates to see if they had a positive or negative experience during the recruitment process can help talent teams. Notably, it can spotlight their recruiting strengths and weaknesses — and help take action on the latter.


Why candidate experience is now an essential metric your talent acquisition team must monitor
Whether you measure candidate experience or not, if you have open roles, you — by default — provide a CX, Sophie said. But, if you don't have the right processes and tech to measure and analyze the recruiting metric, you can't effectively improve candidate experience.
Sophie noted how "standard" talent acquisition performance metrics (e.g., time to fill, offer acceptance rate) tell "the not-so-human side" of recruiting and hiring.
But, recruiting is a "human-to-human industry," Sophie added.
Talent teams need robust insights into candidates' "job opportunity journey": from applying for a role on a company's career site or via social media, to accepting or declining a job offer.
Ultimately, this data helps TA teams unlock a winning customer experience formula.
Sophie stated how failing to collect candidate experience data and regularly take action on CX analytics "not only impacts your employer brand, but also your bottom line."
The good news? "You don't need to be a data scientist to analyze your data," said Sophie.
You simply need advanced TA tech that connects with other essential recruitment tools, helps you send feedback surveys to candidates, and offers built-in dashboards and data visualizations that show you the efficacy of your CX efforts.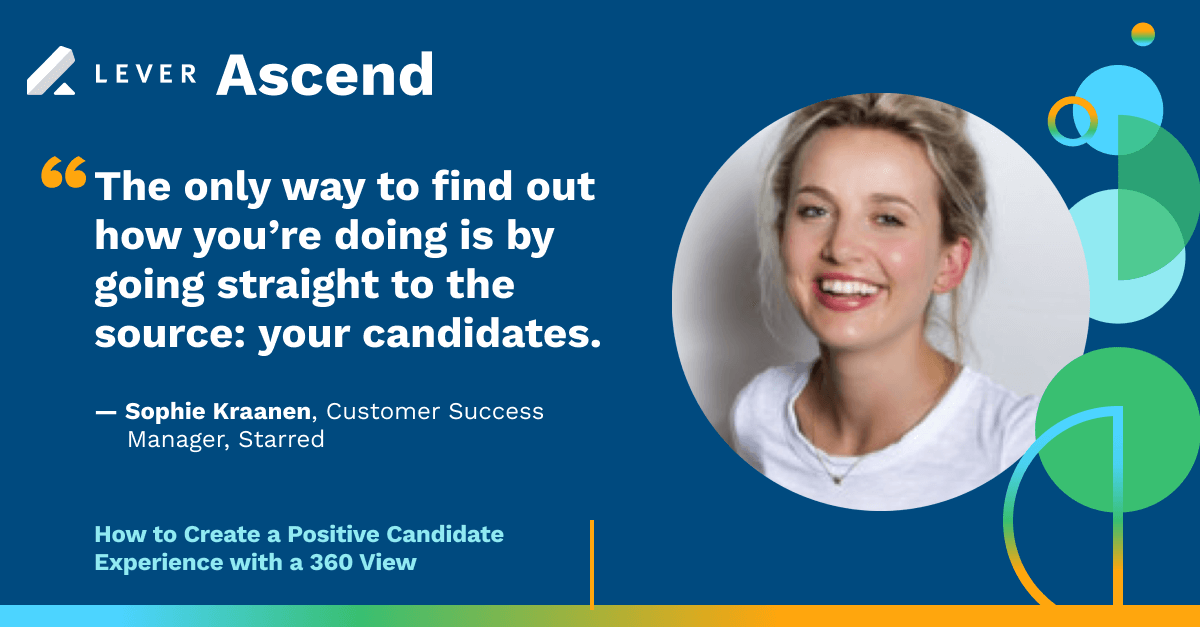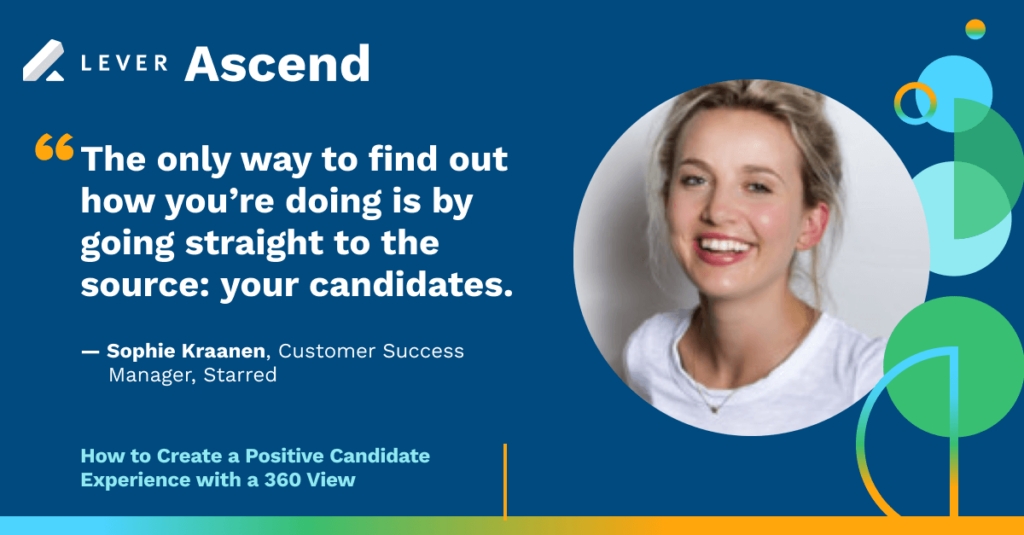 Consider talent teams that use LeverTRM and candidate experience tools like Starred:
These TA orgs can send custom candidate experience surveys directly from our complete TA suite that allow prospects to share their thoughts on the recruiting cycle after interviewing (and, for new employees, after they accept their offer)
Lever customers can tailor survey questions based on role, region, or team and configure and automate how and when their CX surveys "trigger." This ensures they never send a survey out at the wrong time or to the wrong person (e.g., a lead to whom they already sent a survey).
The talent teams can also send Candidate Net Promoter Score (CNPS) surveys to engaged job seekers that give them a numeric rating (on a scale of 1-10, with 10 being the most satisfied) to learn if they provided a good candidate experience.
The standard question talent teams ask in these CNPS surveys is, "Based on your experience, how likely are you to recommend others apply to our company?"
Insights from these CX surveys will reveal different things for different employers.
But, as Sophie noted, you and your talent acquisition team can only improve candidate experience metrics like CNPS when you analyze them regularly and take.


How one company leverages its candidate experience data to enhance its recruitment process
Candidate experience insights are only valuable to you and your talent acquisition team when you use them to refine your recruiting processes and adjust your day-to-day activities (i.e., how you source, nurture and interview prospects).
Here's how Hot Topic routinely revamps its recruiting and hiring processes and candidate relationship management (CRM) strategy using LeverTRM:
Michelle Wentz, Director of Talent for Hot Topic, said the company hires 1,500 retail employees quarterly. Providing a consistently high-quality CX while hiring a high volume of employees posed a challenge prior to investing in LeverTRM.
The company's previous applicant tracking system lacked advanced candidate engagement and management functionality and powerful analytics capabilities. Relying on this dated ATS only exacerbated the business's CX efforts.
"The old ATS didn't have automation or note-keeping capabilities," Michelle noted in our case study. "Every time we reached out to a candidate or wanted to share our notes with the hiring manager, we had to type an email."
The legacy ATS's "archaic" job application functionality also made applying for roles laborious for candidates, many of whom are Gen Zers and who, per Michelle, are "not going to sit there and fill out an application for 40 minutes."
Fast forward to onboarding LeverTRM.
The company's TA function is far more efficient. The streamlined recruiting operations helps its talent team achieve critical KPIs around headcount growth — and enhance its CX strategy:
Hot Topic set up custom automation workflows that save its talent specialists time. Now, recruiters can spend most of their time engaging candidates in a highly personalized manner to make each one feel like they're the only one.
Using LeverTRM in tandem with other tools, including its website's AI chatbot and HRM software, has helped Hot Topic reduce candidate drop-off from its recruiting and hiring process by 300% and boosted the quality of its CX.
"We wanted something that was quick, easy, and really focused on the candidate experience," said Michelle. "Lever met those needs as well as unique requirements for our HQ, distribution center and store hiring teams."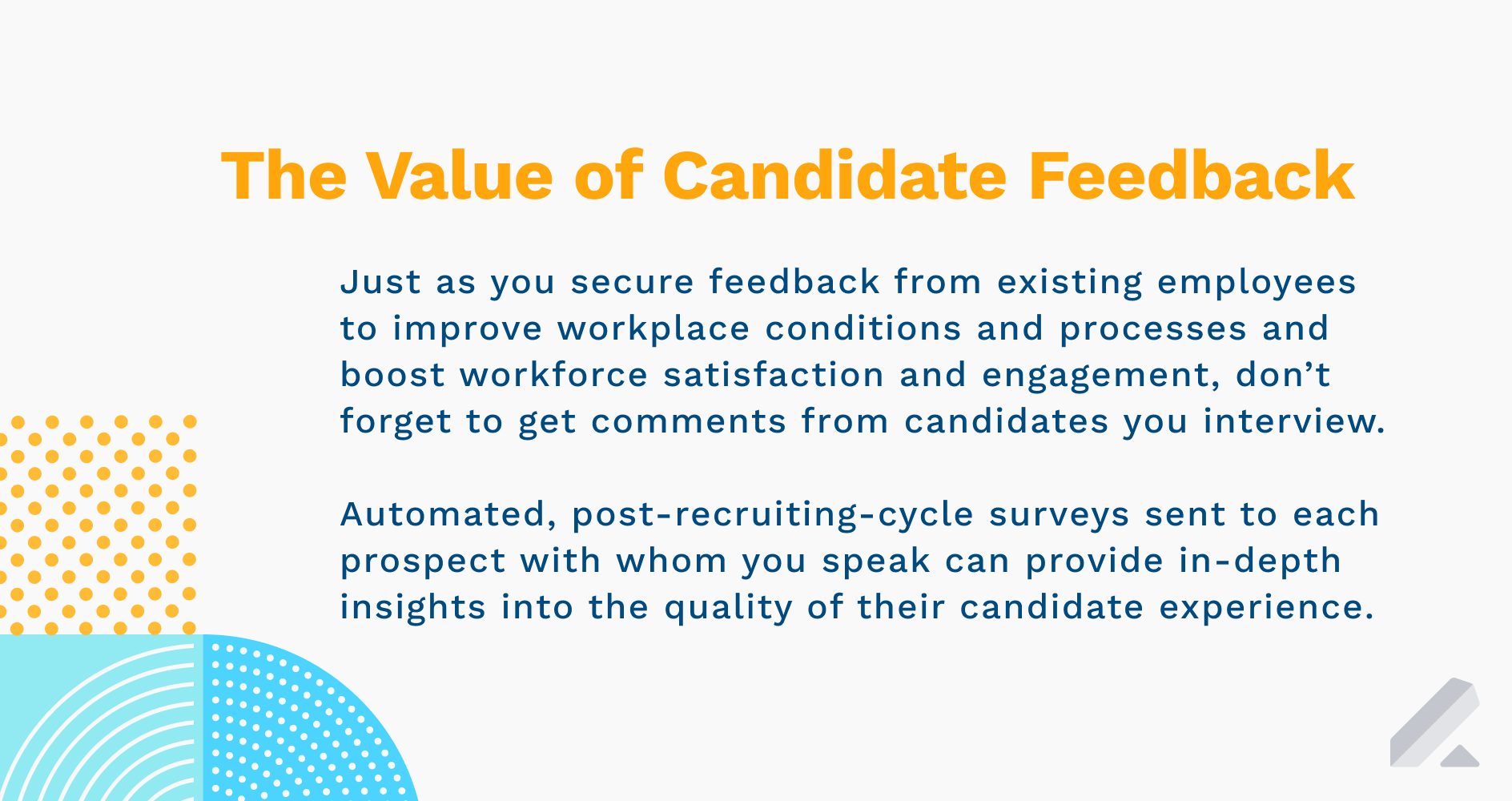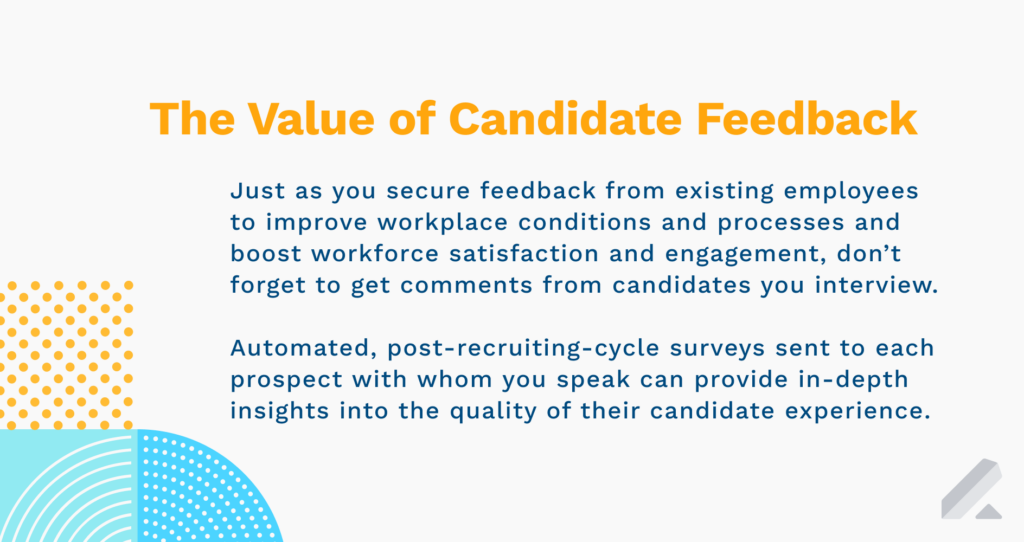 Reshaping your TA tech stack and processes to provide a better candidate experience
Our ATS + CRM enables the talent team at Hot Topic — and the other 5,000 companies that use LeverTRM — to analyze every element of their candidate experience efforts and use the data to refine how they reach out to, speak with, and address the needs of prospects.
Using LeverTRM versus an old-school ATS is the difference between wowing prospects as they navigate their job searches and providing a bad candidate experience that leaves a bad taste in their' mouths.
Richer context regarding your "promoters" (e.g., talent that gives you high CNPS scores) and those who had underwhelming or so-so experiences, you and your TA team can more capably and effectively determine what should and shouldn't change in your strategy, per Sophie.
With a reconfigured CRM approach and TA tech stack, you can take full advantage of your pipeline data to improve weak areas within your recruitment model.
And, just as important, you can use that data to provide a positive candidate experience for each prospect — one that yields robust ratings and rave reviews for your business.
Reach out to the Lever team today to learn how LeverTRM — our complete, native ATS + CRM solution — can enable you to improve your candidate experience efforts.