Moving candidates through the recruitment funnel in a speedy, efficient manner is vital today — especially considering many prospects 'bail' on the hiring process prior to its conclusion.
Recent research from Indeed found 28% of job seekers 'ghosted' employers with whom they interviewed in 2020. One-fifth of these individuals said they did so because they received an offer from another company before the other employer in question could.
The takeaway? It's highly critical to streamline the job offer approval process.
Fail to do so and your organization could end up with an increasing number of high-quality candidates — ones your talent team likely spent a substantial amount of time engaging with — heading for the door, so to speak, and exiting your recruiting process outright.
Why coordination is the key to a quicker, more efficient job offer approval process for your business
Patience is certainly paramount to recruiting and hiring success today. You need to allocate considerable amounts of time, energy, and resources to source, nurture, and interview top talent to ensure you sign on the most qualified people for your business.
That said, you can't ignore speed plays a pivotal role in recruiting success.
To realize quicker hiring, you must identify areas of your recruitment program that can be sped up with savvy changes. That means looking into each facet of your recruiting efforts to determine what can be augmented to improve your talent acquisition process.
Focusing on the early and middle stages of your recruiting efforts (e.g., following up with applicants, conducting background checks) is obviously critical to your overall hiring success and business growth. However, don't forget about the final phase of your funnel:
Extending formal offers to prospective hires — and, more specifically, coordinating with hiring managers, finance, and human resources to accelerate the speed with which you send offer letters
As you know, alignment is everything in talent acquisition today. Thus, working closely with colleagues in HR and finance as well as managers charged with finding new employees to join their teams will enhance your odds of hiring top-tier prospects and achieving headcount goals.
Each of these stakeholders obviously plays a different role in the approval process:
While everyone has different tasks to tackle, it's essential you all collectively assess each step in your approval process to discern what bottlenecks exist and where you can stand to improve to get offers out more expeditiously while ensuring it's still an efficient, error-free process (i.e., no mistakes are made with actual offers emailed to candidates).
Work in a cohesive and unified manner, and you're likely to see a higher offer-acceptance rate — not to mention more eager candidates ready to start working ASAP for your organization.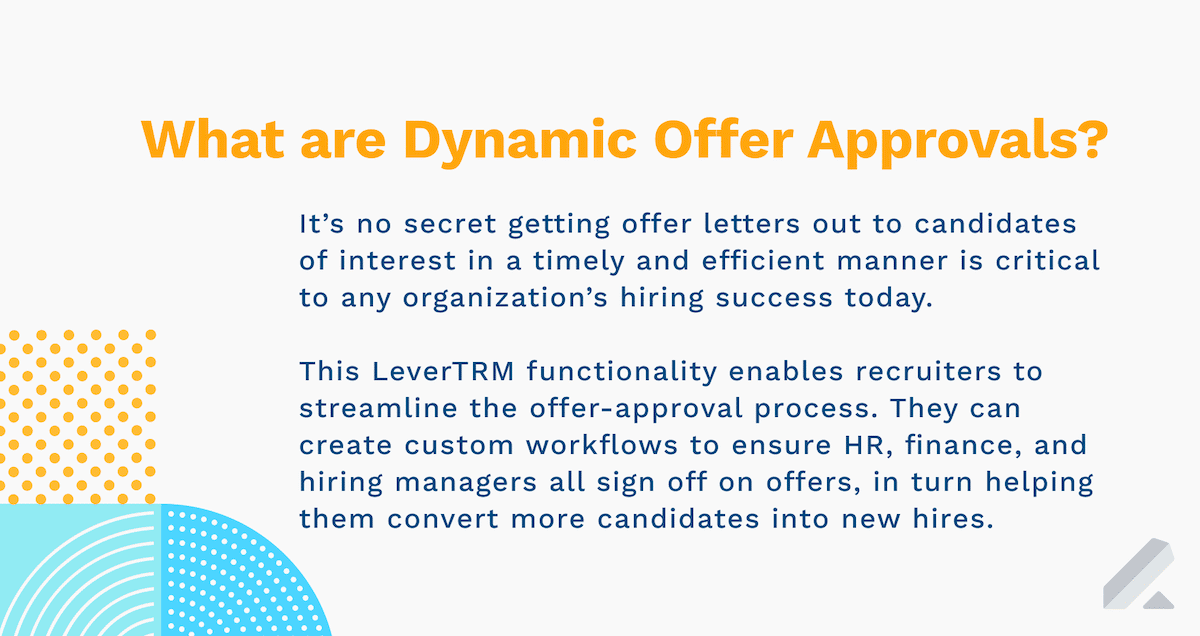 Speeding up your job offer approval process — and eliminating any bottlenecks — with LeverTRM
One of the most common bottlenecks talent leaders identify in the job offer approval process is with their applicant tracking systems. Notably, their legacy ATS software lacks critical functionality that enables them to streamline much (or any) of the process.
This means it's on the recruiters who own and operate the ATS to have to remember who needs to evaluate prospective offers, what they specifically need to assess as it pertains to offers, and manually reach out to each person to get them to sign off accordingly.
As we've discussed time and again, the era of handling most day-to-day recruiting tasks manually is (or, to be more accurate, should be) over for talent acquisition teams today.
That's because TA suites like LeverTRM provide out-of-the-box automation.
Our native ATS + CRM solution comes with Dynamic Offer Approvals, which enables our users to set up custom workflows to ensure each of the aforementioned stakeholders associated with authorizing job offers is involved in only the most relevant stage(s).
Here's the basic breakdown of how Lever customers use Dynamic Offer Approvals:
Recruiters can set up the specific types of approvers who can be added to a given offer-approval process (e.g., requisition owner, posting hiring manager) as well as the minimum number of approvers needed to ultimately sign off on an offer.
From here, LeverTRM users can configure multi-step workflows. These will 'auto-route' offer approvals to the aforementioned stakeholders, based on pre-set criteria (i.e., specific role, team, department, and/or location associated with the job requisition).
Conditional offer approval steps can be added to workflows as needed (oftentimes, when the compensation figure for a candidate falls outside the previously approved salary band). Lever customers can create up to five 'conditions' per approval step.
This approval 'logic' chain configured in the dynamic approval workflows then dictates when each approving stakeholder gets to analyze and make a subsequent decision on a candidate (or potentially just provide recommended changes to an offer letter).
Ultimately, your dynamic offer approvals setup can be as basic or complex as needed. For roles that don't require custom approvers, you could use a 'default' approval workflow. For positions that will affect multiple teams/departments and require oversight from finance and other business leaders, you can craft a bespoke workflow with intricate 'if-this-then-that' conditions (e.g., "If X team leader approves first, it then goes to & departmental director next for review").
The good news for LeverTRM users is, once they add in custom fields and lists of approvers for one approval workflow, they can easily apply some, most, or all of those fields and approvers to another custom workflow (with minor alterations tailored to the role in question as needed).
Used in tandem with other LeverTRM automation workflows (e.g., auto-tagging applicants based on fit for the roles for which they applied, sending reminders to recruiters regarding urgent tasks like candidate check-ins, notifying hiring managers when a prospect's opportunity stage changes), Dynamic Offer Approvals can further enhance job offer approval process.
With this advanced feature, countless Lever customers see fewer candidates of interest withdraw from the interview process before they can extend offers to them — and see more prospects accept offers to join their business and agree to new start dates.
As with any other component of your candidate relationship management strategy, you must routinely audit your job offer approval process to ensure it aligns with your existing processes.
But as long as you continually refine said process to ensure it's a well-oiled machine — and helps you better convert qualified candidates — you'll continue to bolster your workforce with highly skilled employees and beat out competition for top-notch talent.
Learn more about the built-in job offer approval process capabilities and other advanced ATS + CRM functionality in LeverTRM by chatting with a Lever representative today.