Companies adopt a data-driven hiring strategy for a few key reasons today:
Relying on gut instinct is no longer enough (and hasn't been for some time). Using emotions and hunches to determine who to extend offers to and hire is a dated approach.
Talent acquisition and human resources can blend their data sets. Both teams benefit by syncing their systems and sharing actionable candidate and employee insights.
Other business units already leverage data (and have for quite awhile). It's time for talent acquisition leaders and their teams to catch up. Other departments have been data-driven for years. Recruiting functions at companies of all kinds and sizes must (finally) embrace the approach too.
One obstacle that holds many orgs back from building a data-driven hiring strategy — and outcompeting other employers for top talent — is the lack of an analytics solution that offers robust, dynamic data tied to all talent acquisition activities and metrics.
Employ's Q3 2022 Quarterly Insights Report found one-third of TA and HR decision-makers planned to increase investment in reporting technologies in 2023 to refine their strategies.
That's because — for many of them — their existing, legacy analytics tools don't provide accurate, relevant, real-time insights about active and archived candidates and performance metrics tied to their recruiters' day-to-day work.
"A lot of talent leaders attempt to use their old-school applicant tracking system along with a mix of other disparate data-centric tools to glean insights into their recruitment life cycle and optimize their strategies," said Lever Director of Product Marketing Chris Winkler.
"The reality is reliance on a legacy ATS and disparate analytics tech is not a sustainable way for hiring teams to assess and take action on their data," Chris added.
Why a single source of recruiting truth is needed to develop a data-driven hiring strategy
A single source of truth that shows all activity related to their recruitment process and hiring strategy at large and offers intricate data that can help recruiters elevate the quality of their work is how leading talent teams thrive today.
The benefits of such a centralized system for your TA team are many. For instance:
Engagement data tied to postings published to job boards and social media job ads (e.g., LinkedIn InMail) informs where you and your talent team should allocate your recruiting spend, time and energy sourcing potential candidates.
Speed-related data shows how fast your team moves candidates of interest through the interview process and if they are on, off or ahead of pace to fill roles.
Efficiency data related to the late-stage hiring process can help your recruiters learn if there are bottlenecks that slow down offer approvals and extensions.
These are just a few facets of your recruiting and hiring strategy you can elevate to date. There are numerous other data points you can unearth and take action on to enhance your talent acquisition performance. There are many more.
Just ask Lever customers.
Our 2022 Talent Benchmarks Report shows how talent teams of all sizes use our native TA suite to realize better outcomes related to sourcing, nurturing, interviewing, and hiring high-quality candidates for open job opportunities.
"Talent acquisition pros who use LeverTRM know they need to utilize their wealth of data to better attract and engage prospects and convert them into new hires," said Chris.
"They also know a lack of data tied to their recruitment funnel, candidate experience, diversity hiring efforts, and other facets of their strategy will only lead to inefficiencies and poor productivity in the long term," Chris added.
How a data-driven hiring strategy benefits three different types of people across your business
Your talent team and other hiring team members can enhance their output, improve core metrics, and realize more significant ROI with your collective data-driven hiring strategy.
All you need is rich, real-time talent analytics to guide your decision-making — something that requires tech that offers actionable insights that empowers everyone on your TA and hiring teams to "up" your recruiting game.
A bonus of your efforts? Other internal stakeholders at your organization can benefit from your more analytics-oriented recruitment model.
Here are three parties within your business who benefit from a data-driven hiring strategy.
1) Talent acquisition can transform its TA strategy top to bottom
There are many intricate elements to modern recruitment strategies. Each of these elements can be improved through data drilldowns that detail your talent acquisition team's progress (or lack thereof) in those respective areas.
Areas of your TA strategy that that can be strengthened through analysis include:
Employee referral quality: Does your data show you don't get many prospects from your referral program? Amplify awareness of it companywide to get more referrals.
Passive candidate engagement: Are prospects not engaging much with your nurture emails? Test new schedules, cadences, and copy in your nurture communications.
Career page effectiveness: Does data indicate "owned" job postings hosted on your company's website lead to few applications? Adjust your impact job description language and better position your employer branding messaging in listings to better appeal to active job seekers.
"In today's competitive talent market, businesses that embrace a data-driven approach towards hiring have a leg-up on other employers," said Chris.
"That's because they understand what activities lead to the employment of high-quality candidates and, in turn, can increase investment in those areas."
On top of outcompeting other orgs for premier talent, Chris added these analytics-centric companies are also able to remain agile and adapt their strategies based on their data.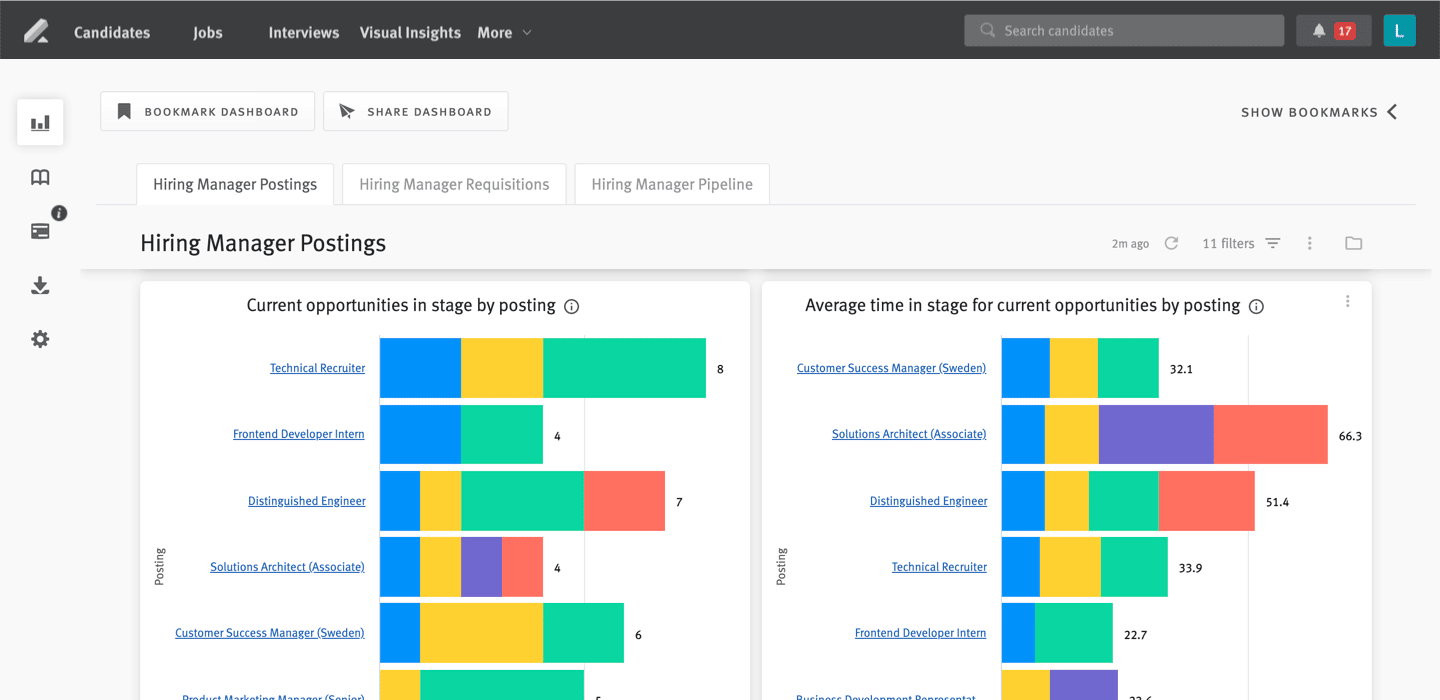 2) Hiring managers can ensure they hire only great candidates
Your talent team is an obvious beneficiary of insights that can inform upgrades to your data-driven hiring strategy. But hiring managers also gain from TA analytics.
Many Lever large-scale orgs use LeverTRM for Enterprise to more effectively and efficiently manage their talent pipeline. And we don't just mean their talent leaders.
Their hiring managers also love tapping into Lever data to monitor the recruitment cycle.
More to the point, hiring managers with access to their TA team's LeverTRM instance can use the dedicated Hiring Manager dashboard built right Visual Insights to get a granular view of recruitment life cycle activity and updates (e.g., ones related to interviews, feedback, and offers).
"Our Hiring Manager dashboard was purpose-built for hiring managers," said Chris.
"Not only can they gain additional visibility into the progress recruiters make with open roles, but they can also become more collaborative with recruiting counterparts to ensure their data-driven hiring strategy is optimized to fill positions quickly and efficiently," Chris added.
3) Employees can work alongside other skilled and driven colleagues
The ultimate ripple effect of implementing a well-coordinated, regularly optimized, data-driven hiring strategy is its impact on your entire workforce.
Hiring a diverse array of individuals who bring unique perspectives, skill sets, and experience levels to the table and whose values align with that of the business means you will end up with employees who are all driven to succeed.
This consistent hiring of highly qualified, diverse talent leads to strong collaboration and high productivity for employees and teams across the business.
"Data is now central to just about every company's success today," said Chris.
"Empowering your talent acquisition team with exhaustive insights into their day-to-day efforts and progress with meeting (and exceeding) recruiting KPIs can help them contribute to business growth in a meaningful, scalable and sustainable way," Chris added.
Get our Visual Insights guide today to learn how talent teams with LeverTRM make the most of our out-of-the-box analytics to guide their data-driven hiring strategy.