"Building quality relationships with candidates takes time and attention," Lever SVP Customer Success Jessica Green shared for our 2022 Talent Benchmarks Report.
That said, your talent acquisition team must balance the need to provide a great candidate experience with the need to continually improve your time-to-hire metrics.
Our report found the industry average among Lever customers in terms of time to hire was 23 days in 2021. This was 20% quicker than in 2019, our previous edition of the report.
You already know this, but it's worth reiterating:
Being able to work with your hiring manager and interview panelists to move qualified candidates seamlessly and speedily through your recruiting cycle like these LeverTRM users is a must to realize your company's growth goals.
But, what specific changes to your recruitment process — and, if needed, your TA technology stack — will enable you and your team to gradually decrease your time to hire (not to mention enhance other key recruiting metrics)?
The answer to this question? Assess your funnel top to bottom, fix facets of your recruiting that slow down your candidate relationship management (CRM) efforts and address these issues to speed up your average time to fill.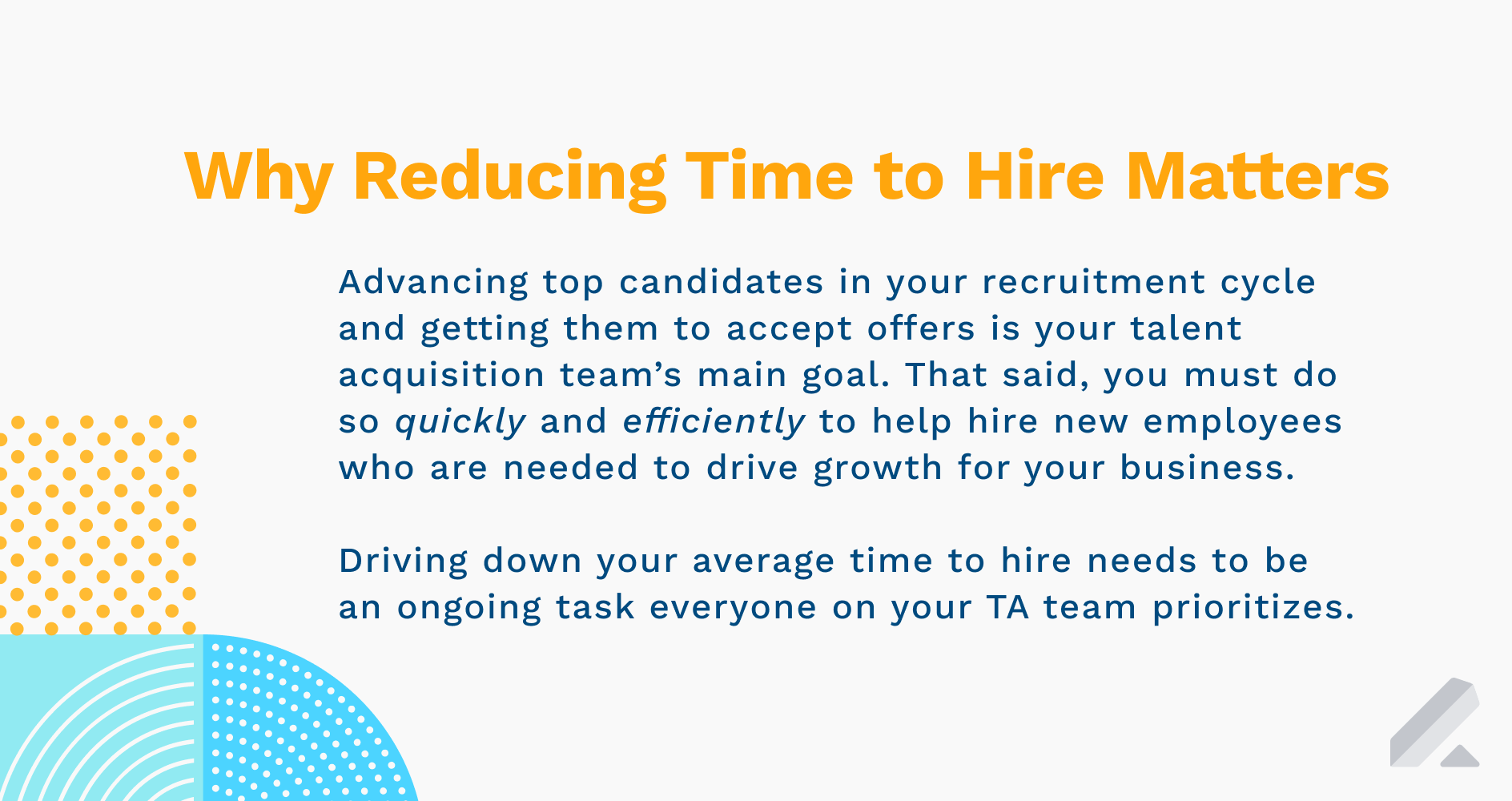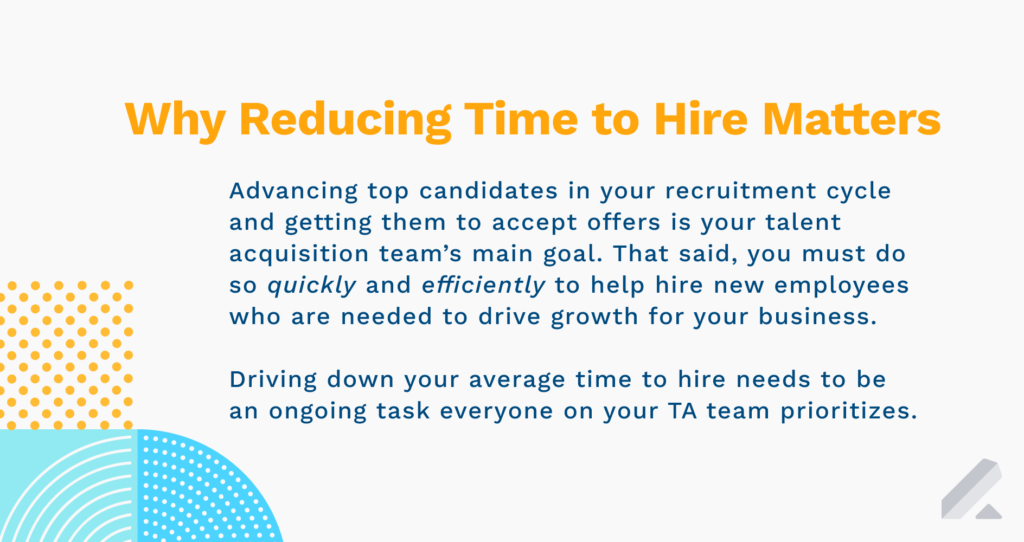 What the top talent teams do to improve time to hire (and convert qualified candidates quicker)
Talk to many enterprise executives today. They'll tell you they want job openings filled around 30 days (or less) to ensure they stay on track to achieve critical growth goals.
This (fairly) arbitrary target timeframe isn't always feasible.
However, it's still vital for talent teams such as yours to do their best to continually amend and update intricate elements of their recruiting and hiring processes to move candidates from initial outreach to offer promptly.
Here are a few best practices that can help you continually reduce your average time to hire and, in turn, enhance your hiring process: from the moment your recruiting team sources a prospect or receives an application to when a candidate accepts an offer.
Streamline your initial funnel stages to speed up candidate evaluation
There are some low-hanging-fruit opportunities for you and your talent team to address in the early phases of your recruitment process to speed up time to hire:
Use assessments to "weed out" any poor-fit prospects who simply don't have the requisite knowledge to take on a given role (especially technical positions.)
Leverage a tool that "auto-disqualifies" applicants who don't meet the minimum criteria for a position. Lever customers do this with our knockout questions feature.
Abide by structured interviewing best practices in your initial phone screen with candidates. Doing so will help you and other hiring team members effectively (and more expeditiously) evaluate each individual in a consistent, methodical, bias-free manner.
Ensure applications you receive sync with your ATS so you and your team are notified the instant an active candidate submits one. Lacking an advanced ATS that streamlines (or simply doesn't offer) this will only lead to valuable time wasted (i.e., having to manually add resumes sent to one system to your main TA tech).
Regarding this latter point, RedTech Media Managing Director Chris Russell recently told SHRM that "getting candidates quickly to a completed application is critically important to today's recruiting funnel" and improving time to hire.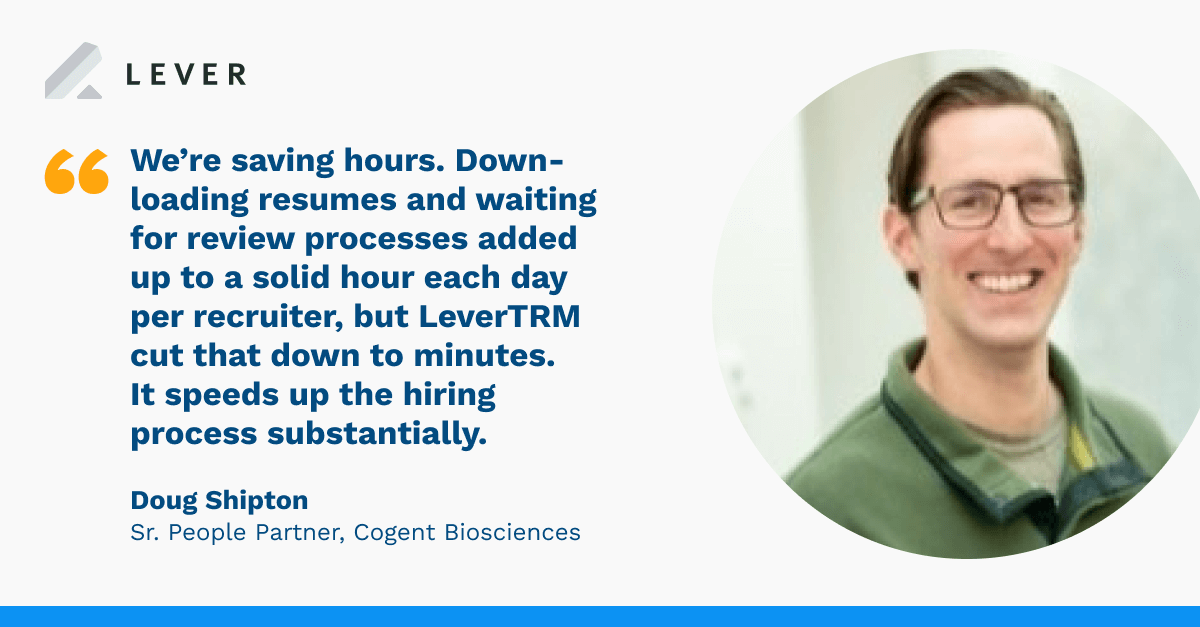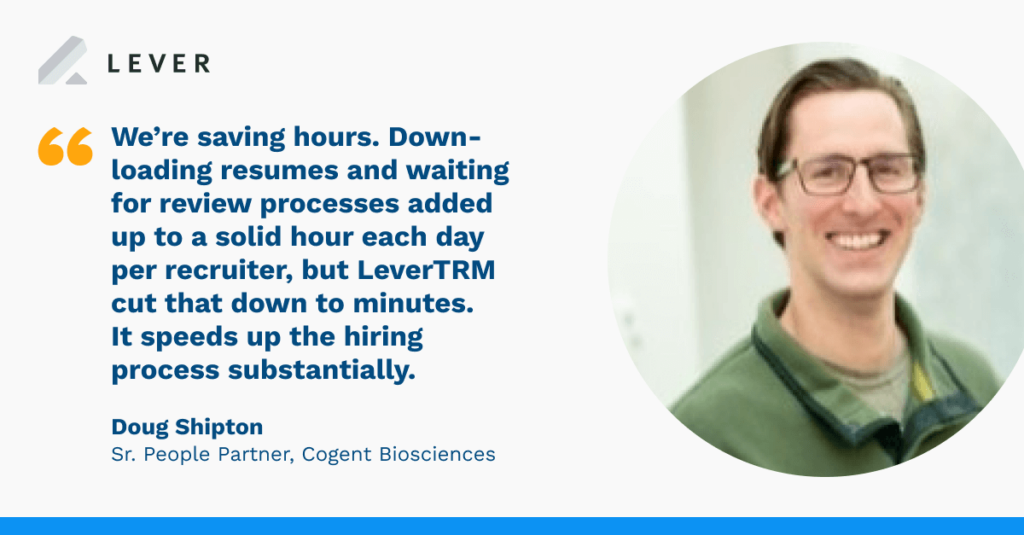 Save a significant amount of time by automating most recruiting tasks
Marketers automate a considerable amount of their day-to-day work (on- and off-site messaging to leads and customers, recurring reports tied to ongoing campaigns, etc.).
Why can't your talent acquisition do the same: leverage recruitment automation tech to eliminate many manual tasks and streamline much of their daily work.
Consider Lever customers:
Once a profile is created for a new candidate (a passive prospect who was proactively sourced or an applicant), recruiters with our ATS + CRM solution can add them to rules-based nurture campaigns that uses automated stage progression based on specific actions taken by prospects.
In other words, different rules will trigger based on whether a candidate opens or replies to an email or self-schedules an interview via an Easy Book Link.
The number of touchpoints (emails sent) and cadence (frequency of and number of days in between email) can be experimented with to see which combination (along with the copy and visuals included) leads to the most conversions (e.g., reply to screen, screen to interview).
LeverTRM users can customize our out-of-the-box nurture templates with their own employer branding aesthetic and brand messaging to enhance their odds of resonating with candidates (and standing out from plain HTML emails).
"Having a dedicated candidate engagement process is what allows you to automate repetitive tasks and redirect your time to personalizing messaging to (and, as needed, connecting live with) prospective hires," said Jessica.
A bonus benefit of such a streamlined process: the ability to lower time to hire and more quickly advance top talent in your recruiting cycle from start to finish — and onboard more employees who will contribute to business growth.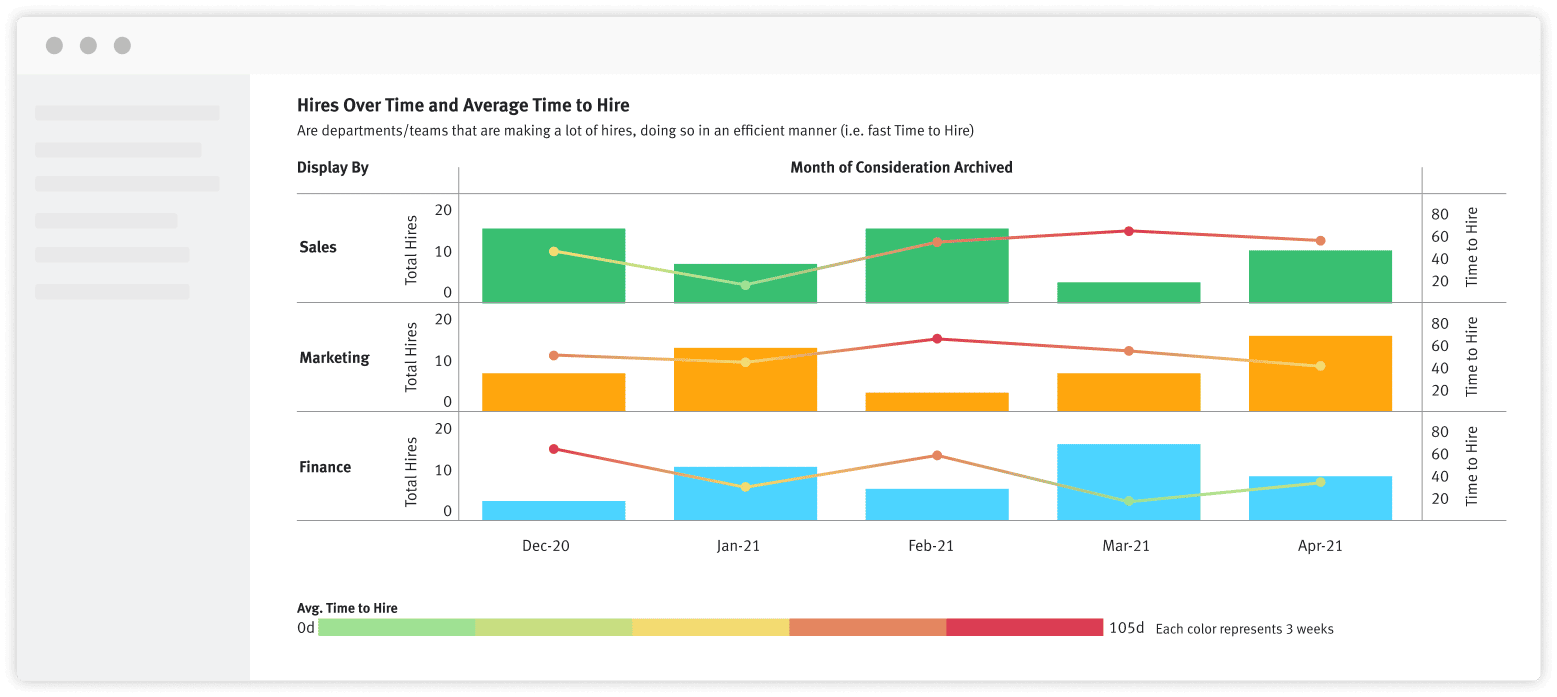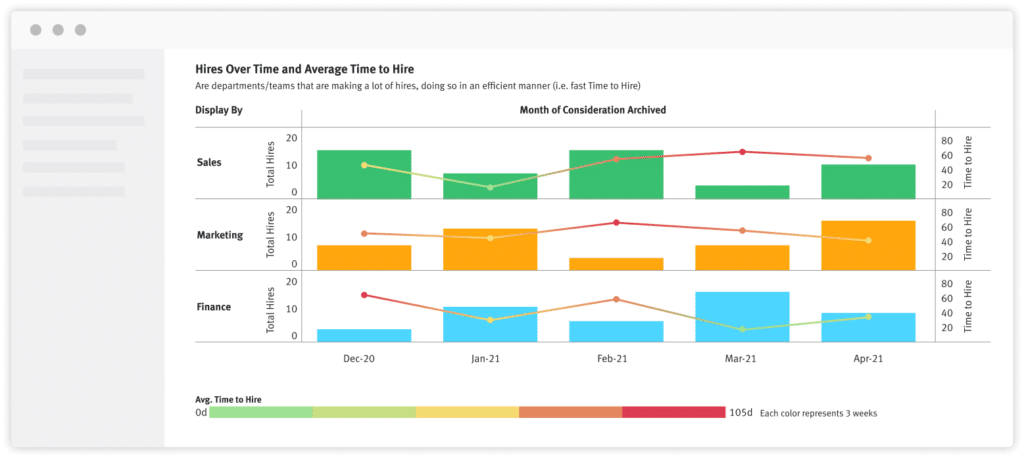 Closely (and regularly) analyze your time to hire to track your progress
This best practice is short and sweet. Let's go back to Lever customers:
Talent teams that use LeverTRM can assess everything associated with their recruitment funnel activities, DEI hiring initiatives, candidate experience efforts and — you guessed it — recruiting and hiring speed, thanks to Visual Insights, our built-in analytics.
LeverTRM's holistic hiring lifecycle visualization and in-depth dashboards in Visual Insights helps Voro pinpoint problems with its pipeline speed and keep candidates moving through its pipeline from one stage to the next to keep them engaged (and prevent prospect drop-outs).
Using LeverTRM and our robust talent analytics and powerful recruiting automation capabilities has helped Voro speed up its its time to hire to 21 days — a couple days better than the industry benchmark mentioned earlier.
With LeverTRM, Voro Partner & COO Matt O'Laughlin said:
"We have confidence we're able to not only get the top candidates, but know how long the process is going to take and what onboarding will look like."
Learn how leading talent acquisition teams use LeverTRM to drive down time to hire and advance candidates more quickly and efficiently through their recruitment funnel.