At a high level, just about every business professional understands what talent acquisition specialists do: identify and engage individuals who could be strong fits for open roles.
But, look a little closer. The recruiting and hiring practice is much more nuanced than that.
You'll see today's talent teams play a much more pivotal role in companies' success today, as they impact everything from the company culture to the diversity makeup of an organization.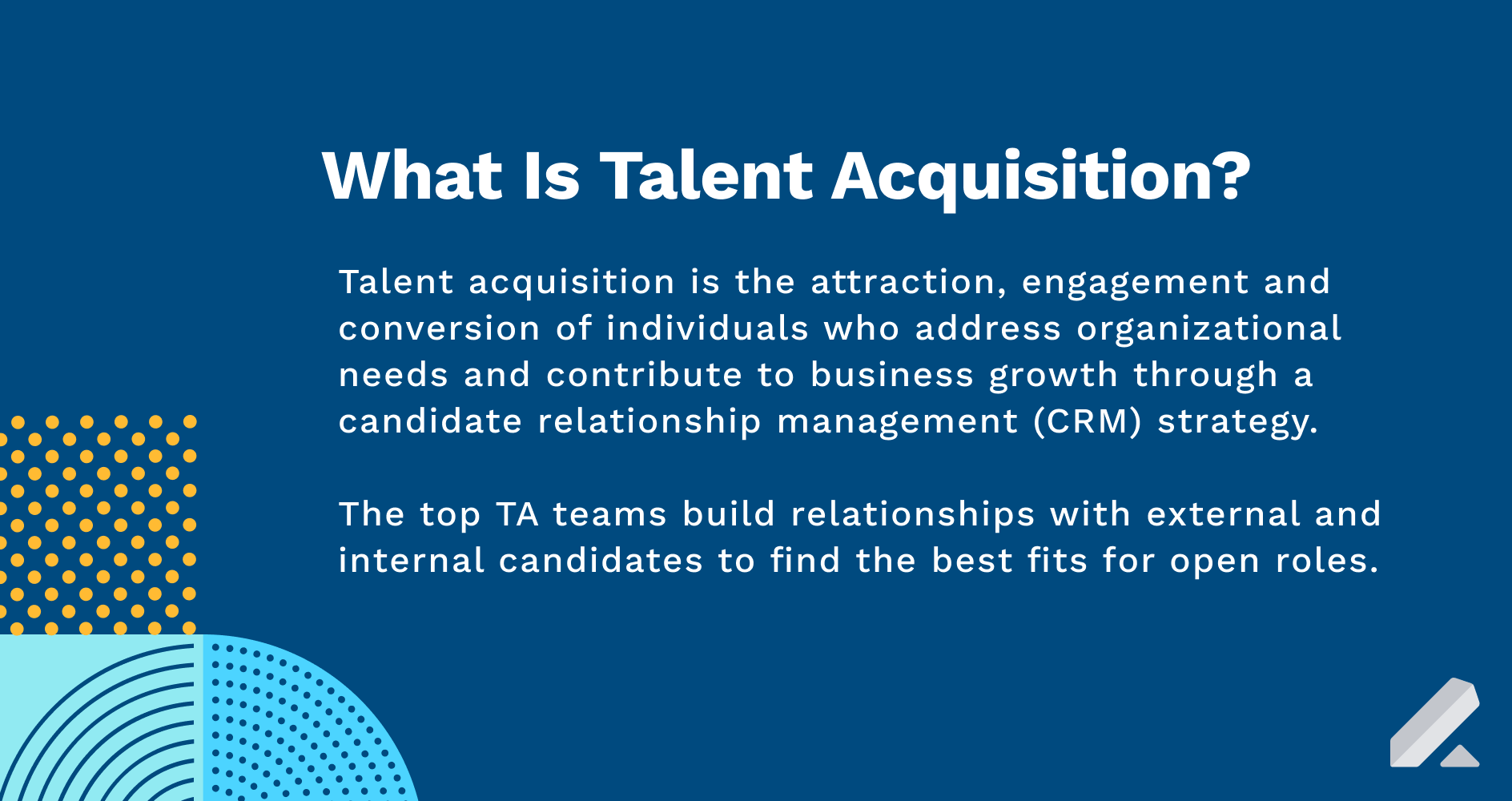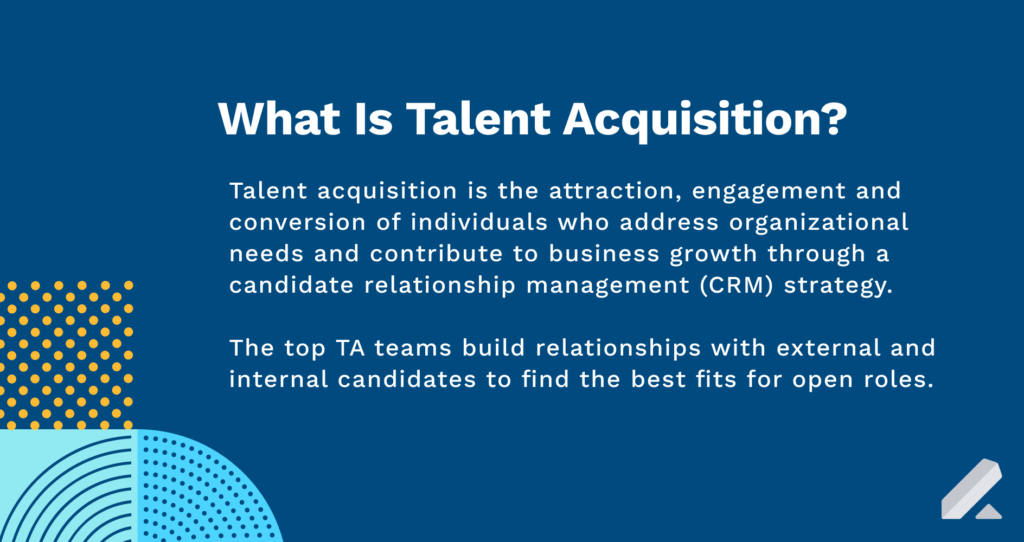 What is talent acquisition? An explainer
Talent acquisition is the process by which employers attract, engage, and convert skilled professionals to fill critical business needs and directly or indirectly contribute to business growth — ideally, for years to come.
Now, one org's talent acquisition approach will certainly differ than another's — especially if they have different business models and, in turn, hiring needs. Case in point:
Startups tend to want to hire fresh-out-of-college talent to fill their entry-level roles.
Major retail chains generally need to employ seasonal, part-time workers for their stores.
Enterprises want to hire a high volume of FTEs in the top-10% of their respective fields.
There are a million different flavors of TA strategies out there today.
The one commonality among them, though is the need to use powerful, intuitive talent acquisition technology to identify, reach out to, and speak with premier prospects and — at the end of the day — turn them into high-performing employees.
Unfortunately, there seems to be a disconnect between TA and HR leaders and their recruiters in terms of the effectiveness of their tech stacks.
Aptitude Research found roughly four in five (78%) of talent acquisition and human resources directors are satisfied with recruiting tools their teams use in their day-to-day.
Meanwhile, only less than half (48%) of recruiters surveyed agreed with that sentiment.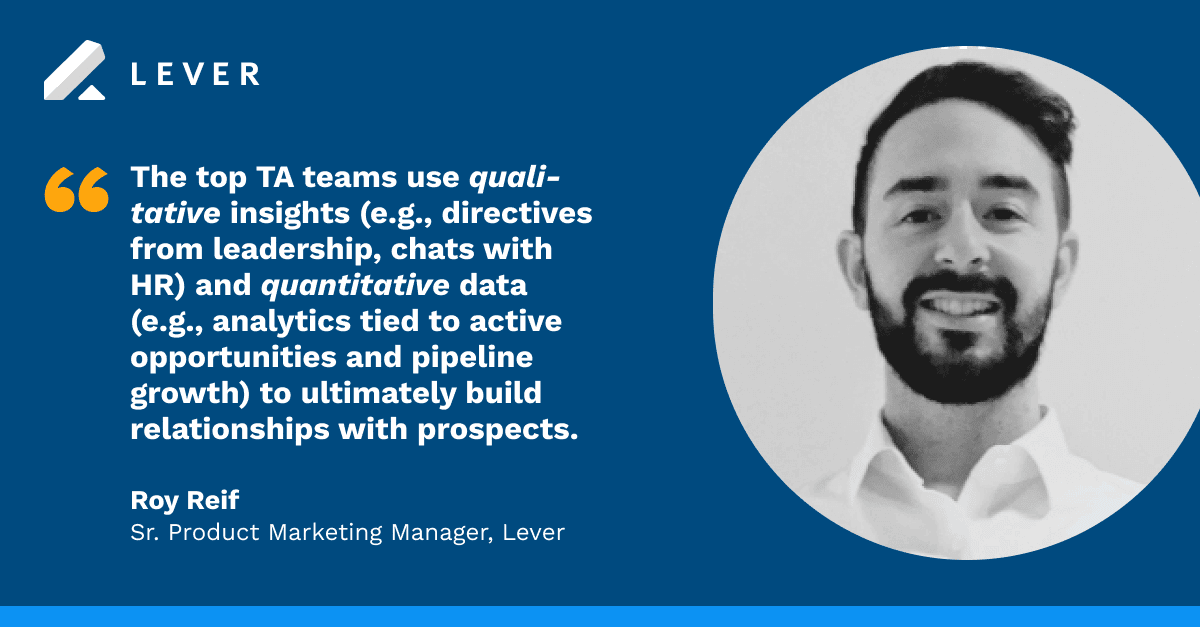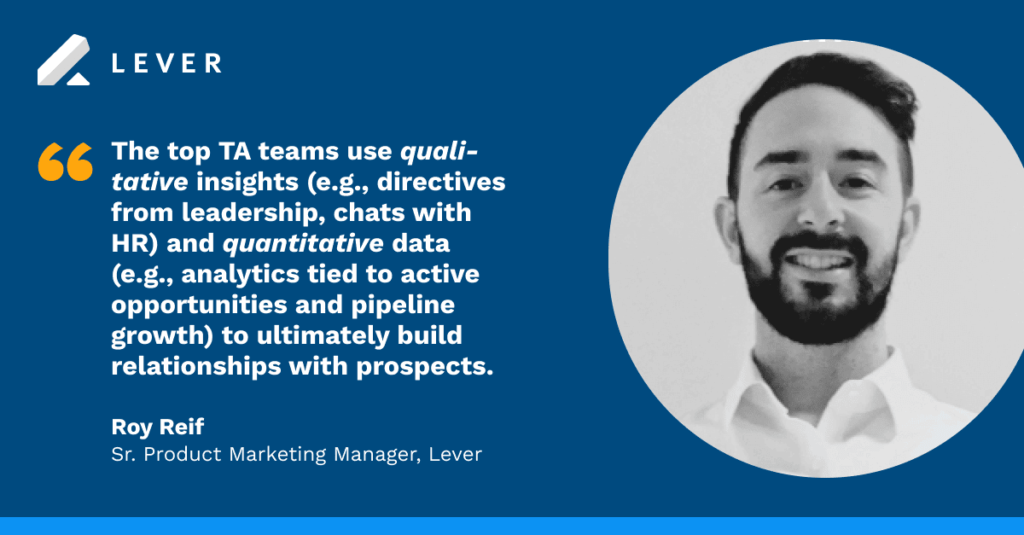 The modern talent acquisition playbook
That's why it's important for business leaders and on-the-ground recruiters to work in tandem on their respective TA playbook: to ensure they have the resources — technological and otherwise — to succeed day in and day out.
The talent acquisition blueprint used by leading brands today is essentially one that aligns with the talent relationship management (TRM) life cycle. In short, this entails:
Sourcing strong-fit talent via online and offline avenues: from job boards and career communities like LinkedIn and Glassdoor, to in-person events and college fairs
Nurturing passive candidates with timely, personalized emails and texts that promote open and upcoming roles to gauge prospective job seekers' level of interest
Interviewing engaged prospects along with other hiring team members (typically people managers who would oversee those individuals and would-be colleagues)
Hiring the top-choice candidates that all relevant hiring stakeholders collectively agree are the best options for available positions by sending formal job offers to them
Analyzing both distinct recruiting and hiring processes (i.e., those tied to a recently filled role) and historical talent acquisition efforts (i.e., those executed by the team over a period)
Rediscovering talent who were considered for prior roles but passed on for one reason or another or simply "abandoned" the hiring process (e.g., those who accepted another employer's offer)


Just a decade ago, the bulk of these activities were conducted with a mish-mash of disparate talent acquisition tools. Today, though, world-class recruiting orgs use complete TA suites with all of these capabilities baked right in.
As Lever Sr. Product Marketing Manager Roy Reif noted, C-suites must "ensure recruiters can thrive using the tools they have at their disposal and unearth actionable insights … to augment their work and improve key metrics."
That means investing in a hybrid applicant tracking-candidate relationship management solution that offers everything talent specialists need to succeed right out of the box and connects directly to other key recruitment tools.
The primary benefit of such a single source of recruiting and hiring truth?
No need to spend time going back and forth from one system to another. Instead, every talent team member can find the info and data they need from one centralized solution that features real-time insights tied to every candidate.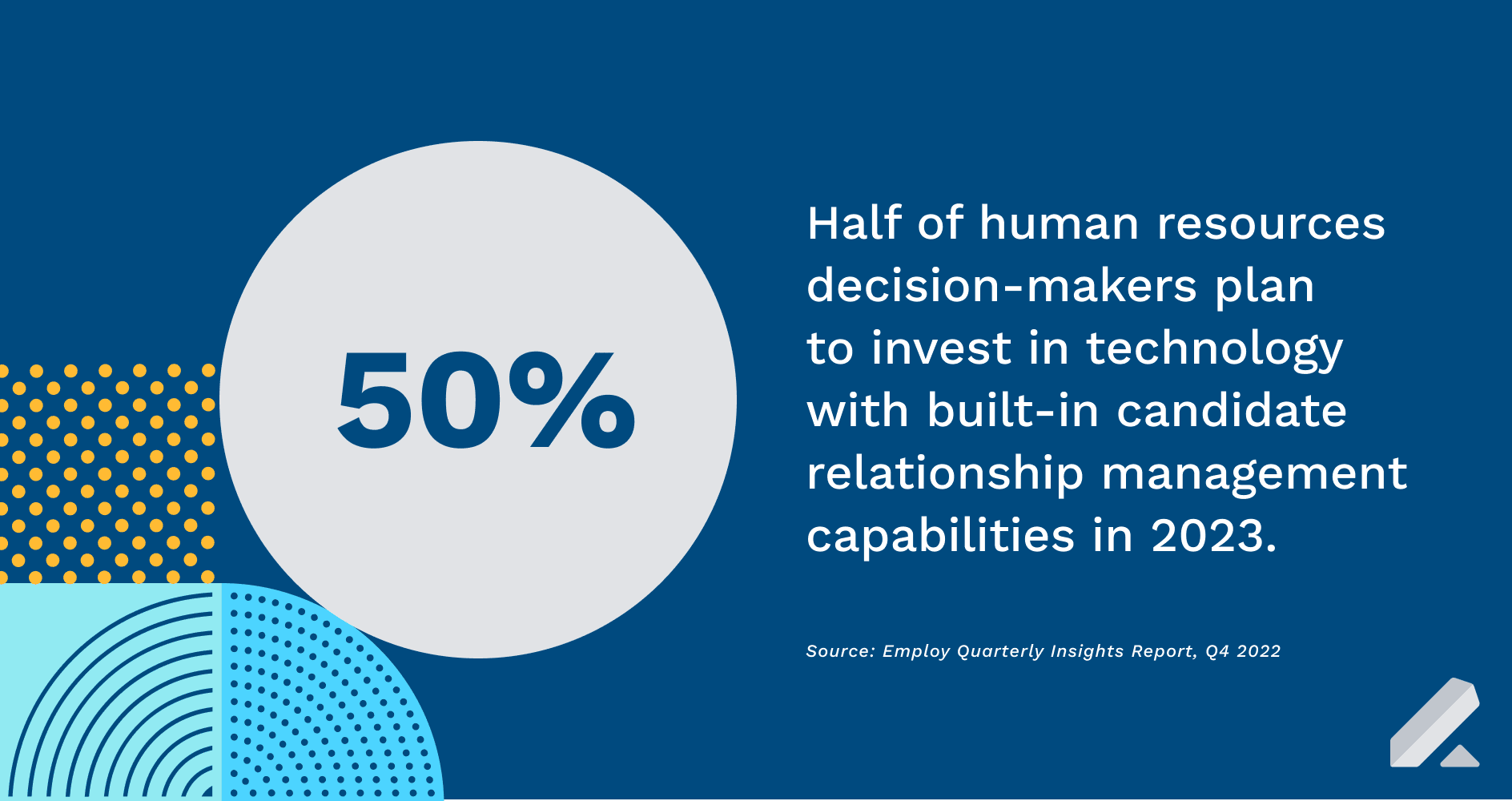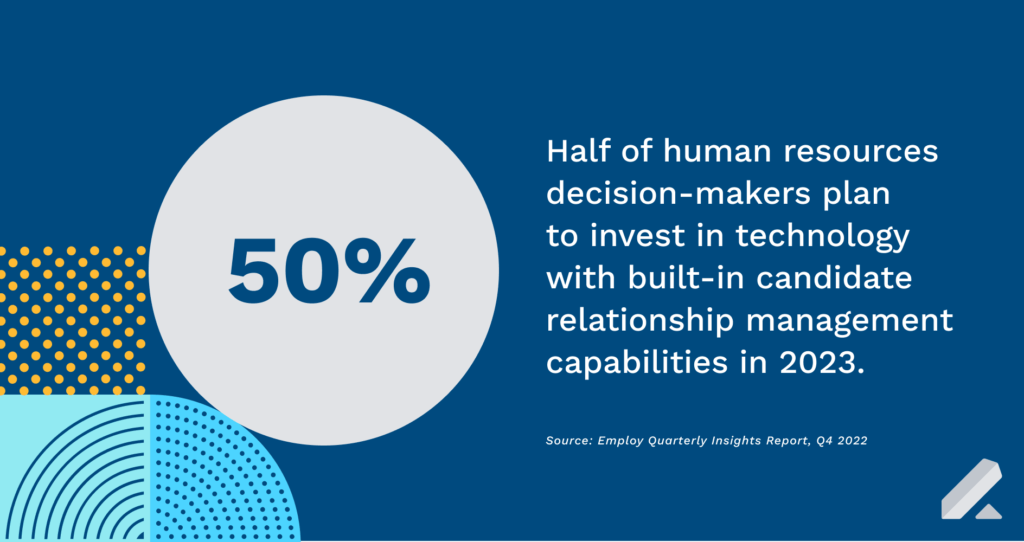 Get talent acquisition strategy insights
Having the right talent acquisition tech is one thing. Putting it to good use is another. That's why we put together an in-depth guide on the ideal talent acquisition process.
Our explanatory guidebook details:
The role talent acquisition managers, recruiters, and operations managers must play in helping to achieve their organizations' long-term growth goals (i.e., achieving headcount goals laid out by their leadership team)
How your talent acquisition team can work alongside your HR department to leverage recruiting and workforce analytics and hire people with strong skill sets and empower that top talent to thrive in their respective roles
Why working with human resources and hiring managers to build a framework to evaluate potential candidates and enhance the employer brand can lead to a more effective, scalable, and predictable recruitment strategy
As noted, you may already have a wealth of knowledge about what talent acquisition is and how it helps your business compete for and convert qualified candidates.
But, our guide — along with the countless other in-depth blog posts, eBooks, and webinars we publish here weekly — can give you even more insight into what it takes to build a best-in-class talent acquisition strategy today.
Check out our comprehensive guide today to learn how to craft an effective talent acquisition and recruitment approach that helps you find and hire the right candidates with ease.