Diversity, equity and inclusion (DEI) initiatives in the workplace have helped employers:
Attract top talent to fill key roles across their organizations
Craft a more inclusive leadership team, which sparks innovation
Ensure there is a concerted on pay equity for all roles and teams
Create an environment that leads to a sense of belonging
Provide more enjoyable workplace experiences for employees
Convince high-performers to stay at the company long term
Conversely, employers that lack concerted DEI initiatives to boost the diversity makeup of their employee base, mitigate biases across their orgs and provide equal opportunities for pay and growth (i.e., internal mobility, upskilling) for all employees see high churn and low retention.
(Regardless of how strong they think their business strategies and hiring practices are.)
Our latest State of DEI report even found 49% of businesses have trouble retaining workers. That's because many of them lack dedicated DEI goals and programs.
Ada DEI & People Ops Lead Kareen Onyeaju said culture-shifting DEI initiatives (e.g., ones that offer mentorship programs and learning and development opportunities) impact companies' ability to hire and keep top talent.
"Your potential to attract diverse, top-tier candidates relies on enhancing the culture on the inside," Kareen wrote for BenefitsPRO. "And this has a direct effect on how your employees interact with your customers and … how your business is perceived by the outside world."
The big question for your business: What specific DEI initiatives can help you attract and retain high-quality talent and build a world-class org people are proud to work for?
The answer is unique to each and every company operating today. But, there are certain tried-and-true approaches that many orgs implement to enhance their DEI efforts.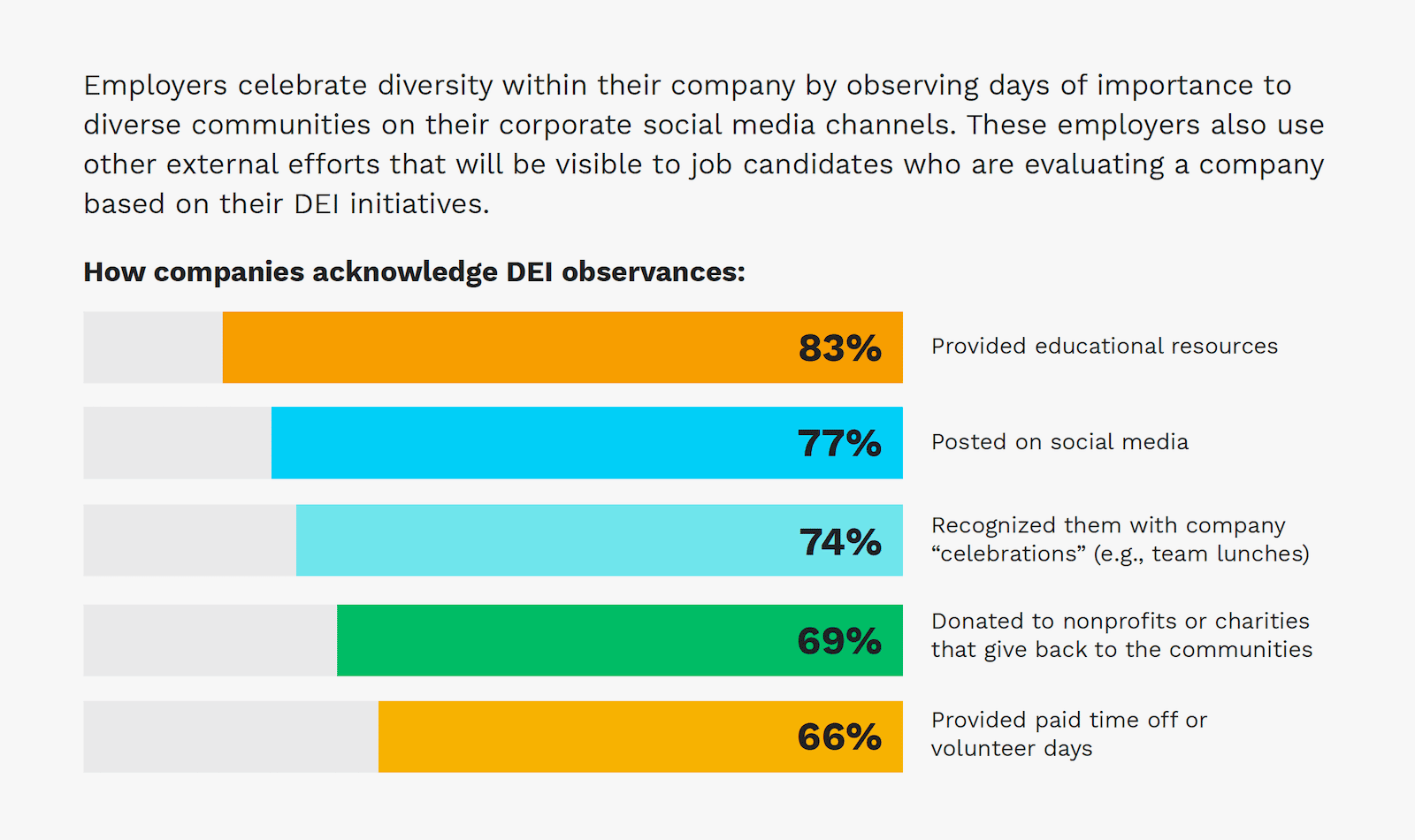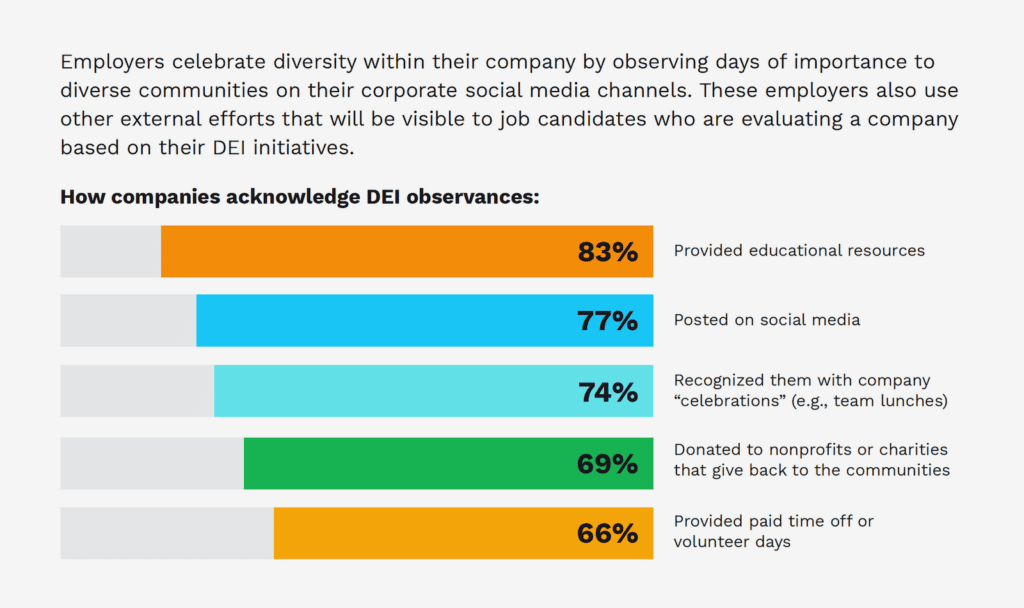 5 DEI initiatives that can positively impact both your company culture and bottom line
The term "DEI initiatives" can be deceiving. It implies the need for a dedicated person or group of people whose main job is to improve diversity, equity and inclusion in the workplace.
The reality is you don't necessarily need one or more full-time DEI pros. (Though it is certainly worth exploring the benefits of developing a DEI council at your org. It may, in fact, prove to be helpful to have dedicated staff members who help own and execute your DEI programs.)
It may be true that HR "lays the foundation of a sustainable, multi-faced 'why' for transforming organizations into inclusive by design, dynamic, and human-focused systems," as HR expert Ludmila N. Praslova recently wrote for SHRM.
That said, it's really everyone at your business who plays a pivotal role in creating a more equitable and inclusive environment for employees and building a genuinely diverse workforce.
Here are five DEI initiatives HR/TA experts discussed at Lever Accelerate you can implement to make your org a highly diverse, equitable and inclusive one candidates want to work for.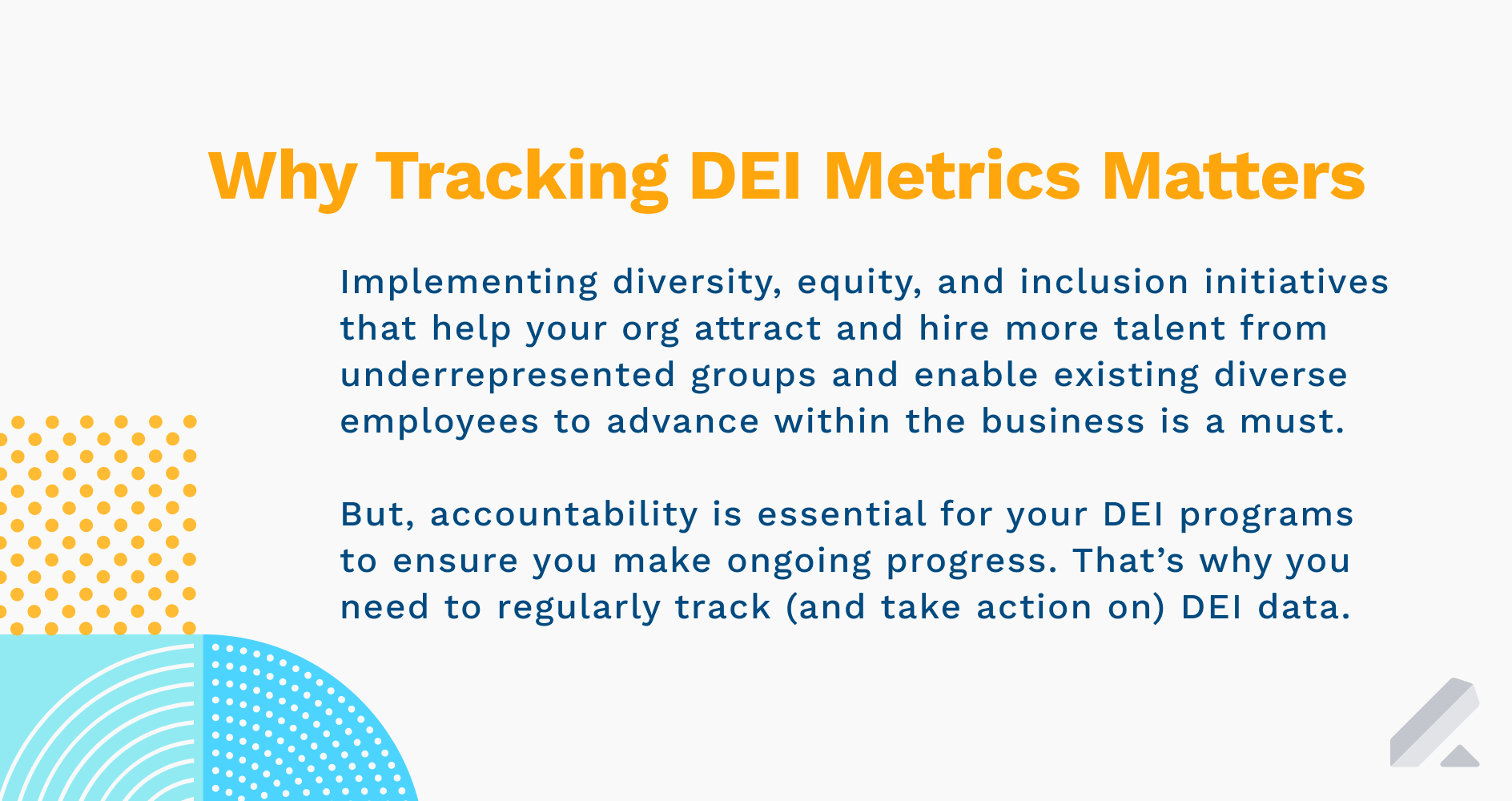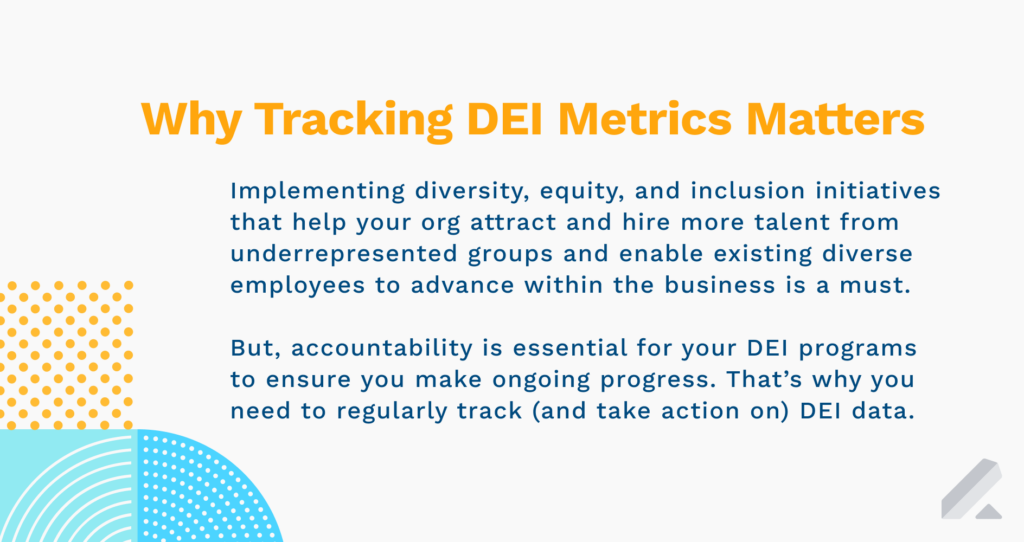 1) Establish clearly defined DEI goals
Basis Technologies Director of Talent Acquisition Michelle Michael noted how her company built a DEI "task force" to define diversity, equity and inclusion goals.
These goals give business leaders the structure they need to best contribute to DEI-centric objectives that impact company culture, the employer brand, and revenue growth.
"It's more than just a passion [for DEI]," said Michelle. "It's a skill set. It takes work, right? A leadership-level DEI practitioner and team is absolutely necessary to move the work forward in a sustainable and long-term way."
(BONUS: Check out our blog for more insights on DEI objective-setting for your business.)
2) Revisit your recruiting and hiring process
Attentive Chief of Staff, Recruiting Cierra Tavarez said her org diversified the makeup of its talent pool amid the pandemic, when the business, unlike others, picked up hiring.
"The way that we were thinking about diversity, equity, and inclusion when we were in a period of hyper-growth was really that we have goals to hit," said Cierra. "And that created just a natural opportunity to diversify our pipelines from a recruiting perspective."
"That's created just sort of a natural flow of underrepresented candidates into our interview processes and getting in front of diverse opportunities," Cierra added.
(BONUS: Our guide reveals how leading orgs develop a highly diverse talent pipeline today.)


3) Mandate DEI training for all employees
Diversity training entails educating employees — from the C-suite to entry-level workers — about key terms, concepts, trends and best practices tied to DEI.
Michelle said diversity training raises awareness of barriers that deter companies from driving DEI efforts forward, particularly around recruiting diverse candidates.
"We try really hard to make sure candidates are having an equitable experience … throughout the interview process," Michelle said during our DEI Accelerate session.
"For us, this means giving all candidates who interview with our teams a resource guide to prep them," Michelle added. "It also includes prep and resources on virtual interviewing, interviewing best practices, and background on our company."
(BONUS: Discover how your company can implement diversity and inclusion training today.)
4) Create a culture of inclusivity with ERGs
Highly diverse companies have many people from historically underrepresented groups.
This diverse workforce establishes psychological safety among workers and encourages them to form or join employee resource groups (ERGs).
These ERGs can be for staff members of different genders and sexual orientations, individuals with certain disabilities, and members of specific ethnicities or races.
Cierra said ERGs can be created for those with other traits or interests, like ones for working parents and those passionate about certain business fields.
For instance, Cierra noted how people of color and women in engineering at her org who join ERGs can "have a reasonable expectation that they are joining a space where they are not going to be the only one who looks like them in a room."
Cierra added it's best to "devote resources to safe spaces for shared experiences."
(BONUS: Get answers to your questions about ERGs and other important DEI-related topics.)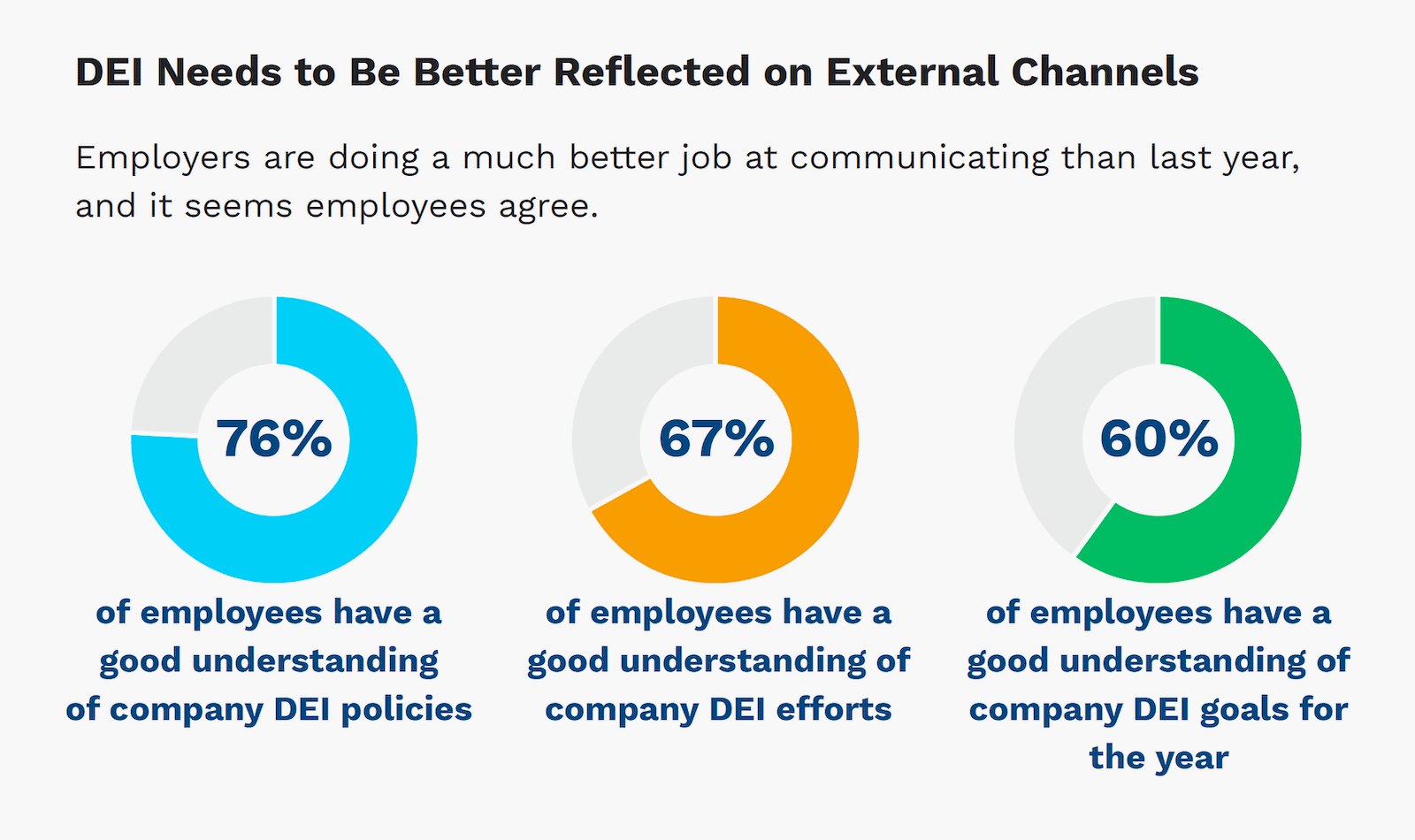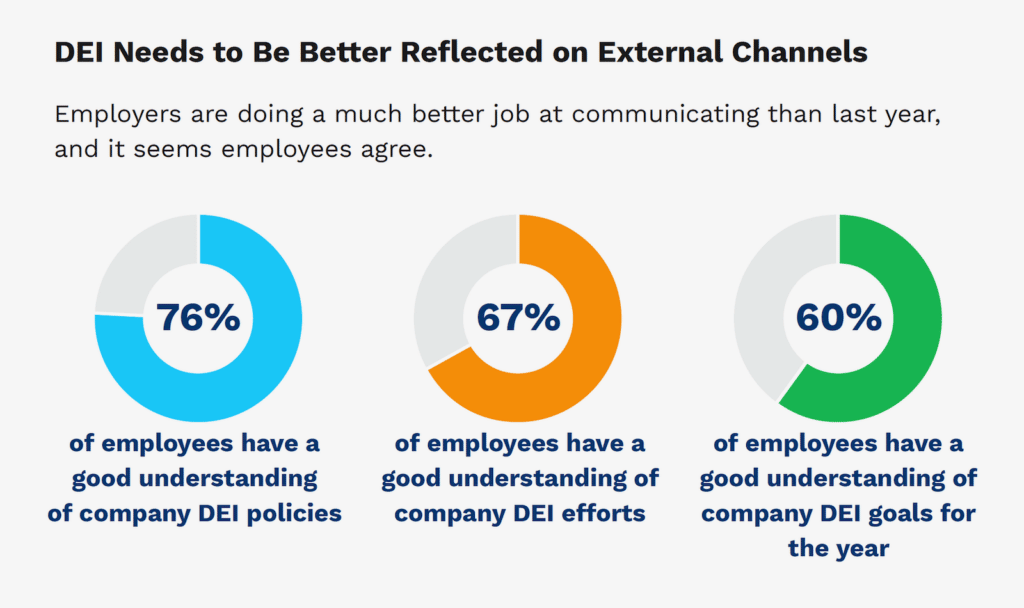 5) Build DEI-centric career mobility paths
At a high level, many companies know the need for concerted career mobility programs that give all employees a path to move into new positions on or outside their teams.
At a more granular level, orgs with strong DEI initiatives also know they must ensure equitable lateral and upward mobility for their workforce so people of diverse backgrounds have equal opportunity to grow internally.
Michelle said proactively engaging tenured diverse employees about moving into new roles can show newly hired diverse employees there is a viable career-progression course they can chart within the business.
Promoting diverse talent means you're "more likely to foster an internal environment where people of color, people of underrepresented backgrounds are likely to thrive," said Michelle.
"That's because they see people in the position where they want to be."
Discover the roles dedicated DEI initiatives and programs play in employee experience. Download our in-depth State of Diversity, Equity and Inclusion Report today.