Actions speak louder than words. This idiom is often applied to many personal and professional situations. An increasingly common use of the popular phrase relates to companies' efforts around diversity, equity and inclusion (DEI).
Many business leaders now (thankfully) see the benefits of building a diverse workforce by implementing equitable and inclusive hiring practices.
However, some of these executives' words ring hollow. That is because they have yet to take the requisite steps to make meaningful, long-term DEI progress.
"Organizations trying to implement diversity and inclusion initiatives often go for a temporary solution, failing to embed the core qualities that make an equitable workforce," said Ernst & Young Lane4 Senior Research Consultant Diani Wilmot.
Half-measures don't cut it. Our 2022 DEI Throughout the Employee Lifecycle report is proof.
The research shows roughly three in five employees think their C-suites care about making legitimate, lasting progress with DEI and transforming their businesses for the better.
But, the data also shows employees believe more can be done:
About two in five (39%) employees said their companies think about DEI as a "checkbox."
Half of employees said they don't think their orgs care about making headway with DEI.
One-third of employees said their businesses could put in more effort to enhance DEI.
In this guide, you'll learn the many pros of developing a diverse workforce, who at your company must be involved in your diversity recruiting and hiring (hint: not just talent acquisition) and how to use data to continually improve your DEI programs and initiatives.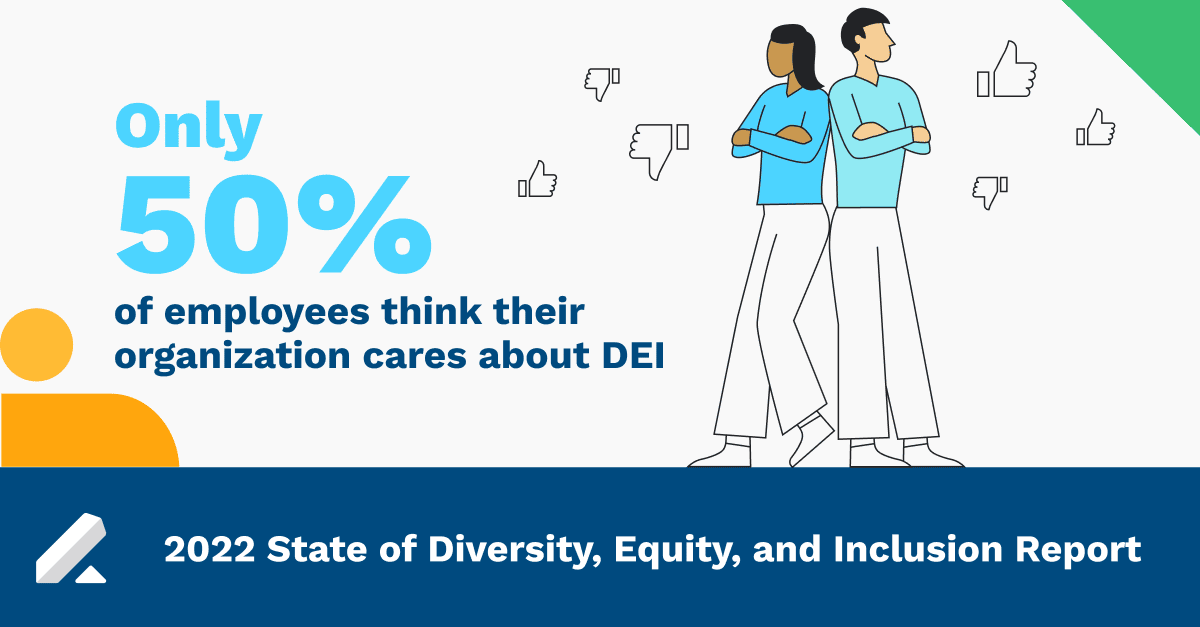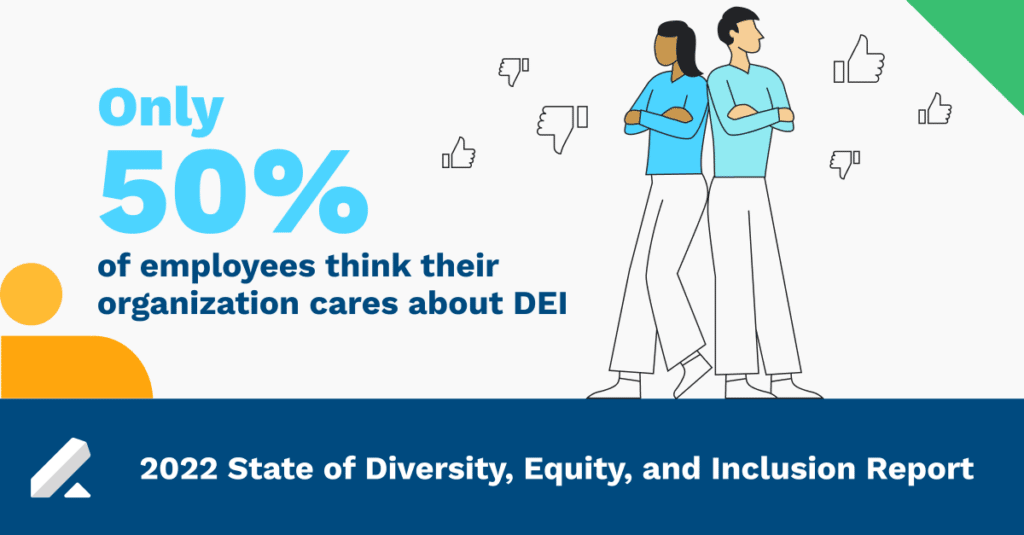 The benefits of a diverse workforce for your business
A 2022 Det Norske Veritas survey found nearly nine in 10 (88%) business professionals said "a more diverse company is also a better-performing company." And they're not wrong.
Recent McKinsey research shows that orgs with diverse teams company-wide outperform businesses deemed less diverse in several key areas — notably with financial performance.
However, there are several other benefits to prioritizing diversity in the workplace beyond a better financial outlook. Here are four specific advantages DEI provides employers.
1) Your diverse company affords equal opportunity and a safe working environment
Offering fair pay, recognizing employees for a job well done, and creating a safe and accepting work environment are how truly diverse companies thrive today.
Improving these facets of their workplace culture enables diverse orgs to attract candidates from various backgrounds who recognize these businesses' dedication to DEI and want to work in warm and welcoming conditions (as opposed to employers that don't offer them).
"DEI is much more than implementing mandatory trainings, awareness campaigns, new policies," said Employ Director of Diversity, Equity, & Inclusion Richard Butler.
"Equity in DEI means creating a safe space to share perspectives and respect everyone's differences and needs so that the employee can reach their fullest potential," Richard added.
"With equity, the 'whole person' will show up and contribute."
2) Your employees from different backgrounds offer unique business perspectives
People of color, of different sexual orientations and ages, and who have had unique life experiences all bring something uniquely valuable to the table for their employers.
This heterogeneous mix of professionals heightens diversity of thought at their companies — something that leads to more intelligent ideation by these individuals and greater innovation in the long term.
"People from different backgrounds bring personal experiences and distinct perspectives to an organization that strengthens the overall team," said Richard.
"Remember that diversity is more than just race or gender," Richard added.
"It's also about different opinions that lead to questions that may not otherwise be asked — for instance, ones that can lead to new or improved product design."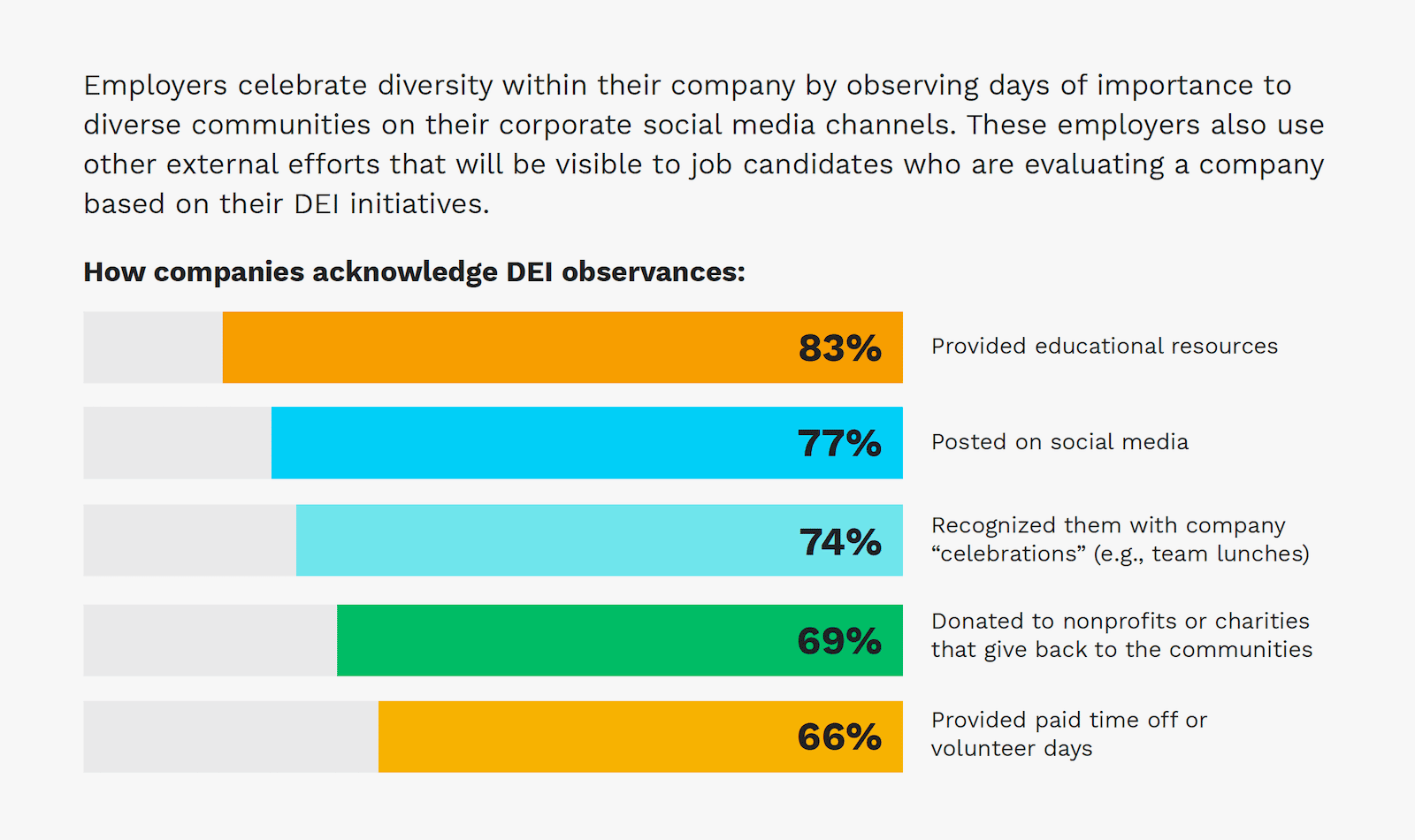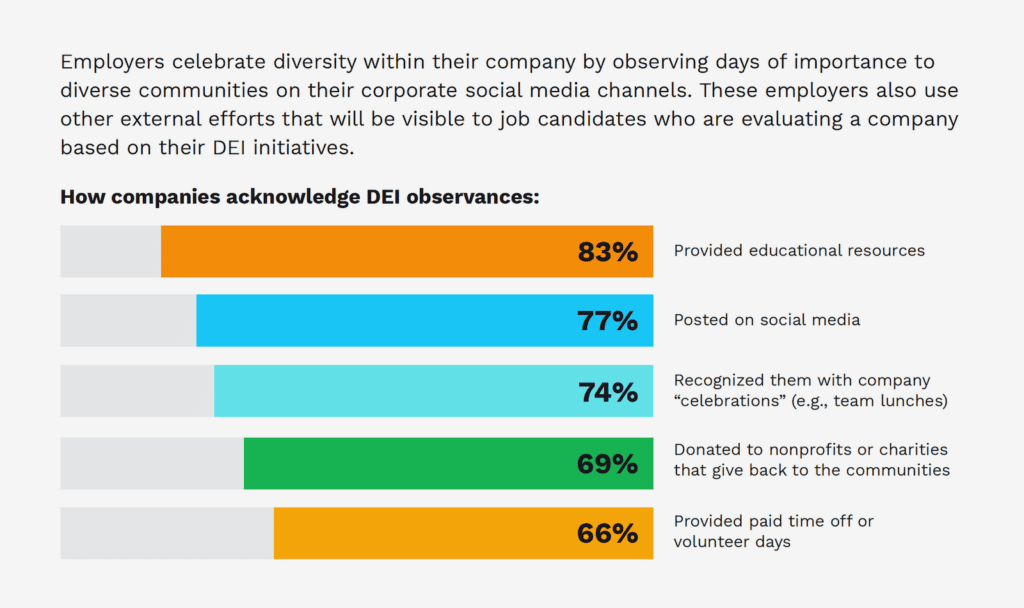 3) Your diverse and inclusive workplace leads to a stronger company culture
Our 2022 State of Diversity, Equity & Inclusion report found that 57% of employees ask their employer about the role DEI plays in their company culture when interviewing.
What's more, the 2022 Ernst & Young US Generation Survey found 76% of professionals said they'd quit their jobs if their companies didn't have any DEI initiatives in place.
It's clear many candidates will only consider accepting an offer from a prospective employer if they have a strong, diverse culture where every employee enjoys working.
Building a diverse workforce invariably leads to a robust company culture, high workforce productivity levels and regularly improved employee satisfaction and well-being.
"If workers feel like they belong, organizations will see bottom-line benefits: better job performance, lower turnover, more innovation, and fewer sick days," said Richard. "If you are a large organization, you will see substantial financial savings because of your inclusive culture."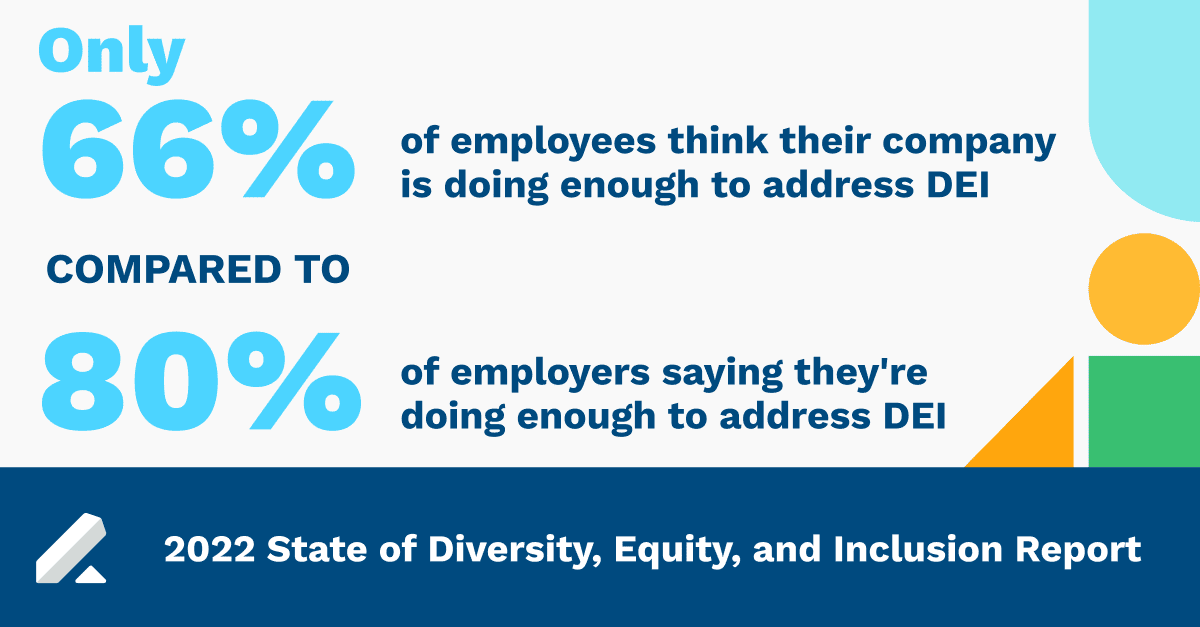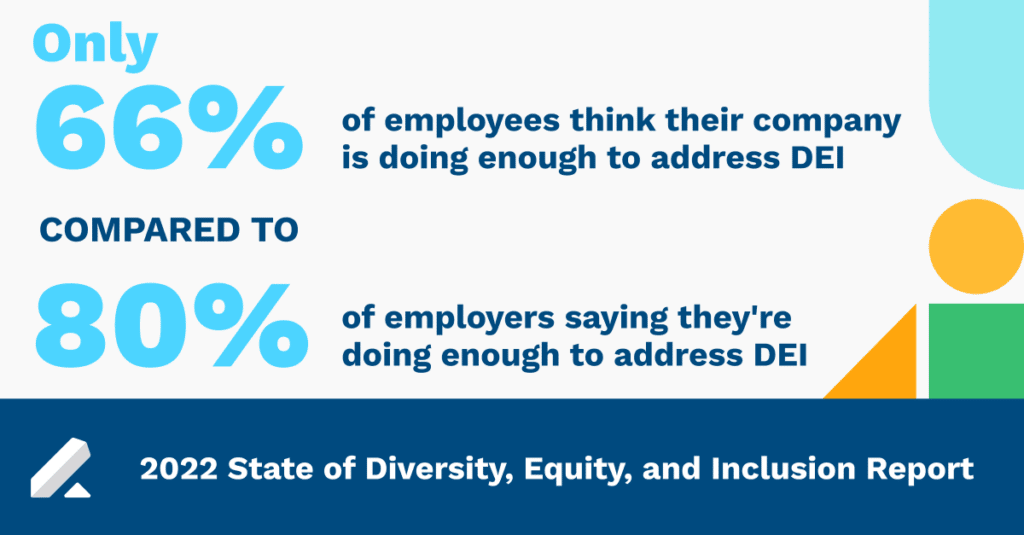 4) Your unified focus on diversity enhances your employer brand and reputation
A concerted focus on DEI helps business leaders and decision-makers avoid the mistakes of their predecessors and peers at other orgs.
Making an effort to course-correct helps leadership teams accomplish a few notable goals:
It puts them on the right path to correct the negative connotations associated with their companies' commitment to diversity, equity and inclusion
It makes employees proud to work for a business that acknowledges DEI is important
It enhances the brand reputation and positions them favorably against other orgs that don't have any initiatives or ambitions tied to diversity, equity and inclusion progress
For many businesses that have constructed a diverse workforce, this strengthened brand reputation leads to a larger customer base and revenue-growth opportunities.
This diversification can also entice more active candidates to apply for open roles and more passive candidates to respond to recruiters' outreach.
"Your business will appeal to a deeper, more diverse candidate pipeline," said Richard.
"When employees feel as though their experiences have value, they will feel included versus excluded. Also, a diverse culture will increase employee engagement."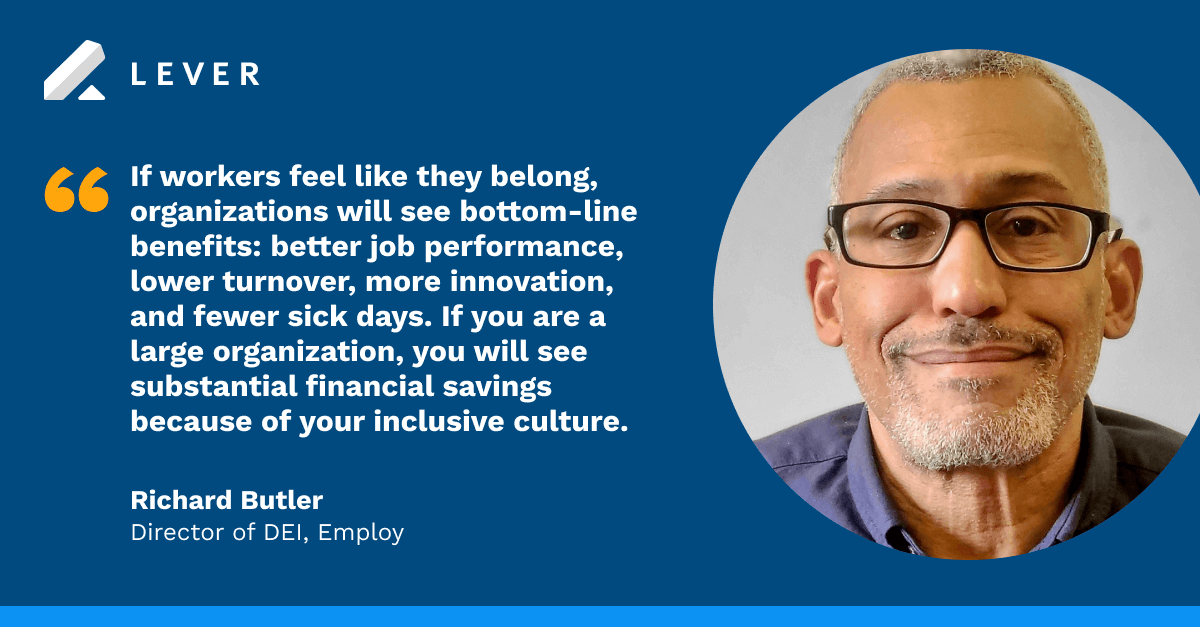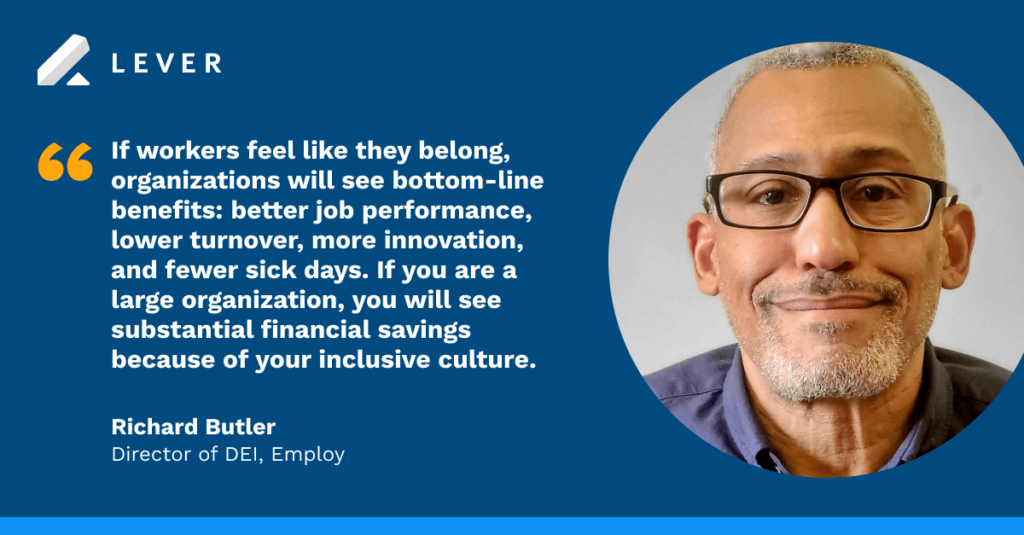 Creating a truly diverse workforce as a business
Hiring is already a company-wide initiative for your business.
Many individuals — from executives to entry-level employees — play distinct roles in the recruitment process. Your collective efforts ultimately help hiring managers extend offers to and hire the most qualified job seekers.
This same unified approach to hiring also applies to building a diverse workforce for your business.
Paradigm Strategy Sr. Consultant Pin-ya Tseng said a common challenge to implementing a successful diversity hiring strategy is ensuring each hiring stakeholder has a clearly defined role regarding DEI.
"Retaining diversity throughout the hiring process is often a challenge," Pin-ya said in her Lever Ascend session. She added each decision-maker and influencer involved with diversity hiring must ask themselves, "How do we ensure each step is equitable and inclusive?"
Here are the internal stakeholders who need to answer this question so they can individually contribute to your org's shared goal of increasing diversity across teams.
Executives' role: Sponsoring and supporting DEI programs — not just by allocating budget
Sheryl Sandberg & Dave Goldberg Family Foundation VP of People and Culture Katrina Jones noted at Lever Accelerate22 that DEI "is not just a single line item" in a spreadsheet.
"[DEI] has to be everywhere: from a budget perspective, from a strategic perspective, from a tactical perspective," Katrina added. "Because the danger is, if it's siloed, if it lives simply in one place, and it is at risk of getting cut or being less effective."
Any successful DEI programs — including efforts to build a more diverse workforce — start at the top. The primary decision-makers within your org must work together to make DEI a true priority that receives meaningful support beyond mere budget allocation.
Executive leaders who must drive DEI initiatives include (but aren't limited to) the following:
CEO and CRO/CFO
Our 2022 State of DEI report found that 44% of employees said they didn't have buy-in, financial or otherwise, from their executive teams to develop DEI programs.
These C-suite members must sign off, earmark money for, monitor the progress of and provide ongoing support for DEI initiatives.
The backing of these executives is a must to establish DEI initiatives from the ground up and set HR and talent acquisition to best attract and retain diverse talent.
DEI committee director
A DEI committee (or DEI council) is a diverse group of junior and senior employees who strategize and carry out DEI-related activities run by your CHRO or a dedicated DEI Director.
The committee leader manages the group and helps them with various activities, including forming employee resource groups (ERGs), identifying social causes the company can support and ensuring underrepresented groups at the business are heard.
Talent acquisition leader
Your TA leader oversees recruiters' daily efforts, including the number of diverse prospects added to the company's candidate pool and advanced in the recruitment cycle.
Your talent acquisition specialists know they must source job seekers from a variety of backgrounds to help build a more diverse workforce.
However, talent leaders must hold their recruiters accountable for diversity recruiting numbers — for the company at large and each business unit.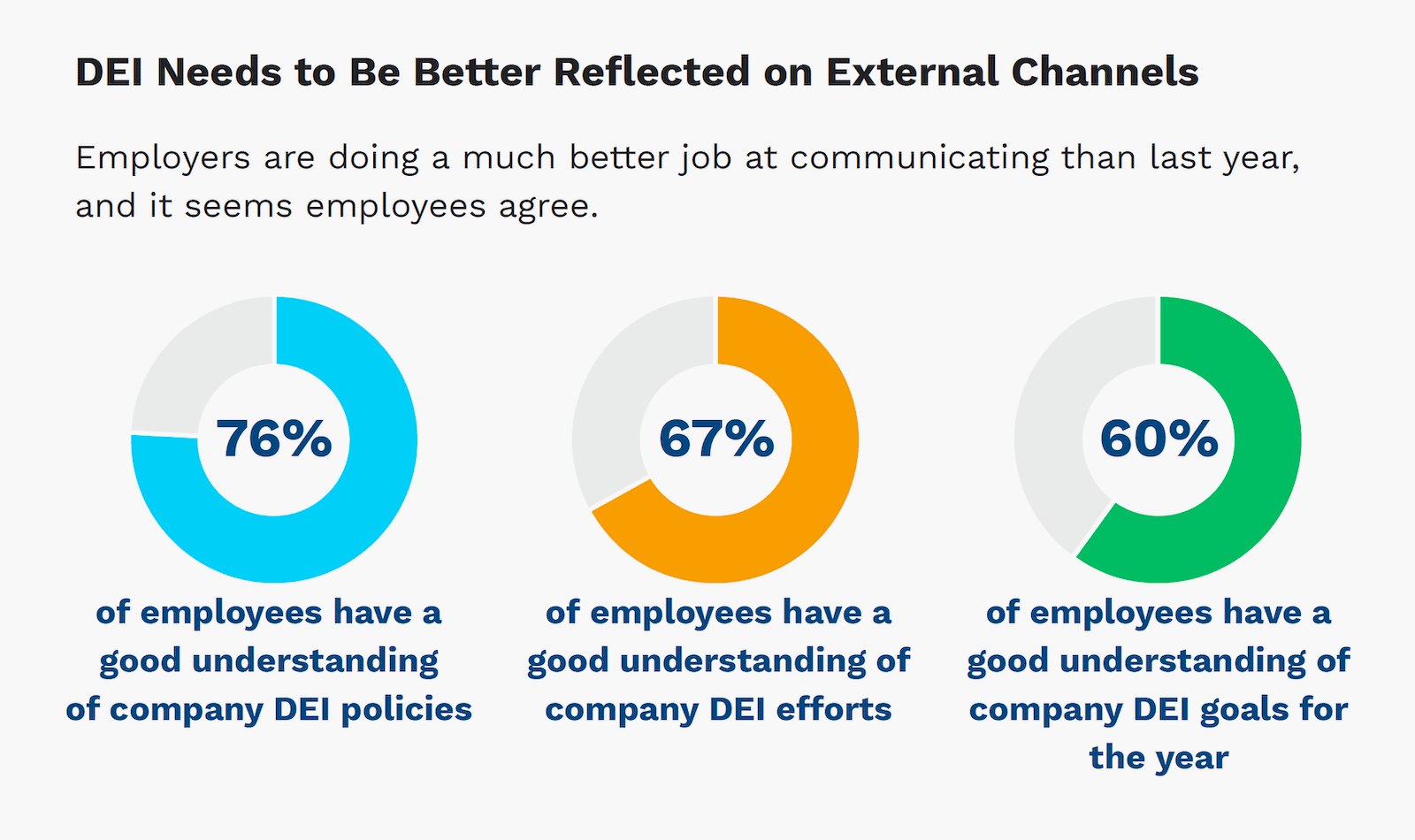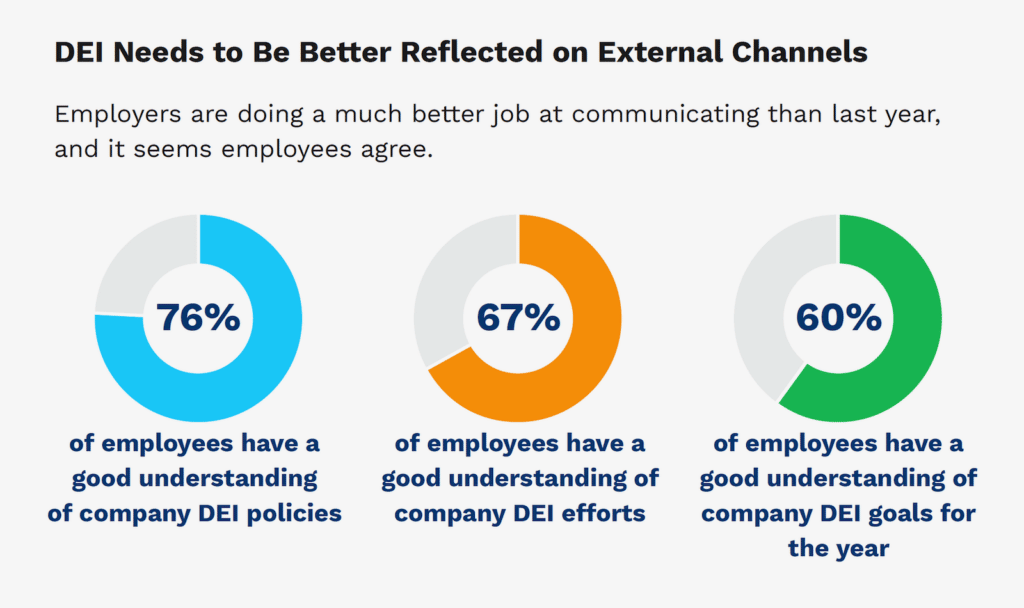 Recruiters' role: Engaging diverse talent and assigning them to active "opportunities" across the business
Speaking of recruiters, your company's talent acquisition specialists likely test different sourcing avenues to find diverse candidates, ensure inclusive language is included in job listings and nurture messaging, and tackle other similar tasks to play their part in developing a more diverse workplace.
However, one TA-related task that often falls under the radar for recruiters is connecting critical tools that can aid their diversity sourcing, nurturing and interviewing activities.
Many Lever customers chose our TA suite to support their diversity recruitment initiatives.
LeverTRM syncs with several DEI tools that empower recruiters to better identify and engage diverse talent and evaluate the diversity of their talent pools. These tools include:


HR & People Managers' role: Helping diverse employees thrive and empowering them to grow internally
The talent relationship management (TRM) lifecycle encompasses more than recruiting and hiring. It also involves employee onboarding and experience to ensure all members of one's workforce — including diverse employees — are engaged, satisfied, and have growth paths.
That's where human resources and people managers come into play.
Team leaders and HR generalists must work together to ensure diverse employees are set up for success from day one and given ample opportunities to advance professionally (i.e., learning new skills, expanding knowledge in existing focus areas, taking on new roles).
"What happens after [diverse hires] get in the door?" said Katrina. "Are they advancing through the company? What career opportunities do they have? What experience do they have?"
Katrina added that asking these questions and maintaining a big-picture focus on diversity in the workplace is how HR and people managers can create a template for diverse employees to take their careers in their desired direction and want to stay at their companies.
Consider learning and development (L&D). Many diverse professionals increasingly want their employers to offer L&D programs to help those employees upskill and reskill.
However, a recent Josh Bersin Company study found 75% of businesses that offer L&D curricula for employees don't factor in DEI in those educational and upskilling programs. That means these companies don't ensure equal access to educational and advancement opportunities for diverse employees
Your HR team and people managers must work together to ensure every workforce member, including employees of underrepresented groups, can learn new skills and gain new expertise to enhance the output of their current jobs and broaden their future career track.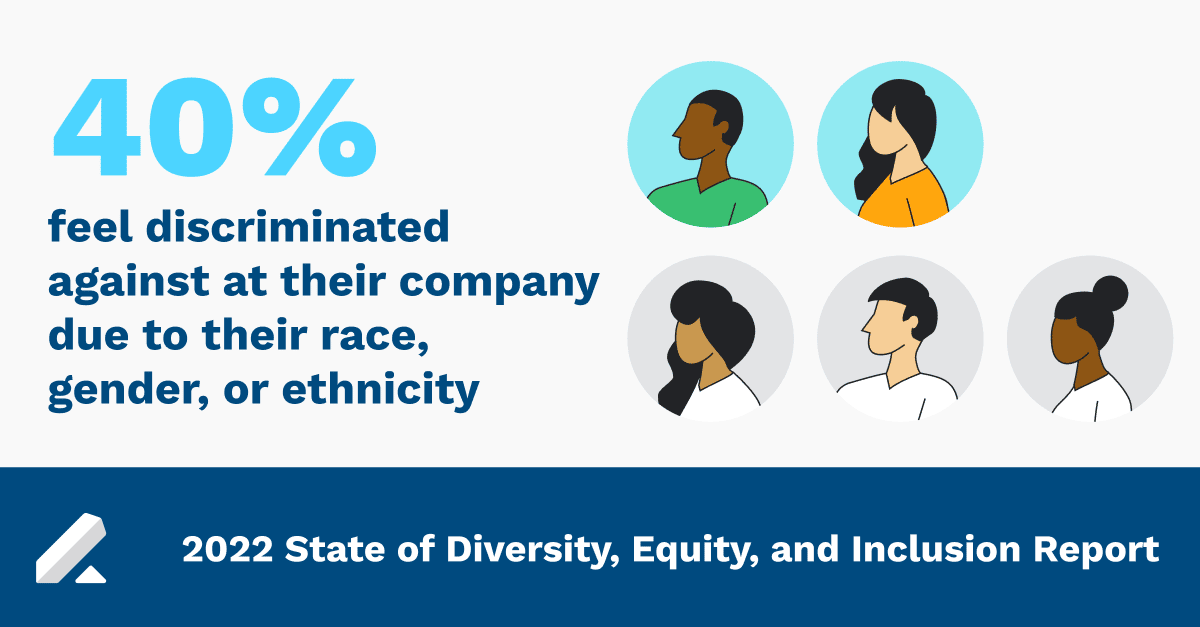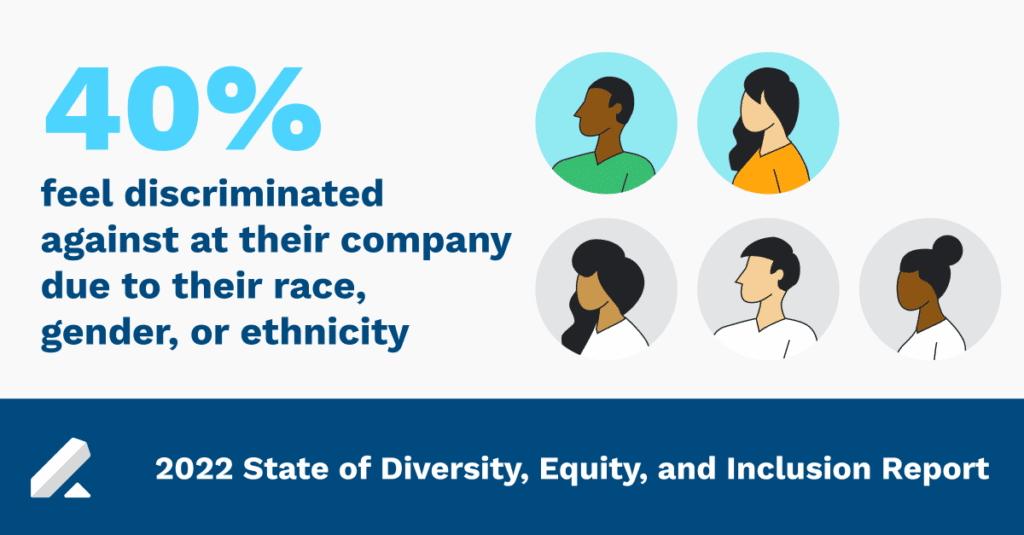 Improving diversity in your workplace with data
"The work of DEI is never done," Ellavate Solutions CEO Ella F. Washington wrote for Harvard Business Review. "Without continued vigilance, even an organization that has designed systems and structures to remain sustainable through change can easily slide backward."
Your efforts to build an equitable, inclusive and diverse workforce never stops.
New data will emerge daily that can aid your org to make continual strides with DEI.
It's vital that each DEI stakeholder mentioned above leverages data at their disposal to adapt and advance your diversity, equity and inclusion initiatives.
Here are two key ways to use diversity, equity and inclusion data to convert more candidates, keep diverse talent at your business, and continue to improve your company culture.
1) Analyze diversity recruiting and hiring data
Leading talent acquisition teams collect considerable amounts of data associated with their recruiting and hiring. These teams unify data tied to requisitions, postings, offers and other TA activities that help them gain a holistic view of their full-cycle recruiting strategies.
An increasingly important facet of the talent acquisition process teams pay close attention to — and work diligently to improve — is the number of diverse candidates added to their database, engaged for open roles and advanced to the interview process.
For example, Lever customers can include diversity questions on job postings for applicants to fill out and send diversity surveys to sourced prospects after their recruitment cycle ends.
Answers to these survey questions then populate in the Diversity dashboard in Visual Insights, our built-in, easy-to-use talent analytics solution.
Using our complete ATS + CRM solution, talent teams use this DEI survey data — which is dynamically added to candidates' profiles — to discover the:
Diversity demographics of active and passive candidates
Nurture campaign engagement level of diverse prospects
Current pipeline stage of diverse leads by role/opportunity
Number and percentage of diverse hires ultimately made
A great example of leveraging DEI data is Loopio. The company's TA team uses Visual Insights daily to discern whether it's achieving its KPIs around diversity pipeline growth.
"We're constantly looking at the source of hires and how it intersects with our goals around representation," said Loopio Sr. Manager of Talent Experience Yeniffer Pang-Chung.
Knowing how (or whether) to take action on this data requires both collaboration (i.e., input from other DEI and hiring stakeholders on the analytics) and context (i.e., how recent diversity recruiting and hiring conversion rates compare to historical numbers from years past).
The point is transformational TA orgs constantly look at their diversity data to ensure they continue building a highly diverse workforce.


2) Ensure internal mobility options are equitable
As noted, equitable L&D programs are essential to empower diverse employees to move laterally into new roles or get promoted into higher-level roles within your business.
But you can't improve what you don't measure.
That means your DEI committee and C-suite must routinely analyze internal mobility data to ensure all employees, including diverse workforce members, take advantage of the career advancement opportunities made available to them.
If data shows many employees from different backgrounds and across most, if not all, teams moved into more senior positions (from entry-level to associate-level, director-level to C-level, etc.) in, say, the last year, you can chalk that up as a DEI win for your org.
If data shows few diverse employees were promoted into new lateral or senior roles during this time, DEI stakeholders must work together to adjust their mobility program and ensure fairer and more equal opportunities for these professionals to grow internally.
Companies often use employee feedback data to augment their internal mobility programs — and ensure their perception of said programs aligns with those of their workforce.
Many C-suites have blind spots regarding their DEI initiatives. These executives often assume they have done enough to pave the way for diverse employees to elevate into more rewarding and higher-paying roles that align with their preferences for their preferred type of work.
However, quarterly employee feedback surveys (i.e., qualitative data) could reveal lower enthusiasm and confidence in a company's mobility program.
Members of underrepresented groups may feel they don't receive adequate communication when new roles open up or their managers aren't as proactive as they could be in connecting them with L&D courses needed to switch positions.
Whatever your data reveals, take action on the insights regularly to:
Empower members of underrepresented groups across to realize their career aspirations
Nurture and maintain a DEI-focused company culture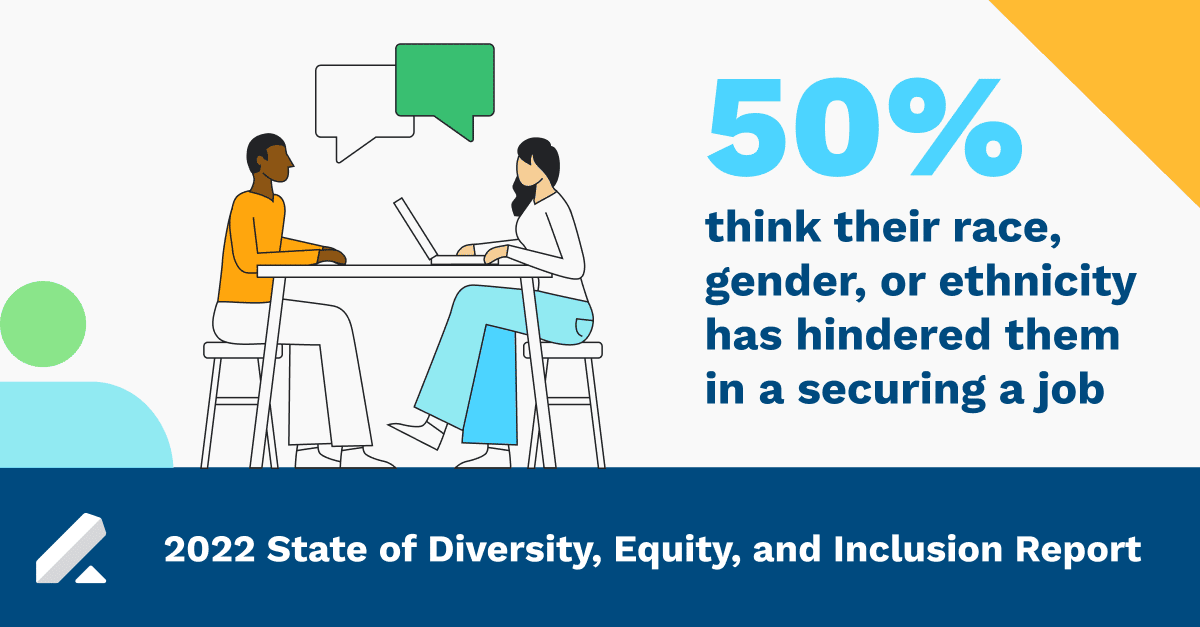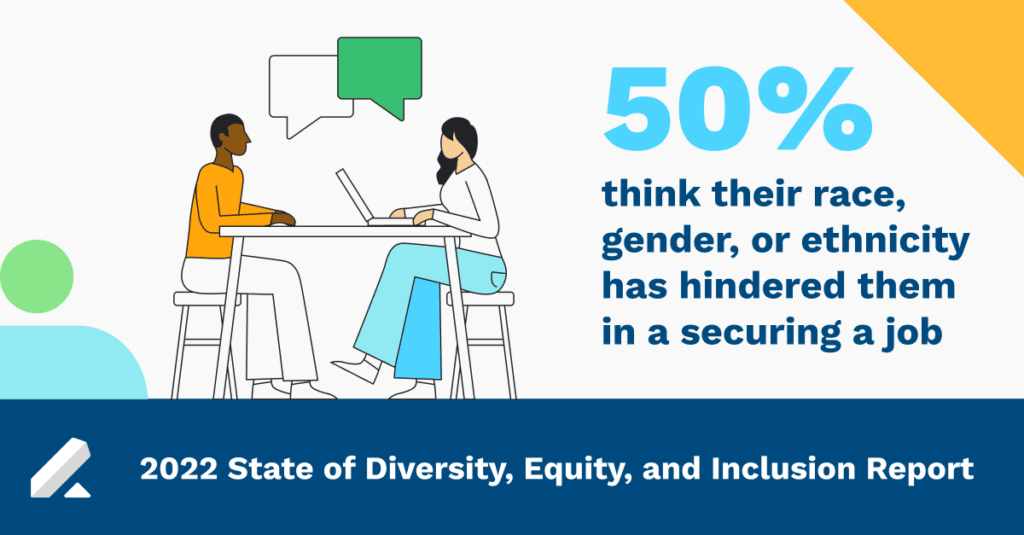 DEI resources to help your organization succeed
"Creating a culture of inclusivity requires an organization to intentionally focus on real-world problems with real-world strategies," said Richard.
"Sustainable positive organizational change can only occur through education, self-reflection and continuous DEI training and conversations at all levels," Richard added.
One way to expand your DEI education, develop robust training materials and build a truly diverse workforce is to leverage helpful resources that offer practical advice, insights and best practices.
Here are five DEI resources that can enhance your diversity recruiting and hiring and help you continually optimize your ongoing diversity, equity and inclusion initiatives.
2022 State of Diversity, Equity and Inclusion Report
Our latest DEI report captures the successes companies have realized with their diversity, equity and inclusion efforts. Additionally, the report unearths the yet-untapped opportunities ahead of them to further enhance their DEI programs and build more diverse workforces.
3 Diversity Recruiting Strategies to Inspire Your Team
Our in-depth blog post reveals three specific diversity recruiting strategies implemented by Lever customers in recent years that help them attract and retain diverse talent and bolster their employer brands.
How to Pursue Inclusive Hiring Across Your Organization
Our joint webinar with Checkr and Namely focuses on how employers can develop more inclusive hiring practices that help them provide a better candidate experience and ensure that prospects have enjoyable recruitment cycles.
4 Steps to Reboot Your Company's DEI Hiring Strategy
Three veteran talent acquisition leaders share what works at their organizations to enhance and accelerate their DEI hiring strategies. These TA directors also offer expert advice to help other TA teams elevate their diversity hiring efforts.
Learn How to Keep Your Diversity Goals on Track
Setting DEI goals is great. But how can you and other leaders at your business hold one another accountable regarding your DEI objectives? Learn how you can stay track and achieve your desired results with your diversity, equity and inclusion initiatives.
Building a diverse workforce requires a coordinated effort from your entire company.
To ensure you hire many diverse employees, your talent acquisition team needs tech that enables them to source and engage qualified candidates from different backgrounds.
LeverTRM can support your efforts to provide an inclusive and equitable recruitment experience to candidates, better understand the state of your DEI efforts and develop a diverse workforce that helps your org grow and innovate. Schedule your demo today.