Just as your talent acquisition team requests and receives feedback from candidates you engage and interview, your hiring managers regularly collect constructive employee feedback so they can learn and grow as people leaders.
Aside from using both types of feedback to better their day-to-day work and build stronger connections with their reports and prospects, recruiters and team leads alike use comments and criticism from prospects and members of their workforce to make strides with DEI.
In other words, many orgs routinely gather positive and negative feedback from job seekers and staff members to identify areas for improvement as it relates to diversity, equity, and inclusion and their company cultures to show they care about fixing problematic behavior and processes.
If your business wants to make all employees and managers happier and more productive, bolster its employer brand and reputation, and realize a fairer and safer work environment, leaders across your company — including HR and TA — must create a culture of feedback.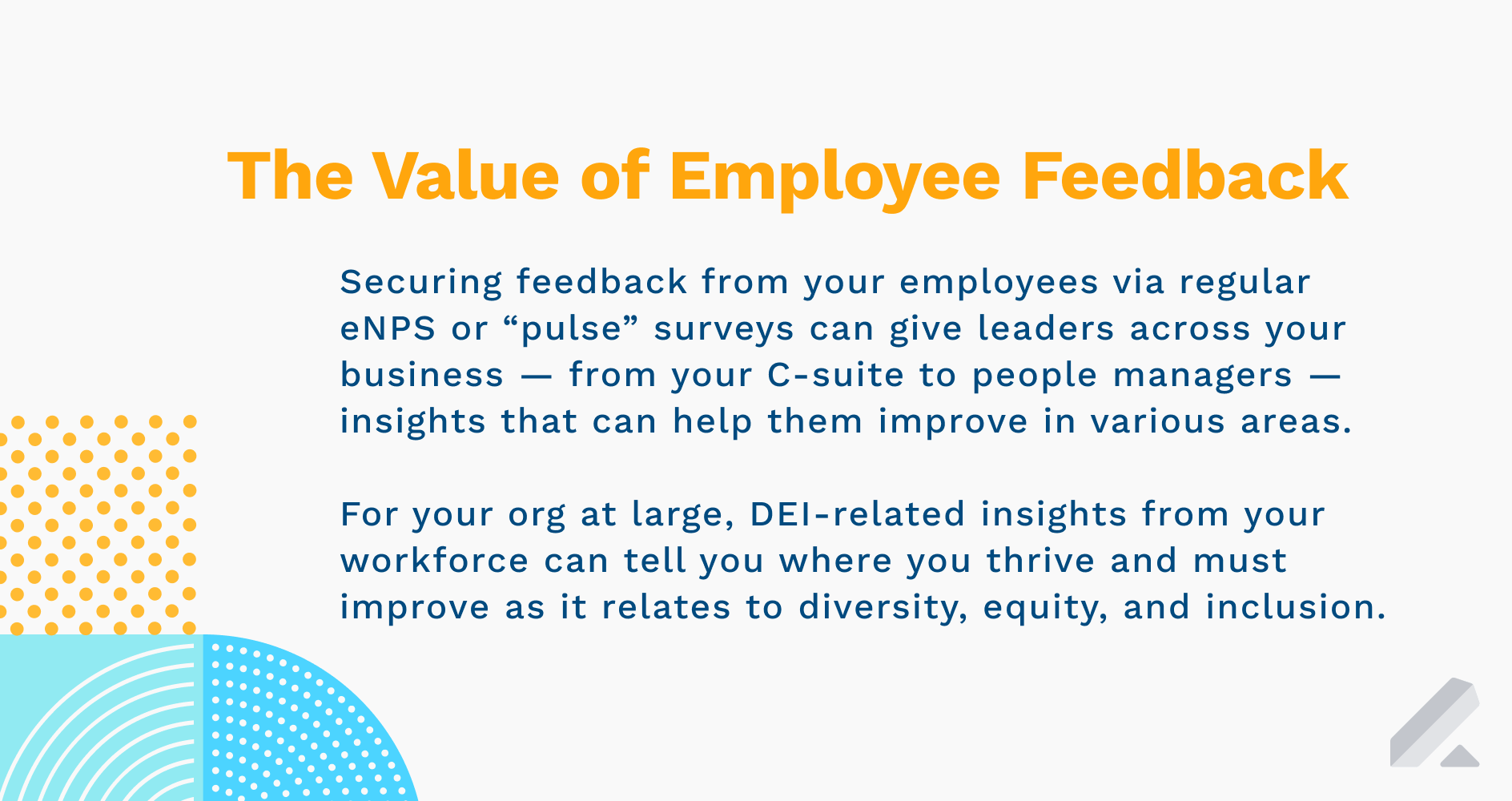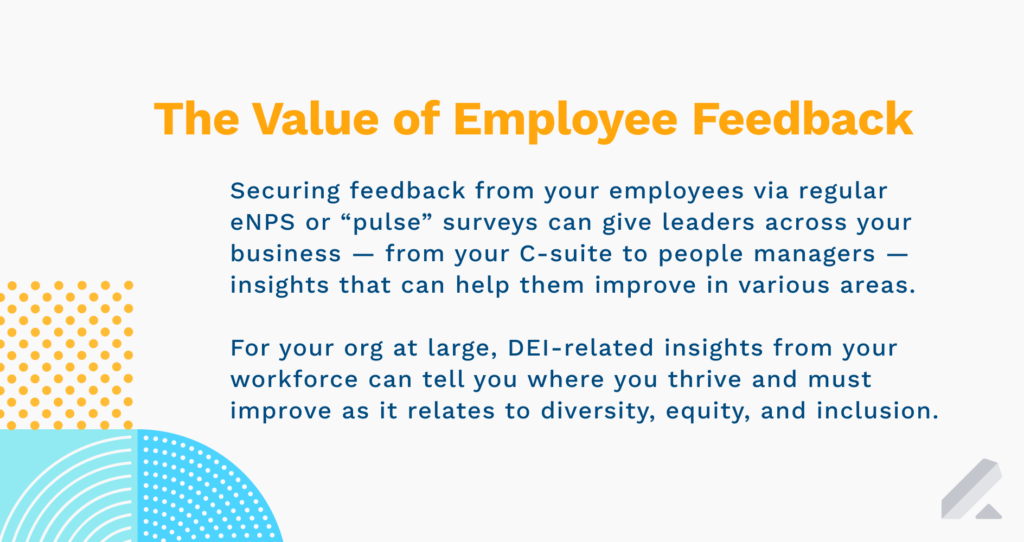 Understanding the value of employee feedback
Put plainly, employee feedback is any thoughts or insights shared by a professional at your business (either formally or informally) with their direct manager, departmental leader, human resources team, and/or executive staff.
To collect various types of employee feedback, employers typically use:
Employee experience/engagement surveys
Anonymous team/department questionnaires
Annual or quarterly performance reviews
Monthly or quarterly quizzes/pulse surveys
Consistently accruing negative and positive employee feedback can be like drinking from a fire hose for your HR practitioners and team leaders (i.e., information overload).
That said, collecting feedback is the only way you can collectively learn the "good" and "bad" about your business (e.g., positive attitudes and negative behaviors of managers company-wide) and use that info to make progress in key areas — including and especially DEI.
The aforementioned "delivery" methods for securing effective employee feedback can eventually tell leaders across your org how workers feel about your DEI initiatives and the advancements your company is making with said programs.
Case in point: Our recent State of DEI Report found 55% of employers use regularly sent workforce surveys to learn how employees feel about their DEI efforts at large.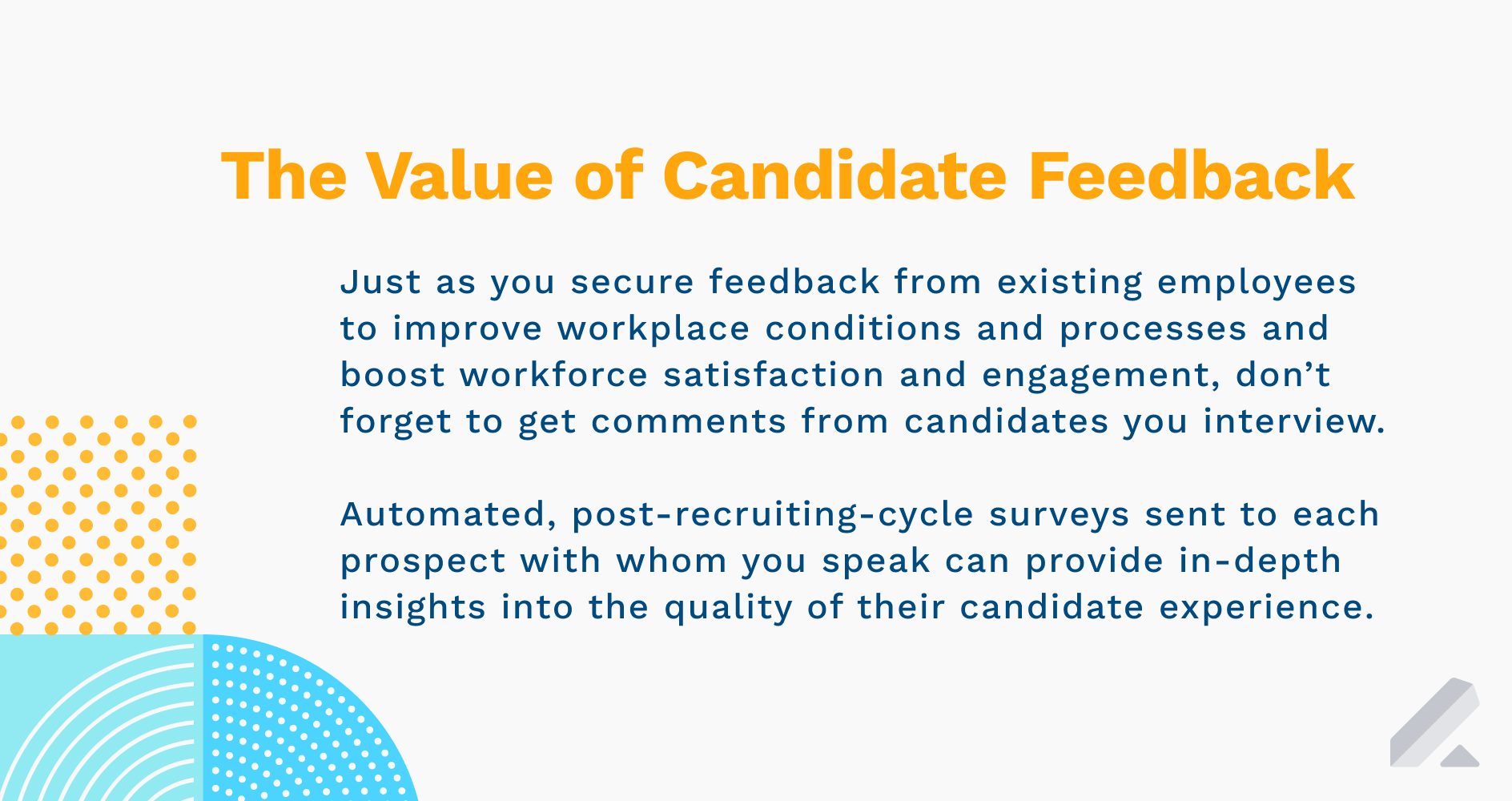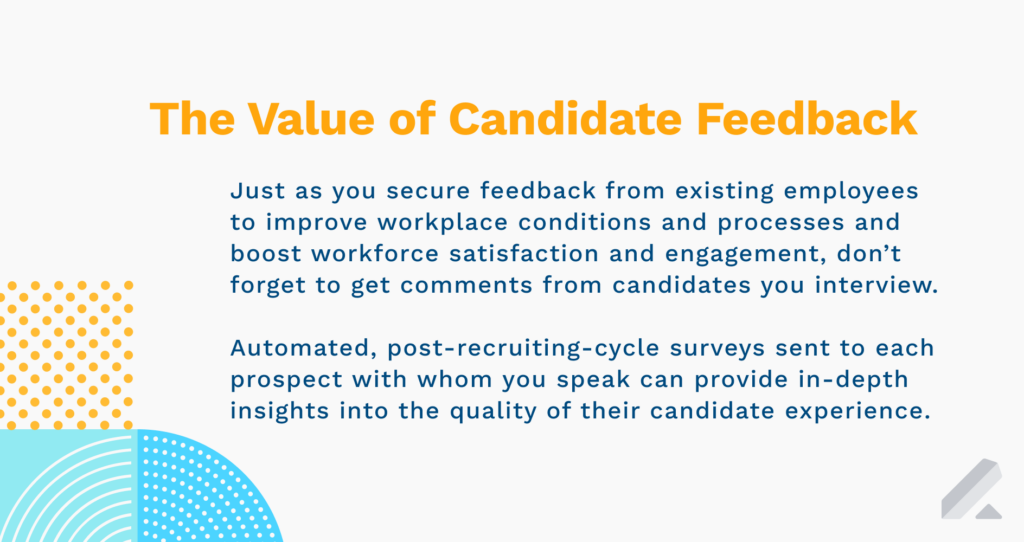 Using candidate feedback to gauge DEI sentiment
Candidate feedback, on the other hand, is exactly what it sounds like: the post-recruiting-cycle insights from engaged prospects who took part in the interview process for a role at your org and were either passed on or hired.
Lever customers collect candidates' feedback by customizing the out-of-the-box CX surveys provided in LeverTRM, our native ATS + CRM solution.
As we've discussed, talent teams with our platform can send these surveys automatically to interviewed leads by setting up "rules" in LeverTRM. For instance, they can auto-deliver surveys to candidates once they've been removed as an active opportunity and "archived."
Recruiters can send surveys with solely open-ended questions with free-text fields to allow prospects to share a few sentences that expound upon their recruitment experience.
For a more comprehensive understanding of their CX, TA teams with LeverTRM can also include questions to get candidates' thoughts on distinct components of the recruiting process with five pre-set answer options (from "Very Dissatisfied" to "Very Satisfied") for each question.
That includes asking DEI-related Qs that can provide insight into whether prospects think you did a great job explaining your DEI efforts or if they required more clarity on the specifics of your existing DEI programs and initiatives.
Questions like "How do you think our interview panelists did in terms of elaborating on our commitment to diversity, equity and inclusion?" and "Did you feel the language used in the job description for [role here] was inclusive?" are common ones our customers ask in CX surveys.


How candidate and employee feedback can help you get buy-in for DEI-related initiatives
Driving DEI in your org can feel like an overwhelming and sometimes frustrating effort.
As a talent acquisition or human resources professional, you're focusing on DEI not only during recruitment, but also throughout the entire hiring journey and beyond.
Diversity, equity, and inclusion is an ongoing endeavor for your business — and something that your entire company has to live and breathe.
And yet, DEI efforts can feel overwhelming when you're struggling to get buy-in from employees and leadership alike (often due to what is now called "diversity fatigue").
With feedback, there is really nowhere for your team to "hide," so to speak, when assessing, reporting on, and improving upon progress with DEI.
Data doesn't lie. It shows you where you're struggling and succeeding. What's more, it prevents teams across your org from passing off the responsibility of DEI to someone else.
In this sense, insights gathered via employee and candidate feedback allows you to:
Assess the status of current/prioritize new diversity, equity, and inclusion undertakings
Promote allyship across your org through dedicated DEI training/training adjustments
Encourage transparent and frequent communication around DEI initiatives and progress
Hold business units accountable for their participation in and support of those programs
As you collect more feedback from employees and candidates, you can get a more holistic understanding of your strengths and weaknesses around DEI and discern where you can stand to grow and improve with your efforts.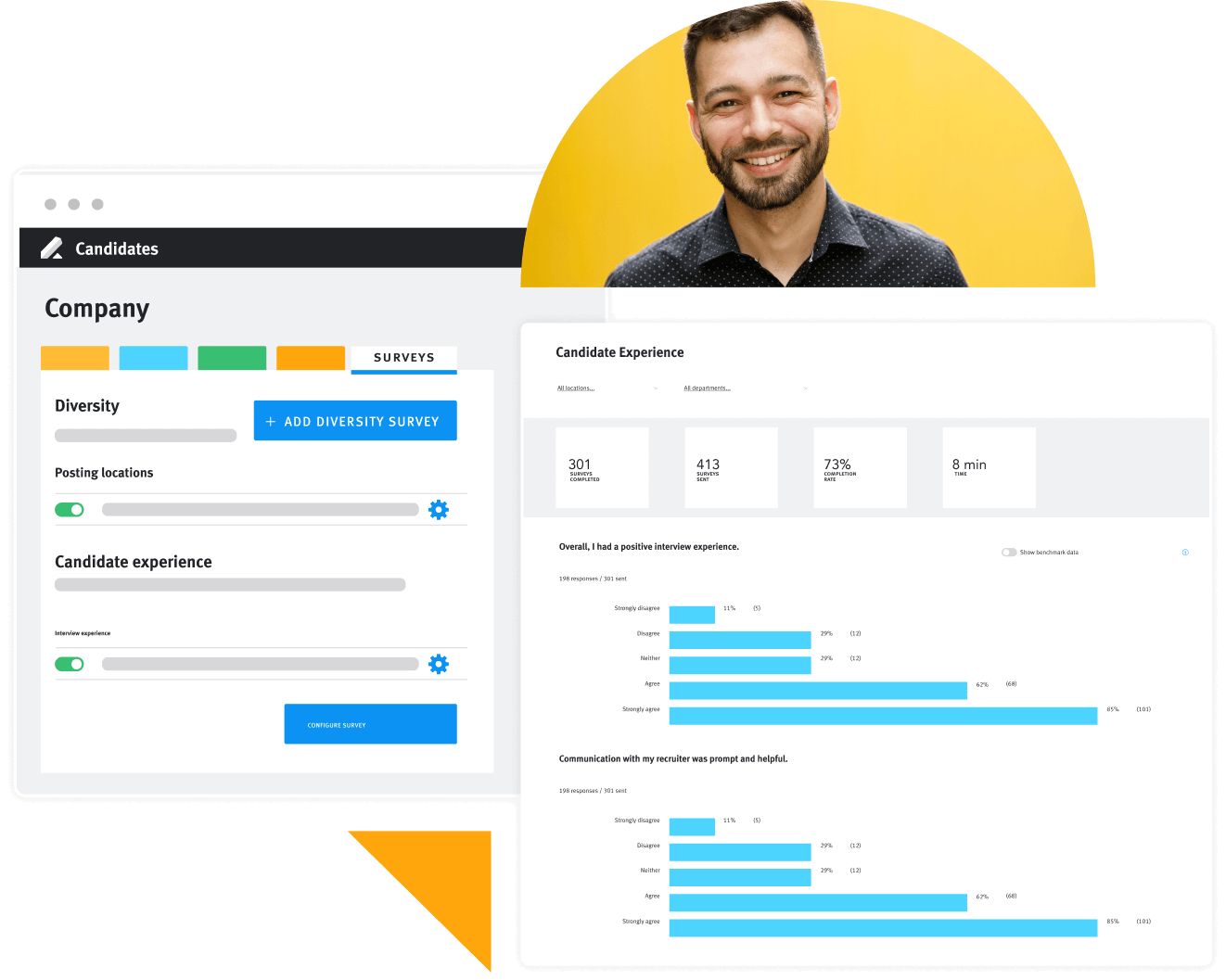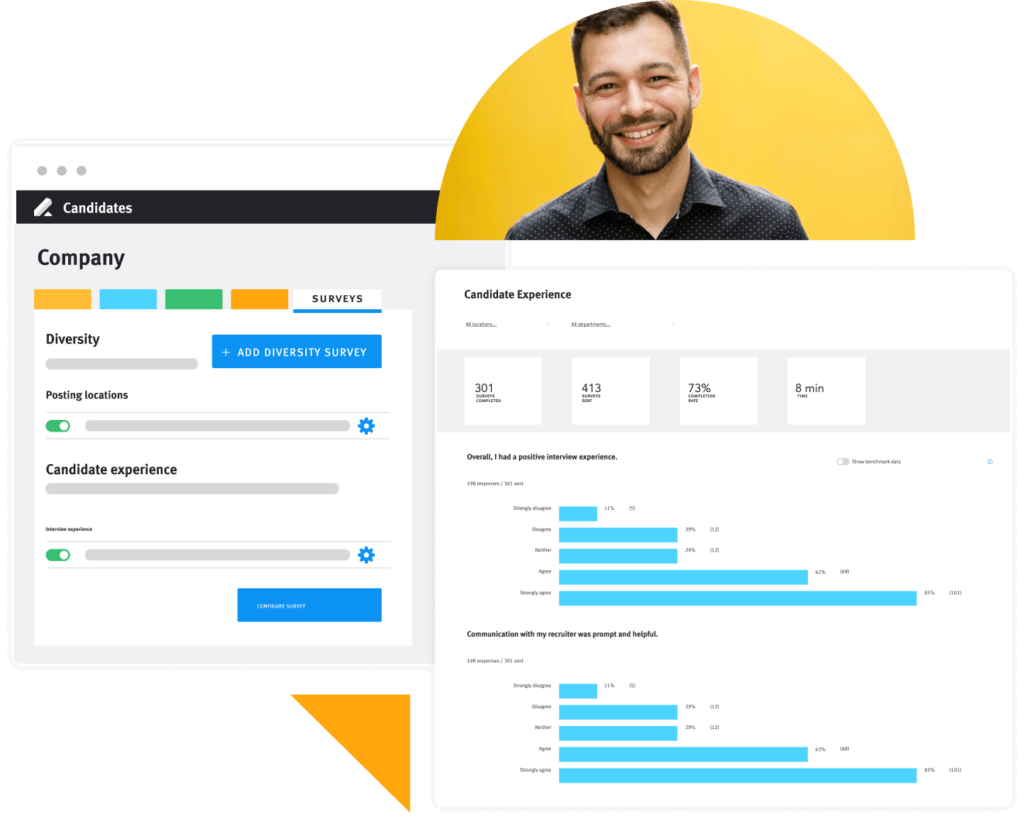 Standardizing candidate and employee feedback collection process to improve your DEI efforts
As noted, you can collect both employee and candidate feedback via quick surveys. What you may be wondering is the specific means through which you can send surveys.
One option is to use the aforementioned CX surveys built into LeverTRM.
However, there are also human resources tools like Lattice. This software enables you to send surveys through Slack and/or email to specific teams/team members or your entire workforce at large on a regular cadence (weekly, biweekly, monthly — whatever your preference).
These can include employee engagement surveys, eNPS surveys, pulse surveys, and interview surveys. The goal is to consistently gather feedback that gives you clearer insight into how employees and candidates feel about your diversity, equity, and inclusion-related ventures.
Depending on the type of survey, your questions or statements will differ.
For instance, an employee engagement survey will typically use statements that participants can either agree or disagree with based on a fixed or sliding scale (e.g., 1-10).
Examples of statements you can use in employee engagement surveys include:
I agree that leadership knows the role DEI plays in our company's success.
The company invests substantial time and energy into building diverse teams.
The process for career advancement is equal and transparent for everyone.
My manager encourages me to seek support from our organization's ERGs.
I agree that the company is making significant progress with DEI initiatives.
I am motivated by leadership to participate in and support our DEI efforts.
When sending pulse surveys to employees, you may include questions like:
How familiar are you with our diversity, equity, and inclusion initiatives?
Do you feel you have the guidance needed to participate in DEI efforts?
How likely are you to join an employee resource group at the company?
Do you feel comfortable sharing feedback about DEI with your manager?
How confident do you feel in the company's ability to achieve DEI goals?
You can also ask questions related to gender identity, pronouns, race, ethnicity, and disability and impairment. (The latter should be inclusive of seen and unseen disabilities).
You'll also want to collect feedback on candidates' recruiting experience.
This includes Qs about the diversity of interview panels, how inclusive and fair they felt their convos were, and whether they were given enough details around the org's DEI initiatives.
For instance:
While interviewing, did you receive info about our company's DEI initiatives?
How important of a role do you think DEI should play in organizations today?
Was the interview panel able to answer your questions about our DEI efforts?
You'll find collecting this array of prospect feedback helps you not only improve your diversity recruiting practices, but also your candidate experience efforts.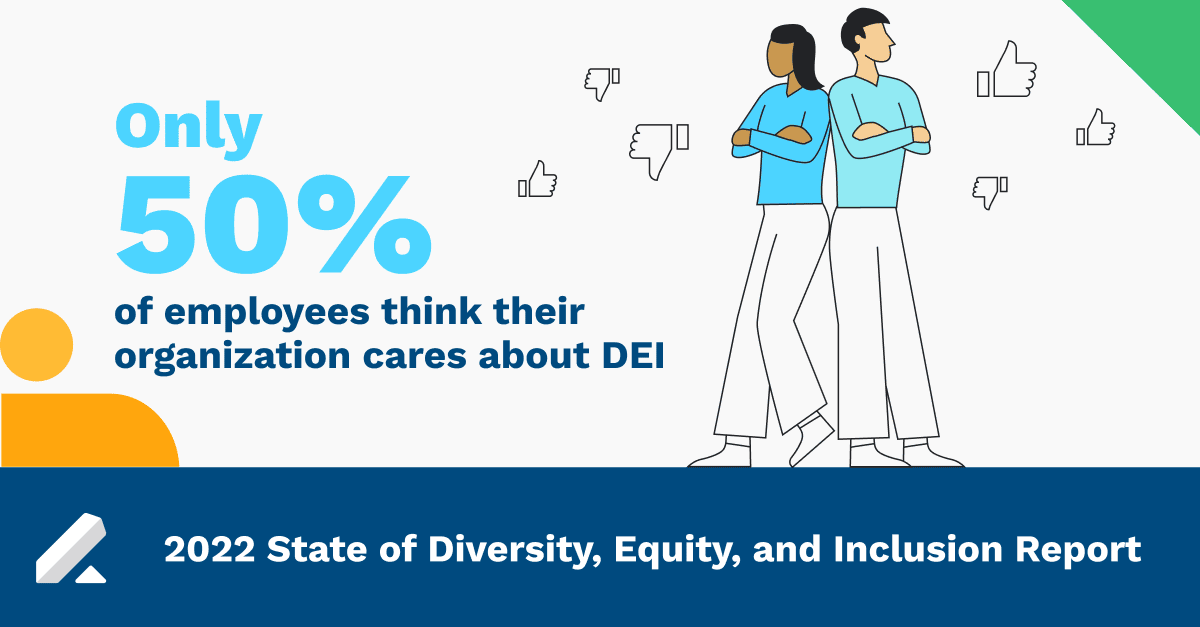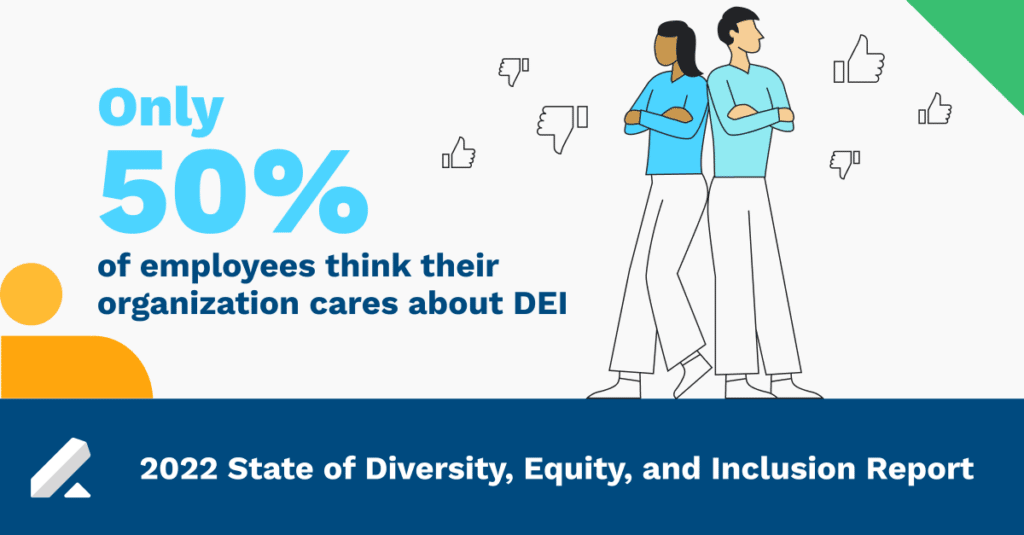 Acting on candidate and employee feedback to improve your org's diversity, equity, and inclusion
"Gathering employee feedback is only the beginning of a robust and effective employee engagement effort," brand leadership expert Denise Lee Yohn wrote for Forbes.
"The proficiency with which [employee] feedback is now collected at most companies must be matched by a bias for taking action on it," Denise concluded.
In other words? Collecting feedback is only half the battle.
Your C-suite and HR/TA leadership must convene often to scrutinize all recent responses from prospects and workers, along with other insights (e.g., employee performance and engagement analytics, quality-if-hire data).
Only when these regular check-ins occur can they collectively make informed decisions about where and how to improve in various areas of the business — including DEI.
LeverTRM enables hiring teams to collect critical DEI data from candidates and track and improve the diversity of their talent pools. Chat with us today to learn how our complete talent acquisition can help your org's diversity recruiting and hiring efforts.