If it seems like diversity in the workplace is becoming an increasingly important initiative for companies across industries, that's because it is — and there's data to back it up.
Our latest State of Diversity, Equity, and Inclusion Efforts Report noted DEI has "grown from being a buzzword that people discussed frequently into a business imperative."
In other words? Prioritizing — and embracing — diversity in the workplace is now essential.
The good news is many companies made progress with DEI initiatives over the past decade. The bad news is the pandemic hindered many organizations' efforts in the last few years.
"COVID-19's effects on the workplace worsened many of the inequities that HR pros and … leadership had worked to lessen," HR Morning contributor Michele McGovern wrote.
But that's only more reason for C-suites and talent acquisition leaders to renew their collective efforts to build a highly diverse, equitable, and inclusive workplace where employees feel welcome and job candidates want to work.
How to keep diversity in the workplace top of mind with your talent acquisition team
A 2022 Goodhire survey found 81% of business professionals based in the United States would consider quitting their jobs if their companies didn't prioritize DEI.
It's not just low- and mid-level workers who want to see a focus on diversity, equity, and inclusion at their orgs. Senior executives (87%) also want to see their companies' DEI efforts evolve to show their commitment to fair-chance hiring, according to the survey.
Each member of your C-suite has a role to play in establishing a DEI committee and subsequent framework to address employees' preferences and concerns.
But talent acquisition can help meet critical business goals around growing diversity in the workplace by revamping their recruiting practices.
Here's how your TA team can maintain a concerted focus on diversity in each stage of the recruitment funnel and continue to identify, advance and hire diverse candidates.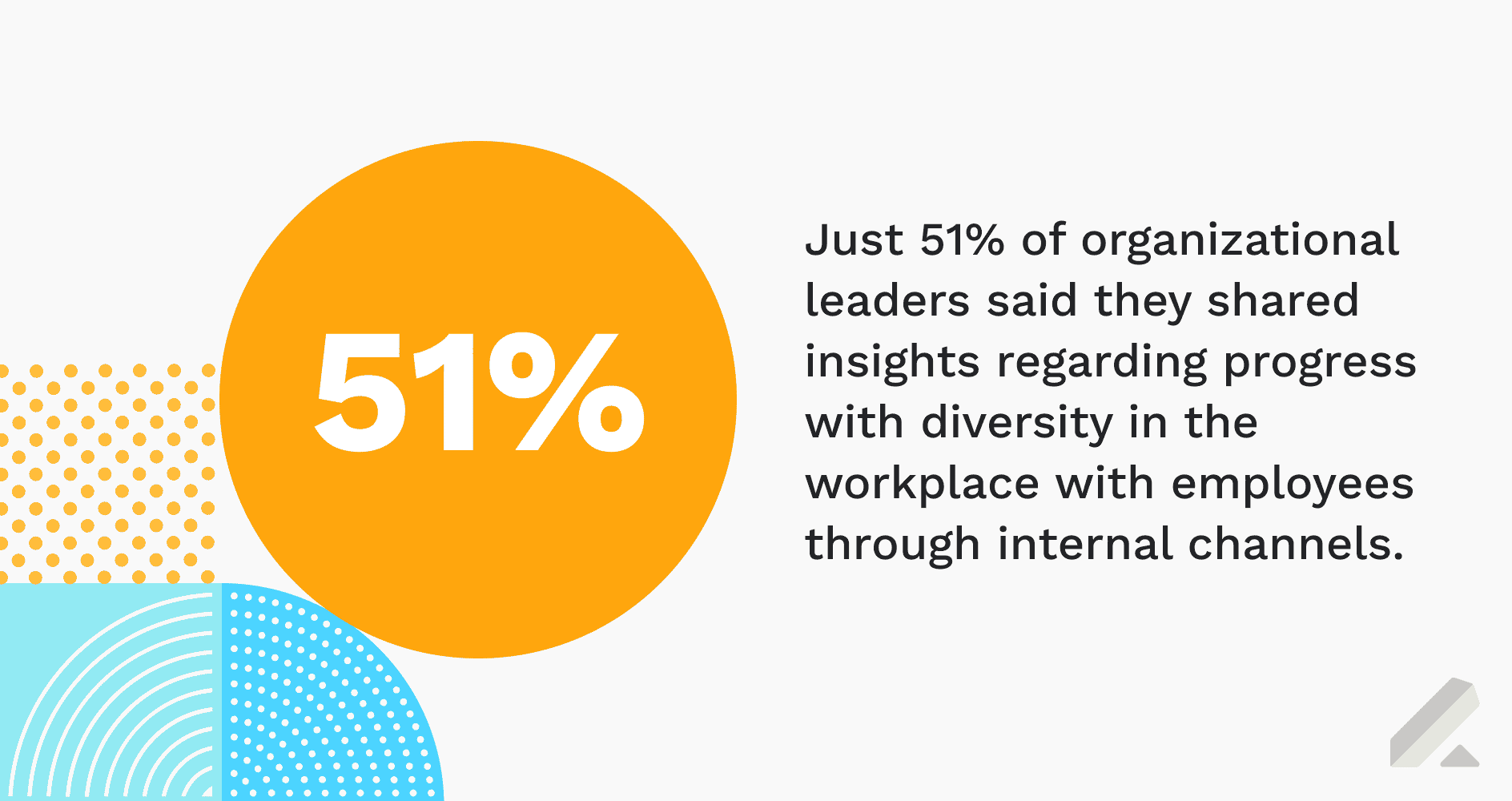 Ensure recruiters are up to speed on progress with your DEI initiatives
"Organizations are making strides toward more diverse, equitable, and inclusive workplace environments," former Lever VP of People Annie Lin wrote for Inc.
"But without employee knowledge and understanding of these efforts, leaders will not be successful in creating meaningful change [around DEI]."
Your org must have transparent and frequent communications from your leadership team explaining their efforts to improve diversity in the workplace. And, they must share plans to make headway with your DEI initiatives to attract and retain top talent.
This transparency is extremely vital for talent acquisition. You and your TA team certainly understand your progress with sourcing, nurturing, interviewing, and hiring diverse candidates.
However, you need to cross-reference that data with hiring goals set by your C-suite.
For example, TA may have exceeded a diversity hiring goal set by your C-suite for the last quarter. But, suppose your recruiting staff and hiring managers fell short with hiring diverse talent for a particular team or missed the mark in terms of gender diversity for hires.
In that case, your execs can relay their preference for a renewed focus there.
Employee satisfaction is another consideration. Your leadership sets distinct goals around diversity in the workplace. But sentiment among and feedback from your entire workforce must be known — and shared with TA — to achieve those goals.
Your staff's attitudes regarding your org's DEI efforts, including the number of diverse workers on specific business units, can impact your talent team's efforts (e.g., proactively look for diverse talent to join particular departments).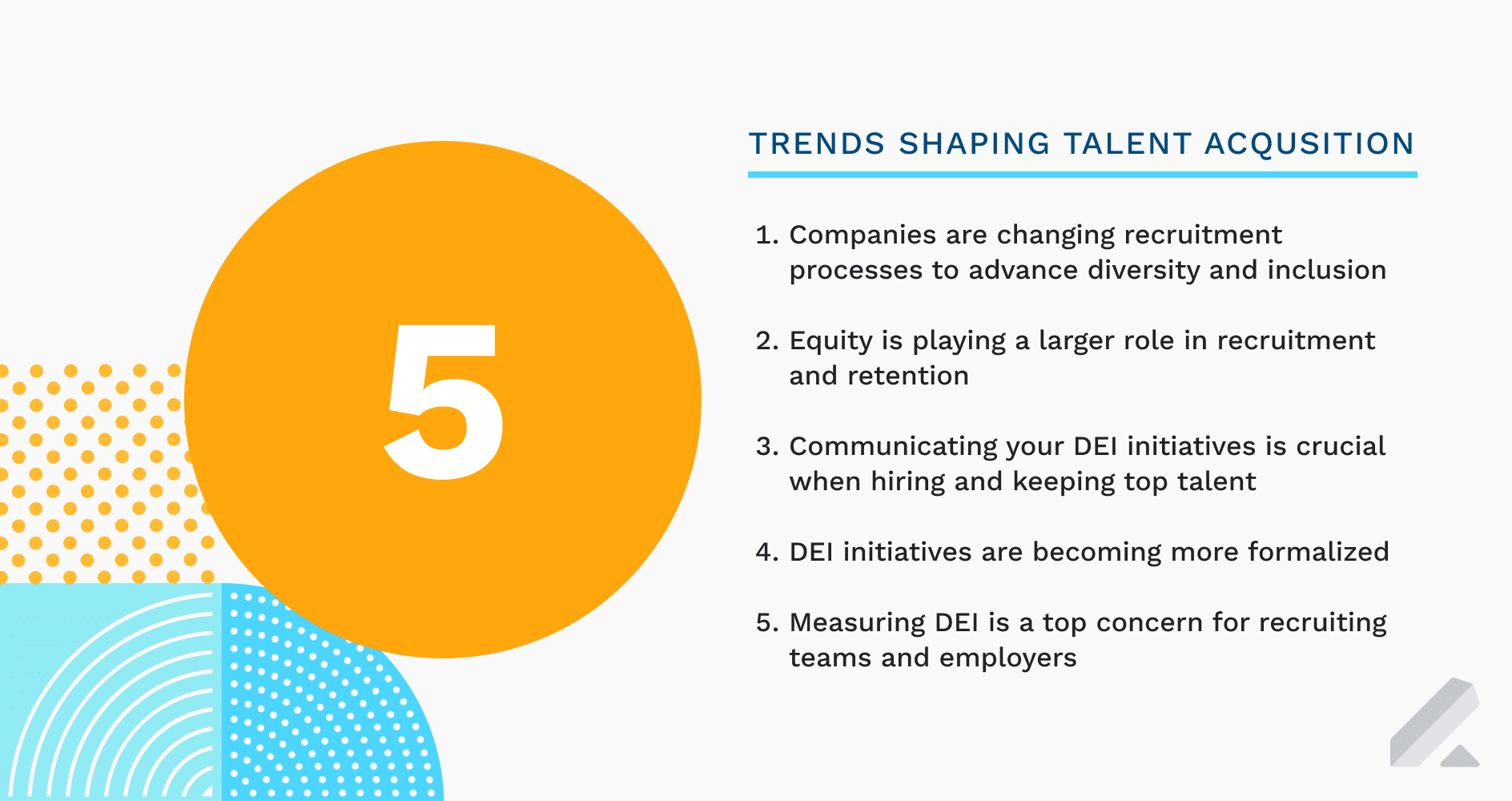 Check in with the culturally diverse teams that TA helped construct
Speaking with team leaders can also help you further bolster diversity in the workplace.
For instance, monthly or quarterly check-ins with managers can provide insight into the (often many) benefits they've realized thanks to having highly diverse teams:
Problem-solving: One of the biggest advantages to building a diverse workforce is the unique perspectives diverse employees bring to the table, especially when it comes to addressing issues. Cognitive diversity, as it's often referred to, brings together people who process info in different ways to solve shared problems. Managers tend to prefer cognitively diverse staffs, as they can each bring their own distinct interpretations to and solutions for work-related challenges.
Employee engagement: Whether it's participation in (or even starting) an employee resource group (ERG) or simply regular, cross-functional work with colleagues in and outside of their departments, managers can share how their direct reports' engagement contributes to better team performance, as it relates to achieving core KPIs, as well as a stronger company culture.
Long-term outlook: We mentioned satisfaction with the company above. But it's equally important to track employees' satisfaction with their roles and teams. The happier they are with their work and career path within the business, the more likely they are to write positive reviews for and spread positive word-of-mouth about the company (and perhaps even refer candidates).
Pay equity: Workers want to know their compensation is fair compared to other colleagues across their organization — and, in particular, to others on their team. Any successful DEI initiative focuses pay equity and ensures transparency about compensation. Pay equity often leads to higher satisfaction and productivity among employees — something that benefits managers too.
Add all of these pros up together, and your talent acquisition team has in-depth employee insights they can relay in their recruitment marketing messaging.
For example, brief employee testimonials can be used in numerous facets of your employer brand: from a dedicated DEI page on your website, to interviews your C-suite has with the press for PR efforts, to the (ideally inclusive) listings posted to job boards.
You could even ask satisfied employees (a.k.a. organizational evangelists) to take part in videos that promote your brand and the teams they work on.
These can be posted to your careers page and shared with passive candidates of interest so they can see what it's like to work at the company and even get a glimpse inside the mindset of a potential future colleague (i.e., how they enjoy working at the business).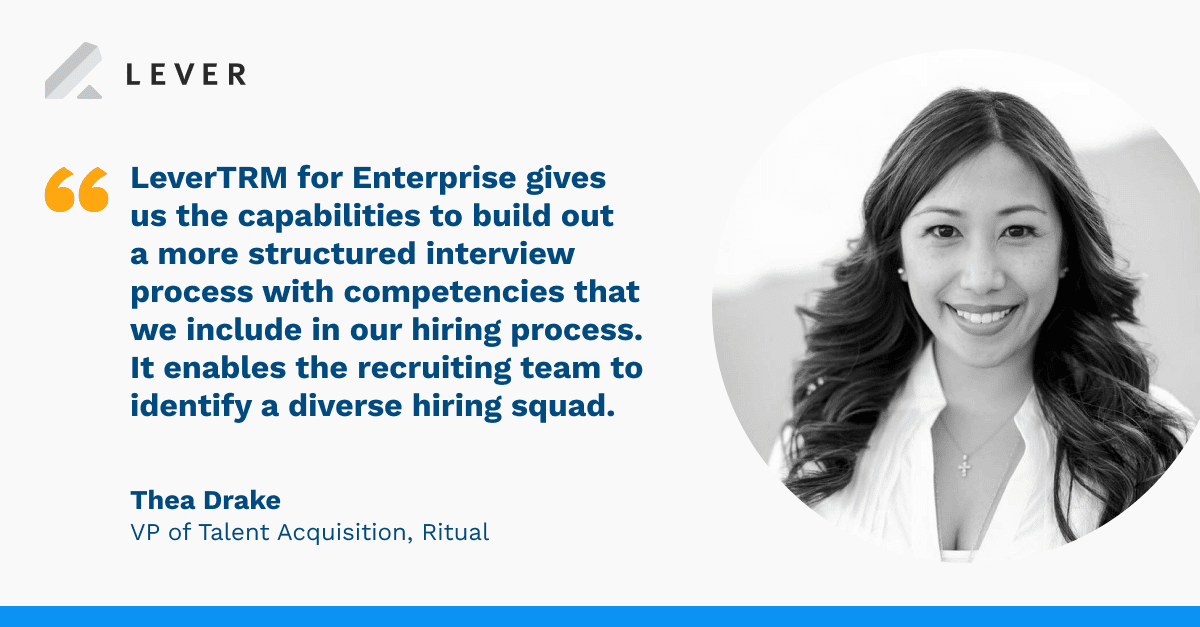 Highlight progress with diversity in the workplace in recruitment messaging
Speaking of recruitment marketing, there are many types of compelling messaging around the current state of diversity in the workplace (and the ongoing progress you intend to make with DEI) at your org that could intrigue candidates.
Let's say your C-suite worked with your DEI committee to develop an equity statement.
This is a simple, yet prominent statement that articulates how your org has done in terms of providing fair access, opportunity, and advancement for all employees in recent years.
You can share this (typically succinct) statement on your careers page, in job postings, and in other recruitment marketing avenues to show prospects the progress your business has made with building an equitable work environment and inclusive culture.
You could also detail your org's commitment to further augment your DEI initiatives.
For instance, you can emulate the diversity recruiting strategy employed by Lever customer Loopio. The software company created an annual, DEI-oriented report that denotes its continual efforts to expand the diversity of its workforce.
This could include a "Letter from the CEO" along with concrete data about progress to date (e.g., total number of diverse hires made in the past year, how you established new career mobility programs) and where you want/plan to be in the year(s) ahead DEI-wise.
Improving diversity in the workplace: A companywide effort — but one TA plays a big part in
"Making profound shifts in the makeup of your workforce is not something you can force overnight," The Spanish Group CEO Salvador Ordorica recently wrote for Forbes.
And he's right. It takes a lot of time, energy, and resources and a well-coordinated action plan built by leadership and executed by a dedicated DEI committee — one featuring both HR and TA leaders — to gradually make progress with diversity, equity, and inclusion.
For your talent team, contributing to DEI goals and achieving diversity in the workplace requires you to continually identify, engage, and advance candidates from different cultural backgrounds and of varying gender identities, sexual orientations, age ranges and races.
Only when such repeatable and scalable diversity recruiting and hiring processes are in place can you afford equal opportunity to job seekers in these underrepresented groups and realize greater "diversity of thought" across your business.
Do that, and you'll help your business build an increasingly inclusive culture — one that will assuredly appeal to a wide array of candidates actively looking on the market who want to work for an org that supports diversity initiatives.
Download our Essential DEI Guide to learn how you and your organization can prioritize diversity in the workplace and build a more equitable and inclusive work environment.