Connecting third-party tools for candidate database management to your applicant tracking system is no longer necessary. Well, at least with an ATS with such a database built in.
In other words? Your TA team can reduce its dependency on complex candidate data setups, so to speak, and, instead, rely on a built-for-purpose ATS with an advanced yet intuitive database that makes it easy to resurface and review previously engaged talent in your system.
Before hitting the ATS marketplace to research your options, though, it's worth understanding why you need a robust, easy-to-use, searchable candidate database in the first place.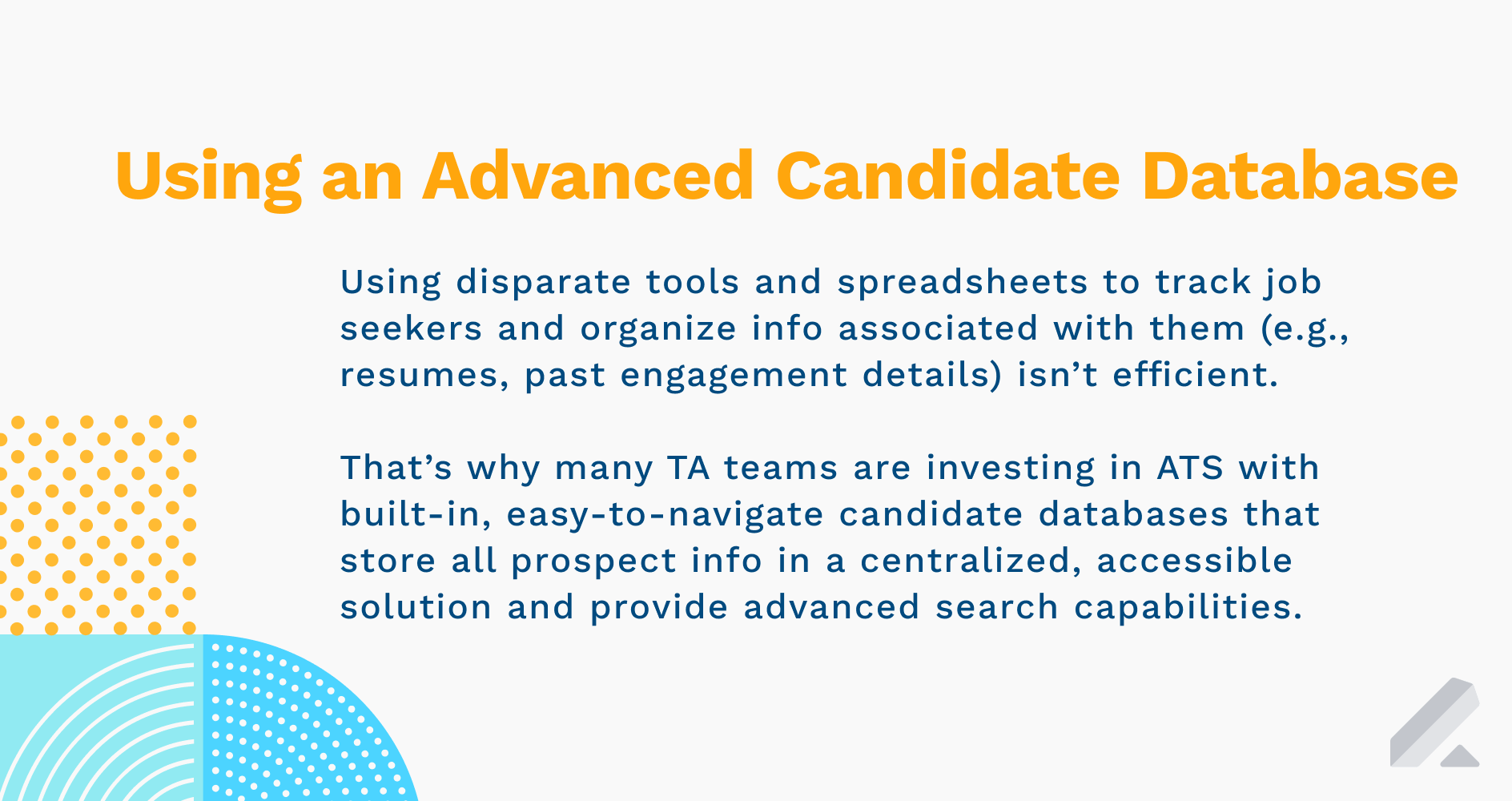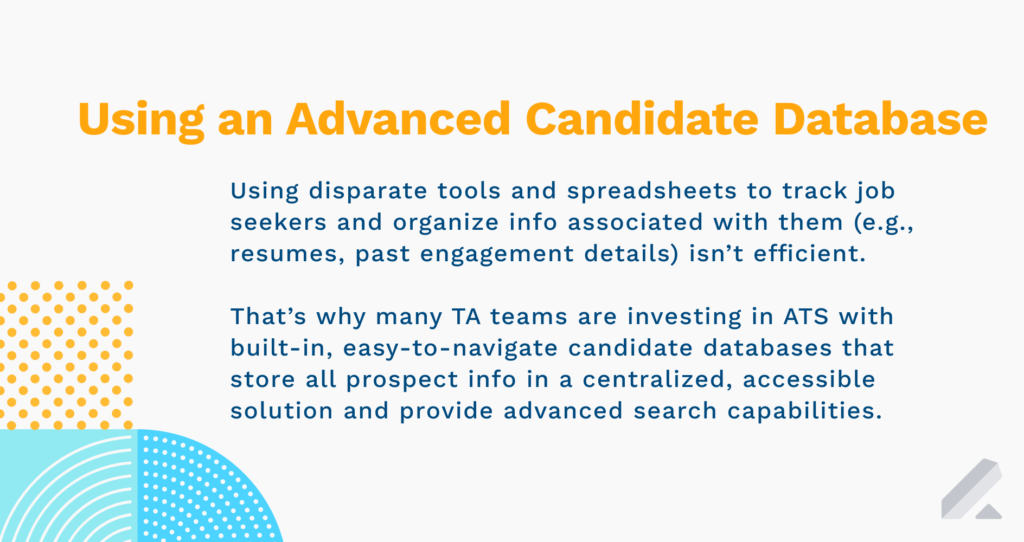 What modern candidate database management entails for today's talent acquisition teams
"One thing [recruiters] should definitely be doing with any ATS is mining the database for candidates who already told you they want to work for you in the past," HRU Technical Resources President Tim Sackett shared at a recent SHRM Conference.
"The value of your own database is probably the most underutilized aspect of your ATS."
In short, with an intuitive, user-friendly candidate database built right into your ATS, you can:
Organize applicants and sourced candidates in a centralized location
Excel and Google sheets are fine tools in their own right. Well, for marketers and administrative personnel, at least. For talent pros such as yourself, though, they're an antiquated recruiting resource that should no longer be included in your TA tech stack.
A best-in-class ATS with a native database (i.e., one that was developed by the ATS vendor, not a third-party tool "bolted on" to the system) is now the premier means for talent teams to:
1) Store all candidate info in a single, easily accessible location (in the case of LeverTRM, through the syncing of LinkedIn profile data directly into our complete ATS + CRM solution)
2) Have candidate profiles update dynamically in real-time as prospects take various actions (e.g., open a nurture email or text message, complete an application via a job board)
Consider Lever customer Bigfoot Biomedical. The business needed a single source of truth from which its entire hiring team could work from. Equally as important, it needed to integrate candidate data and details from disparate sources.
With our platform, the medical technology startup now has a "home base" its recruiters can all use to add prospect info and analyze their talent pipelines. Speaking of which …


Better manage your talent pipeline and overall recruiting process
An at-a-glance, holistic view of all recruitment activities: from the initial screen call to an offer extension. That's what the top-tier ATS solutions with built-in candidate databases offer today's talent teams — including and especially those at small and scaling orgs like yours.
With an always-up-to-date picture of where active job seekers are in their individual pipelines, each of your recruiters can easily discern which opportunity to focus on at any given moment in time and prioritize actions to be taken for other candidates they're "working."
Many talent acquisition specialists with LeverTRM use our Candidates screen — the unofficial "homepage" of our recruiting platform — to plan out their days every morning.
From this screen, recruiters with our ATS + CRM solution can see all passive leads they've recently reached out to, the most recent applicants, current candidates they're interviewing, and all other custom stages included in their respective recruitment life cycle.
Another way to put it?
These TA pros don't need to hop back and forth between different candidate management tech just to see what tasks lie ahead of them and where each prospect is in their funnel.
Instead, they can trust LeverTRM is presenting them with the most relevant and timely candidate pipeline "snapshot." And one in a single solution — not several tech tools.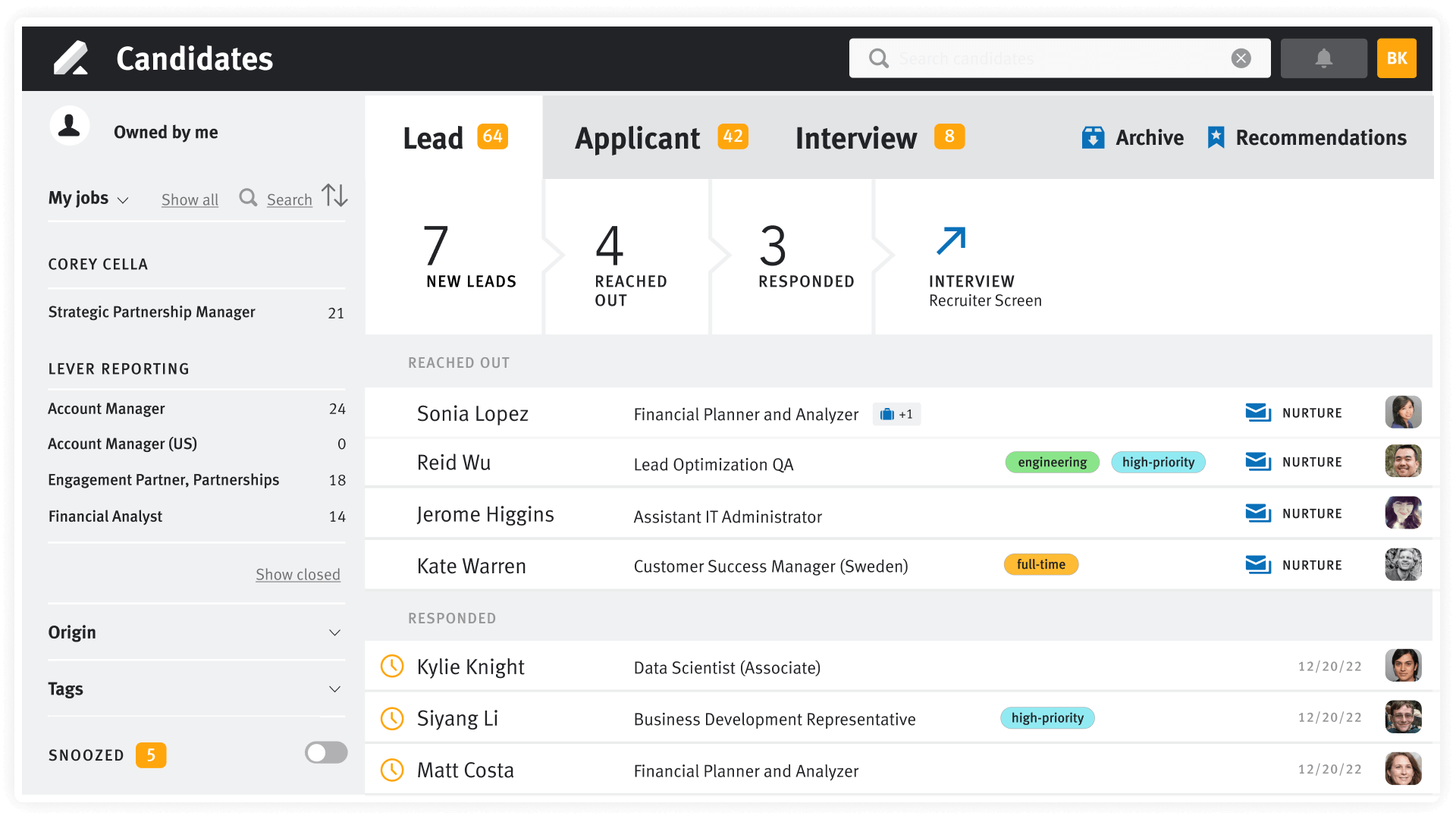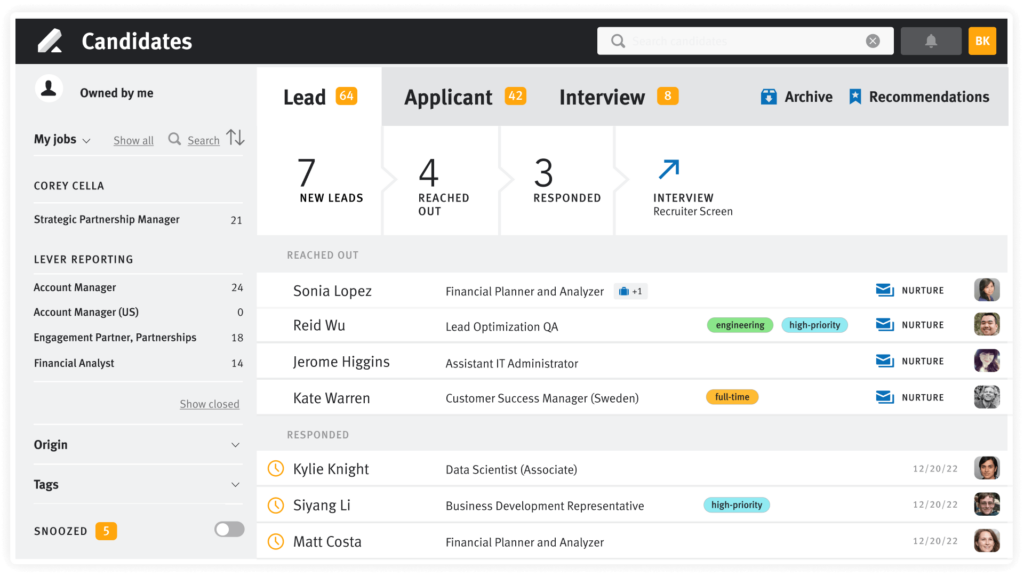 Resurface qualified candidates using complex or boolean searches
Talent rediscovery is an increasingly popular "sourcing" avenue for leading TA teams at both small and mid-sized organizations. Why? Well, think of it this way:
If they already have many (perhaps dozens) of "warm" leads in their candidate pool, why would they spend a bulk of their time looking for top talent on external job boards and career communities? It just doesn't make sense.
That's not to say external candidate sourcing isn't essential. (It is, and always will be.)
What we mean is that having a robust candidate database filled with high-quality professionals who've either previously applied or were proactively sourced who were turned down for the roles in question at the time or simply turned down offers are viable opportunities to re-engage.
Silver-medalist candidates are a prime example of this. These individuals made it all the way to the final stage for a position you were looking to fill months (or possibly even years) ago.
Of course, you don't know for certain if they're still looking for work (or looking anew).
That said, you have an in-depth profile featuring their experience, expertise, education, and other insights that can inform whether or not they're worth speaking with once again for a new req you've just been assigned.
All you need to do to find these folks in your system is to search by relevant tags you designated to them before ("Timing," "Underqualified," etc.) in your ATS. Similarly, you can enter boolean searches that include "AND," "OR," and/or "NOT" to better filter prospect.
(See what we did there?)
Lever offers this advanced database search capability in our leading ATS + CRM solution for SMBs and scaling orgs. This functionality simplifies lead rediscovery for our users.
(Translation? It takes these talent specialists mere minutes to ID prior prospects, not hours.)


Investing in an advanced applicant tracking system with a searchable, intuitive candidate database
Simply put, the ideal ATS software provides a candidate database that enables you to:
Bottom line: The days of needing one talent team member to "apply" to manage your candidate database for every recruiter — and with dated tech and spreadsheets — are over.
With a modern ATS, each talent team member can manage their own individual pipelines in a single solution. Moreover, your TA leaders and ops managers can analyze your collective pipeline management and hiring efforts and, as needed, share data-driven insights and suggestions that can help your recruiting staff better utilize your centralized candidate data.
Learn how you can leverage LeverTRM's recruiting database to quickly and efficiently find the candidate info and data you need to better attract, engage, and convert job seekers.