Google "how to hire employees for small business," and you'll see fairly basic tips and tricks for HR leaders at SMBs. (In other words? Likely not the advice you're likely looking for.)
Your hiring team members already have a strong handle on the foundational elements of your recruiting efforts: writing impactful job posts, publishing ads on job boards and social media, evaluating applicants' resumes and cover letters to assess their skill sets.
What you really need to succeed in the long run is more nuanced talent acquisition advice.
That's why we created this guide: to educate busy human resources leaders who have to handle critical HR tasks as well as own, execute, and optimize their recruiting strategies to ensure they can find and hire qualified candidates quickly and efficiently.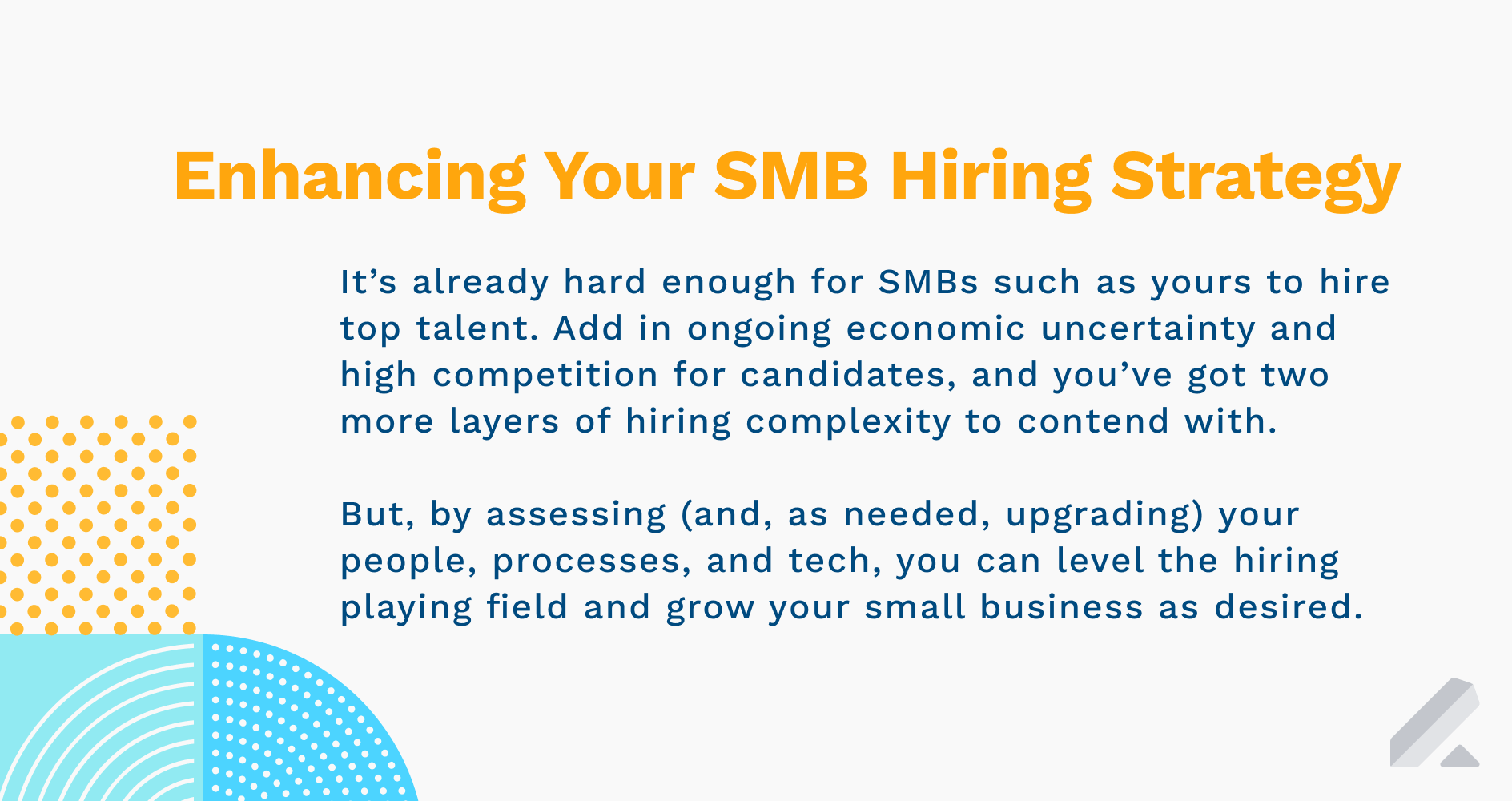 What small business owners and HR leaders can do to enhance their SMB hiring efforts
It's no secret many SMBs are struggling to compete for talent in the current hiring landscape.
On the one hand, you're not looking to employ (nearly) as many people as mid-market or enterprise orgs. On the other hand, you still want to ensure you entice top active talent to apply and connect with premier passive prospects for roles that open up across your company.
As business expert Sarah Mayer shared in a recent piece for Entrepreneur:
"If you want to attract top employees, your company must have a clear and unique identity and … demonstrate its differentiators and core values."
And that's true. But, to hire employees for your small business — that is, the right employees who will contribute to growth in a meaningful way, not just folks who've had the same job title at a prior employer and may be good fits — you also need to refine your TA approach.
And that's where the below best practices can help.


Step #1: Take a step back to evaluate your HR/TA team's current "PPT"
On the people front, just as you want top talent to join your SMB and help you grow, you need high-quality recruiters and specialists to come aboard your talent team.
Only when you have the requisite resources in terms of the quantity of TA team members (based on your org's growth goals) and quality of recruiting professionals (those with a proven track record of sourcing, nurturing, interviewing, and converting high-quality candidates regularly) can you implement a highly effective and impactful SMB hiring process.
In terms of processes, whether it's working with hiring managers to craft job descriptions for open roles or knowing how to relay the specific job requirements and desired impact to candidates in interviews, you need standardized procedures for every facet of your funnel.
Equally as important, you need to know when it's time to remove or adjust said processes to ensure they empower your TA team to work smarter, not harder, and don't lead to hiring cycles that take a substantial amount of time, resources, and energy to complete.
And last, but certainly not least, are the solutions in your talent acquisition technology stack.
Your entire recruiting staff needs access to tools that help you conduct background checks, devise role- and team-based interview questions, and devise and send job offers.
But, without a leading applicant tracking system for small businesses at the center of your tech stack — one that connects to the above tools (and many other systems, including your HCM) — you'll find it hard to make meaningful, consistent progress with your TA strategy.


Step #2: Look at historical data tied to your small business hiring process
Once you have a purpose-built ATS — ideally, one with candidate relationship management (CRM) capabilities, like built-in nurture functionality and texting features, as well as out-of-the-box analytics — you can sync all your historical TA and "active" TA data into said system.
From here, you can comb over insights tied to your recruiting and hiring performance (e.g., from the past year or so and/or with your most recent requisitions).
This ongoing analysis enables your tiny but mighty talent team to fully comprehend your strengths and weaknesses with everything from recruitment marketing and candidate engagement to your interview and offer processes.
Just look at how Lever customer TextNow uses its talent data sets to enhance its hiring.
Before investing in LeverTRM, the company's recruiting staff had difficulty centralizing its analytics and, in turn, understanding its recruitment strengths and areas for improvement.
Today, our ATS + CRM makes all TA data — from candidate experience and diversity insights to dashboards tied to sourcing quality and pipeline speed — available to each recruiter. (A team-wide dashboard is also available to the TA director)
This empowers these talent specialists and leaders to easily assess recent performance and the current state of operations, then use this data to adjust their SMB recruiting.
"I trust LeverTRM as my single source of truth," said former TextNow VP of Talent Suzanne Salzberg. "Data never lies, and the proof is in the numbers. LeverTRM tells me exactly what our average hiring time is, where diverse candidates are falling out, and places we can improve."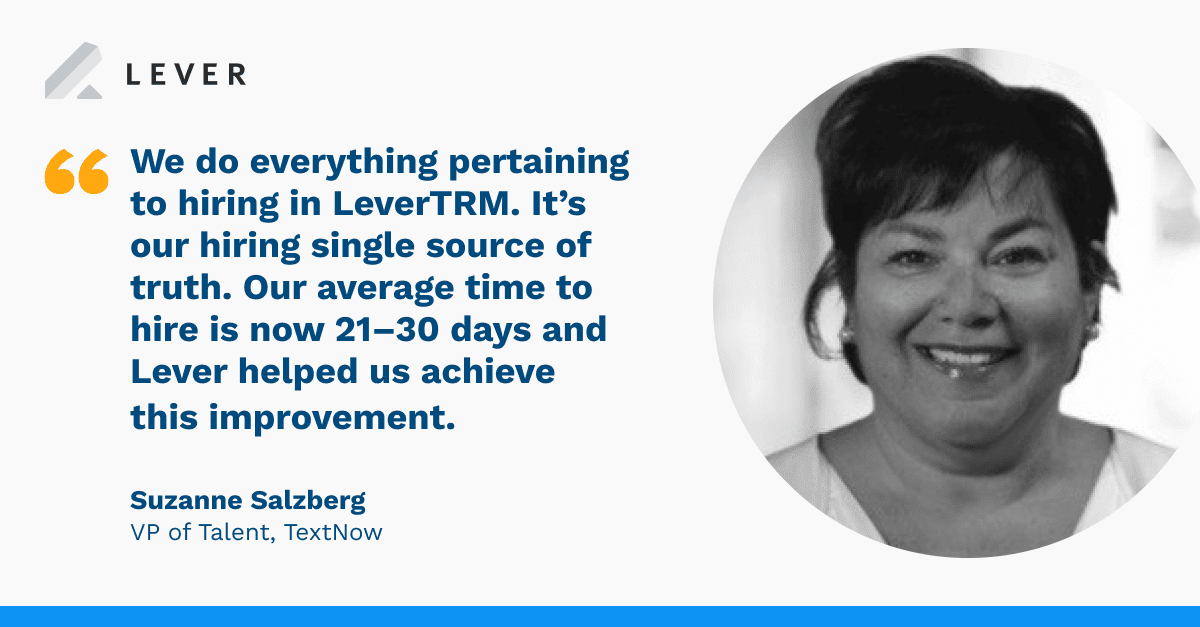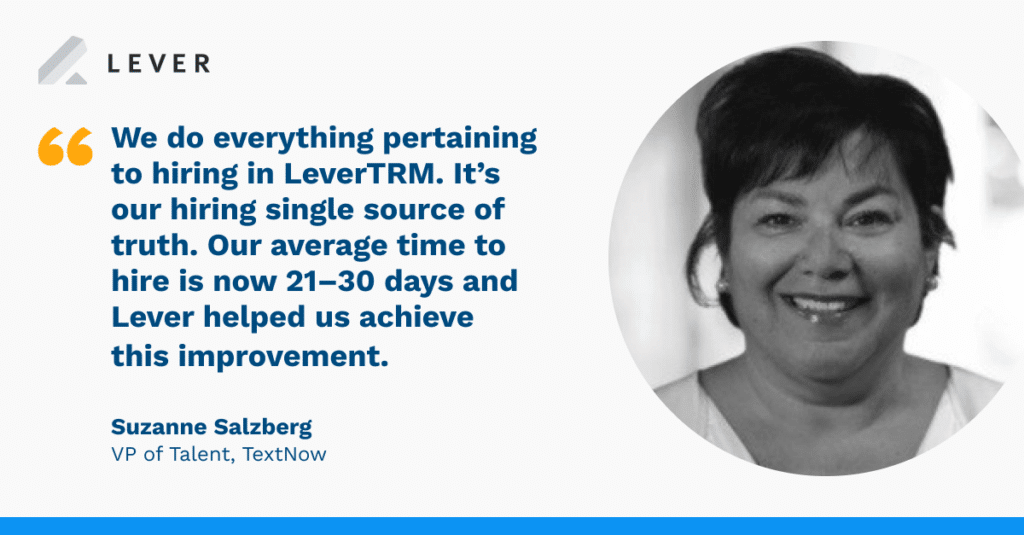 Step #3: Test new approaches and refine them based on your analytics
Whether you're a burgeoning tech startup looking to hire full-time employees or a growing professional services firm in need of subcontractors, ongoing optimization of your recruiting will aid your long-term efforts to hire high-quality employees for your small business.
(Not to mention boost your talent acquisition speed, efficiency, and quality.)
That means trying new sourcing avenues, testing out new nurture approaches, refining your employer branding, modifying (or even eliminating) interview stages, and trying new tactics and techniques that get more top talent into and through your hiring funnel.
That said, don't randomly address these areas. Let data guide your optimization.
If your current recruiting tech doesn't offer actionable analytics, invest in a purpose-built applicant tracking system for small businesses. Notably, one that offers rich, real-time data tied to all your TA efforts and makes it easy to enhance each element of your hiring strategy.
Want more insights on how you can hire more high-quality candidates for your growing small business? Speak with the Lever team today to learn how our ATS + CRM can help.