Every applicant tracking system and candidate relationship management solution offers its own distinct type of recruitment database to store candidate information:
There are older, legacy ATS platforms. These store static data and details tied to prospects (LinkedIn profile info and resumes). However, this data doesn't update dynamically. That means these profiles can become "stale" quickly and require manual updates to refresh.
On the flip side of the recruitment software coin, there is an advanced ATS + CRM. This tech streamlines the recruiting process. It offers security and compliance. And it enables efficient communication with candidates (among many other key features). Just as vital, though, this tech also stores all candidate data in a central location and pulls prospect details from other tools (e.g., HR software). This ensures an always-up-to-date candidate profile.
It's clear which choice is more optimal for modern TA teams such as yours.
What's less apparent is how to discern old-school, limiting ATS offerings from more sophisticated, intuitive, and dynamic TA solutions — like LeverTRM's recruitment CRM.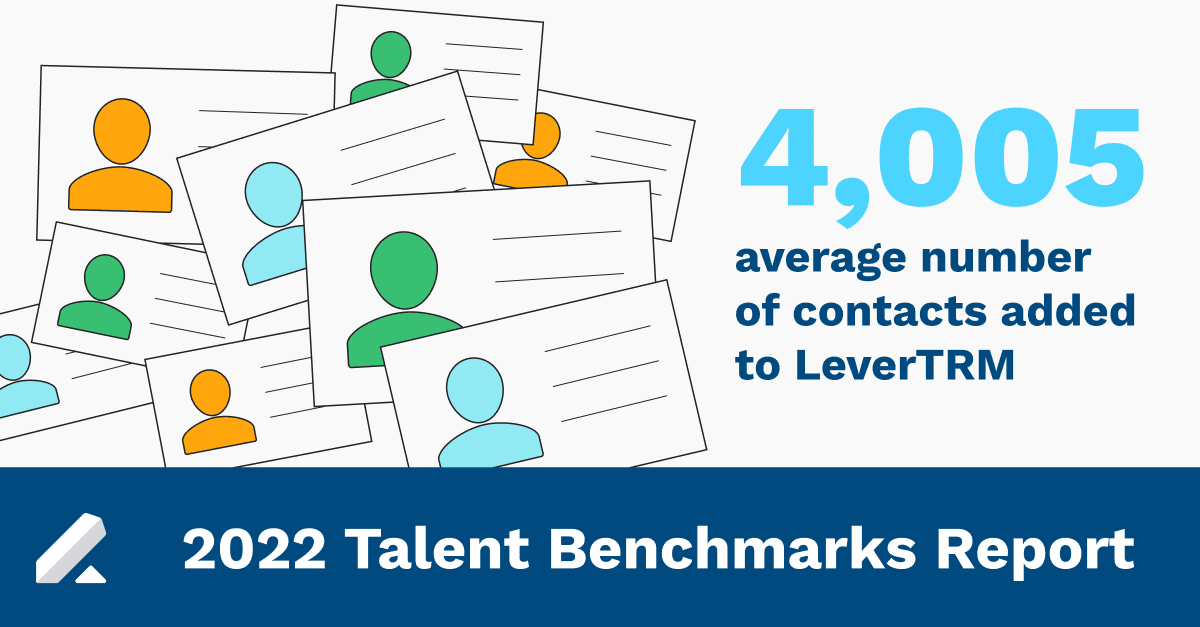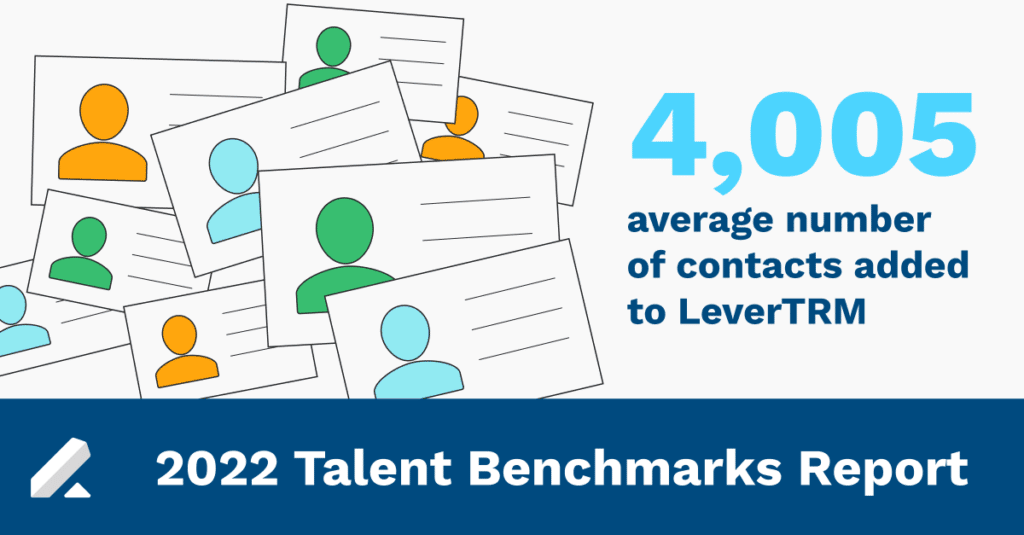 What separates best-in-class recruitment database software from outmoded ATS software
"The value of your own [recruitment] database is probably the most underutilized aspect of your ATS," HRU Technical Resources President Tim Sackett recently shared at the SHRM Talent Conference & Expo 2022.
That being said, not all ATS + CRM solutions offer the same features and services today's talent acquisition teams need to succeed.
There are four specific capabilities to look for when looking for and, ultimately, choosing the "right" recruiting database for your organization's distinct hiring needs.
1) Ease of use for all talent/hiring team members
As we've discussed, the best applicant tracking systems offer modern functionality that's intuitive and helps empower recruiters to boost efficiency and productivity.
From interview-scheduling features TA specialists and prospects can use to set up in-person and/or video interviews, to universal posting capabilities that help recruiters publish listings to all popular job boards, the best ATS vendors have easy-to-use, yet robust capabilities.
That should also include the ability to ensure consistently accurate candidate profiles in their recruitment database software — modifications that require little manual labor on the part of talent acquisition teams.
Consider LeverTRM. We offer a handy Google Chrome extension that helps transfer a lead's LinkedIn profile info directly into our ATS + CRM solution. Thus, completing (at least) half the work of profile creation for those prospects of interest.
Integrations with the many tools in our integration ecosystem can augment these profiles with others details that can provide more color and context talent specialists may otherwise miss.
For instance, our native talent acquisition suite can sync with employee referral tech to help recruiters know which existing staff member recommended a given candidate.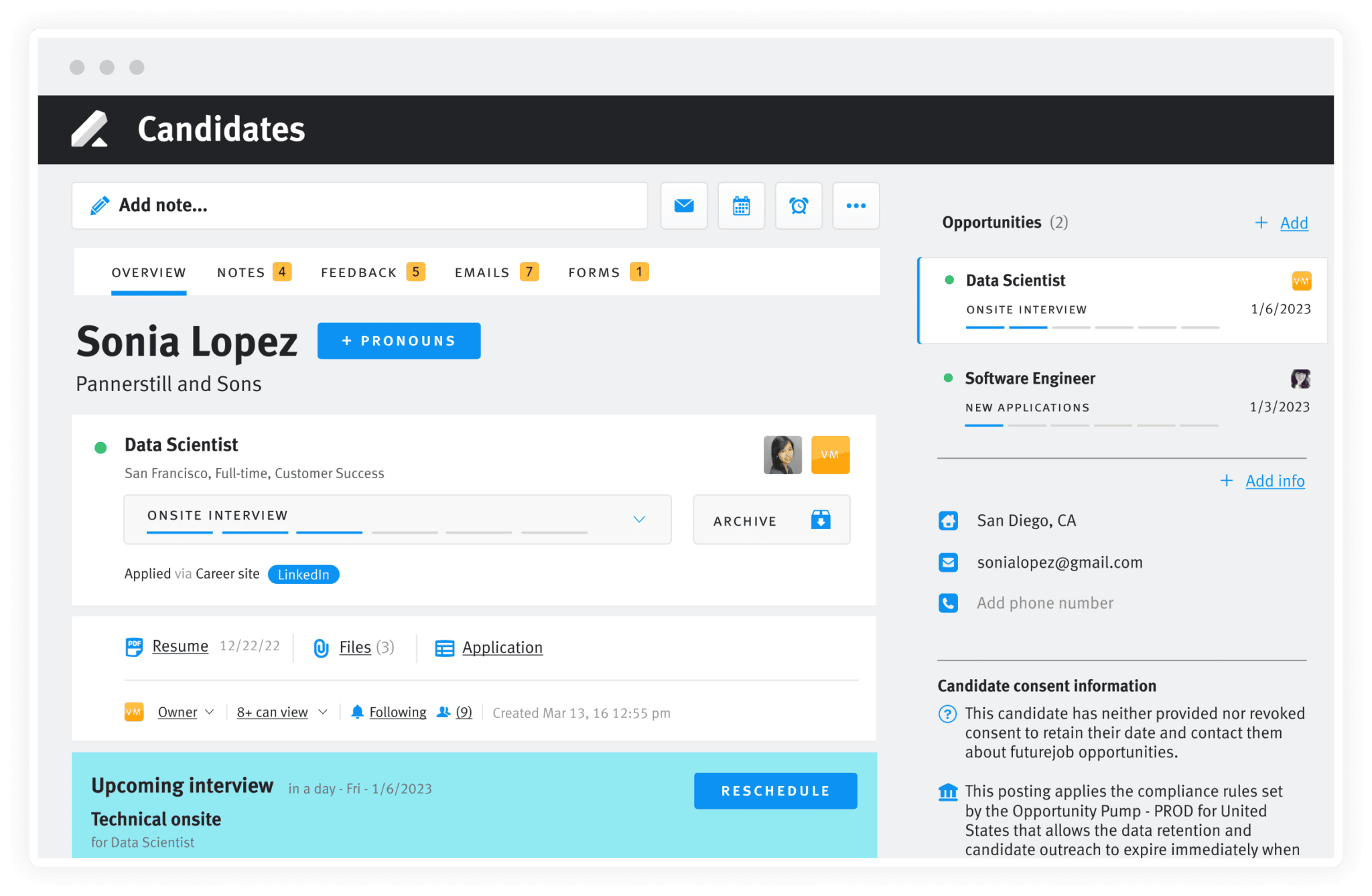 2) Rich, real-time data for every single candidate
Auto-creating candidate profiles is great. However, those profiles updating in real-time is what really distinguishes a top-tier ATS + CRM from antiquated ATS.
Candidate profiles in LeverTRM refresh moments after an action is taken by a prospect (nurture email opened or replied to, interview scheduled, assessment completed) or recruiter (lead advanced from screen stage to initial panel interview, candidate feedback/scores collected).
These up-to-the-minute changes to a job seeker's profile means all relevant recruitment dashboards in Visual Insights, our out-of-the-box analytics, enables talent teams to evaluate and, as needed, take action on data associated with prospects.
"What I appreciate about Visual Insights is that it gives us a real-time aggregate of all of our open roles and a snapshot of what's happening with each of our teams," said Loopio Sr. Manager of Talent Experience Yeniffer Pang-Chung.
3) Many time-saving features (e.g., advanced search)
Saving time is a secondary (but nonetheless vital) goal for today's recruiters.
Talent pros such as yourself can't afford to waste valuable work hours sourcing on unproven channels, engaging prospects through manual means — or scouring your recruitment database to find top talent you've previously spoken with and could be ideal for another open role.
Thankfully, you can ensure your time is spent on activities that actually move the needle for your talent acquisition efforts with a complete TA suite.
LeverTRM enables The Sheryl Sandberg & Dave Goldberg Family Foundation to "move faster, drawing on a standardized hiring process and sourcing from existing pools of candidates" to fill their pipelines with qualified leads.
This means finding net-new prospects to engage isn't needed for every role. Rather, the org's recruiters can resurface relevant leads from our ATS + CRM using our advanced search functionality and Nurture Recommendations.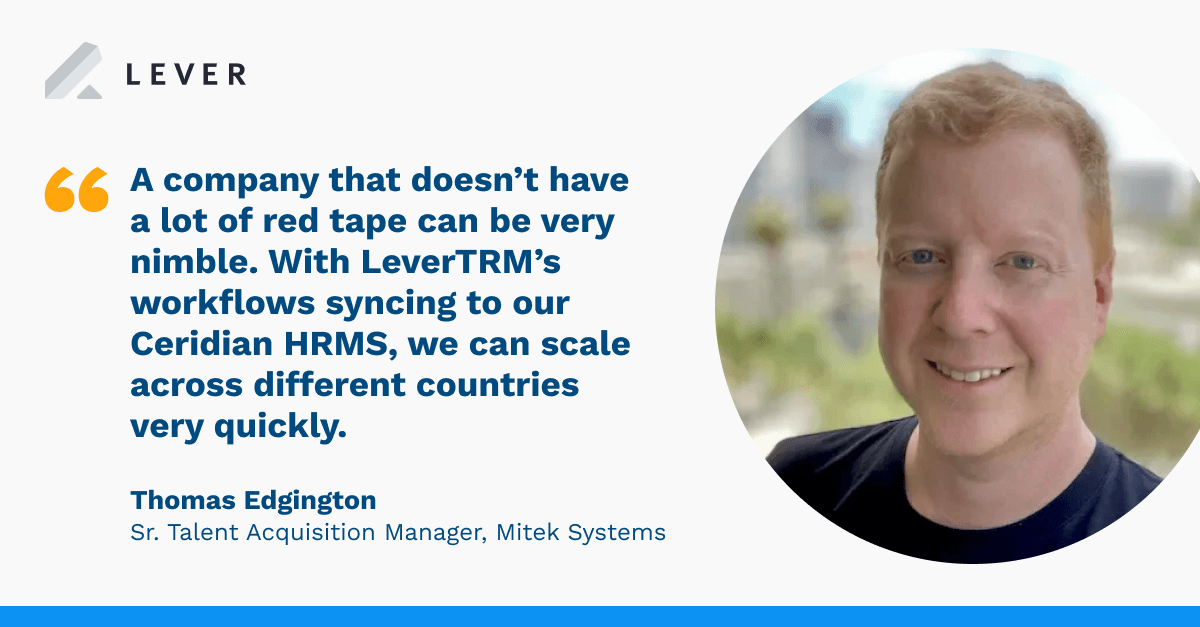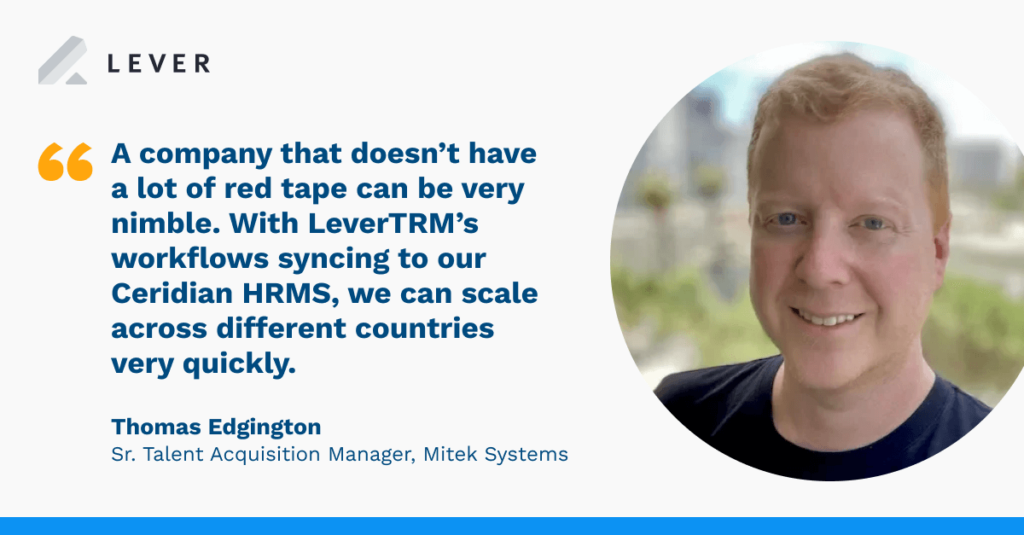 4) Flexibility to "work" with other TA/HR solutions
Lever customer Mitek Systems is a prime example of ensuring their TA and HR tech work in tandem to realize greater efficiencies for both recruiters and HR practitioners.
Mitek's talent team has been able to build a robust recruitment database in LeverTRM.
However, it needed to share the candidate data for new hires — contractors and full-time employees across locations with different employment-related laws — with its HCM, Ceridian Dayforce.
Thanks to Lever's seamless, direct connection with Ceridian, Mitek's HR team can now easily discern how it should set up and adjust payroll and performance management for new hires and ensure compliance with various regulations.
"The integration builds the employee record in Ceridian automatically," said Mitek Systems People Operations Systems & Reporting Manager Pat Shughrou.
"It allows us to do all the analytics reporting, and also makes sure that new hires are assigned in the right country with the correct pay groups," Pat added.
Discover how your talent team can use our recruitment database software to enhance your entire hiring process and work smarter, not harder. Speak with a Lever rep today.