In our ATS Buyer's Guide, we provide a blueprint for talent leaders and other organizational decision-makers regarding how to find the right recruiting software for their TA team.
More specifically, we list eight distinct steps talent acquisition directors and relevant members of their C-suites (e.g., CEO, CHRO) must take to find a robust solution that:
Streamlines critical recruiting workflows as well as the hiring process at large
Enables recruiters and hiring managers to better collaborate with one another
Eliminates time-consuming tasks (e.g., posting to job boards, manual nurturing)
Helps all talent acquisition specialists provide a great candidate experience (CX)
Addresses other notable candidate relationship management (CRM) pain points
You'll certainly find in-depth insights and advice in our ATS Buyer's Guide. However, we have some bonus tips that can aid your search for a new ATS + CRM solution for your business.
ATS buyer's guide: How you can identify and invest in the right applicant tracking system
Here's how you can get a new recruitment platform for your TA team — one that empowers them to work smarter, not harder, and realize greater efficiency with their recruiting process.
Understand where your current ATS falls short.
There's a reason you're reading this: Your ATS just isn't cutting it anymore for your business.
To make a strong business case to move to a more advanced applicant tracking system with CRM capabilities, though, you need to conduct an audit of your ATS to note its deficiencies.
Only when you pinpoint these problem areas (and even missing features and functionality) that lead to both poor performance among your recruiting staff — and, in turn, a poor CX for your prospects — can you start to build a compelling case for a more powerful recruiting platform.
This upfront work to assess the state of your ATS (and talent acquisition tech stack overall) may seem like an arduous task. But, as Lever VP, Sales Arie Jongejan relayed, the person hours allocated to this task are more than worth it in the long run.
The time invested in appraising your ATS, switching to a better solution, and managing change associated with the entire process "is so worth it when you and your talent acquisition team come out the other side of implementation stronger and realize your desired ROI," per Arie.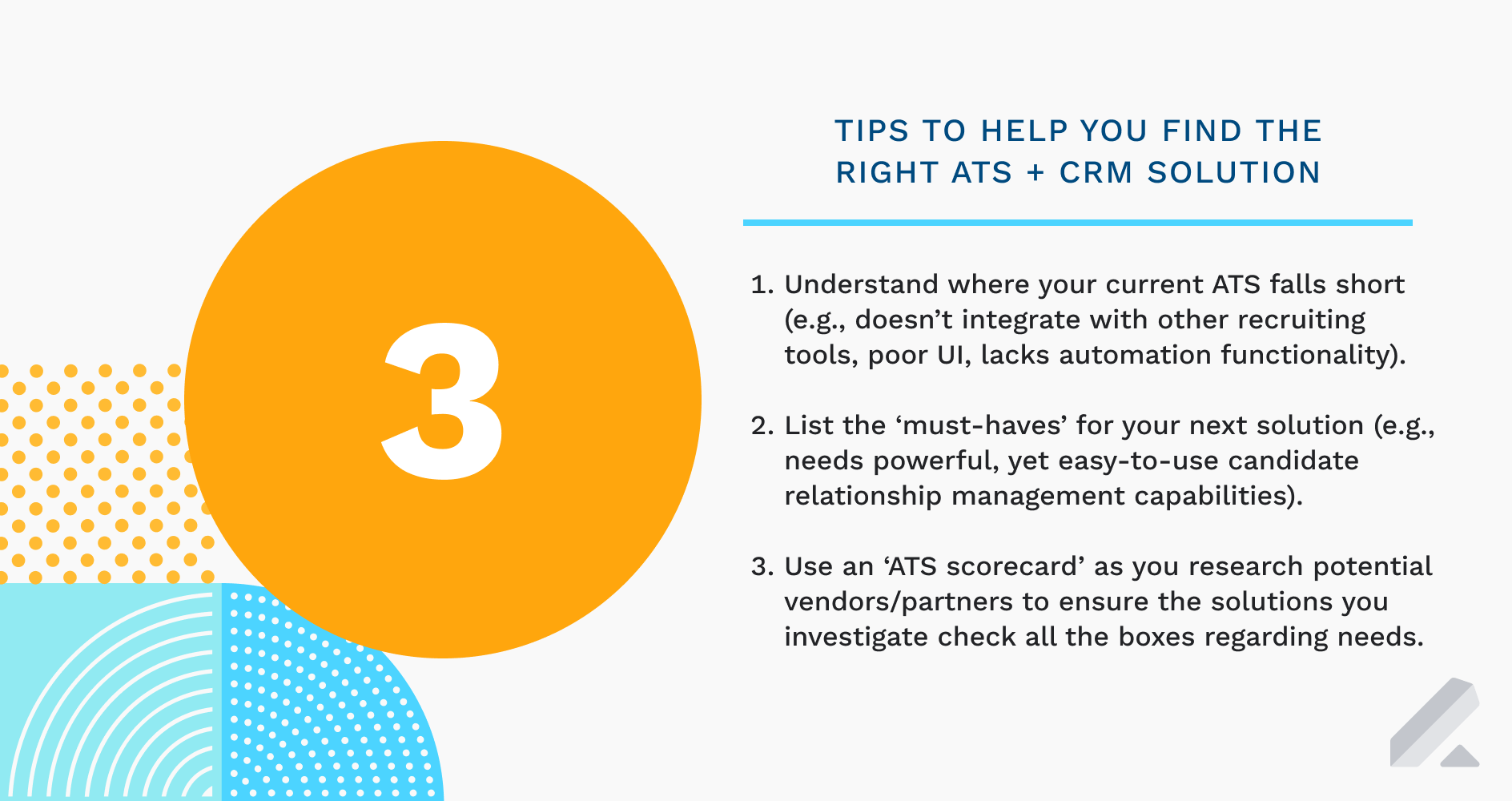 Note your must-have solutions and requirements.
As our ATS Buyer's Guide explains, you should buy an applicant tracking system for the for solutions it solves for, not the features and functionality it offers.
That said, there are specific solutions your next ATS should have to help you better source, nurture, and interview candidates.
For instance, the ATS scorecard in our guide — one we recommend recruiting software buyers such as yourself fill out to aid with and expedite the purchase process) lists several specific solutions and requirements your next talent acquisition tech should offer.
This includes:
A clean, easy-to-maneuver user interface to enhance and operationalize daily activities
Powerful candidate relationship management capabilities to intelligently engage talent
The ability to locate candidate data and info (e.g., prospects' funnel status) in seconds
Actionable insights regarding prospects as well as team/individual-recruiter performance
Integrations with recruiting, HR, and communications tools (e.g., HCM, Slack, Zoom)
There are a dozen more items on this scorecard to consider. The point is each person on your ATS evaluation team (more on what that should look like in the guide) should fill this out so you can compare and contrast and see what solutions and requirements matter most.
Hit the ATS marketplace to research your options.
After this legwork, you can (finally) look into ATS options. However, you need to list all critical questions ATS vendors must answer — ones that provide granular insights into their solution and services — to ensure you don't waste your time considering their offering.
Some key questions to ask prospective providers during your ATS evaluation process include:
Does your solution help us sync crucial candidate data with agency partners?
Can your ATS enable us to publish job postings to all major job boards at once?
Are we able to reduce manual labor and automate many tasks with your system?
Can your platform help us easily rediscover/resurface 'archived' talent for roles?
What customer support do you offer before, during, and after implementation?
This last question is very important to ask.
Why? Because, just as your relationships with candidates shouldn't be transactional, your ATS provider shouldn't simply sell you their solution then wish you best of luck.
Rather, you need your ATS provider to be a true partner — one that can offer the requisite resources and ongoing guidance to your TA team to make sure they leverage and navigate the platform with ease (i.e., intuitive user interface) and carry out crucial tasks quickly.
Securing a more advanced recruiting solution with help from our in-depth ATS Buyer's Guide
As Lever Director, Solutions Consulting Jared Allen stated, there is never going to be a perfect time to rip and replace your applicant tracking system.
That said, Jared indicated "sticking with the status quo isn't a good reason not to invest in better recruiting software that will set your talent team and business at large up for greater, long-term success."
If your ATS deters you from developing long-term relationships with candidates, having meaningful conversations with them, moving them through your recruitment funnel with relative ease, and ensuring your human-to-human hiring process leads to both speedy, high-quality hires and a satisfactory CX for all prospects, it's time to upgrade.
Read our entire applicant tracking system buyer's guide to get more extensive advice regarding how you and your org can find and implement the right ATS for your talent team.