Candidate communication is a focal point for every talent acquisition team today.
More to the point, it's an essential facet of TA teams' recruitment processes that helps them keep candidates engaged and bolster their chances of converting those job seekers.
Your team regularly refines your approach to delivering personalized emails and social media messages to passive prospects to ensure you continually improve how you engage them.
But, you also need to use an increasingly important messaging medium that has proven to help orgs better nurture prospective hires through the funnel and provide a world-class candidate experience to every individual they engage for openings: candidate texting.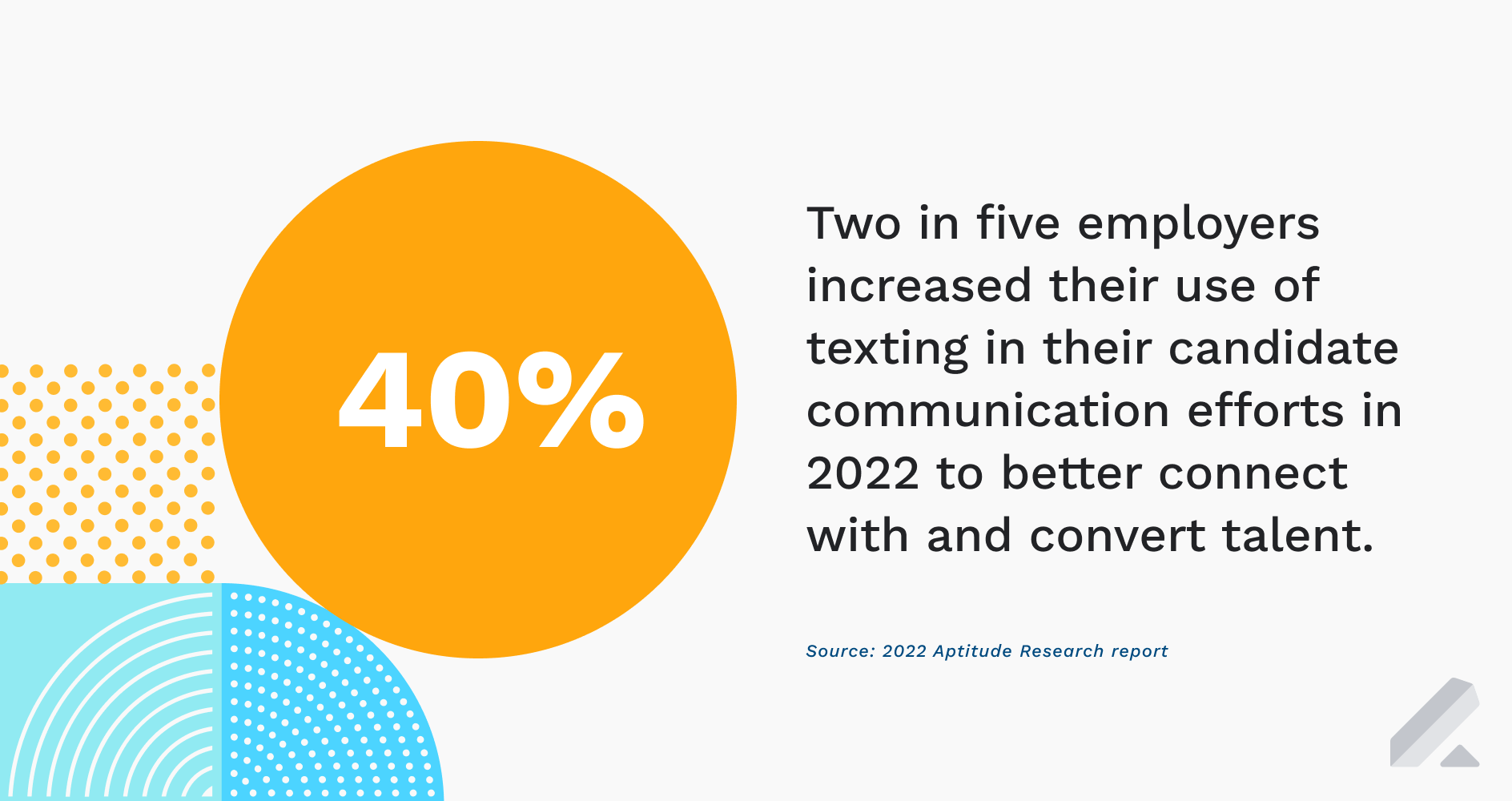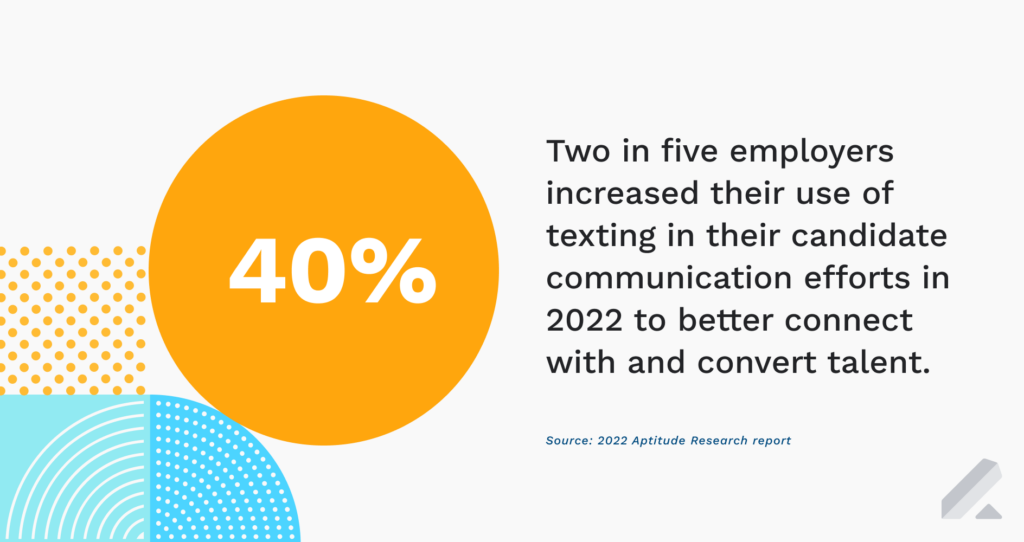 What the candidate communication strategies implemented by leading talent teams entail today
The typical types of recruitment communication your team likely delivers daily are many:
"Cold" messages via phone calls and LinkedIn to connect with passive talent regarding open and upcoming positions at your company
Emails sent using automation tools (see: Lever Nurture) that promote your employer brand and culture to previously engaged and qualified leads in your system
Manually sent messages to job applicants and sourced prospects to schedule interviews with them and advance them in your respective recruiting funnel
Status updates to active opportunities to keep them apprised of the latest decisions made in the interview process (and prevent them from exiting said process)
Rejection emails to individuals who aren't strong fits for an available opening (based on the final decision from your hiring manager with the open requisition)
Offer extensions to a great candidate your hiring team agrees is the best option for an opening based on candidate feedback and interview scorecards
Testing different variations of this messaging (e.g., subject lines and body copy of nurture emails, opening elevator pitches on cold calls) as well as the schedule, cadence, and number of touchpoints of said messaging (i.e., for automated messages) is important.
However, you also need to experiment with other candidate communication methods.
Doing so is the only way to continually elevate the quality of your candidate relationship management (CRM) efforts and boost your conversion rates.
"Emailing leads to gauge their interest in roles, request phone screens, schedule interviews, and provide updates on the latest hiring process developments will always be a critical component of your recruiting strategy," said Lever Sr. Product Marketing Manager Roy Reif.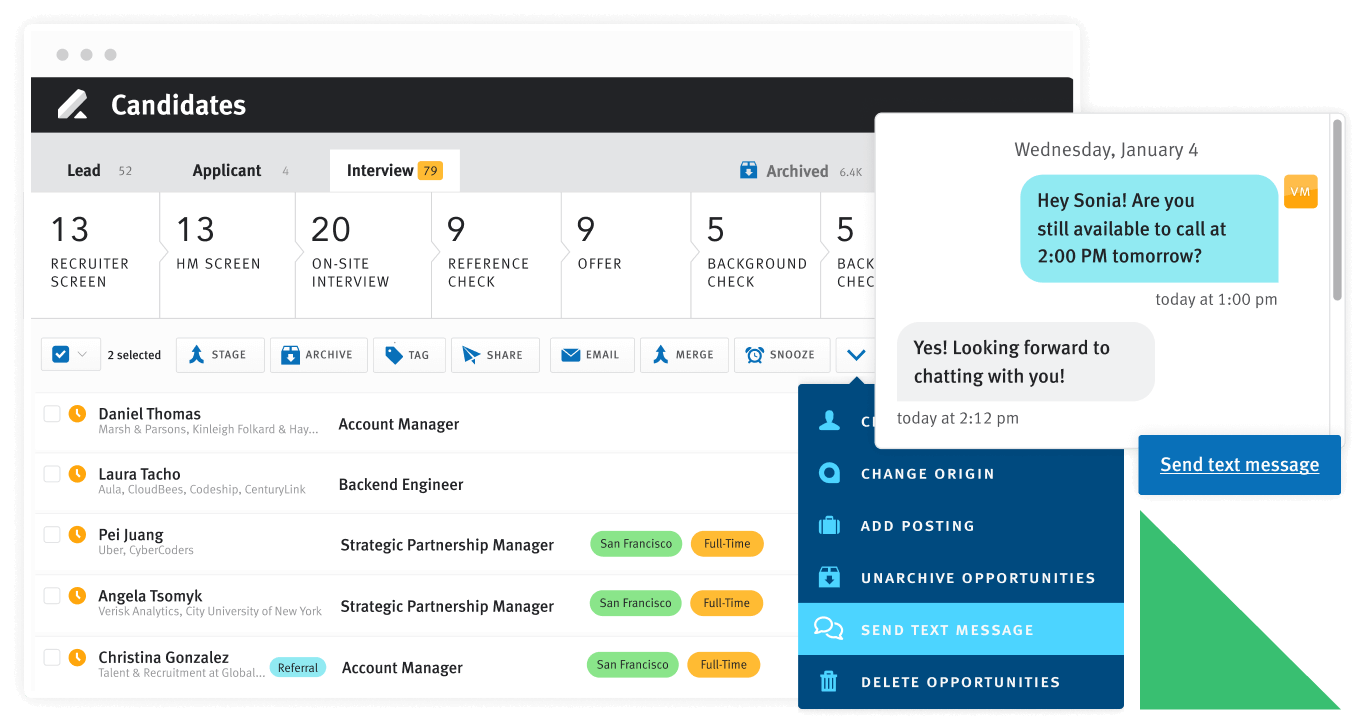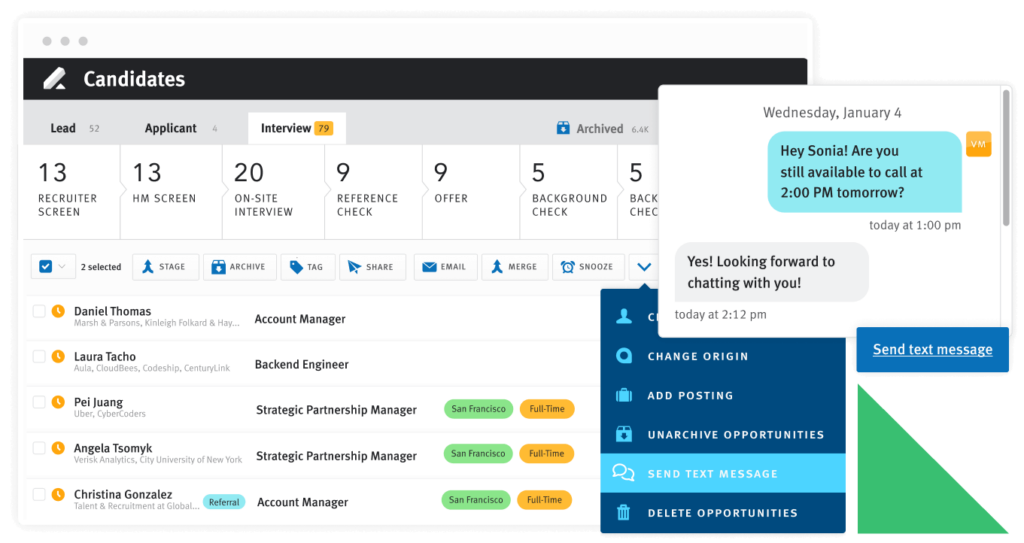 That said, texting must play a part in your nurture efforts too, Roy added.
"It's a highly effective candidate engagement approach that can also help you move prospects of interest from one funnel stage to the next with greater ease and, ultimately, improve your hiring speed and efficiency," said Roy.
Lever research shows our customers excel with their nurture-based CRM strategies by using the out-of-the-box nurture functionality in LeverTRM.
Case in point: The average LeverTRM user had a 46% reply rate to nurture campaigns with six or seven emails (a.k.a touchpoints) in 2018. That figure rose to 99% in 2021.
Nevertheless, many (if not most) of these talent acquisition teams now utilize texting in their nurture programs, knowing not all candidates prefer email communications.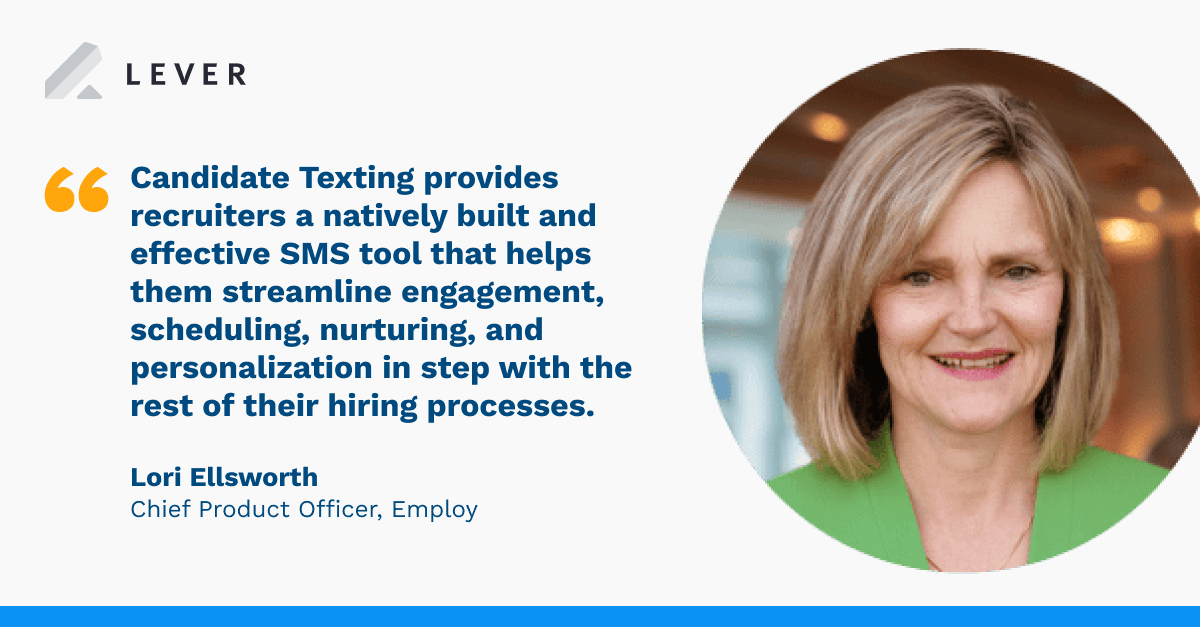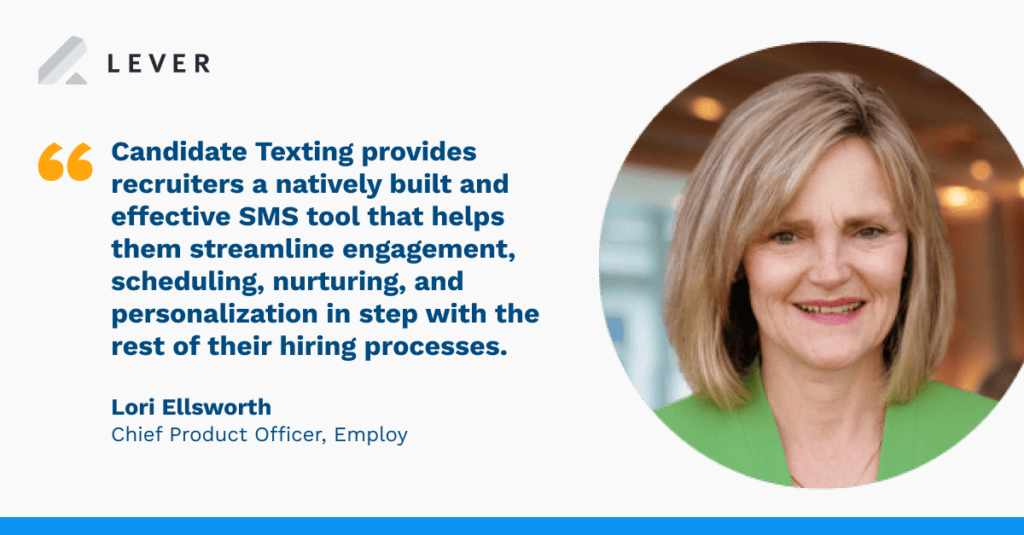 How you can incorporate texting in your candidate communication approach moving forward
Of the numerous recruiting tools at your team's disposal are dedicated text nurture solutions that can integrate with your applicant tracking system. In recent years, these apps and platforms have greatly aided talent teams' nurture strategies.
If you prefer not having to sync outside tools to your ATS, though — something many recruiting orgs now prefer today to reduce their TA tech stack's complexity and streamline their work — your best bet is to ensure your primary recruitment software has built-in texting capabilities.
Consider Candidate Texting in LeverTRM.
Our customers have long taken advantage of Advanced Nurture to set up rules- and time-based campaigns with multiple touchpoints to reach out to leads at the right time.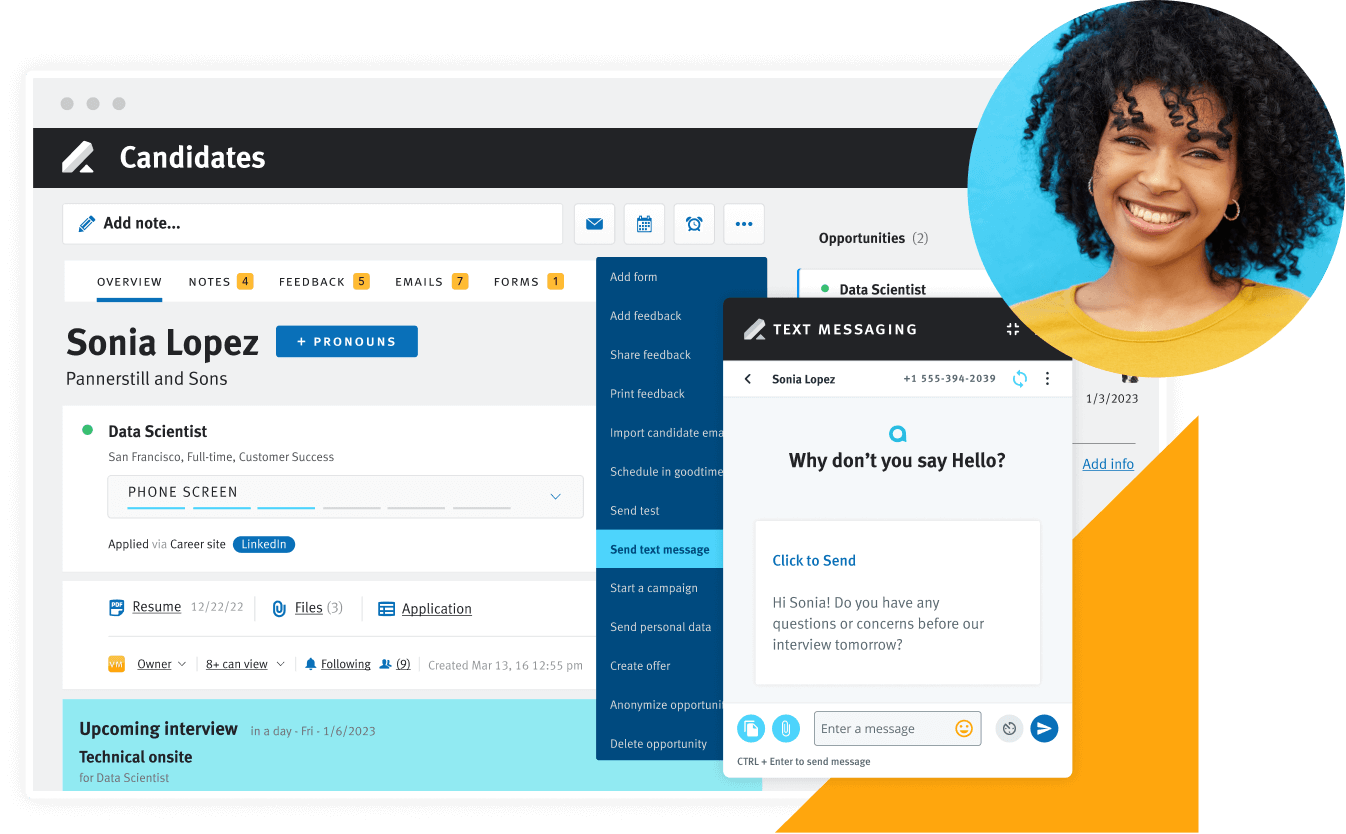 Now, they also use our candidate communication feature to do so via text messages:
LeverTRM users can access this robust yet easy-to-use recruitment communication functionality from anywhere in our ATS + CRM solution and easily find the candidate they want to send an SMS to or schedule to send texts to later.
Just click on Text Messages via the ellipsis dropdown in the LeverTRM nav or the text bubble persistently in the bottom-right corner of the screen.
From there, search for the candidate you want to text, then craft your message in the text pop-up. (It's similar to the iMessage user interface on desktop.)
As you type, you can use "merge tags" (i.e., placeholder codes for candidates' names), which will then auto-insert the prospect in question's first, last, or full name.
Tracking each text you send is simple. You can view all texting history for a given lead in their dedicated, dynamically updated candidate profile. This ensures you don't accidentally send those opportunities the wrong message or forget where they are in your funnel.
One of the best parts of Candidate Texting? It takes seconds to get up and running with it.
"Candidate Texting provides recruiters a natively built and effective SMS tool that helps them streamline engagement, scheduling, nurturing, and personalization in step with the rest of their hiring processes," said Employ Chief Product Officer Lori Ellsworth.
Learn all about Candidate Texting and our platform's other advanced ATS + CRM capabilities, our complete talent acquisition suite. Schedule a demo with our team today.