Some talent acquisition teams have just 100 total job candidates in their talent pool (a database of all individuals who apply for or are reach out to for open roles).
Other recruitment orgs have 100,000. (You read right.)
Regardless of the size of your TA org's talent pool, you need to ensure you have a talent management approach in place that helps you best engage each job seeker.
Sending personalized, well-timed messaging to active and passive candidates who "join" your talent pool (i.e., either apply via your career site or a job board or are proactively sourced) is the best way to separate interested (and qualified) professionals from poor-fit prospects today.
By delivering bespoke, timely messaging to candidates in a seamless, persuasive, automated, and data-driven manner, your talent team can both provide positive experiences to potential hires and convert top talent into new hires in a scalable, repeatable manner for your org.
The key to long-term candidate engagement success lies in using advanced TA tech that offers rules-based email nurture automation. Specifically, a leading, applicant tracking system (ATS) with out-of-the-box nurturing capabilities every recruiter can use with ease.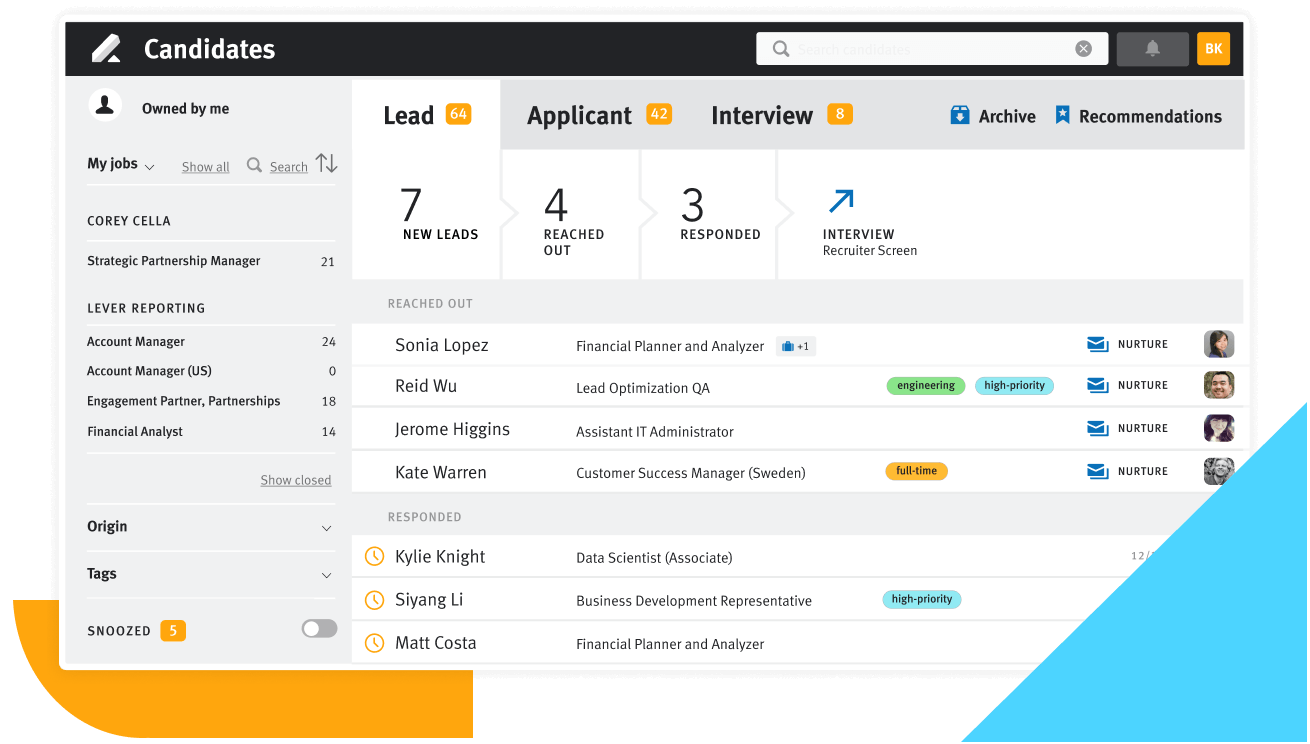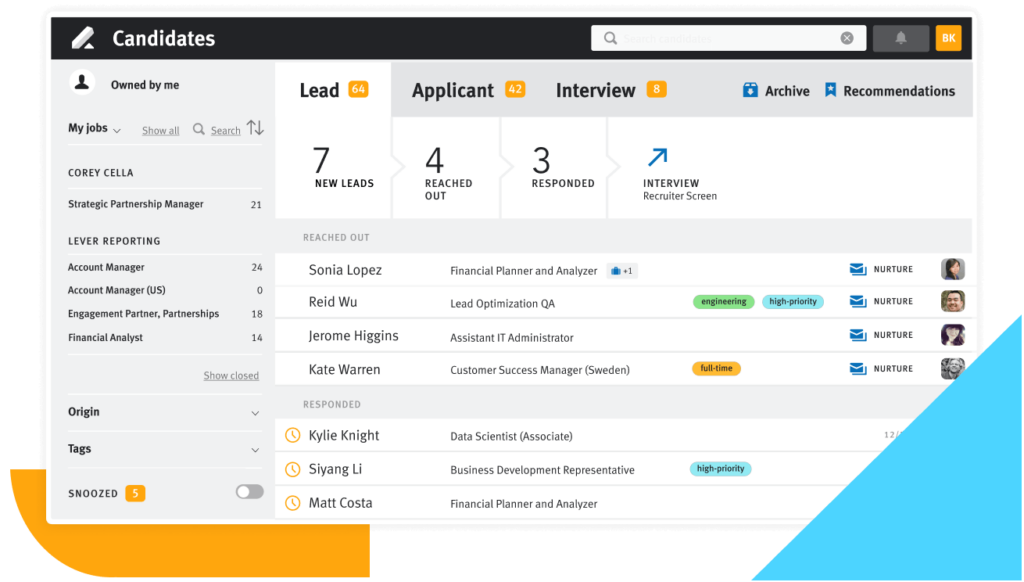 How leading talent teams engage and convert candidates in their talent pool through nurturing
As our eBook on automated candidate nurturing explains, the best recruitment orgs don't just focus on building a high-quality talent pool that features many qualified job seekers. These teams also spend a great deal of time setting up and optimizing their nurture campaigns.
Here's how Lever customers use our ATS + CRM solution to not just build a talent pool, but also enhance their recruiting strategies to ensure they best connect with and convert those folks and strengthen internal talent collaboration, communication, and productivity.
Nurture campaigns set up for different talent pool "segments"
Lever Nurture enables recruiters to build custom campaigns tailored to a given individual or groups of candidates that trigger emails based on a pre-defined schedule.
For instance, "cold" leads — potential candidates who haven't engaged with a nurture email or text in several weeks or perhaps months — can be added to a re-engagement campaign meant to stay top of mind with them and, in time, see if they'd be willing to want to learn about a new job opening.
LeverTRM users also set up role-specific campaigns with more urgent and overt promotional messaging tied to open positions for "warm" leads they've recently sourced.
Manual follow-up at later stages of the recruiting process (e.g., when you are scheduling interviews at each stage of your unique interview cycle) will always be required.
But, "exploratory," automated talent nurturing is what can help you distinguish intrigued and qualified prospects from those who aren't ideal fits (e.g., those who won't help fill skills gaps or only want to be contingent workers) and are simply worth "archiving" for the time being.


With nurtures in play, recruiters can review other candidates
While they have dedicated nurtures running on an ongoing basis, recruiters with LeverTRM as their main ATS + CRM solution can comb over the unified profiles for job candidates: those they source on social media and job boards and "earn" via the application process.
Resumes, cover letters, CVs, and general notes taken during phone screens and initial email outreach with candidates all live in unified candidate profiles within LeverTRM.
Moreover, talent specialists who use our recruiting platform can assign tags to each prospect in their talent pool. This makes it easy for them rediscover leads down the line.
Recruiters can then add them to either existing candidate nurture campaigns or net-new ones they need to create for newly opened roles they've been assigned.
Nurture engagement data provides insights into talent activity
As nurtures continue to run and deliver personalized emails (thanks to "tokens" within LeverTRM that enable emails to auto-fill the specific info for a given prospect), recruiters can evaluate data related to this automated candidate engagement.
Specifically, LeverTRM users can use the built-in email tracking functionality to discern how many leads opened and engaged with (i.e., clicked a link within) certain emails and campaigns as well as which individuals did so.
This engagement can then inform who automatically progresses to the next stage within one's talent pipeline (e.g., from "Initial Outreach" to "Active Opportunity") and, therefore, is worth focusing on manually nurturing next.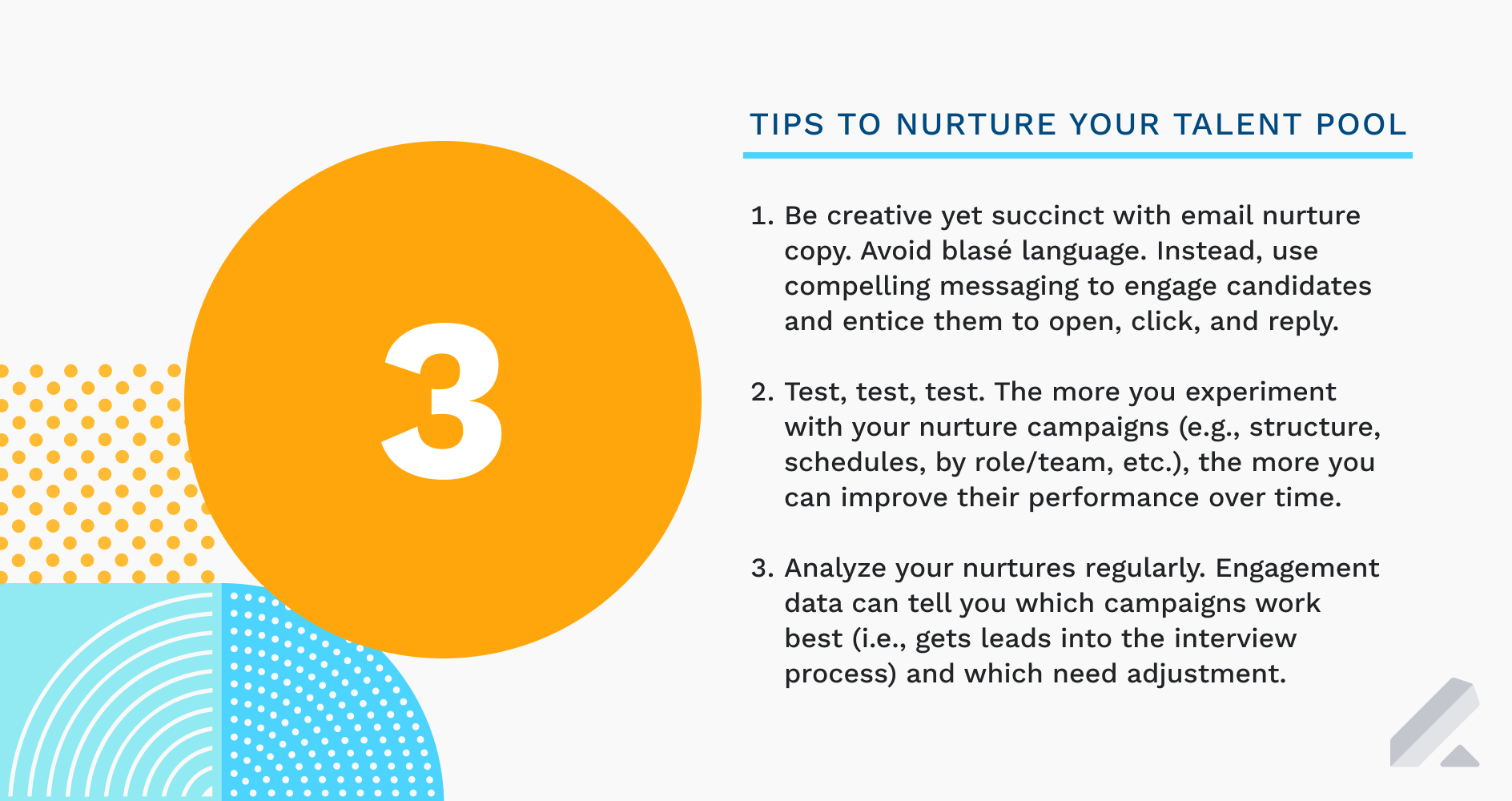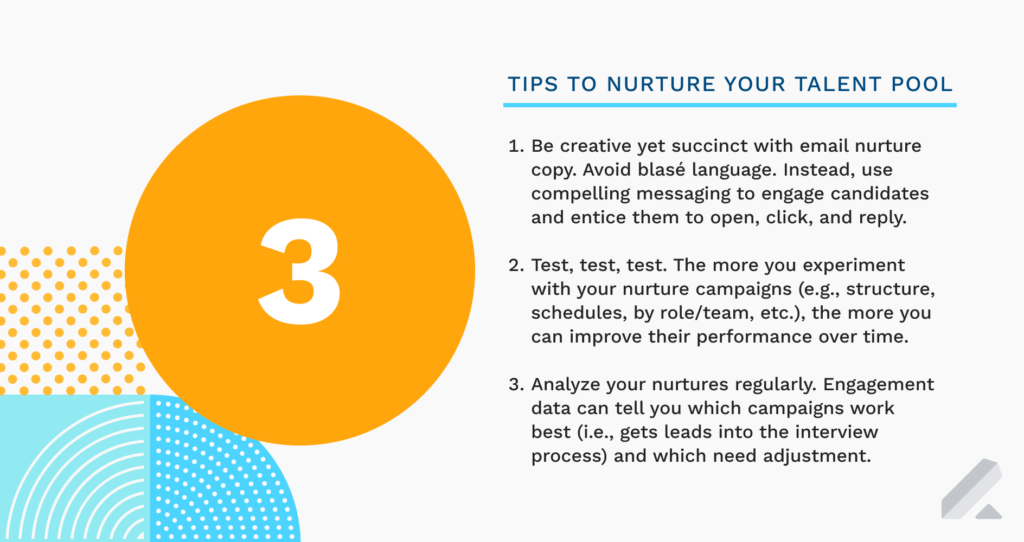 Talent teams learn how to improve candidates' experience
Regardless of whether you hire a prospect or not, the personalized touch of your nurture emails to individuals in and segments of your talent pool will increase your odds of delivering a first-class candidate experience.
This enables LeverTRM users to delight new hires and impress passed-on candidates they may want to speak with at a later date for future roles. (For instance, silver-medalists.)
This top-tier CX also leads to better employer branding. (That is, positive word-of-mouth and an improved brand reputation among job seekers).
An added bonus? You can send candidate surveys at the end of your recruiting cycle. This helps you and your business secure prospects' insights about your hiring efforts.
For example, you can learn what they did and didn't enjoy about their interview experience. Similarly, you can get their thoughts on speaking with your org's interview panel.
Download our candidate nurturing eBook to learn how your talent team can start building nurture campaigns that lead to more conversions of qualified candidates.