You've likely heard about the myriad ChatGPT use cases tied to the revolutionary artificial intelligence (AI) technology that has grabbed much of the world's attention.
That includes talent acquisition professionals across the globe, many of whom continue to explore how they can turn the innovative (game-changing, is more like it) tech into an AI recruitment tool that aids their recruiting process.
ChatGPT, nor its recently introduced competitors — Google Bard and Microsoft's Bing-connected AI tool — are meant to replace humans (despite what you may hear from AI skeptics). Rather, they are intended to augment human effort, including and especially human work.
If you've always (well, since November 2022) wanted to know which specific ChatGPT use cases you and your talent team can and should execute to realize greater efficiency and productivity, you've come to the right place.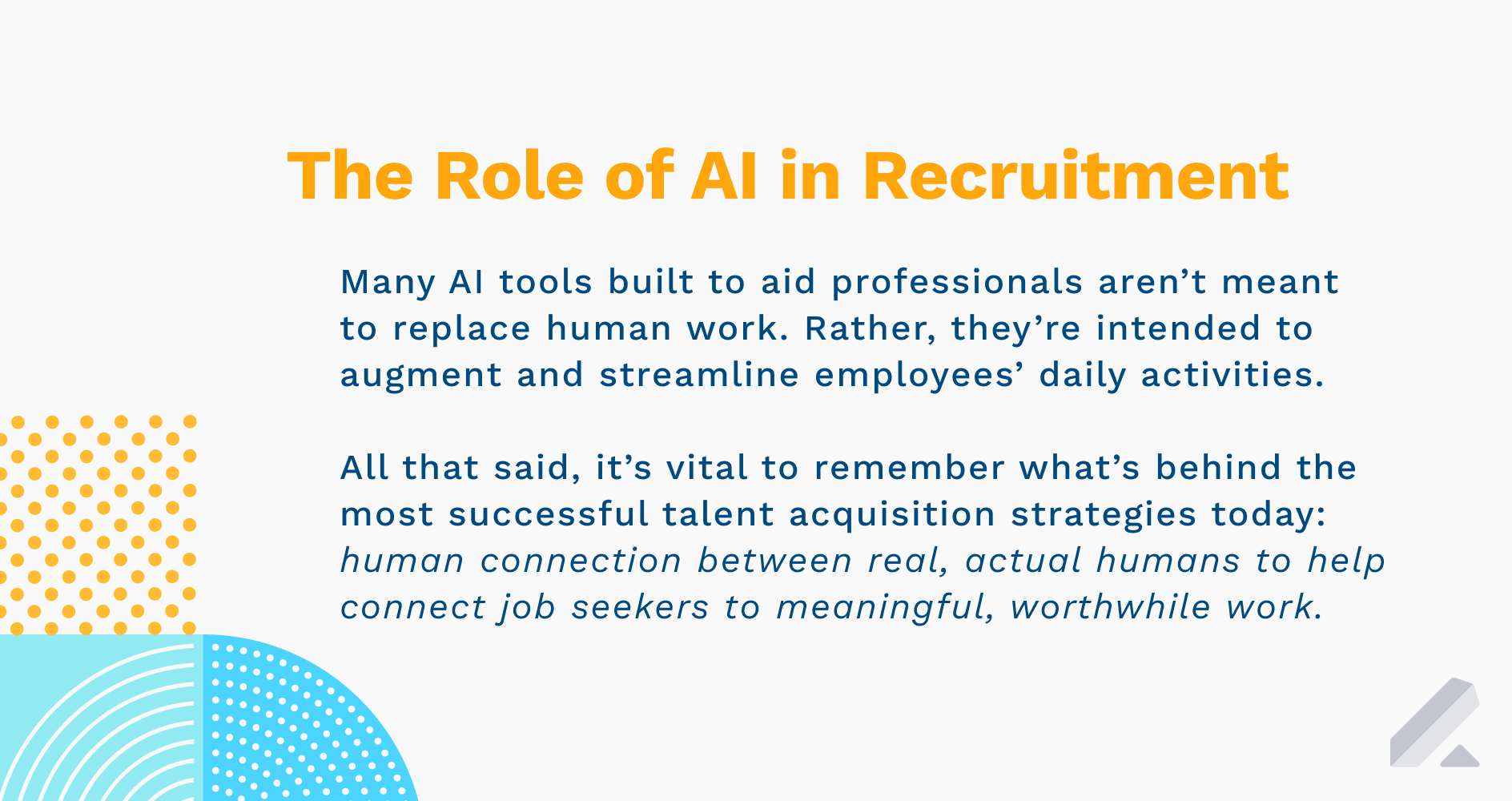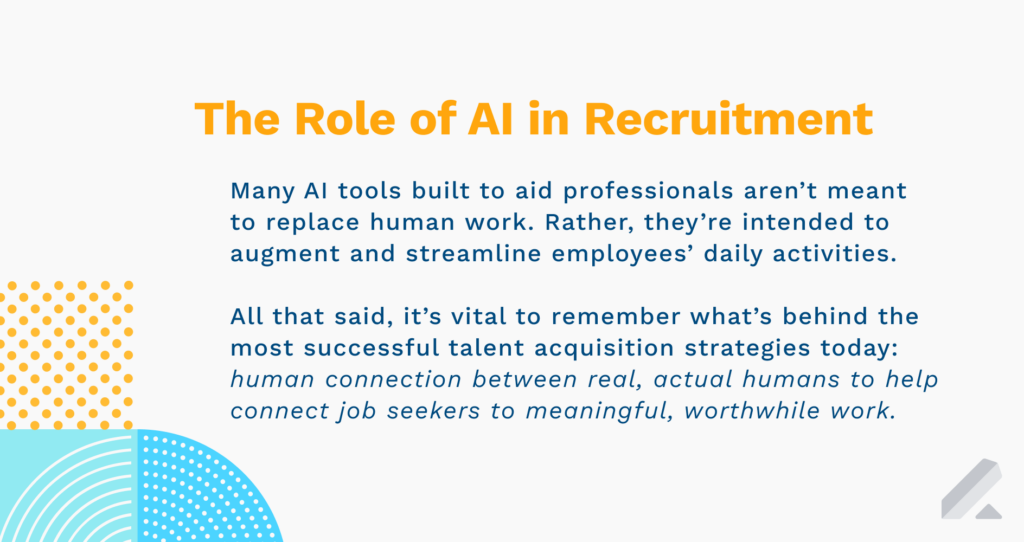 Understanding ChatGPT: What to know before leveraging the AI in recruitment activities
Before leveraging ChatGPT for your TA efforts, you need to learn about the tool:
A simple Google search for "ChatGPT best practices" yields many insightful articles and videos that note what the AI tech entails and how to make the most of it. Start here.
After signing up for your free ChatGPT account, read OpenAI's tutorials, then begin testing the tool by entering prompts (i.e., recommendations or requests) related to pain points you face in your particular talent acquisition role to get an idea of how the tech can assist you in your day-to-day.
ChatGPT will provide the best responses to your queries by "training" it. For instance, if you want to learn more about what the best DEI initiatives entail today, ask ChatGPT to first learn more about DEI and its distinct role in recruiting, hiring, employee retention, and workforce satisfaction first.
TL;DR: Play around with ChatGPT in your spare time to learn how its machine learning (deemed "deep learning") and natural language processing functionality works and what types of training and prompts lead to the best output.
Once you do, you can get on your way to better evaluating and engaging individuals in your talent pool, more efficiently and effectively converting qualified candidates into new hires, and improving collaboration with HR professionals, hiring managers, and other recruiters.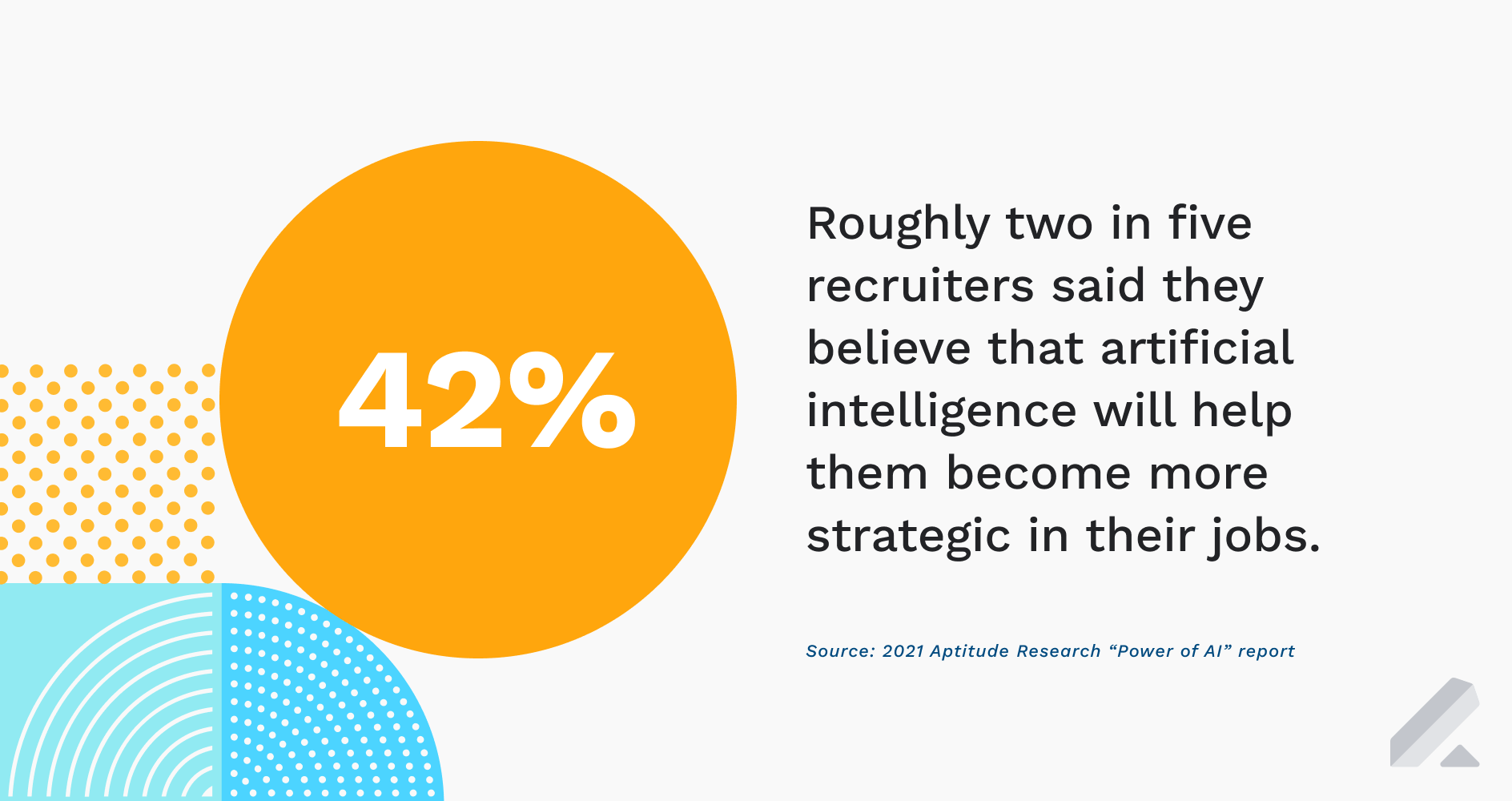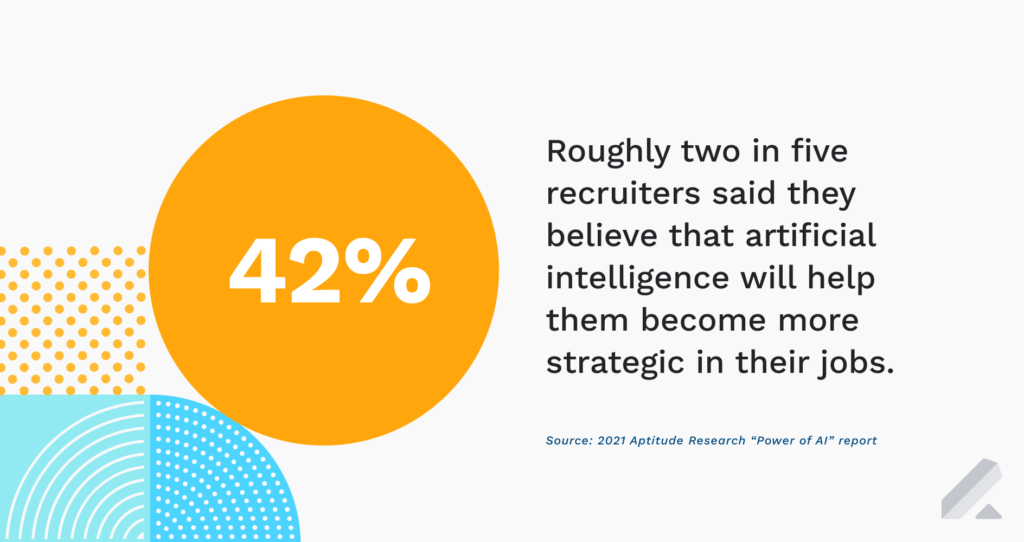 7 ChatGPT use cases for your recruiting team
"[Artificial intelligence] enhances the human side of talent acquisition and offers a support system for companies looking for smarter ways to attract, recruit, and hire talent," per a 2022 Aptitude Research study on the use of AI in recruitment.
That is to say, AI doesn't replace recruiters. Instead, it can simply amplify talent specialists' daily work and tackle tedious tasks TA pros would rather "offload" anyway.
Of course, you can't build a sustainable and scalable recruiting and hiring strategy with AI alone. You also need a powerful platform with built-in candidate relationship management (CRM) and applicant tracking capabilities to thrive. Consider LeverTRM.
Talent teams with our complete TA suite use the above functionality along with out-of-the-box AI features, like Nurture Recommendations, to identify new prospects, resurface existing ones, engage top talent, and — ultimately — achieve their respective recruitment KPIs.
Once you have such a solution, you can turn your attention to these ChatGPT use cases.
1) Screening resumes for applicants
Lever customers use Fast Resume Review to quickly parse resumes for applicants deemed qualified for an open role, thanks to the use of our knockout questions features.
That said, ChatGPT can also help with this process too.
Let's say you need to fill an open customer service role at an ecommerce company. Hiring managers can relay what they're looking for in a new team member. But, you can also prompt ChatGPT to note what the optimal characteristics are of high-performing CS reps.
Prompt example: "List the ideal traits of a successful ecommerce customer service rep."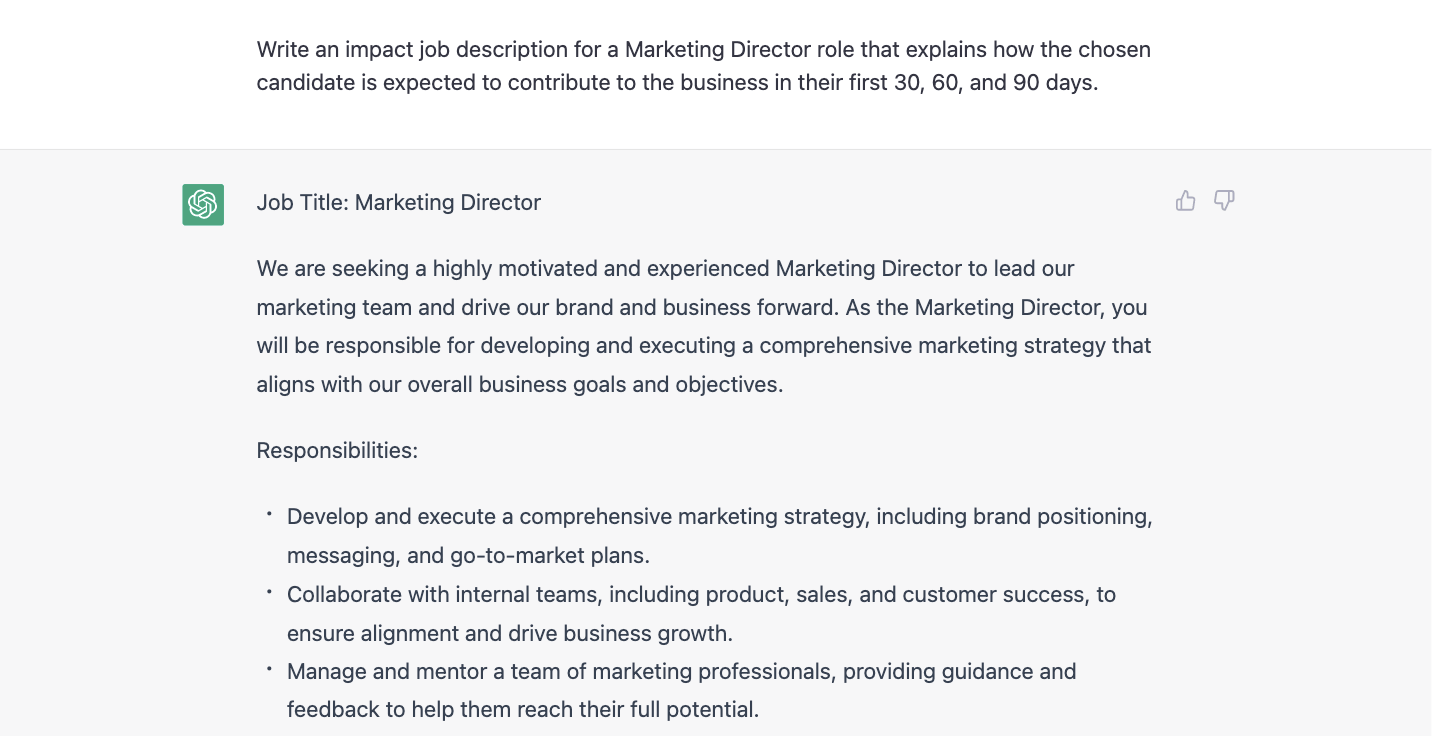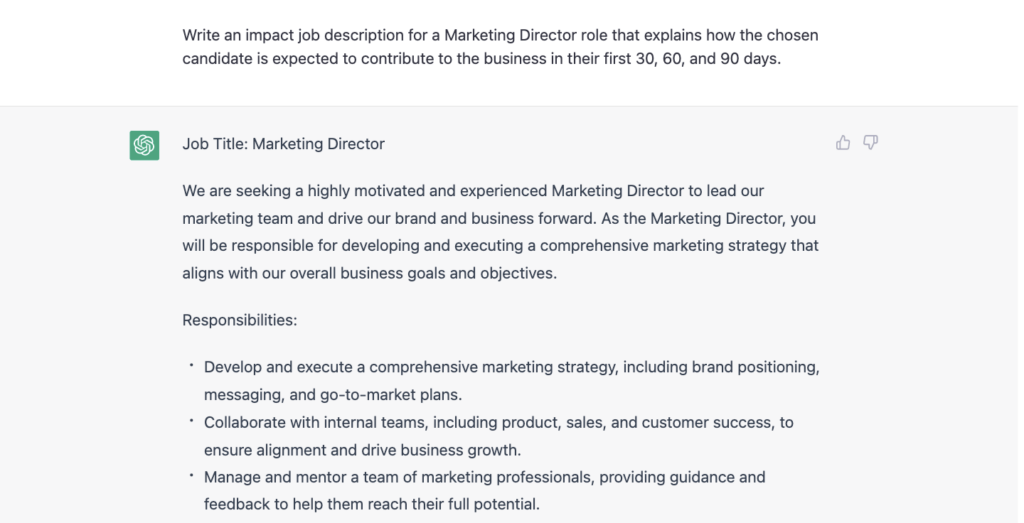 2) Writing impact job descriptions
Simply looking at a given job requisition can inform much of the copy for your impact job descriptions. But, it's the aforementioned chats with hiring managers that can help you learn what impact they are expected to have on the business.
Other employers looking to fill the same roles also spend a great deal of time crafting these descriptions. So, why not ask ChatGPT to examine those orgs' postings to see what common impact-related job expectations they all list?
Prompt example: "Write a marketing director job description that explains what the chosen candidate is expected to accomplish in their first 30, 60, and 90 days on the job."
3) Getting a list of inclusive terms
Diversity, equity, and inclusion remains top of mind for talent teams today. One specific facet of DEI that is a focal point among recruiting orgs relates to job postings — notably, the kind of language used to inform and engage job seekers.
Gender-coded and exclusive terms (e.g., "competitive," "fearless," "strong") that lean masculine can deter women and non-binary individuals from applying for a role.
ChatGPT can aid with your job messaging by evaluating which terms are inclusive — and, thus, worth using in postings — and what language must be avoided at all costs.
Prompt example: "Research what gendered language employers should avoid using in job descriptions and what inclusive language should be used instead."
4) Producing email messaging
Candidate engagement requires a personal touch to best connect with prospects today.
You need to know the details about a sourced lead's background (i.e., from their LinkedIn profile) and why you think they're a good fit for an active role to get your nurture messaging to best resonate with them and entice them to want to learn more.
However, ChatGPT can provide a foundation for nurture campaigns by writing drafts of compelling emails you can use as initial touchpoints in cold outreach.
Similarly, you could ask ChatGPT to develop an email template of sorts you can use when rejecting candidates you previously engaged and interviewed.
Prompt example: "Write an email to a job candidate using a warm and friendly tone that explains why they are an ideal fit for an open account executive role based on the following LinkedIn profile details. [List LinkedIn profile experience/skills here.]"
Prompt example: "Write a brief email to job candidates we previously interviewed for an open role but have rejected. Use a compassionate, soft tone that lets them down easy and thanks them for their time and consideration."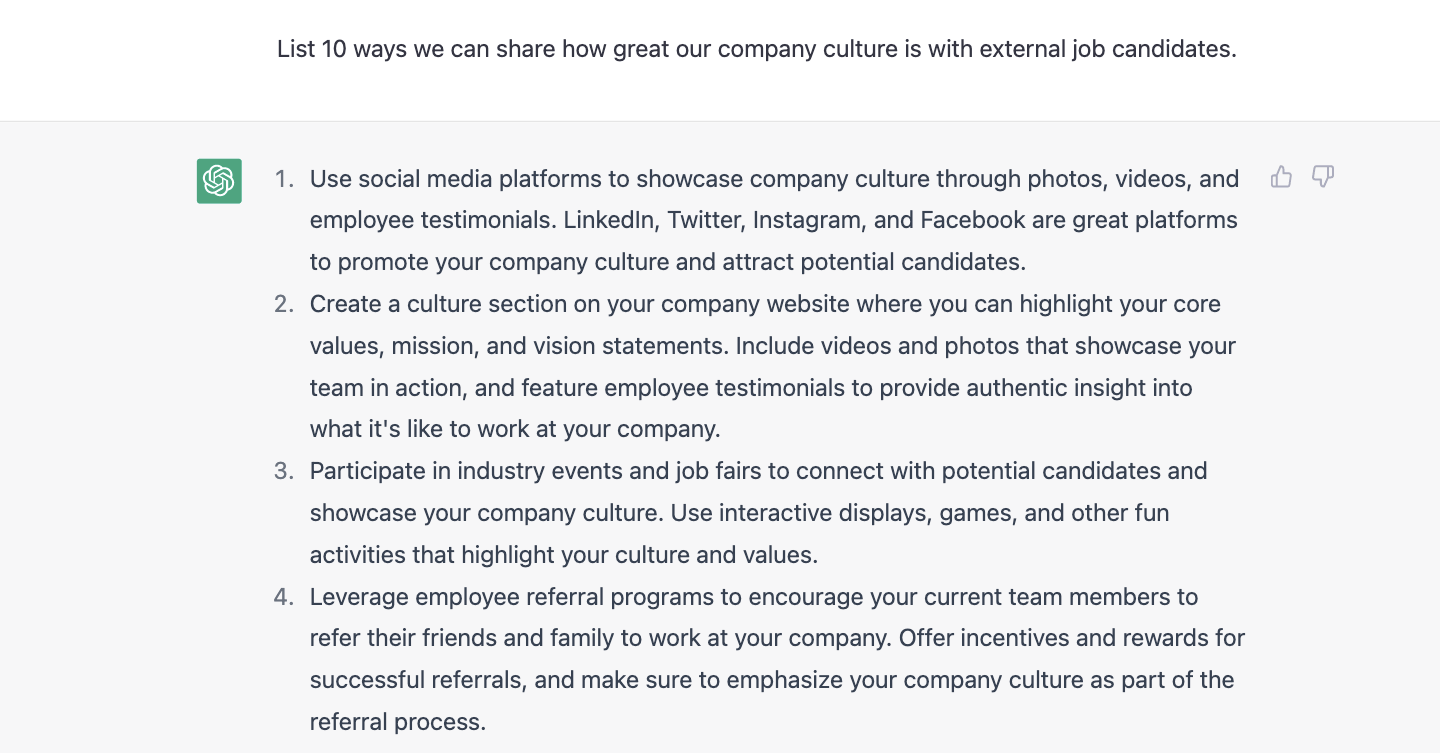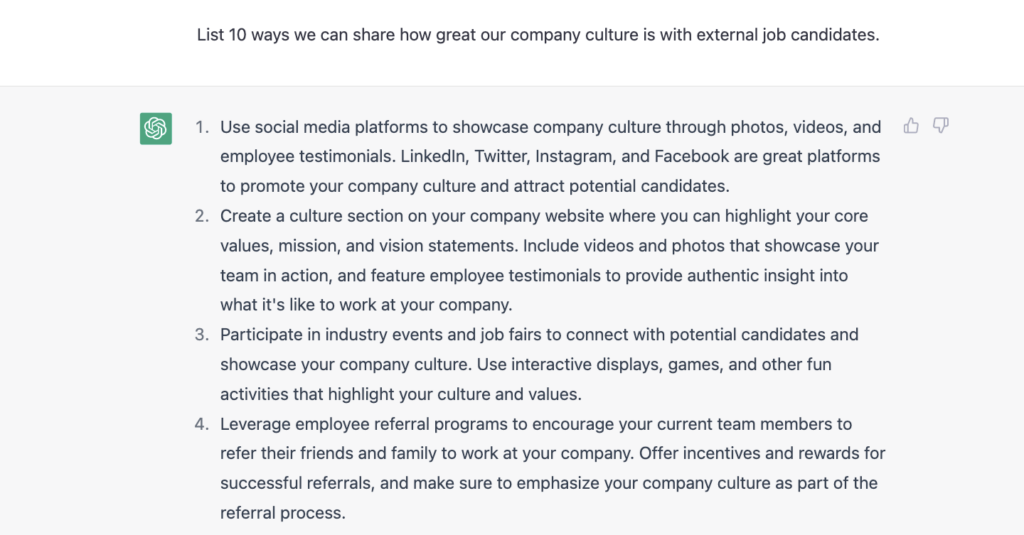 5) Updating "About Us" page copy
This ChatGPT use case could technically apply to other important pages across your brand site. For the sake of specificity, we'll simply address your About Us page here.
ChatGPT can evaluate your business and language used across your website and about your org elsewhere online to produce copy that could better relay what your company does, how it aids your target audience — and why job seekers should want to work there.
Prompt example: "Research [your company name], and recommend how we can better explain our mission statement and value proposition on our 'About Us' page."
(Note: If ChatGPT isn't able to learn about your business, you can feed it information from your about page directly as part of your prompt to give it the info it needs.)
6) Crafting new interview questions
Talent specialists, hiring managers, and HR practitioners work in tandem to refine the interview questions they ask candidates for specific teams and positions.
However, there will invariably be certain roles that are difficult to craft questions around (e.g., highly technical jobs). That's where ChatGPT can help: by providing a list of duties related to a convoluted role and questions that would only apply to someone interviewing for said role.
Prompt example: "Learn the core responsibilities and attributes of full-stack engineers, then list 10 interview questions to ask full-stack engineer job candidates."
7) Developing narratives around data
Contextual analysis of your company's data-driven recruiting efforts is more of a human task than one for a bot to handle (no matter how "intelligent"). That's because real-life recruiters like you can provide the appropriate color around your TA insights that a machine simply can't.
That said, ChatGPT can compare your recruitment data tied to quality of hire, candidate experience, and your hiring process at large with that of other employers to show you how well you've performed when stacked up against the hiring-related averages for these other orgs.
Simply enter in your data (no CSV or Excel uploads are possible with ChatGPT — at least yet), and let the AI tool look into other industry benchmark data to determine where you stand with your performance. From here, you can build the appropriate narrative around these insights.
(Note: If you have LeverTRM, our Talent Benchmarks Dashboard in Visual Insights can show you how well other talent acquisition teams with our ATS + CRM solution are doing with their respective sourcing, nurturing, interviewing, and hiring efforts.)
Prompt example: "My company filled open roles in an average of 36 days last year. Determine if this is a good average compared to other companies' average time to fill."
Using AI in recruitment tactics is helpful — but the most important tech your talent acquisition team needs to succeed today is a complete TA suite. Learn all about LeverTRM.