Many talent acquisition teams use an applicant tracking system (ATS) as their primary recruitment software. That is not "new news" to you or most other TA pros.
However, it is easy to see why many talent leaders, operations managers, recruiters and hiring managers leverage the solution to drive their talent acquisition strategies.
The right ATS — more specifically, one with robust candidate relationship management (CRM) capabilities and powerful talent analytics — enables talent teams to:
Publish new postings to popular job boards with ease
Schedule interviews with target prospects of interest
Track all candidates as they move through the funnel
Engage qualified candidates with personalized nurtures
Manage agency-provided data and employee referrals
Hiring managers also benefit from an advanced applicant tracking system. Arguably the most important tasks they can tackle with premier, user-friendly ATS software are:
Collaborating closely with recruiters in the interview process
Keeping an eye on time to hire for each of their job openings
Updating language used in poor-performing job descriptions
Providing timely feedback to speed up the hiring process
Helping to oversee and adjust candidate interview schedules
Robust ATS and CRM solutions have many benefits for today's talent teams.
And yet, many job candidates are skeptical about applicant tracking systems.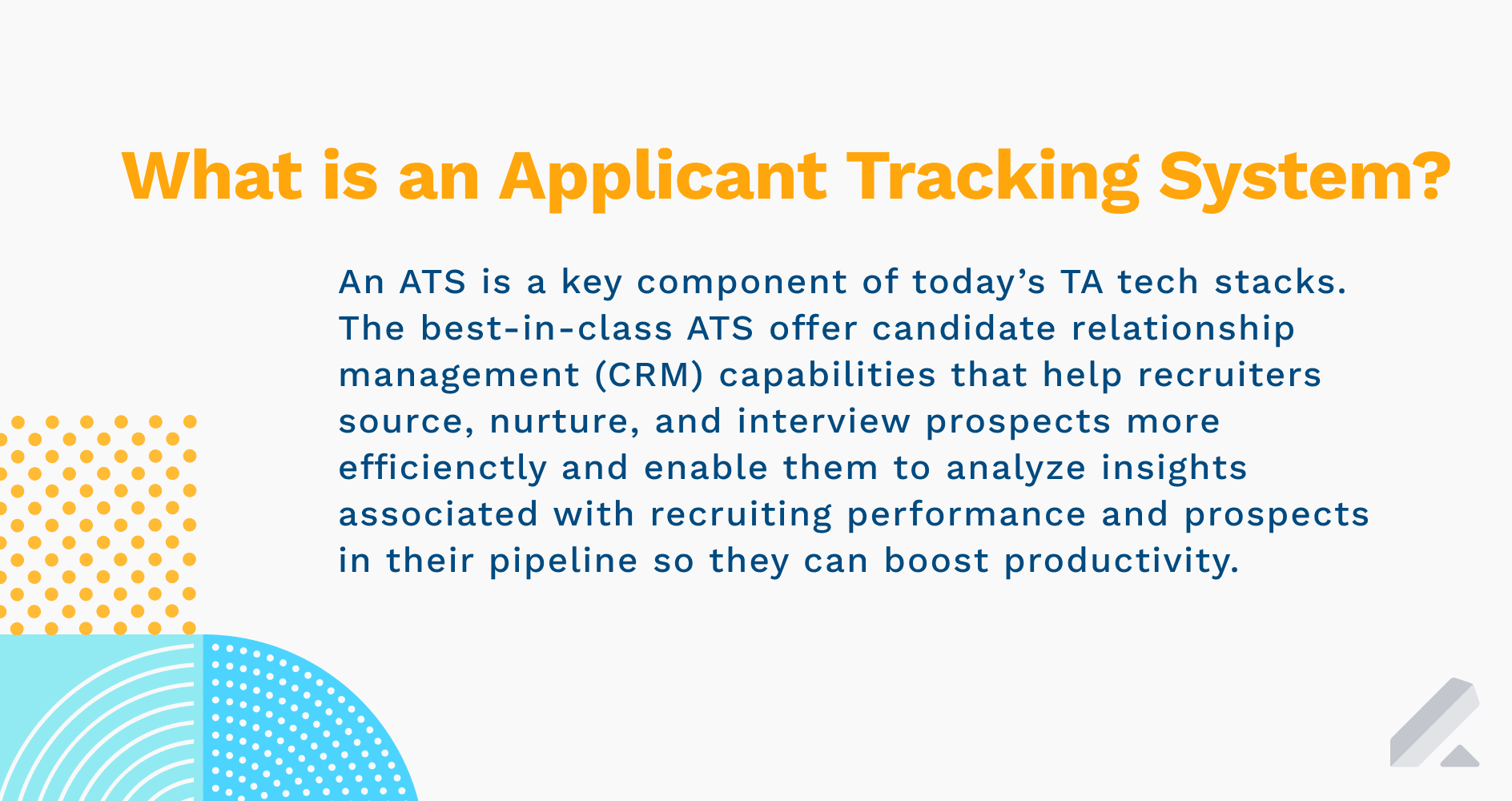 Common applicant tracking system misconceptions recruiters — and candidates — should know
Some candidates think ATS is a "black hole" where their resumes go to die (i.e., archived the second they enter a talent team's database and forgotten about by recruiters).
Other candidates believe AI-powered applicant tracking systems automatically eliminate them from contention for roles without recruiters ever seeing their applications.
The truth is there are many falsehoods regarding the recruitment software — ones that prevent many job seekers from submitting applications from companies who host their job sites and career pages via popular ATS providers.
Here are four common misconceptions some candidates have around ATS (and one bonus one "myth" some talent acquisition pros believe about the recruiting software).
1) AI dictates which prospects talent specialists engage and dismiss
Artificial intelligence (AI) is now found in many ATS, in some form or another.
Applicant tracking systems with AI capabilities helps recruiters tackle key tasks, including reviewing job applications, résumés, and candidates' profiles at large.
What AI doesn't do, though, is replace the human element of orgs' recruiting efforts.
Take the Fast Resume Review functionality in our unified talent acquisition suite:
Recruiters with Lever use this daily to speed up all the assessments of prospects in their pipeline.
Knockout questions defined by recruiters and hiring managers auto-eliminate prospects who don't meet the bare-minimum criteria for roles (e.g., a certain number of years of experience or certifications).
In minutes, they can comb over prospects' resumes and answers to other application questions.
Based on this review, they can skip, advance, or archive talent. This will help them save for a more in-depth review later, add to a nurture, or file away for a potential opportunity to contact later.
This evaluation is still conducted manually by those charged with screening talent. But Fast Resume Review nonetheless streamlines the task for them sans artificial intelligence.
"Some job seekers are leery of the ATS's role in the recruiting process because it's a barrier of entry," said Lever Sr. Recruiter Rob Lingham. "They hit submit, and either get a positive response, rejected, or, in the worst case, no response."
"I equate it to The Wizard of Oz," Rob added. "Candidates often think of ATS as this AI-centric 'entity behind the curtain'. It seems like some sort of all-powerful system that dictates whether prospects are considered for a job."
Rob noted that the proper ATS is simply a solution recruiters use to comb over resumes for applicants who meet the hiring manager-defined criteria for a given role. (And often while listening to a "deep focus" playlist.)
That's not to say AI can't help in other ways (e.g., shortlisting prospects to evaluate, auto-archiving unqualified individuals, recommending candidates in your database to nurture).
It simply means artificial intelligence isn't an ATS feature that can or should make important decisions regarding who talent teams should or shouldn't move forward with.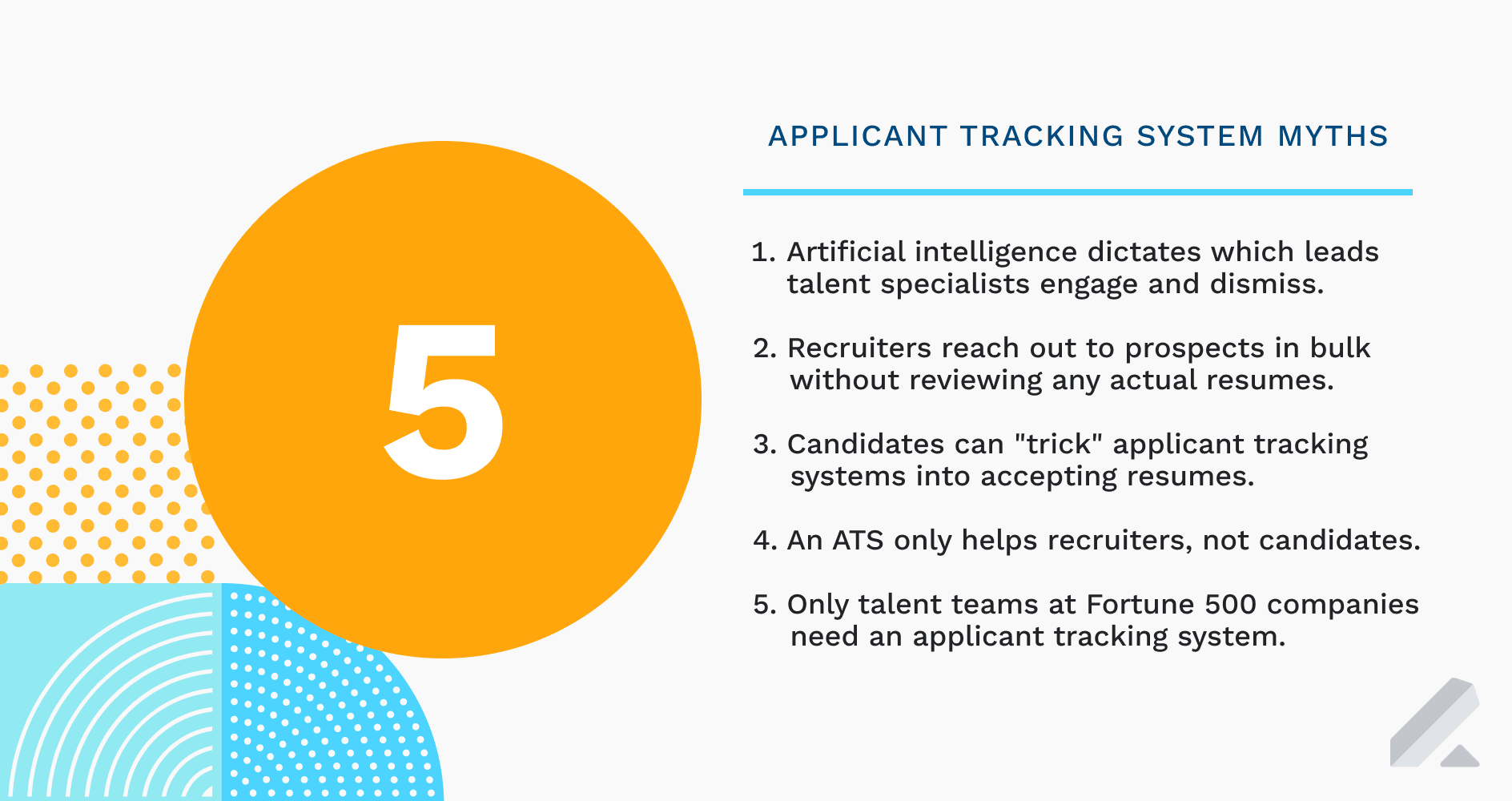 2) Recruiters reach out to prospects in bulk without reviewing resumes
Another common applicant tracking system misconception revolves around talent outreach.
Some believe talent specialists use an ATS to simply send generic and generalized emails to prospects in bulk and don't (or can't) custom-tailor any of their candidate communications.
This technically may be true with legacy ATS that lack talent nurturing capabilities.
However, that's not the case with modern applicant tracking systems that understand the importance of offering automated and intelligent email nurturing capabilities for TA teams — the kind that leads to higher conversions and a better candidate experience.
LeverTRM™ users certainly have the option to send bulk emails to prospect "lists" (e.g., those who seem like good fits for open roles). But they personalize their emails to ensure candidates receive the most relevant, timely messaging.
In other words? They don't spam their sourced talent with the same messaging regarding roles. Instead, each prospect gets bespoke emails pertaining solely to a specific position of interest.
3) Candidates can "trick" applicant tracking systems into accepting resumes
"Gaming the [applicant tracking] system" is another common myth among candidates.
Many job seekers work with resume writers and job coaches to fine-tune their profiles and portfolios. They do this in an attempt to ensure their applications get accepted by ATS solutions because they believe they have "auto-review" functionality that looks for key words or phrases recruiters and hiring managers are looking for.
Some ATS offer this AI functionality. But, again, the most successful hiring teams:
"For every role I manage, I have frequent communication with the hiring manager," said Rob. "I aim to understand their needs and blockers. I also seek to share the vision they have for this hire. It's with this framing that I review applicants."
Rob looks for "key indicators of alignment" when reviewing applicants' resumes to ultimately address the needs of the business units he services.
"To that point, it's very helpful to have a detailed resume," said Rob. "Focus on the application of your experiences and how it relates to the opportunity you're applying for."
More specifically, Rob noted applicants can make their resumes stand out to recruiters with succinct yet detailed resumes that make it easy for recruiters to learn all important details associated with them (education, work experience, skills, and the like).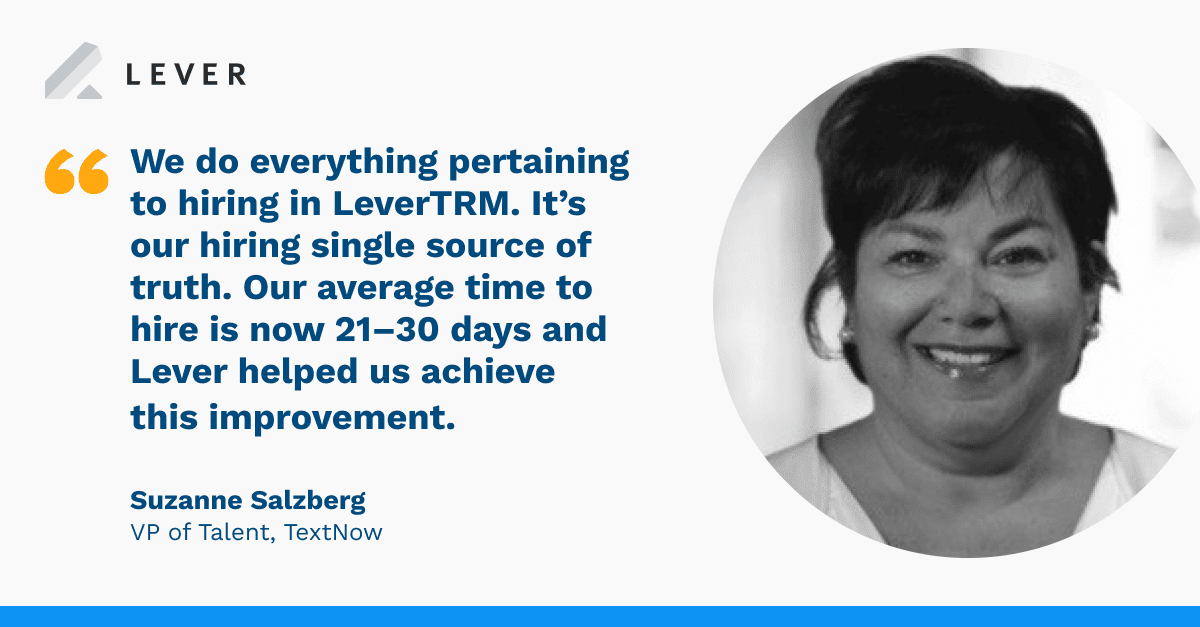 4) The sole goal of an applicant tracking system is to serve recruiters
Yes, an applicant tracking system is only used by (you guessed it) talent teams. But that doesn't mean an ATS isn't beneficial for candidates as well.
After all, leading ATS solutions have features intended to help recruiters and talent specialists provide a high-quality candidate experience to each prospect.
Just look at the talent acquisition strategy implemented by Lever customer TextNow:
Upon joining the business, the company's new talent leaders saw its TA org used LeverTRM as its primary ATS and CRM solution. But it became clear the team wasn't using our complete talent acquisition suite to its fullest potential.
Specifically, the talent leads saw many candidates its (high-priced) agency sourced for them were being largely ignored in Lever. In other words, the team wasn't taking advantage of our CX-enhancing capabilities, like Lever Nurture.
By training their staff on how to make the most of LeverTRM (thanks to past experience using it) and moving their sourcing in-house, the TextNow TA org transformed its approach to connecting with and converting top candidates.
Just as importantly, the team ensured it could offer a world-class candidate experience to prospective hires in its talent pool and never let a prospect 'slip through the cracks' of its recruiting process ever again.
"We've built out a kick-ass recruiting coordinator function where we're educating candidates, making sure they're informed, keeping them engaged, and nurturing them throughout the process," TextNow Manager of Recruiting Operations Austin Nelson noted.
"We do all of that through LeverTRM."
5) An ATS is only something Fortune 500 companies need to succeed
A full-fledged applicant tracking system that helps their talent orgs improve communication and collaboration, streamline and automate many once-manual tasks, and enhance their core hiring metrics and KPIs is now table stakes for large-scale companies today.
But that doesn't mean small and mid-sized businesses can't benefit from an ATS either.
Even if your hiring ambitions are modest (i.e., looking to bring on just a few workers per month or quarter), that doesn't mean you shouldn't enable your talent team to source, nurture, interview, analyze, and rediscover talent more efficiently and effectively.
Just the opposite.
A single-source-of-truth ATS with the above CRM capabilities (like LeverTRM) empowers your TA org — no matter the size — to tackle crucial tasks with ease and stay on the same page regarding candidate activity.
From writing job descriptions and setting up custom nurtures to analyzing data related to leads and aiding HR with their onboarding process, the right ATS-CRM gives talent teams at SMBs and enterprises alike greater control over and confidence in their recruiting efforts.
Download our in-depth ATS Buyer's Guide to find out how you can find the right solution that has both powerful applicant tracking system functionality and CRM capabilities.