Cold recruiting (i.e., sending "out-of-the-blue" recruiting email to prospects) is tough.
The candidates your org wants to hire are already being contacted by other companies, while many are being bombarded by agencies and contracted recruiters.
What's more, 63% of job seekers will reject offers after a poor candidate experience, making it doubly important that your recruiting communications engage and nurture talent. 
To outcompete other employers for top talent, you must write effective recruiting emails that help your hiring team convert qualified candidates.
Let's look at the types of email to include in your cold outreach to best engage leads.
But first, start by automating your recruiting email outreach wherever possible
Automating tasks like cold recruiting outreach makes it easier for hiring teams to reach the talent they want to recruit without spending hours on menial tasks like email setup and sends. 
It's one of the top reasons more recruiters are automating activities like email outreach at the outset of their hiring process.
According to recent data, automation and AI is most helpful for hiring pros when it comes to everyday tasks like engaging candidates (24%) and nurturing them (55%).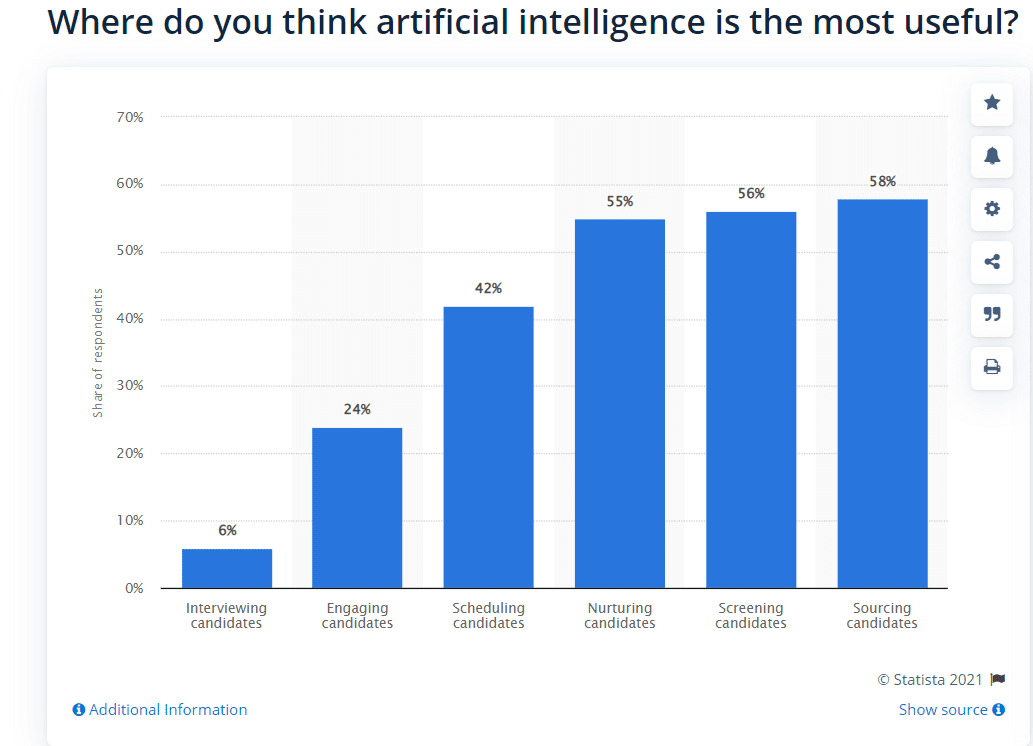 You can automate a slew of recruiting workflows using solutions like LeverTRM to avoid time waste with outreach, scheduling, nurture, and a whole heck of a lot more. Once you've got your top ATS+CRM solution in place, you can start crafting better recruiting outreach.
Next, focus on the types of emails you'll be sending
To ensure you're crafting and sending the most effective recruiting emails, you'll need to understand the types of emails you should send and the goals associated with each one. 
Introduction email
The introduction email is the first email you'll send when reaching out to a candidate.
It's this email that sets the stage or tone for your interactions with candidates going forward, so you'll want to include all of the relevant details that would matter to a candidate who has never interacted with your company before.
As most cold outreach emails are generated automatically from a template or a third-party tool, they can miss relevant info that candidates need to make a decision on whether to reply.
In this sense, you should think of your recruiting emails as an elevator pitch. 
An elevator pitch is a brief summary about the role and your company, and is a great tactic to use in providing all of the pertinent details candidates will look for in great recruiting emails.
When approaching your emails as elevator pitches, consider these quick tips:
Make sure your email is easy to read—this means avoiding jargon or other confusing, ambiguous language. Think about how you'd describe the role to a colleague in an elevator!

Offer only the most relevant or pertinent information—don't get bogged down in the small details you could cover in a call or 1:1 interview.

Provide clear direction to the candidate—what should they do once they've read your email? What next steps should they take?
Here's an example of an introduction email you can template and personalize based on the candidate you're contacting and the role you're reaching out about.
Follow-up email
If you haven't heard back from the candidate, you'll want to send a follow-up email that provides more information or context about the role and why they should respond.
Follow-up emails can often come across as very generic, so it's important you take the same approach with this email as you did with your introduction and personalize your messaging.
Nurture email
While a follow-up email can be effective in capturing a candidate's divided attention, it shouldn't be used as a nurture email. Instead, you should focus on having some sort of re-engagement communication at the ready that you can use to reach back out to a candidate.
Sometimes, your outreach may not come at the right time for a candidate.
A prospect may not be ready to make a move, for example, or are busy with their existing role and can't take part in interview sessions at this time. 
To re-engage prospective candidates, consider providing updates on new roles as they come up, keep them abreast of company news (like investments, growth, or recognition), and give them insights into your company's culture and diversity initiatives as they progress.
Referral email
If your company proactively sources new talent from existing employees, recruiters' networks, or via third-party connections, you'll want to have a referral email template ready.
For example, you can use referral emails for personalized 1:1 outreach that you don't want to automate, or that is more timely, such as reaching out to a candidate someone in your network told you about.
Here's an example of a simple yet effective referral email template you can customize for that targeted outreach you'll want to send to referrals.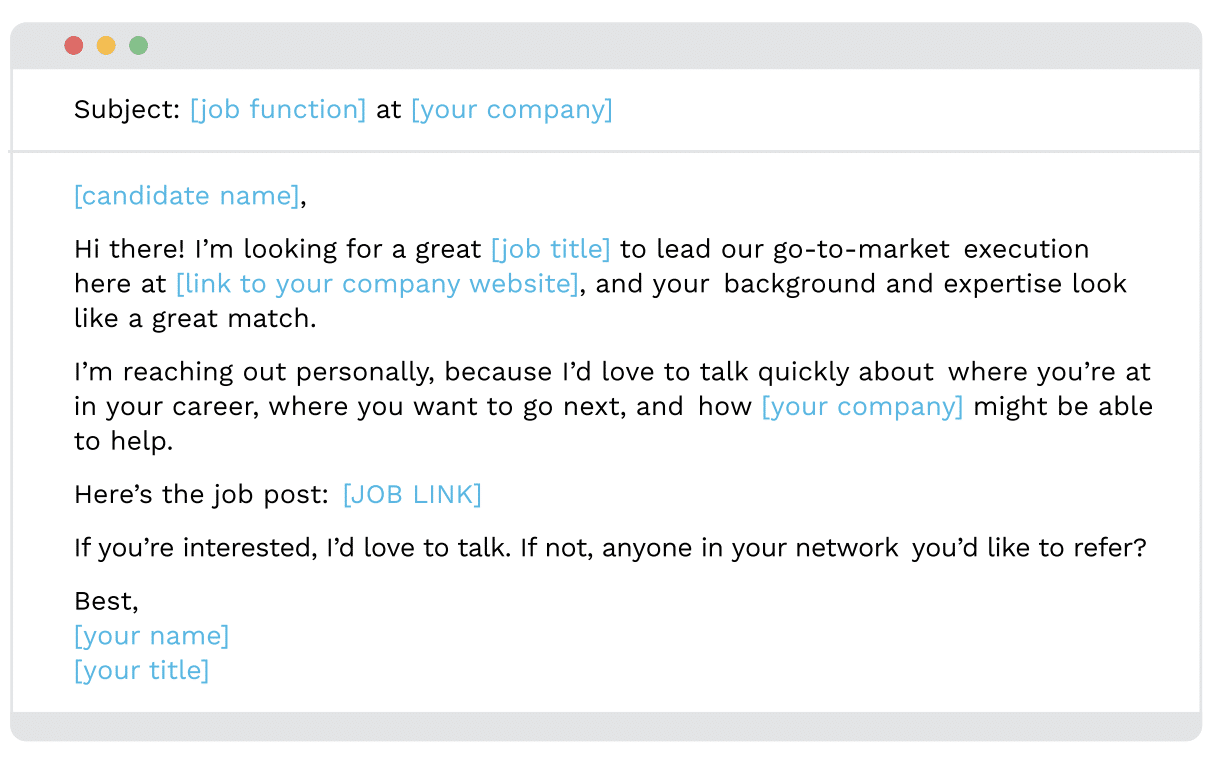 Last touch-point email
Similar to the above emails, sometimes, you'll simply miss an opportunity to engage with a candidate because it's not the right time, or they've chosen to pursue other opportunities.
And that's okay.
But, it's best practice to let the candidate know you'll no longer be reaching out to them — and you can also take this opportunity to request a referral if they know an interested job seeker, or offer to include them in your company newsletter for updates. 
You'll also want to use this email to give the candidate clear information on how they can remain in touch with you, as neither of you knows what the future could bring.
You may find that the candidate wants to pursue a role with your company down the line, and keeping communications open between the both of you is an effective way to capture the candidate's interest in new roles in the future.

Consider email marketing best practices you can apply to your recruiting outreach
The most challenging aspect of writing great recruiting emails to nurture
 top talent is ensuring yours are unique and differentiated enough to stand out from the rest while eliciting a response from the talent you've sourced.
In saying that, there are a few email marketing best practices that marketers use which can be leveraged by hiring pros to give your cold recruiting outreach a little more oomph — and entice candidates to read your emails.
For example, consider our tips below:
Do your research on each candidate

Create customizable outreach templates

Write compelling subject lines

Include the most pertinent/relevant details

Aways have a clear CTA

Leverage your email signature for recruitment marketing

Use social media to connect with candidates

Have a follow-up strategy in place

Measure the results of your outreach
Chief among these tips to pay close attention to are your subject lines, your CTAs, and the research you do into the candidates you're reaching out to.
Research candidates before you reach out to them
You first have to understand the candidates you're sourcing and build your own pipeline of top talent. Otherwise, your outreach simply adds to the recruiting noise from competition around you rather than standing out among it.
To ensure your recruiting emails resonate with the your candidates, source and build your candidate pipeline and talent pool first. Knowing who you're nurturing and engaging allows for more meaningful communication and relationships with candidates.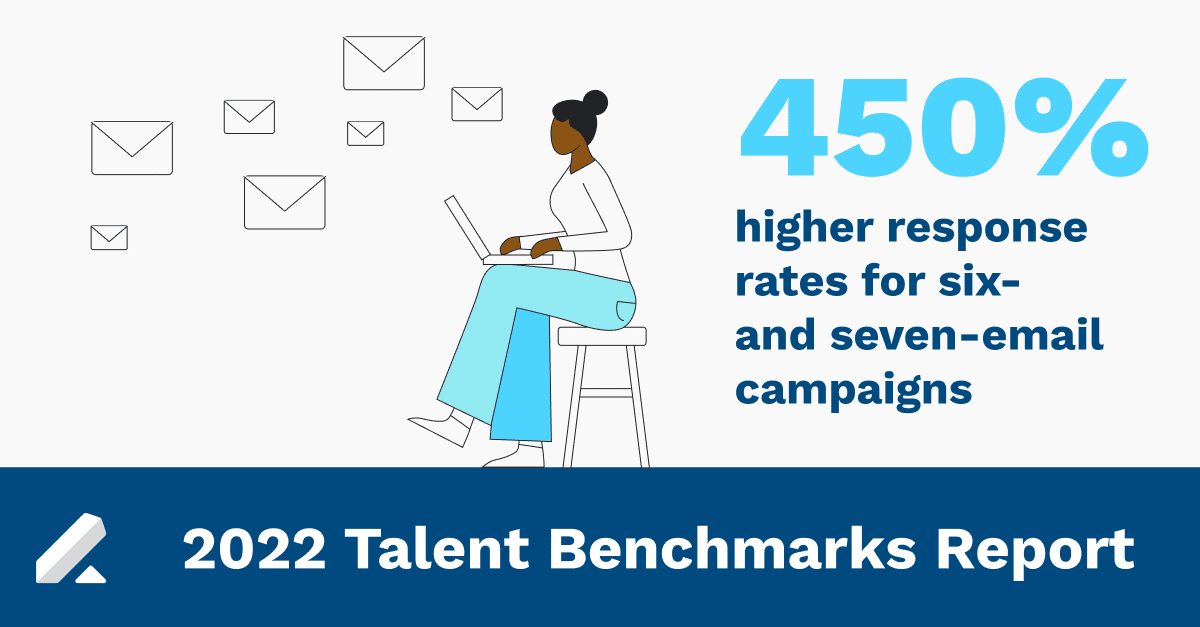 Write compelling subject lines that lead to more opens
Your email could be the next great American novel, but without the right subject line, it may never be read. That's because subject lines are pivotal to capturing a recipient's attention among the slew of other emails in their inbox.
Consider that, while 64% of people will open an email based on its subject line, 69% will mark an email as spam based on the subject line, too. 
When it comes to recruitment emails, the lift to creating a stellar, compelling subject line that drives higher open rates is even more challenging.
The average open rate of recruitment emails is around 21%, which is impressive, but how can you create subject lines that have similar open rates?
Here are a few email subject line best practices you can use when writing recruiting emails:
Keep your subject lines to 60 characters or less

Opt for clarity over cleverness

Personalize your subject lines
Always have a clear call to action 
Keep in mind that, when doing cold outreach, a candidate likely doesn't know who you are, what your company does, or why you're hiring. Without any clear action or takeaway, recruiting emails can be confusing or ambiguous.
Email CTAs aim to drive people to take action by learning more about something. However, where recruiting emails often fall short with CTAs is asking a candidate to do too much.
To craft a compelling CTA, try the following:
Use only one call-to-action as your 'ask'

Make your CTA very clear and concise

Make your CTA as easy as possible to follow
Nurture candidates the right way with effective — and scalable — recruiting outreach
Today's modern recruiter has a lot to contend with — including nurturing genuine relationships with top candidates to convert them from applicant to new hire.
But how, exactly, do you create recruitment outreach that converts?
In our eBook, Recruiting Outreach That Converts, you'll learn all about developing and optimizing email outreach that captures candidates' attention and converts them.