The good news is nearly three in four (72%) talent acquisition teams have an applicant tracking system at the center of their TA tech stacks to help them collect candidate data, Employ's Q4 2022 Quarterly Insights Report found.
The bad news is a number of these teams don't realize they have an outdated ATS system that deters effective candidate relationship management (CRM).
That said, many talent leaders, specialists and operations managers are beginning to recognize their old-school ATS prevents them from making real progress with their recruiting and hiring efforts and best engaging job seekers.
More specifically, these talent acquisition pros are starting to realize there are more advanced ATS + CRM solutions that can aid their end-to-end recruiting programs and help their hiring teams make smarter and quicker decisions.
The biggest barrier to leveraging such software is convincing executives it's time to transition from their current ATS system to a platform that helps them boost productivity, reduce time to fill, enhance team collaboration and, at the end of the day, better compete for top talent.
If you and your talent team find yourselves looking to upgrade your TA tech, it's vital that you submit your suggested solution in a persuasive and powerful manner.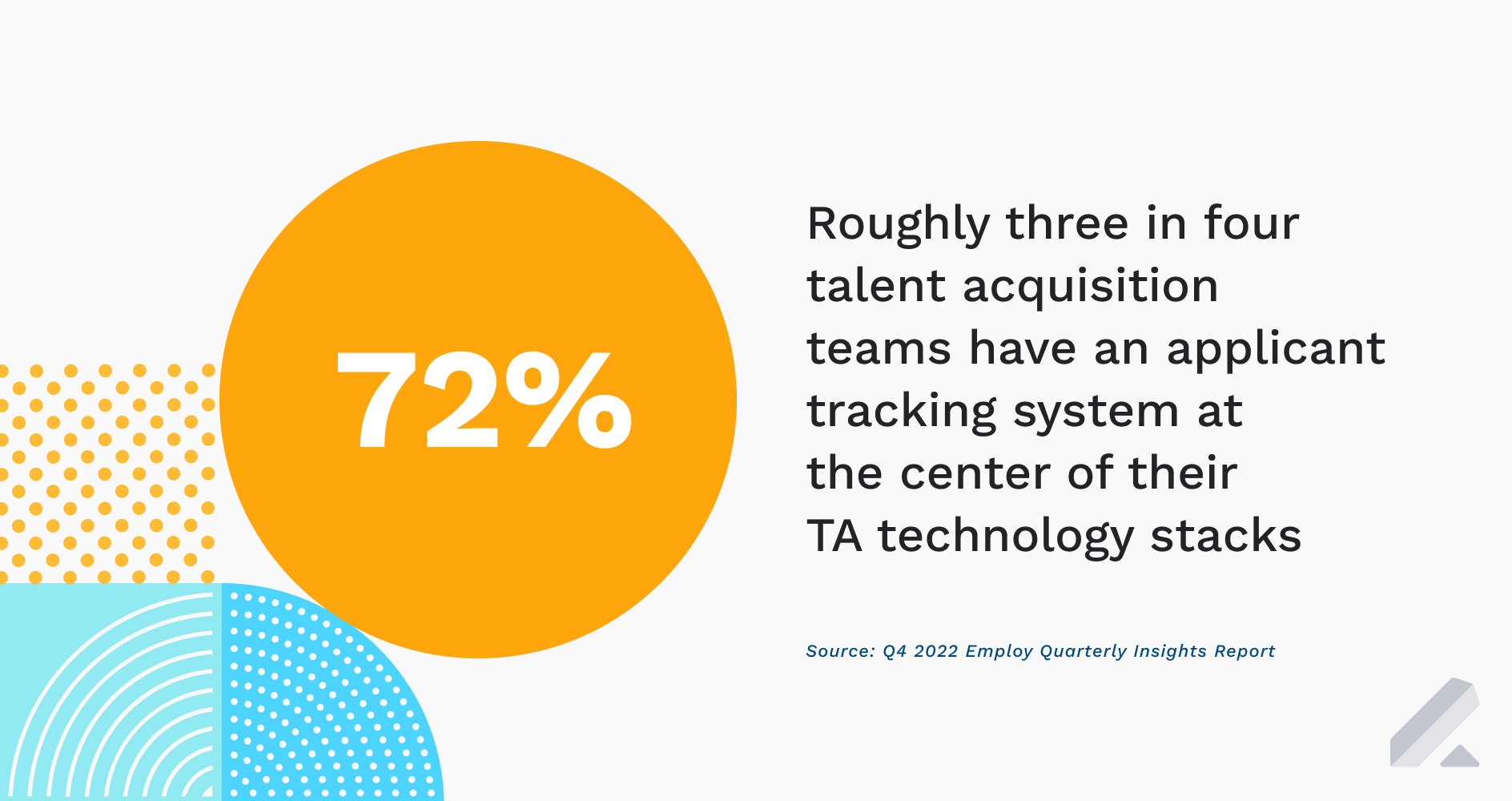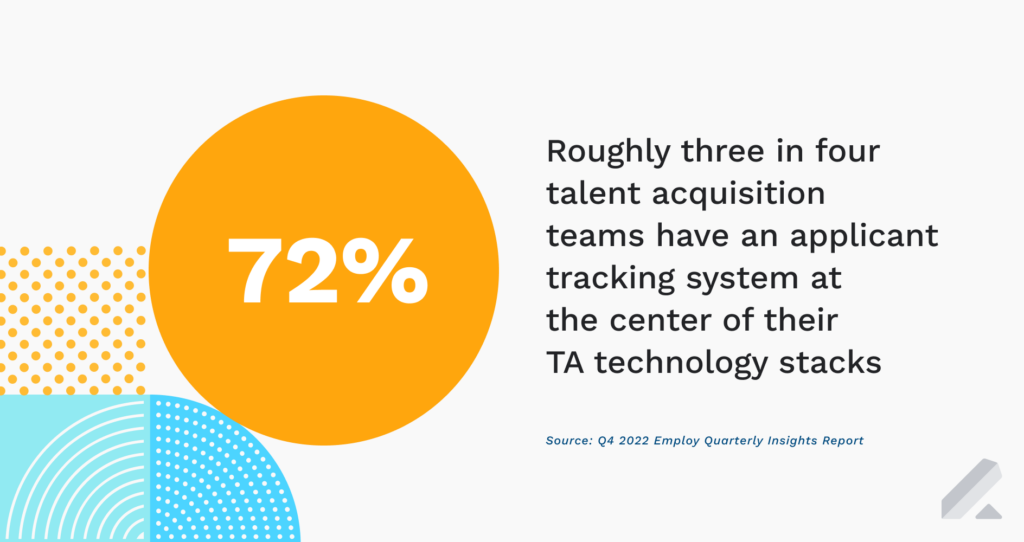 4 tips to build a compelling business case for an advanced ATS system for your talent team
"The best way to justify the spend is to build a business case that demonstrates how the chosen technology or solution will meet stakeholder expectations and organizational priorities and drive business outcomes," Gartner VP of Product Management Colin Reid recently wrote.
That's savvy, albeit high-level advice on how to approach building a business case.
However, there are four specific best practices you must follow when sharing a strategic recommendation around switching your ATS system to a more sophisticated solution.
1) Ensure your entire talent team agrees news TA tech is needed
First and foremost, you and others on your talent acquisition team must get on the same page regarding the state of your TA tech stack — and, more specifically, the role your current ATS system plays in your recruiting.
There are several questions you should ask to determine if your current applicant tracking system empowers each TA team member to work smarter, not harder.
For instance, ask yourselves if your existing ATS system:
Enables your talent acquisition leader to easily and efficiently gauge the performance of each recruiter on the team as it pertains to the efforts to bolster their individual candidate pools and advance the best-fit individuals swiftly through the recruitment funnel
Helps your recruiting operations manager comb over intricate analytics and actionable insights associated with each talent specialist and the TA org at large to help them identify barriers to progress (e.g., interview stages that lead to high candidate "exit" rates)
Makes it easy for recruiters to post job openings universally, scan resumes and applications in a matter of minutes, streamline interview scheduling and — at the end of the day — help them build and maintain strong relationships with highly qualified candidates
Offers your entire team the ability to liaise closely with hiring managers, as candidates you engage move throughout the recruitment process in real time, so you can collectively make data-backed decisions about next actions to take regarding each prospect
Given talent specialists are the ones who will ultimately utilize an ATS system the most daily among these stakeholders listed above, they should have a strong say in which applicant tracking system their org decides to invest in next.
And yet, a 2022 Aptitude Research study found that, while roughly one-third of businesses plan to onboard more advanced TA tech in the years ahead, just 32% said "recruiters help influence technology decisions."
Simply put, that can't be the case with your team's ATS evaluation and investment.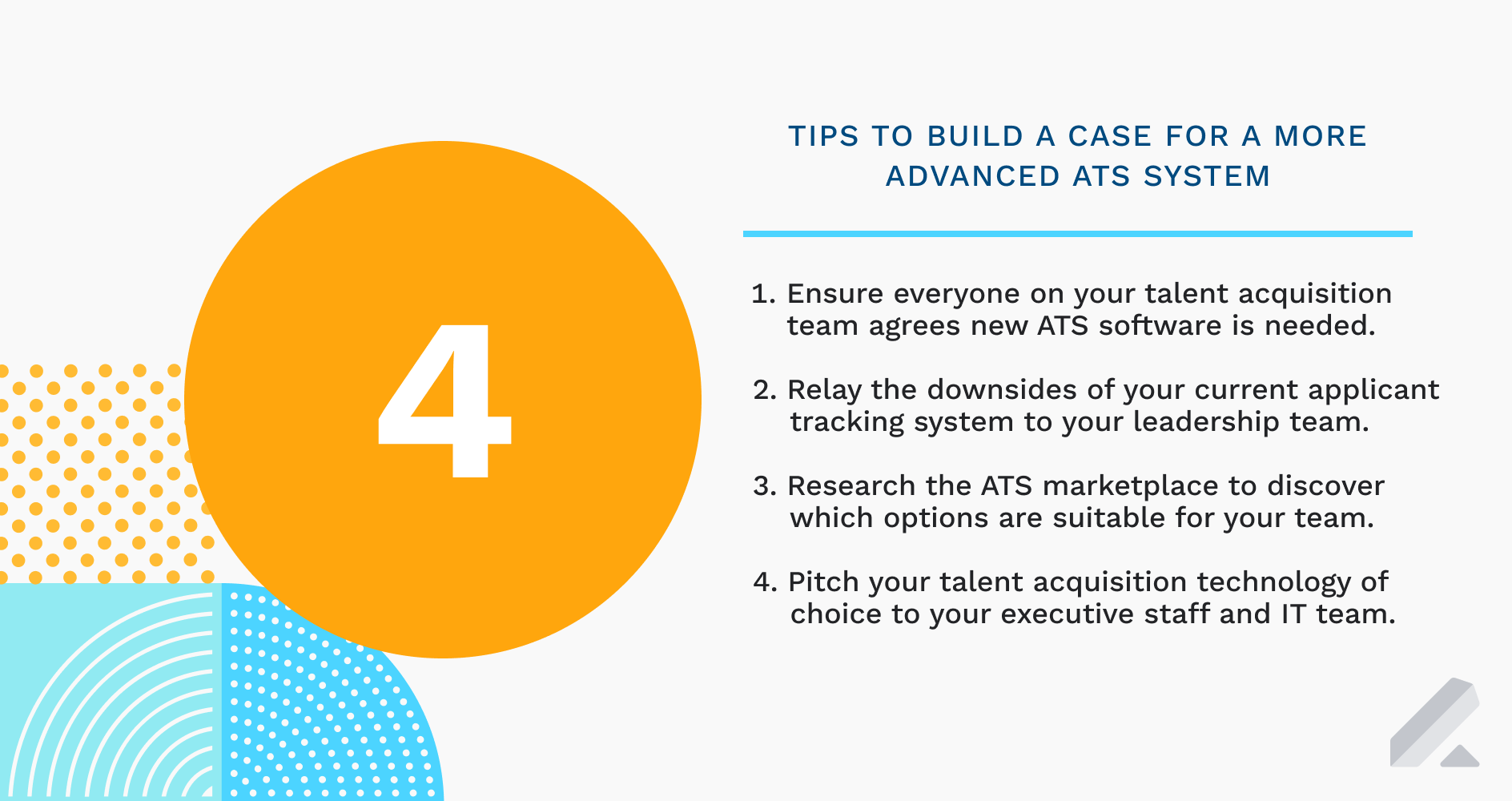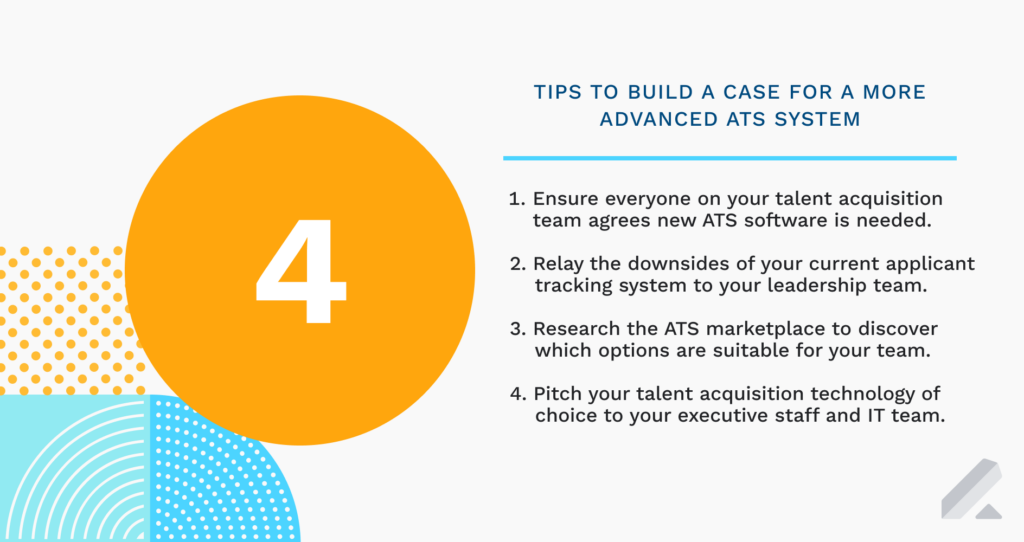 2) Relay the downsides of your current ATS system to executives
Once you and your talent acquisition team have spoken about your ATS needs, it's time to share everything that's wrong with your current recruiting software with your C-suite so they understand its deficiencies and defects.
If you have a legacy applicant tracking system, you can note how your solution:
Prevents effective and scalable candidate sourcing and nurturing
Is too costly, given the lack of any advanced ATS + CRM capabilities
Offers a poor user interface that leads to a poor (see: frustrating) UX
Deters collaboration among the TA team and other hiring stakeholders
Lacks talent acquisition analytics that dynamically updates in real time
Provides a clunky, dated application process for all potential candidates
Makes it difficult to write and regularly optimize impact job descriptions
Precludes recruiters from rediscovering previously engaged candidates
Forrester Principal Analyst, Future of Work Betsy Summers shared an apt comparison with Computer Weekly regarding the similar natures of marketing and recruiting.
"Imagine how inefficient and inconsistent it would be if marketing had no technology to manage their campaigns or social media strategy," said Betsy.
"[I]t would take so much time it would be impossible. So, candidate relationship management can help in the same way from a recruiting angle."


Translation? An ATS must also offer powerful, intuitive CRM capabilities.
If yours lacks any, make sure your executive staff knows that — and how the latter functionality can help your entire talent team better convert top-tier talent.
If that's not enough to convince your C-suite that your applicant tracking system leads to low productivity and output for your team, you can point to the negative, long-term ramifications of sticking with the status quo.
HR.com's 2022-23 Future of Talent Acquisition Technology survey found 30% of orgs spend at least $25,000 annually on TA tech, while 27% spent at least $100,000 on their ATS and other types of recruiting tools and apps.
The prospect of worsening finances due to outmoded tech will always catch execs' attention — and convince them to make the necessary software switch.
3) Hit the ATS system marketplace to research your options
Assuming you get the thumb's up from leadership to move forward with finding a new ATS system, it's time to research the applicant tracking system marketplace.
This evaluation needs to be a well-coordinated effort by your whole TA team so as to avoid any redundant work (i.e. multiple recruiters accidentally setting up separate demos of the same recruitment platform).
We won't relay all the best practices you should abide by in this section.
Instead, we simply recommend downloading our ATS Buyer's Guide to help you investigate the top talent acquisition technologies available today.
4) Pitch the talent acquisition tech your team agrees is best
You and your talent team have completed your review of each prospective TA solution you think is worth onboarding. You've narrowed down your list to the top contenders.
Now, it's time to submit your preferred option to your C-suite.
It's not enough to hop on a Zoom call with all key business decision-makers or get up in front of them in a conference room. You need to craft a compelling visual presentation that helps you make a strong case for your desired ATS software.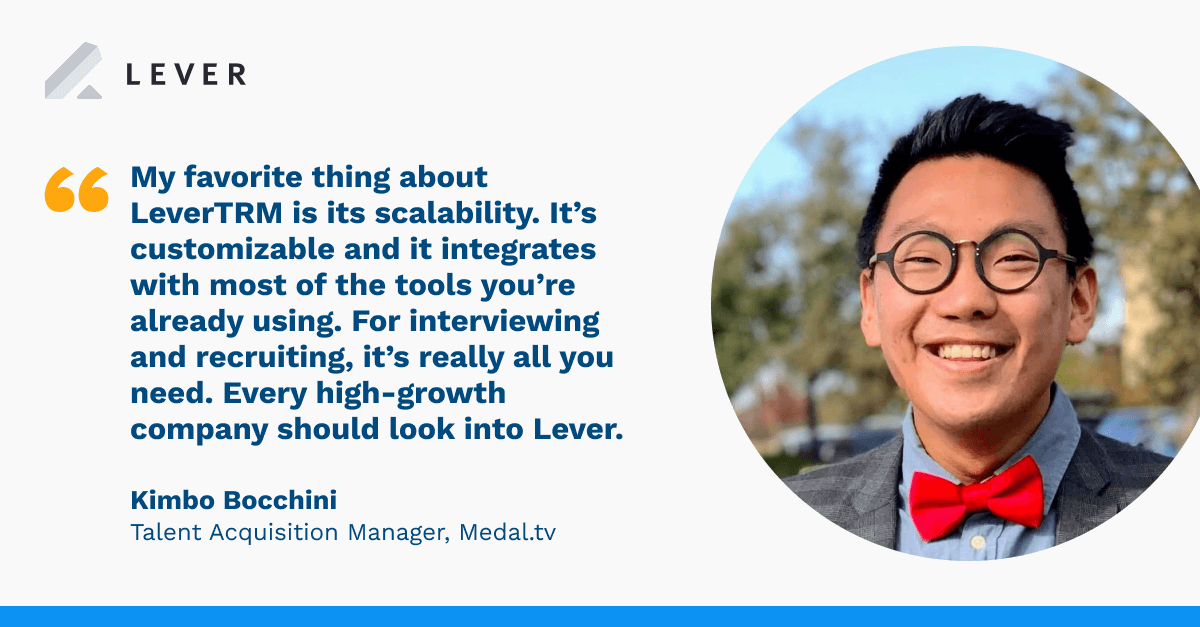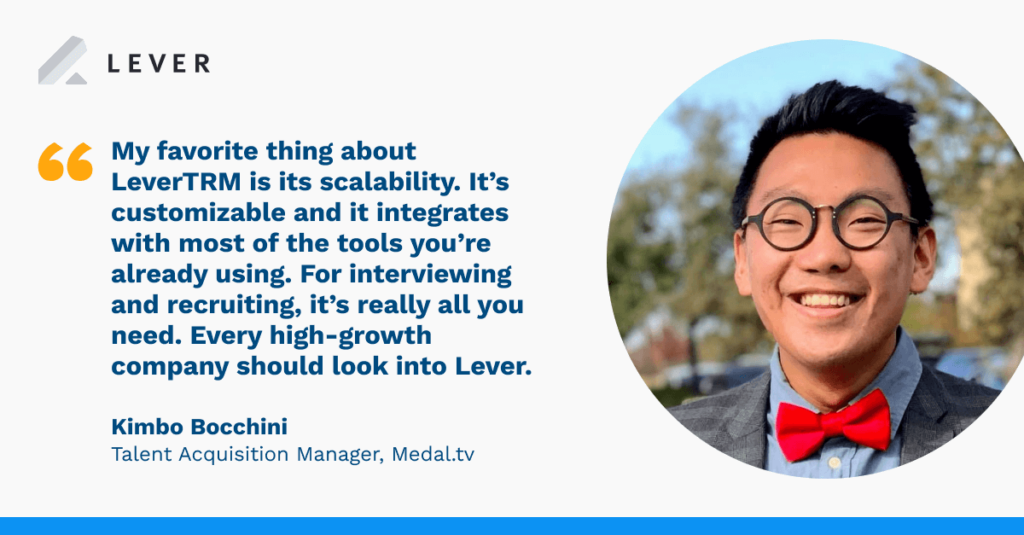 Some critical considerations for your ATS system pitch deck include:
Abiding by BLUF ("bottom line up front") to share the prospective ROI right off the bat: "Top leaders prefer BLUF because it demonstrates respect for their time and that you understand their needs and thought process," executive coach Melody Wilding wrote for Fast Company.
Share case studies, testimonials, reviews, analyst reports and other social proof: One highly specific example: Does a Fortune 500 company of a similar size or industry to your business use the ATS software you want to invest in? Share how they thrive with the solution in question.
Detail how well a prospective applicant tracking system "works" with other tech: Note the level of connectivity between your recruitment software of choice and other tools in your TA tech stack to impart how easy it is to share data and info between your critical recruiting solutions.
Explain how your recruitment agency (if you have one) can leverage the tech: Let's say you work with a recruitment process outsourcing firm. They may need access to your ATS system to sync sourced candidates into the solution. If your option offers this capability, share that.
Make your deck comprehensive in terms of detail, but not too lengthy: Every employee's time is valuable. However, one could argue your C-suite's time is most precious, given the myriad business units they oversee and business objectives they're ultimately held accountable for realizing.
List pricing and technical details buying decision-makers need to know: It's not just your CEO and CRO who need to know the benefits of investing in a new ATS system. Your IT leaders will also want to know details about compliance, security and database architecture/integrity.
Explain the ongoing support you would get with your proposed TA tech: Leading ATS system vendors today don't just sell companies their software and wish them well. Best-in-class recruiting technology providers act as true, ongoing talent acquisition partners to their customers.
One thing to remember post-presentation: It may take decision-makers weeks (perhaps even a month or two) to agree as to whether or not your ATS system is worth allocating budget for.
That said, a well-produced pitch can help you make a powerful case for a new platform.
Talk with a Lever representative today to learn why your talent acquisition team should replace your old-school ATS system with our complete, built-for-purpose TA suite.