Upskilling and reskilling employees to provide workers with internal mobility paths may seem like a task solely for people managers. After all, they speak with and support their team members day in and day out and understand their desired career path and aspirations.
The truth is reskilling your workforce and providing skills training to staff members in an equitable manner is a shared duty among team leaders and human resources.
And one that is a critical component to your employee retention efforts.
Lever's 2022 Great Resignation report found businesses with upskilling and reskilling programs saw 61% of their employees participate in said programs to improve in their existing roles. Meanwhile, 23% took skill-based courses to move into new positions at their orgs.
Despite this reality, you may be wondering:
"But, we already have enough work on our plates. How can we find the time and energy to help our workers with ongoing skills development?"
The answer is simple: If you don't, you won't remain competitive with hiring top talent.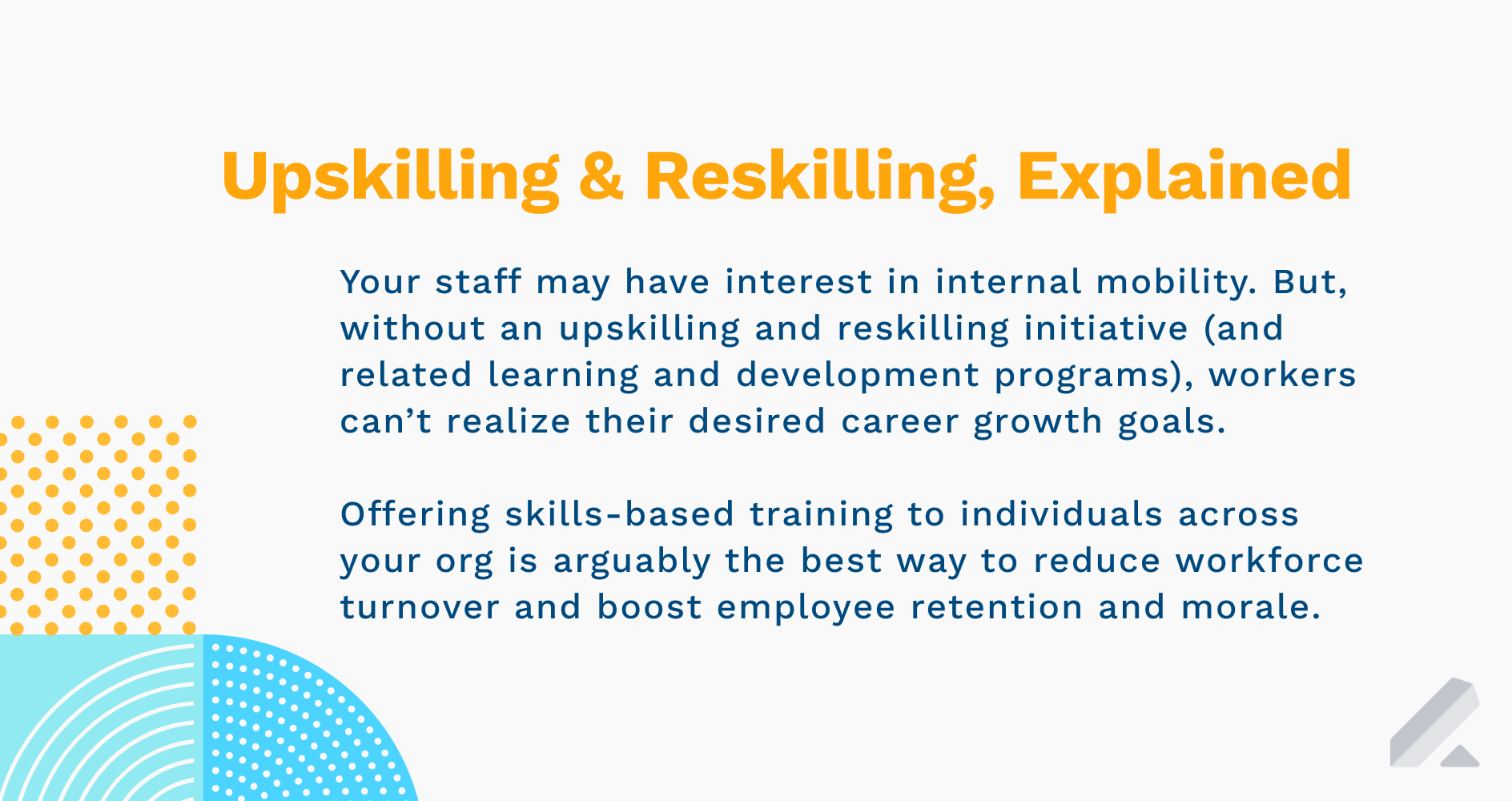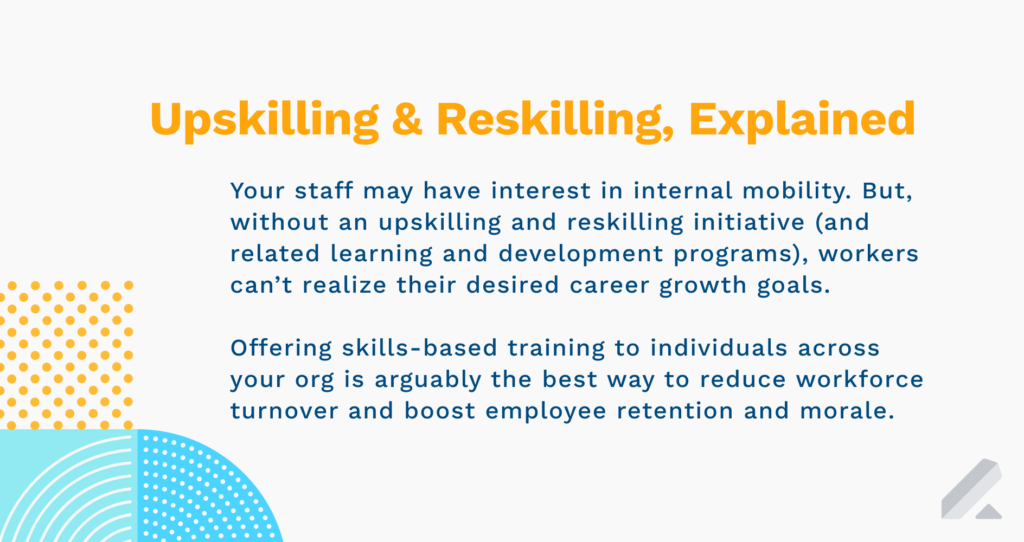 What reskilling and upskilling initiatives entail — and how they can help you boost retention
In this new world of work, your company must not only attract net-new talent to join your business and contribute to long-term growth, but also retain existing employees.
Upskilling and reskilling is arguably your best tool to achieve both goals.
"One of the main reasons people leave organizations is lack of career development … so you're losing talent when you only see people through the lens of the job they're hired into," said Forrester Principal Analyst Katy Tynan.
Regardless of your org's work environment — everyone in the office, a hybrid workplace, or fully remote work model — you can keep your existing high-performers (and reduce the likelihood of "quiet quitting") with a concerted effort to help them evolve professionally.
Here are three focus areas to keep in mind when building a reskilling and upskilling initiative. Notably, ones that can help your staff gain the necessary real-world, on-the-job experience to advance their careers — and bolster your retention rate at the same time.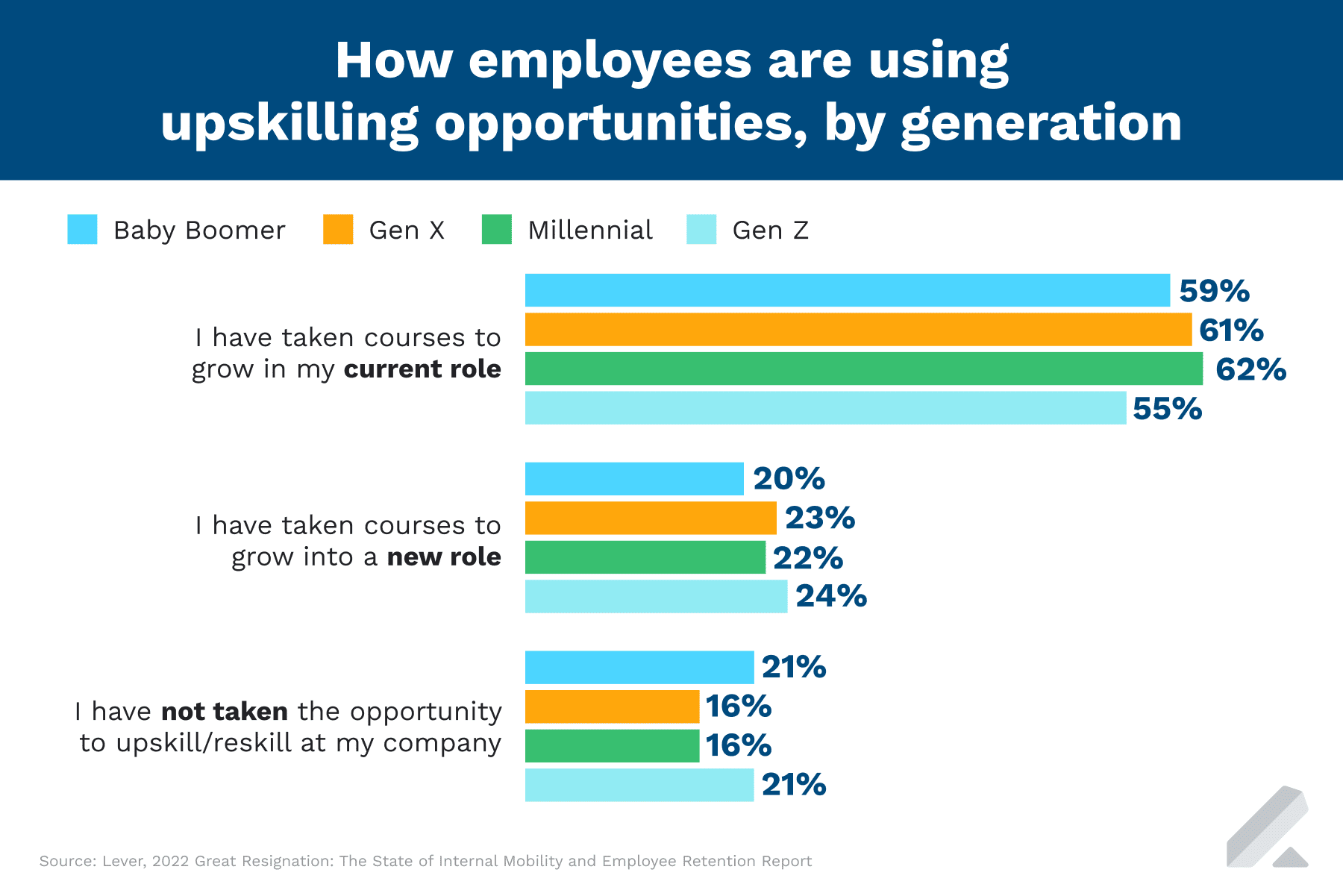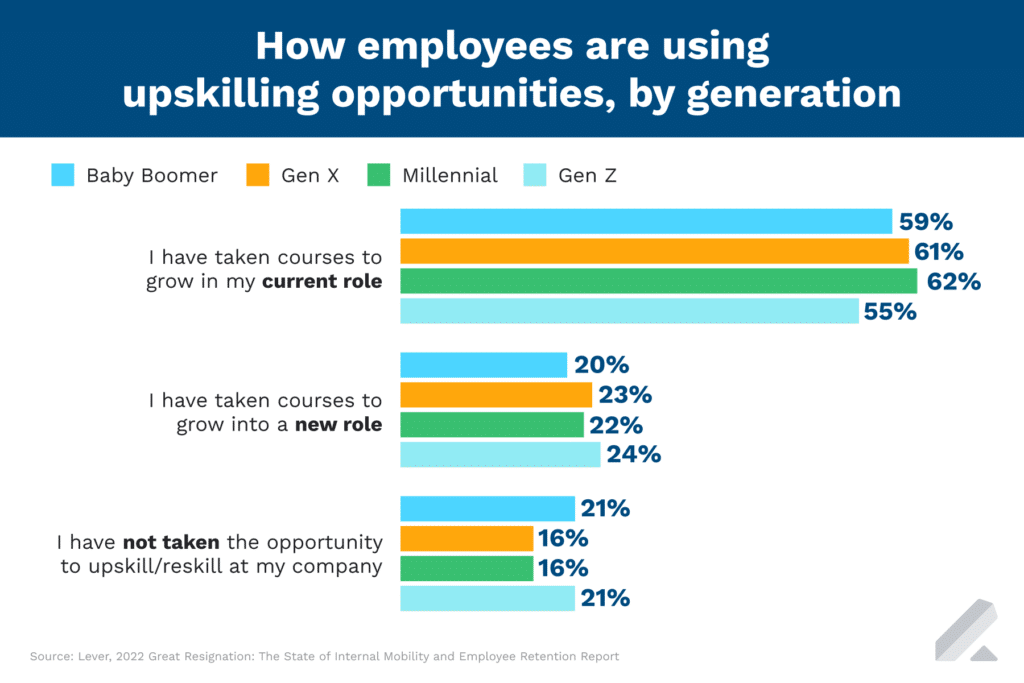 1) Understanding and closing your org's skills gap
McKinsey research from around the start of the pandemic found roughly 90% of business leaders and people managers believed their companies faced skill gaps at that time or expected to deal with skill-related issues by 2025.
Fast-forward a few years. It's evident many orgs still find it difficult to fill critical positions company-wide with external candidates.
(Especially with economic headwinds continuing to swirl worldwide and many professionals reexamining what they want in a job and from a prospective employer.)
If your business is one of these employers, you need to a) take stock of what your existing skills gaps are, and b) identify internal candidates who could fill those gaps.
Work with HR and people managers to identify the ideal individuals to partake in upskilling and reskilling programs and address skills shortages. Doing so has a bonus benefit: You lessen reliance on talent acquisition to constantly source and engage external talent for open roles.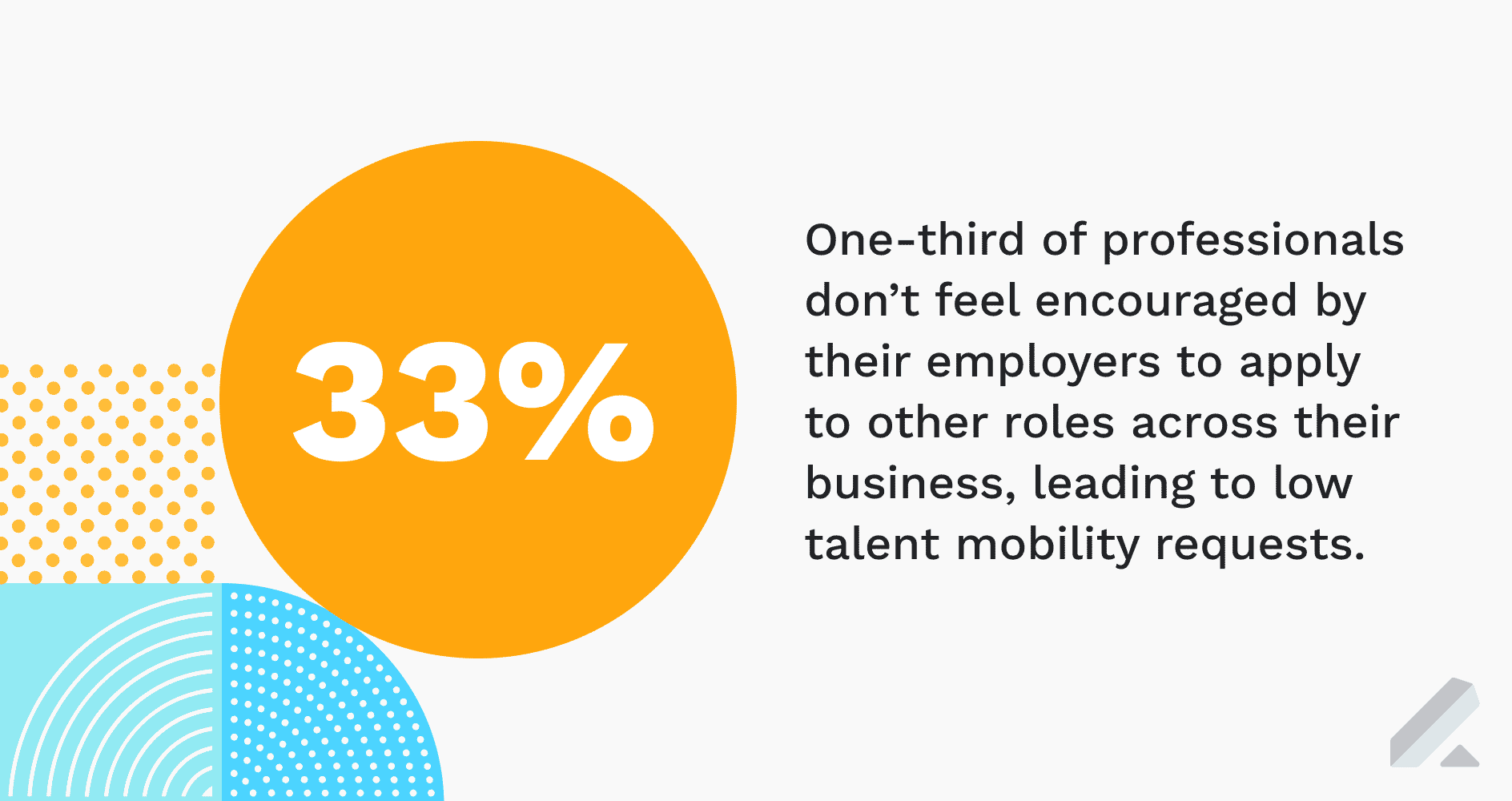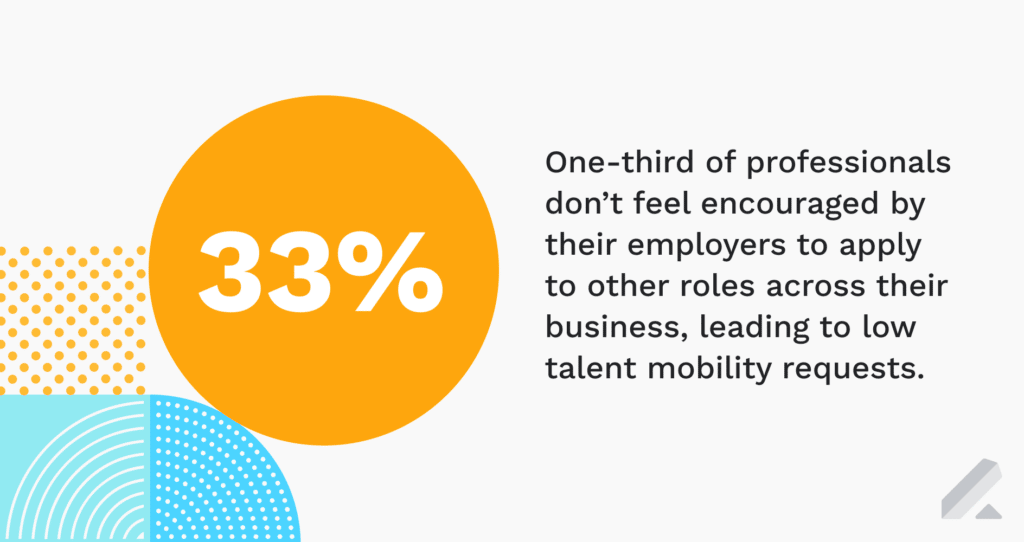 2) Developing learning and development programs
When we say upskilling and reskilling programs, we essentially mean learning and development (L&D) programs that offer different courses and "tracks" for your employees.
Ones you can ideally collect data around and optimize over time.
"An important aspect of any upskilling program is to identify clear paths and milestones for performance measurement," Harvard Business Review contributors Susan R. Vroman and Tiffany Danko recently wrote.
This can help you empower employees to "play a role in advancing their progress" by giving them insight into areas of opportunity in terms of career growth, the pair added.
Let's say you provide a highly specific structure and "mileposts" tied to upskilling and reskilling programs (e.g., "Gaining X skill set to become Y manager/director").
Doing so can give members of your workforce the confidence they need to learn new skills and/or augment existing skills.
In turn, they can close skills gaps that perhaps precluded them from advancing their careers as desired and set themselves on the path to being promoted to a desired position.
With the ability to see their progress with gaining "in-demand" skills needed to take on new roles via regular check-ins with managers, you can help them grow professionally and ensure they remain at your org for years to come and continue to help contribute to business growth.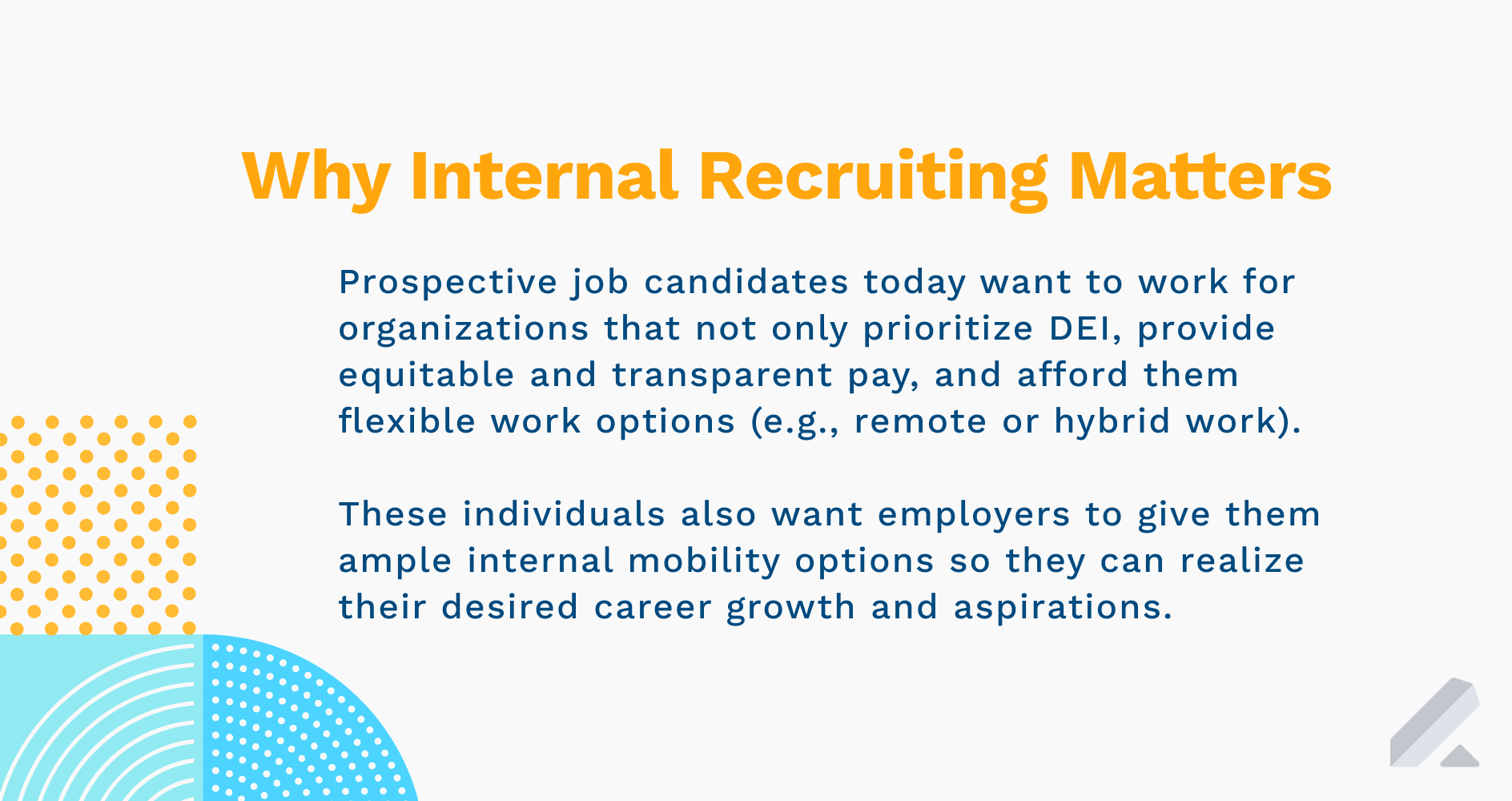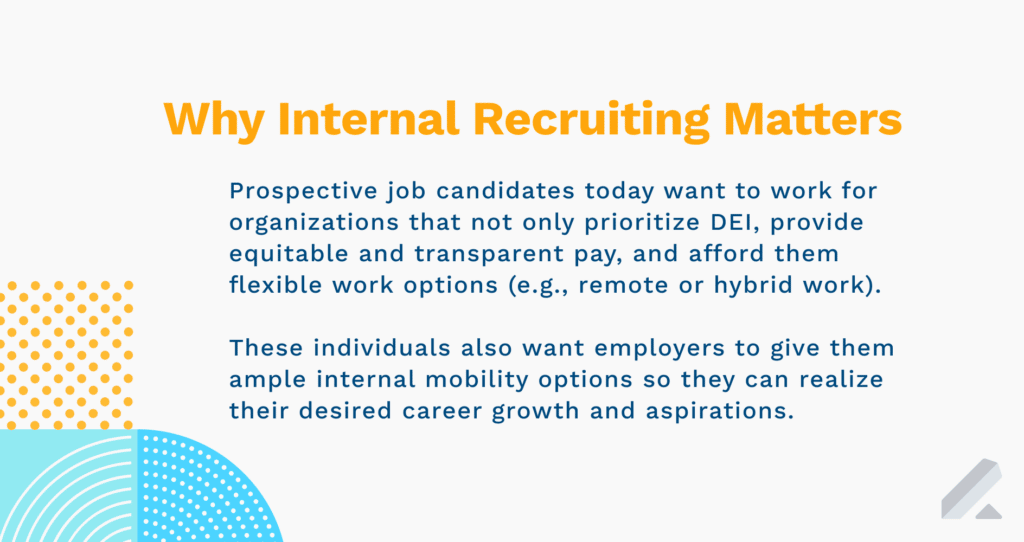 3) Providing hands-on training with skill-building
As noted at the start of this blog, any L&D program you implement won't succeed without the input and involvement of your HR team and leaders of each business unit.
These leaders certainly had help getting to where they are career-wise today. Moreover, they have a wealth of work-related knowledge and experience. Thus, it only makes sense for them to partake in upskilling and reskilling endeavors.
The trick is tailoring these L&D approaches to different segments of employees and ensuring the most applicable internal leaders.
For instance, those with the greatest expertise in a given facet of the business — marketing, sales, product development, et cetera — should run related course offerings.
Epignosis Director of People Operations Christina Gialleli told Forbes how hands-on L&D initiatives geared toward different generations of workers (i.e., distinct programs from Gen Zers, Millennial, Gen Xers, and Baby Boomers) is now a "competitive differentiator."
That said, employers need to "ask and listen to what their employees need — from the type of skills they want to improve to the learning format they prefer — and create programming that fits those needs" to ensure success with their upskilling and reskilling efforts.
Watch our webinar to discover how employee fulfillment impacts workforce retention today and the role your HR leaders and people managers must play in this approach.