As your organization works on building a more diverse workforce, an internal mobility program may not seem like the first or most obvious place to start
After all, recruiting and hiring a more diverse workforce is one thing, but nurturing that workforce and ensuring everyone has an equal opportunity for advancement — regardless of level or seniority — is something altogether different.
The need for more diverse workforces is not new — or something orgs can afford to ignore.
As our own DEI studies have found, more companies of all shapes and sizes are working diligently to drive diversity, equity, and inclusion (DEI) across the board. Internal mobility and career agility are two ways your company can drive diversity in recruiting.
Yet, despite many of these efforts, other studies reveal that the representation of people of color (both men and women) decreases as career levels rise.
When you see this same alarming trend show up in your DEI data, it's time to focus on nurturing your workforce by driving the internal mobility of employees within your org. Not to mention, internal mobility is also set to be a major focus for talent acquisition pros in the years ahead.
Let's dive into how you can leverage internal mobility to build a more diverse workforce.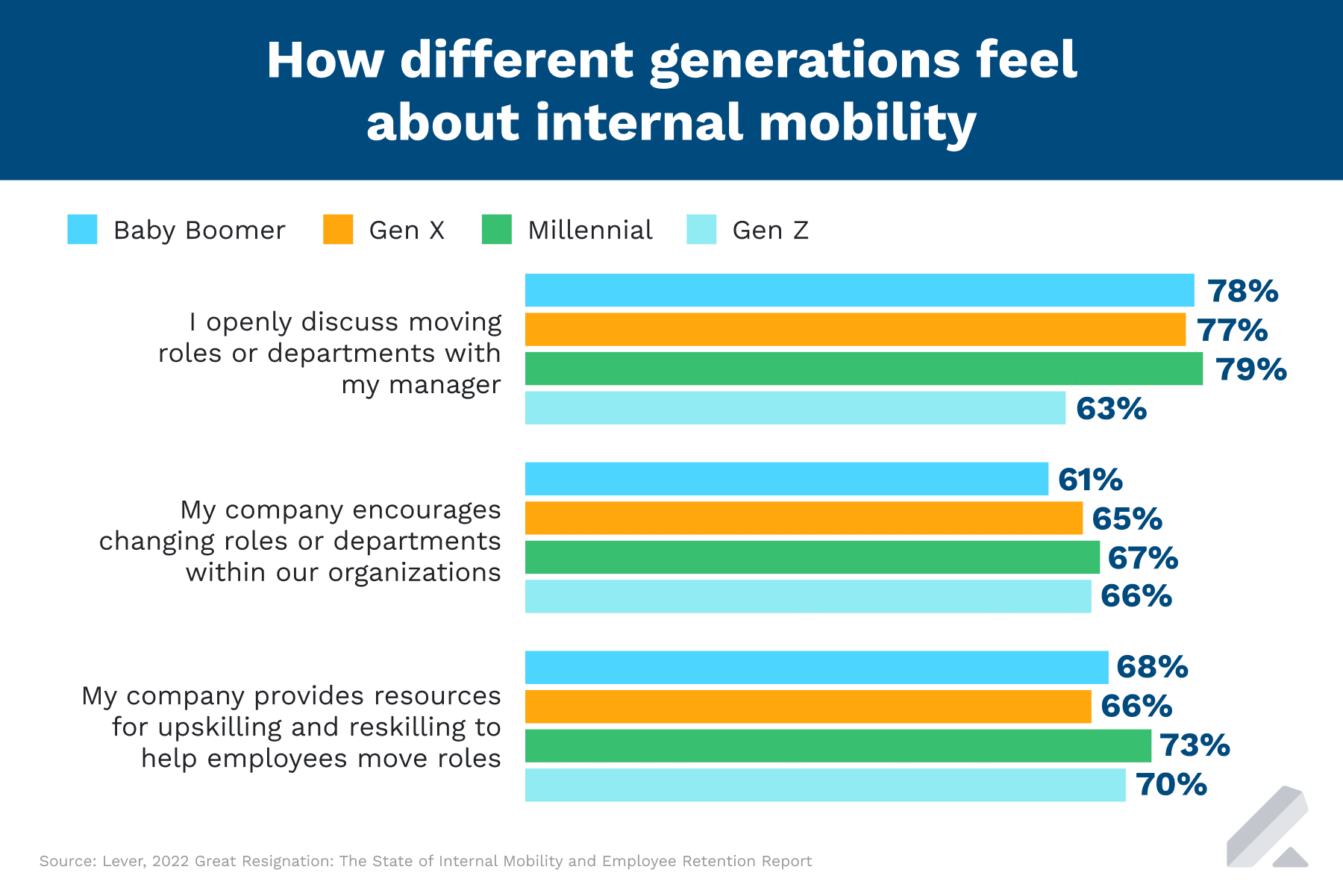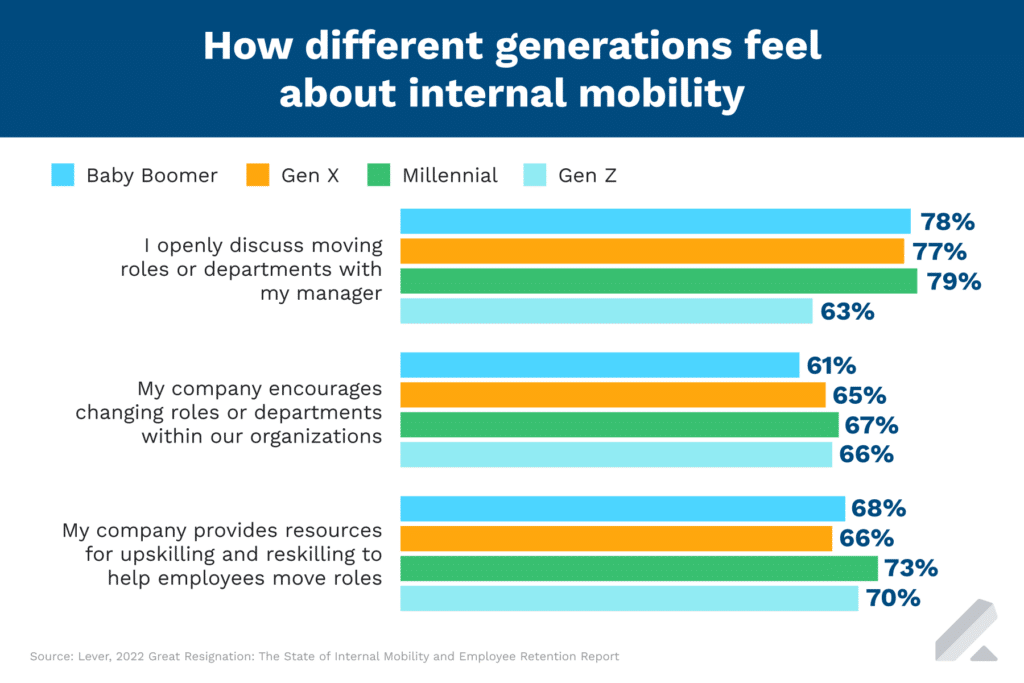 The importance of diversity in the workplace
A diverse workforce benefits everyone — and it's not just good for your business, it is good business. Let's consider a few facts about diverse workforces that showcase why diversity recruiting is crucial:
Driving more inclusive and diverse recruitment practices is a top priority for most organizations (50%) given the benefits that DEI holds for both employers and employees alike.
How to build a more diverse workforce
Building a more diverse workforce is an ongoing effort that's largely driven by your TA teams, as nurturing diverse workforces starts with the recruitment phase — especially as your team works to design more equitable and inclusive hiring practices.
When just 35% of companies feel they're making positive headway with their DEI initiatives, it's imperative that diversity recruiting take a front seat in your strategy to hire and retain diverse talent. In saying that, internal mobility should also tie back to your recruiting efforts.
Consider that, just in the United States alone, 40% of employees have changed jobs, roles, or managers since 2020.
With The Great Resignation and pandemic exasperating the intense talent market, companies need to have a thorough plan in place to ensure the growth and success of every employee.
If your team is faced with challenges in building a diverse workforce and driving your diversity recruitment strategy forward, the following five tips will help.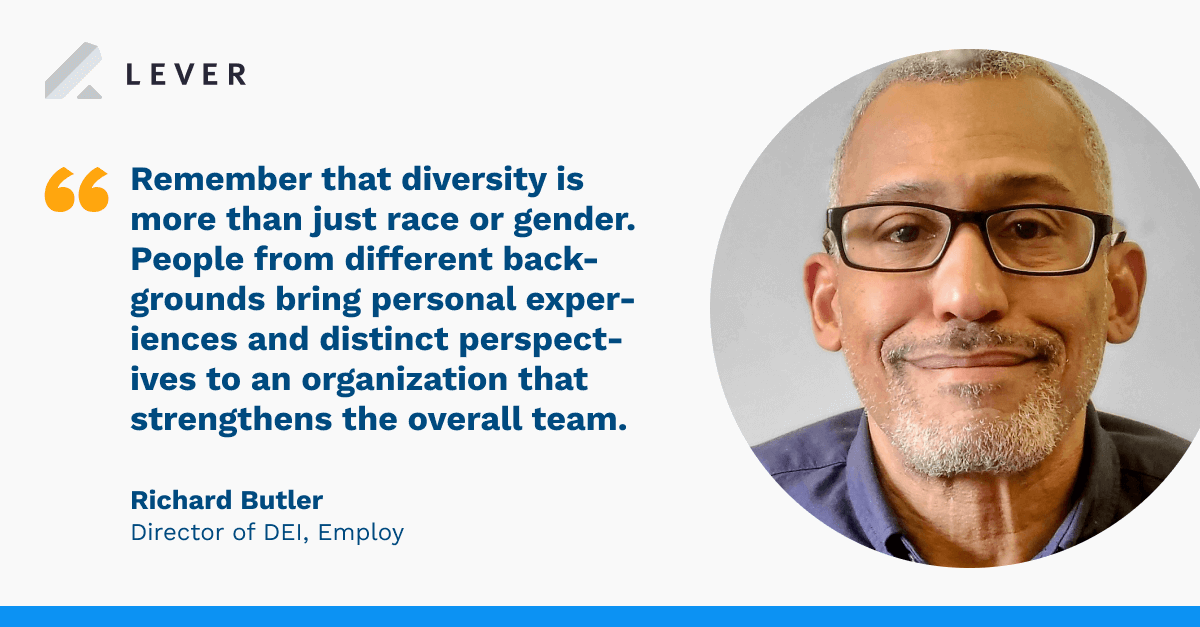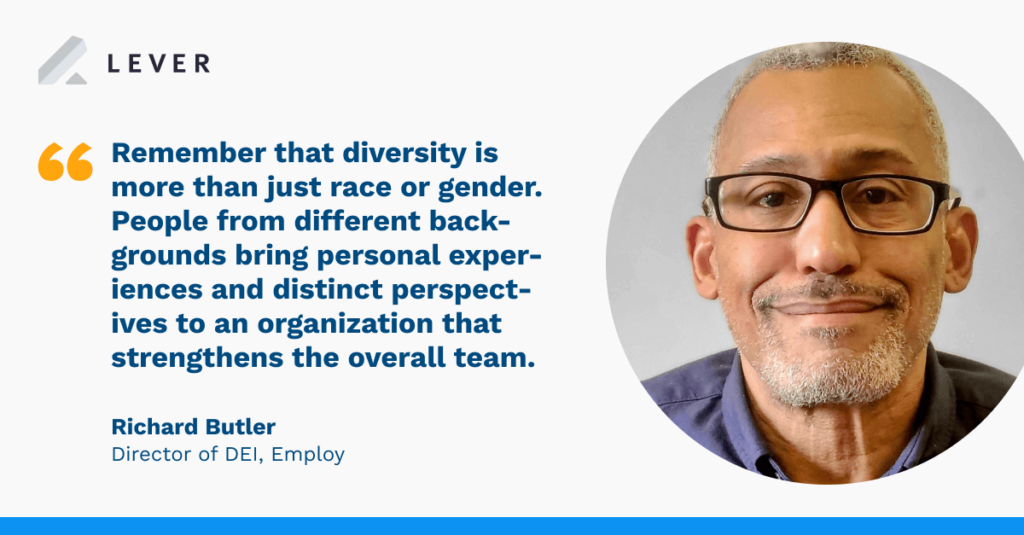 1) Assess what's working and what isn't
Look at your data to assess everything from candidate feedback and EEO survey results to interview scorecard insights and more.
When you think of your current hiring initiatives, what does the data tell you about every step of your process? For example, are you sourcing candidates from diverse networks and platforms, or excluding diverse stakeholders from your interviews?
2) Improve your employer brand
It's important to keep in mind that recruitment marketing extends far beyond sourcing talent—in fact, it applies to the entire recruitment life cycle, from attracting to engaging and nurturing potential talent. Think about how candidates might perceive your company.
From your website and job boards to Careers pages and social media accounts, every outward-facing initiative is a step forward in creating a more DEI-centric employer brand
3) Focus on creating more inclusive job descriptions
From the perspective of diversity, equity, and inclusion (DEI), inclusive job descriptions give further insight into organizational culture and a company's approach to DEI. If a job description is a candidate's first real look inside your company, then the description must be inclusive of all.
4) Consistently measure your efforts
Monitor your team's progress as you go, looking to the recruitment data you have to gather insights into things like the number of diverse candidates versus hires, and more.
This data becomes doubly important as your organization's objectives change, your teams grow, and your hiring goals pivot to accommodate future talent acquisition needs.
5) Don't be afraid to make the first move with candidate outreach
Your recruitment marketing can only do so much of the heavy lifting before your hiring team needs to step in and proactively source diverse candidates.
Aside from sharing new roles to diverse talent platforms or pools, recruiters can leverage referrals, their own networks, and various networking events to find diverse talent and nurture relationships with them.
Before you begin reaching out to candidates, however, look at the gaps that currently exist in your teams. For example, you may notice that some departments are predominantly male, or white, whereas others lack diversity altogether.
Knowing where gaps exist in your specific teams can help you better source and engage diverse candidates for those teams — almost as if you're building diversity recruitment strategies for every team.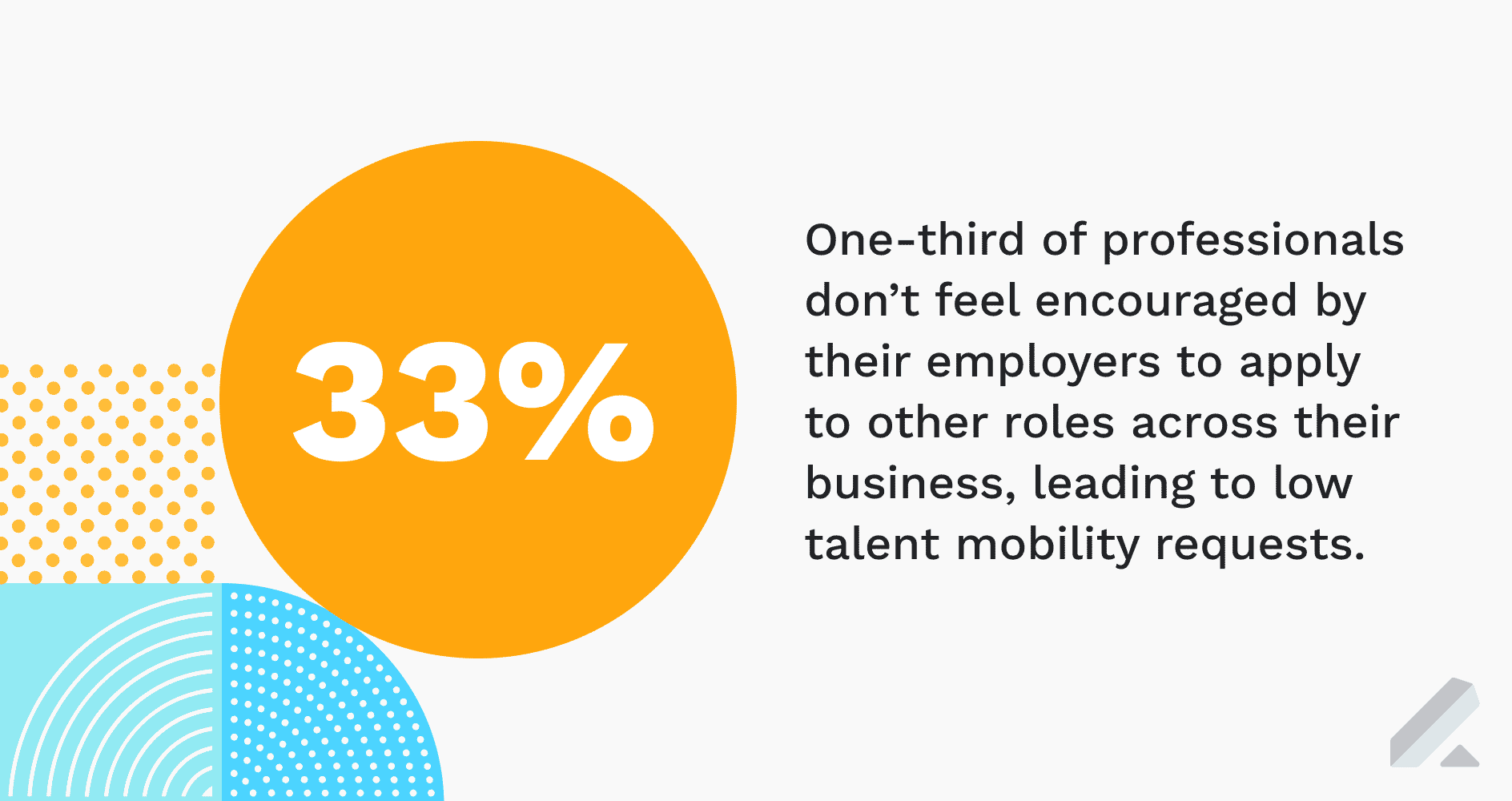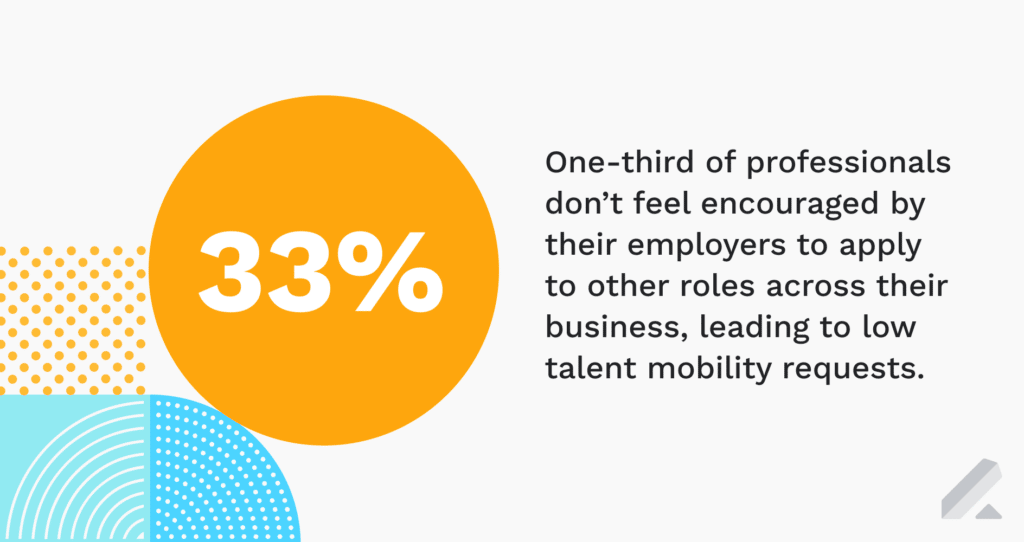 How to promote an internal mobility program to realize a more diverse workforce
Internal mobility helps your teams and org become more agile and efficient in moving and developing existing employees so that you can grow your business's best asset: its people.
While this approach is growing in popularity, companies still struggle to "win" with it:
To build a diverse and strong workforce, hiring teams and employers alike have to be aligned on a more agile, internal process or plan for leveraging existing talent.
In particular, there are three main reasons why your company has to have a strategy for driving the internal mobility of all employees.
Meeting the demands of diverse talent
Employees want more than just a 401k and paid time off — today, they're demanding more opportunities to grow, upskill, and learn.
It's why more hiring managers and employers are focusing on providing employees with the resources and support to upskill, especially as employees look for more equitable opportunities to progress or move up within their company.
Without these equal opportunities, diverse talent has little choice but to jump ship. Consider that 74% of disengaged employees are open to new job opportunities while 48% of employees are actively job searching.
Accommodating fluid career paths
Today, it's rare that our careers follow a linear path — instead, they're more like squiggly lines, where vertical and lateral moves allow us to advance within the same organization over time.
However, advancement has to be an opportunity for everyone in your org—and internal mobility is one of the most effective ways to ensure this.
Hiring from within not only accommodates these jungle gym-like careers that many of us have but gives existing talent opportunities to advance their skills. On the flip side, employers don't have to compete in an open talent market with demand is fierce.
Harnessing existing potential
Look at your business and workforce plans to help determine where your business is headed, and where you'll likely have skill gaps and new opportunities in the future.
In doing so, you can develop a richer picture of your talent, how their skills can be leveraged, and what you can do to help them upskill for their future and yours. More specifically, you'll want to look at how diverse talent within your org can be promoted, leveraged, and upskilled.
When hiring, approach recruiting the same way.
What potential do diverse candidates have to help solve your current needs and your future ones? Which skills do applicants have that will benefit your teams now and in the future? Remember, you're not just hiring for the short-term, but the long haul.


A toolkit for recruiting and hiring a more diverse workforce
Before jumping into recruiting for open or new roles internally, it's critical that your hiring team and managers have a strategy or framework in place to execute internal mobility effectively and to the benefit of both your people and your organization.
But, how do you put together a strategy that drives internal mobility? Let's take a look at how you can develop your strategy, starting with a few quick pointers:
Consider the future potential of employees when sourcing candidates
Create a framework for internal mobility in your organization
Craft career paths or 'tracks' for your employees
Leverage 1:1 meetings and performance reviews
Focus on leadership development
Understand how you'll adapt to shifts in company culture
Make learning more accessible
If the pandemic taught us anything, it's that democratizing learning and development is becoming commonplace, allowing employees and managers alike to actively participate in skill-sharing and talent-building.
It's why 36% of companies are encouraging vertical, lateral, and rotating job opportunities within their own teams.
To drive the internal mobility of employees, it's crucial you make learning and skill-sharing more accessible, from exposure to mentoring and coaching to giving people at every level the opportunity to learn and grow.
Think of it as the democratization of learning.
Download our internal mobility program guide to learn how your company can get its mobility efforts up and running and make headway with boosting the diversity of your org.