We surveyed over 500 HR decision-makers and 1,000 employees to learn what actions employers are taking to make diversity, equity, and inclusion (DEI) a meaningful and measurable reality in their organization and how those efforts impact employees.
Here are four of the top highlights from our DEI report that shed light on companies' priorities, and opportunities is it relates to strengthening their diversity-hiring efforts.
1) How employers address DEI
Companies are making changes when it comes to advancing diversity. While many organizations are on their way to improving DEI in their workplace, there are 5 common tactics that organizations are using.
However, there's an opportunity for organizations to better leverage practices to advance diversity, like offering bias training for recruitment teams, using anonymized resume review, or creating a partnership to source more diverse talent.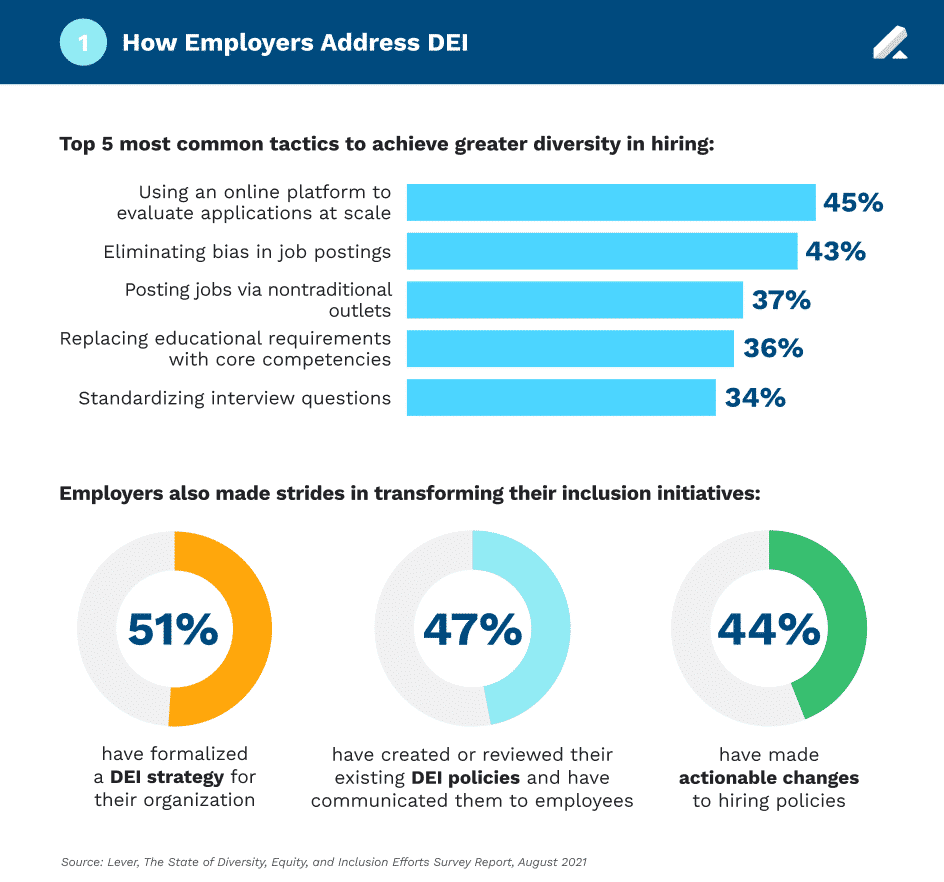 2) Communication efforts around DEI
Despite best efforts, communication around an organization's DEI strategy isn't reaching employees as effectively as organizations would hope.
In fact, 24% of employees have shared that their company has done nothing this year to improve DEI. This number is even higher at companies with fewer than 20 employees.
Here's how organizations who responded to our report survey are most commonly communicating their DEI initiatives to employees.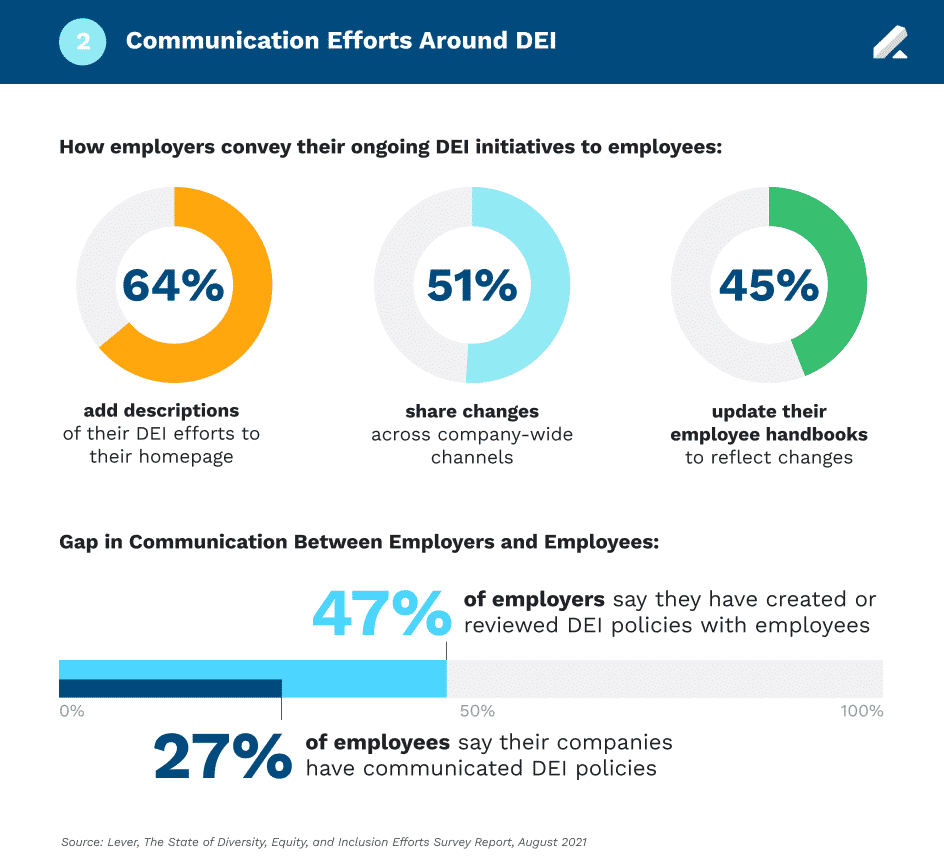 3) Challenges to increasing DEI efforts and measuring for success
This year, the hiring process — from onboarding, to team-building, to employee development — all shifted online. This created many strategic and technological challenges for HR teams, making it more difficult for orgs to prioritize DEI-centric initiatives.
Measuring the effectiveness of DEI efforts also created a large hurdle, with many teams finding it hard to dedicate time to it on top of their existing work. When we asked what employer's top-three priorities were for the year, and this is what we found.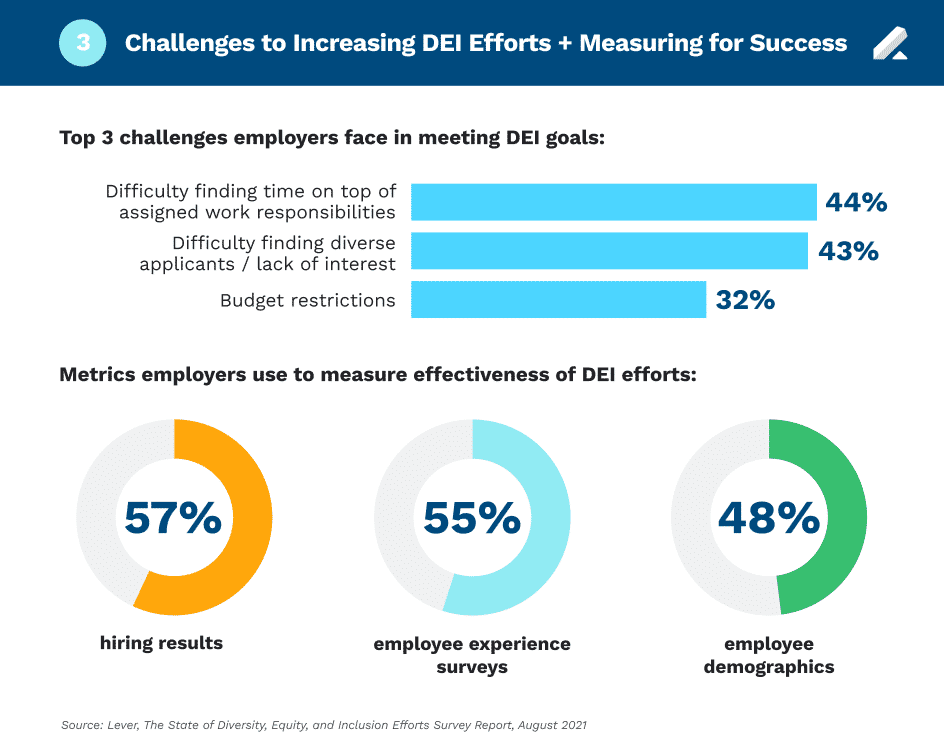 4) Future diversity, equity, and inclusion efforts
As employers continue on their journey to continuously increase and improve their DEI efforts, they report that they've made progress. More than five in six (87%) of HR decision-makers say their efforts have increased at least somewhat over the past year.
There will always be areas for improvement as it pertains to one's diversity, equity, and inclusion initiative — and our report found the top-three focus areas for companies today.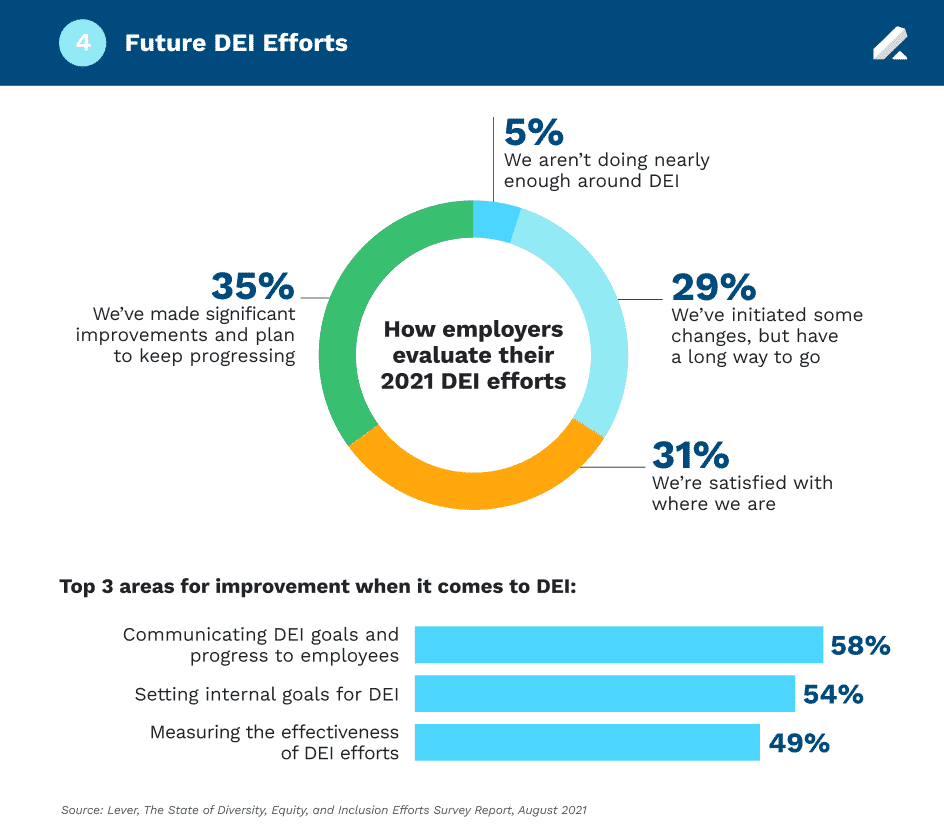 It's vital to remember that DEI is not a project. It's an ongoing, ever-evolving effort that involves every individual at an organization and touches nearly every aspect of work.
Download our complete State of Diversity, Equity, and Inclusion report to discover even more DEI-centric insights that can help inform your hiring efforts.