Diverse teams outperform non-diverse teams. And there's plenty of recent data to prove it.
Just look at the findings from McKinsey's 2019 research on inclusive workplaces. For instance:
Organizations in the top quartile regarding gender diversity on their leadership teams were 25% "more likely to have above-average profitability" than businesses in the bottom quartile.
Yet, the same study shows progress has slowed (or stalled) for many companies. For example, gender diversity among C-suites rose by only one percentage point from 2017 to 2019.
It's clear many talent acquisition and hiring teams are committed to implementing more inclusive hiring practices. What's also clear, though, is a lot of work still needs to be done by their business leaders — including those running TA — to bring more diverse talent onboard and achieve their DEI goals.
The best way to find and hire more diverse employees?
Per Lever Ascend speaker and Paradigm Strategy Sr. Consultant Pin-ya Tseng, companies must update their approach to growing their talent pool and fully embrace diversity recruiting.
The importance of implementing inclusive hiring practices at your organization
"Retaining diversity throughout the recruiting process is often a challenge," Pin-ya noted in the lead-up to her Ascend session. "How do we ensure each step is equitable and inclusive?"
A wholly diverse, equitable, and inclusive workforce ultimately brings unique ideas, solutions, products, and skills to the table for businesses, Pin-ya added.
According to Pin-ya, that's because said workforce includes individuals from a variety of backgrounds (e.g., age, gender, race, ethnicity, education). Thus, a diverse group of employees brings a variety of unique experiences and outlooks that help them thrive at work and contribute to business growth.
To employ more equitable and inclusive hiring practices and assemble a more diverse workforce, CEOs, TA directors, and other leaders must be the ones to spark change.
Specifically, Pin-ya noted during her Ascend session these leaders must:
Address unconscious bias: Interviewers must eliminate confirmation bias (tendency to interpret info that reinforces existing beliefs) and similarity bias (tendency to seek out people with whom we have commonalities).
Improve their job descriptions: Gendered language — that is, traditionally masculine ("determined, decisive, analytical") and feminine ("perceptive, sociable, outgoing") — can prevent candidates from applying for roles.
Modify their interview panel: Diverse hiring is best done with a diverse group of interviewers. Some orgs, though, fail to recognize the value of having existing workers of varying backgrounds partake in the interview process.
There are many specific tasks TA and business leaders can tackle to improve in these areas and, in turn, develop more equitable and inclusive hiring practices, per Pin-ya.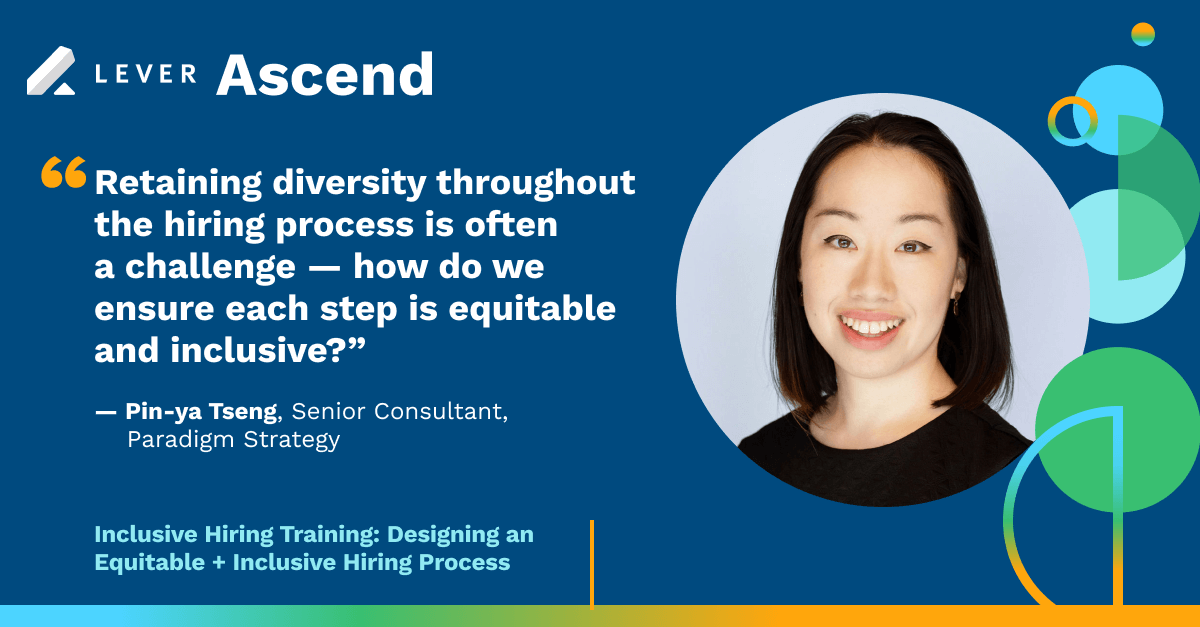 Review candidates solely based on the information provided.
Interview panels must solely use info presented to them by recruiters (via screens) and candidates (via résumés and interviews) to make objective, unbiased decisions, Pin-ya said.
Pin-ya shared noted how researchers shared three of the same exact résumés with test subjects. The only differences? The candidate names and orgs in which they were involved:
1) "Lei Zhang"; involved in solely Asian American organizations
2) "Luke Zhang"; involved in solely Asian American organizations
3) "Luke Zhang"; involved solely in what Pin-ya referred to as "whitened" organizations
The candidate deemed most qualified? Candidate number three. The takeaway? Resume bias is most definitely real — and, in more cases than not, leads to consistently low rates of diverse hires for companies.
"Impetus should not be on the candidate to change their identity," Pin-ya stated.
Interview panels should also avoid speaking with fellow interviewers regarding a given candidate until after the process is complete and candidate-feedback surveys/scores have been revealed. Failing to do this can lead to groupthink, per Pin-ya, and sway the opinions of interviewers.
Take a closer look at the language used in job descriptions.
When it comes to revamping how job descriptions are created, recruiters should focus on inclusive language. This tends to encourage a larger pool of candidates to apply, Pin-ya noted.
Similarly, TA specialists charged with writing job descriptions based on requisitions should avoid 'extreme' language ("world-class," "top-notch"), language that my trigger stereotypes ("rockstar," "competitive," "dominant"), and unclear or unnecessary requirements ("must come from top-tier school").


Ensure all candidates meet with diverse interview panels.
Make sure your interviewing team is as diverse as possible too, according to Pin-ya.
If you're not as diverse as you want to be yet, form an internal DEI panel to help you craft new protocols around who must be involved in the interview process in terms of background.
If you don't have the resources to form such a panel, consult with an external, diversity-focused org. There are many such groups from which you can get interviewing advice.
Build a consistent structure around the interview process.
To ensure you provide an equitable interview experience, create interview rubrics.
Pin-ya said these should feature a definitive/pre-set group of questions for different categories (e.g., applicable skills tied to a given role, problem-solving competency).
Each question included should then be asked in every single interview with a candidate to provide as consistent a candidate experience as possible.
The answers provided can provide a baseline, of sorts, that can then help the interview panel and hiring manager make better decisions regarding candidates (e.g., who to advance in the recruiting process, who to decline for roles, and to whom to extend a job offer).
What's more, talent acquisition professionals should create interview prep materials (i.e., a brief but explanatory guide) to set the stage for the entire interview process and tell candidates what to expect from start to finish.


Implementing a more equitable and inclusive recruitment process: A company-wide initiative
There are certainly other inclusive hiring practices to consider, Pin-ya stated at Ascend:
Reconsider "culture fit" in talent evaluation. Too often, interviewers consider how sociable and personable a candidate is when they should solely focus on their fit for the role in question. Instead, think about how an individual can work with others on a given team and contribute to business growth — the only 'fit' that really matters.
Consider how candidates of other nationalities interpret language (body and digital-body).
Add new sources from which recruiters can source new, diverse talent. (Similarly, eliminate use of certain sources that tend to fail to generate a diverse set of prospective candidates.)
At the end of the day, Pin-ya pointed out it requires a company-wide effort to develop a more-inclusive recruitment process and hire a diverse array of voices, personalities, and expertise.
In other words? Inclusive cultures aren't built overnight.
It takes a concerted effort from everyone within your org — starting at the top — to ensure diversity and inclusion are central to the company's mission and values.
Watch our on-demand Lever Ascend sessions for even more in-depth insights into what it takes for businesses to employ a more equitable and inclusive hiring process.