Building a talent pipeline is one thing. Making the most of said pipeline is another.
Both tasks require a concerted focus from everyone in your talent org. But creating a talent pipeline solely for the sake of developing a database of qualified candidates and failing to employ any proactive recruitment measures (e.g., personalized outreach through intelligent nurture emails) will only lead to a 'stale' talent pool.
Moreover, it'll lead to an inefficient hiring process, since TA specialists aren't building relationships with external candidates or evaluating potential fits for open roles internally.
With a take-charge approach to engaging job candidates — and a centralized solution in which you can source, nurture, analyze, and rediscover prospects with ease — though, you can craft a sustainable, long-term talent pipeline management program that leads to a greater ability to fill roles with high-quality hires and a more productive TA team.
3 ingredients for better talent pipeline management
The best talent strategies all constructed with these three critical building blocks.
1) A dedicated candidate relationship management (CRM) mindset
First things first: You must adopt a CRM approach across your TA team.
Recruiting is no longer about having one-time, transactional relationships with talent, Rather, it's about developing and maintaining long-term relationships with candidates.
Unless you have clear-cut succession plans in place for most roles across your org, chances are you need to regularly source net-new leads (and lots of them) to bolster your talent pipeline — a pipeline you must then routinely revisit when determining optimal fits for active roles.
Consider Lever customer Talend:
The cloud-data business crafted a pretty strong talent pipeline management program. Its TA team was able to find high-quality candidates across social media, job boards, and other online channels. And yet, hiring these newly sourced prospects was taking far too long.
So, it revamped its recruiting process — and embraced a CRM mentality. Specifically, it recognized archived candidates — notably, silver-medalists (i.e., those who made it to the final interview stage, but weren't made an offer) were worth reconsidering for open requisitions.
By focusing its recruiting efforts mostly on this subset of potential candidates, Talend was able to speed up its time to fill by 46% compared to hiring newly sourced talent. That equated to a hiring conversion rate that was four business weeks faster than hiring net-new prospects.
Your team's CRM strategy will certainly look different than those of other organizations across different industries and of varying company sizes.
The point is leveraging your talent pipeline based on your distinct business model and hiring needs/quotas and 'playing the long game' with nurturing and engaging candidates in your database will help you become far more productive — and realize far better hiring results.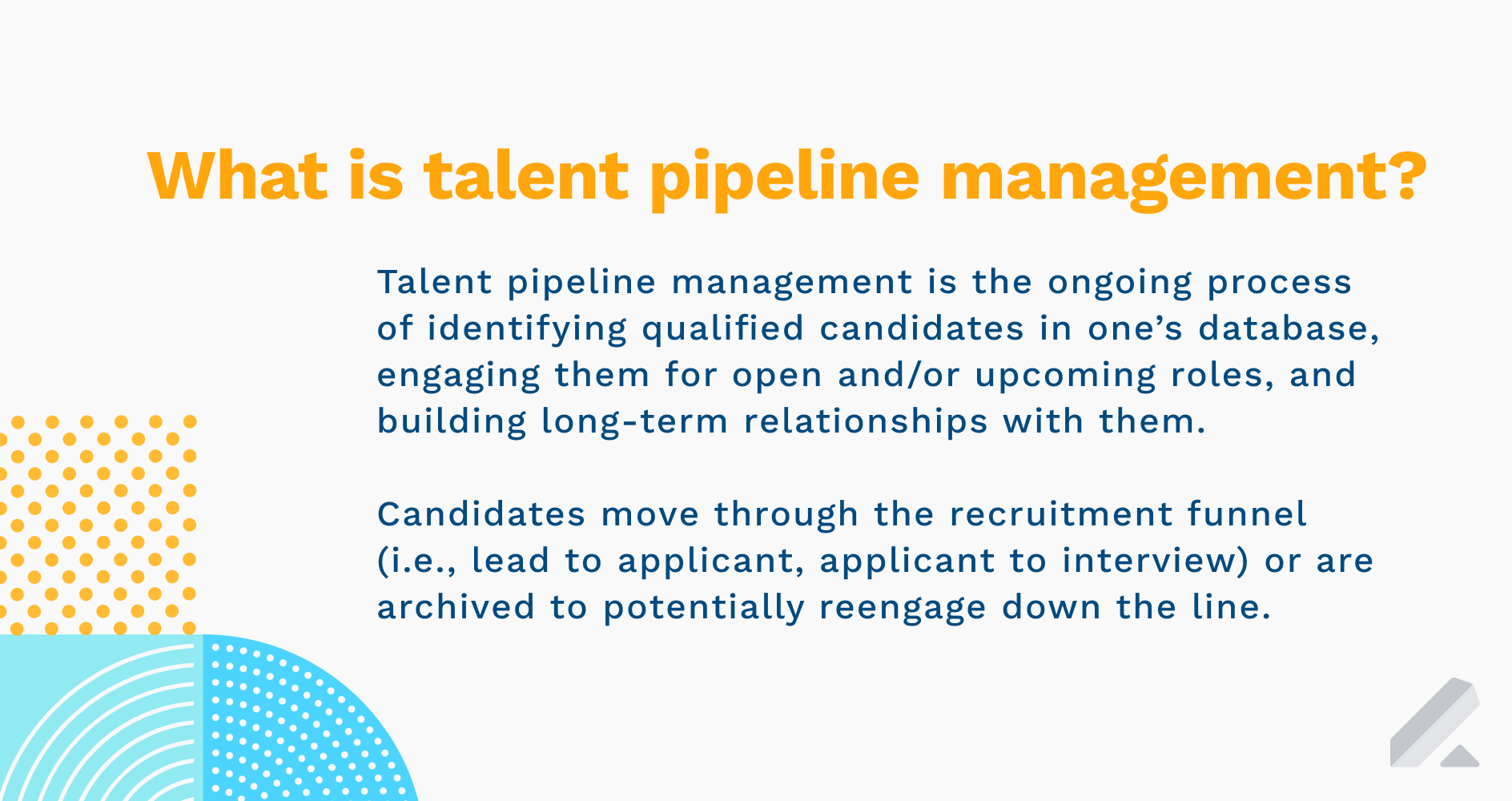 2) Tech that helps you build an intelligent, unified talent pipeline
No CRM strategy is complete (or can be executed effectively) without the right tech.
Spreadsheets aren't the answer. Legacy applicant tracking systems aren't the answer.
Only a complete talent acquisition suite with essential ATS functionality and advanced CRM capabilities can enable you to establish a CRM approach, streamline your daily work, and — ultimately — enhance your ability to engage, manage, and convert your talent pipeline.
From lead to outreach to interview, LeverTRM users can see the entire CRM lifecycle.
In other words, they can see where prospects came from (proactively sourced, passive candidates, applicants, referrals) and take the next, most appropriate actions to either move them further along in the recruitment funnel or archive them to possibly revisit down the line.
They're able to do this by leveraging our innovative AI and automation features, like:
Fast Resume Review: Screening can be accomplished much quicker with this functionality. Skipping, advancing, and archiving talent is simplified for TA teams. Meanwhile, leads spend less time sitting in the 'queue,' waiting to hear from recruiters, which leads to a higher-quality candidate experience.
Nurture Recommendations: Many LeverTRM users know they have lots of first-rate candidates in their talent pool. The issue is identifying them efficiently to nurture them for open and upcoming roles. Our proprietary algorithm swiftly resurfaces qualified talent for TA specialists based on different criteria (e.g., origin of source, feedback scores, archive reasons).
Intelligent Pipeline: Manually 'moving' leads from one recruiting stage to the next is arduous. It's also unnecessary — at least for LeverTRM customers. Our intelligent pipeline provides automated stage progression (i.e., lead to applicant, applicant to interview) and, in turn, an at-a-glance view that shows recruiters, TA pros, and hiring managers alike where candidates are in their funnel.
Standalone recruiting tools certainly offer capabilities like this. But the top talent pipeline management strategies are built around a unified TA suite that offers them all in one place.
3) A coordinated, ongoing effort to optimize your talent-pipeline strategy
Your colleagues in HR work hand in hand to improve new hires' onboarding experience, enhance employee engagement across the business, and build a strong employer brand.
While they tackle these tasks, you and your TA team must optimize your pipeline management.
That is, each team member must understand the specific duties and KPIs/metrics for which they're accountable. What's more, they need to know how they can continually elevate their engagement and conversion efforts and boost their performance.
Core responsibilities that, when handled well — and with a centralized TA solution — lead to a stronger pipeline management approach (i.e., a well-oiled recruiting machine) include:
Evaluating the efficacy of sourcing channels: Want to continually improve your quality of hire? You need to know where the best candidates come from. This activity requires TA tech that helps you discover the origin of your 'strongest' employees are sourced.
Analyzing nurture-campaign effectiveness: With each TA specialist 'owning' optimization of nurtures to their respective lead segments (by role and/or location), they can share what modifications helped them increase talent engagement with the rest of their team.
Adjusting the tags assigned to archived talent: A big part of data 'clean-up' is addressing issues with how you store and sort through candidate data. With an ATS + CRM solution like Lever, you can designate specific, searchable tags for every lead in your system. This will enable you to rediscover top talent in a matter of seconds, not hours or days, and reengage those individuals as needed.
Whatever task(s) you and your talent team are charged with handling, it's vital you all work from the same single-source-of-truth candidate database to ensure you continually refine your recruiting efforts and unearth top-tier talent you can move through your pipeline.
Curious what your recruitment-model strengths and weaknesses are? Fill our our brief talent-strategy assessment to learn where your TA team can stand to improve in the year ahead.